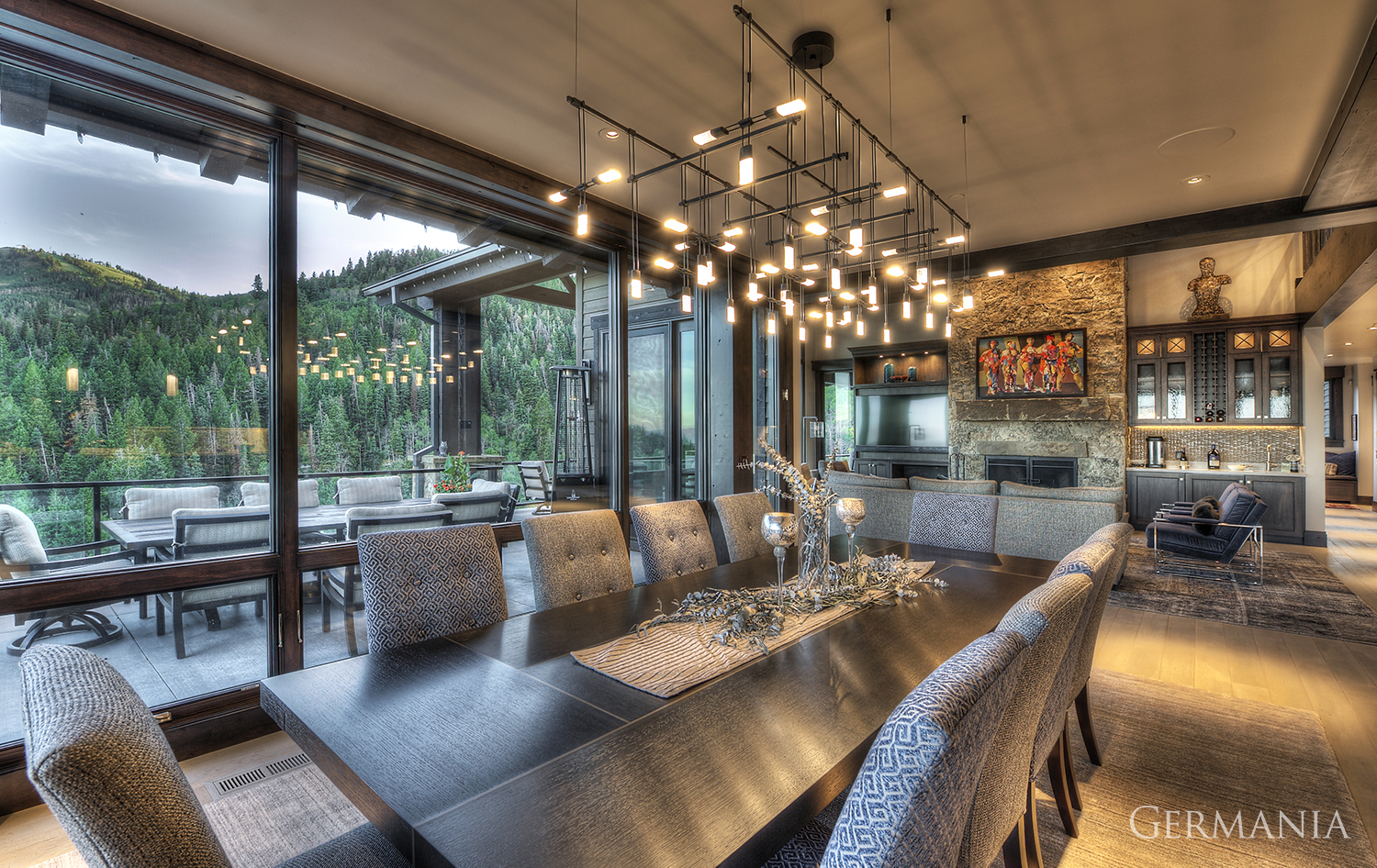 Our Favorite Park City Custom Home Builds
Everything is coming together for your long-awaited custom home: the plot of land; the team of luxury builders; the
Whether you are a fan of the sleek lines of modern design, the robust structure of craftsman, or the personality of contemporary, Germania has done all these styles and more for our custom home clients. We love to visualize with you to make sure every feature you dream up for your home comes to actualization with your unique personality shining through!
Custom Home Ideas
When you decide to build a custom home, it certainly can seem like a huge undertaking. But the way to ensure smoothness and ease of the entire process is to choose your builder first! And when you do get started on the design and planning phase with your professional build team, you get to choose exactly what you've always wanted in your home. And Germania knows how to make everything you've ever wanted to come to full actualization! And even beyond that, building custom can save you a lot of time and money in the long run—your custom builders can plot out exactly how much to budget for each individual feature so there are no surprise expenses along the way. And then with the time, because Germania has a long history in the Park City area and in the industry, we know the permitting laws and regulations in and out and can get that going with speed and ease so there are no holdups along the way. And, above all, you get to tap into your creative center and really have fun with all the design and features you want for your everyday use.
Our Favorite Park City Custom Homes
And now we showcase for you some of our favorite home builds and our favorite custom features for each. Enjoy!
Promontory Ridge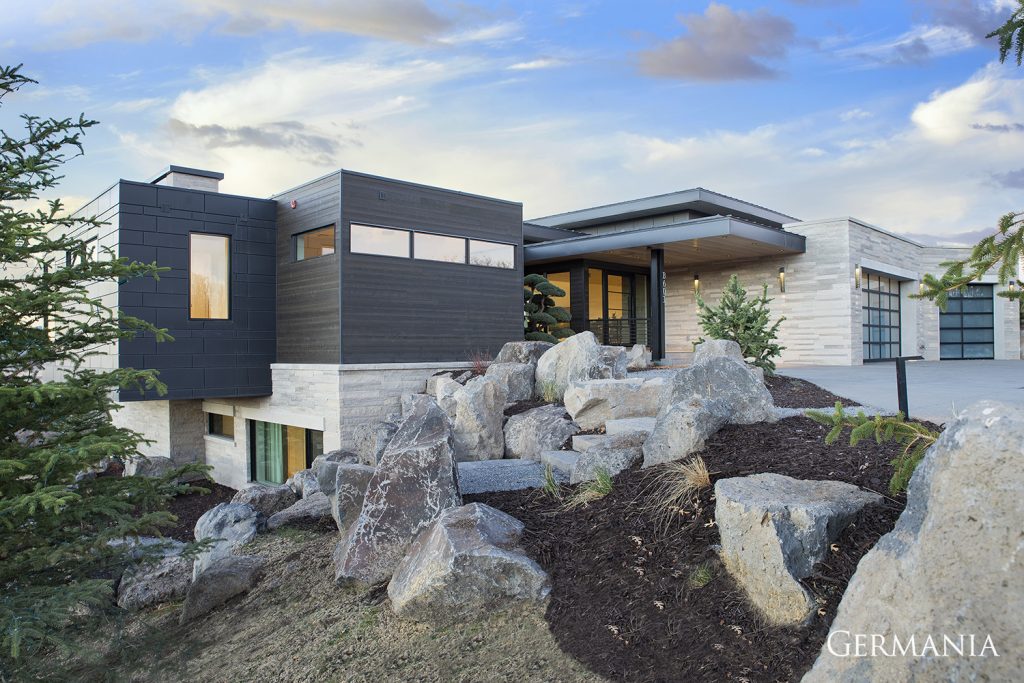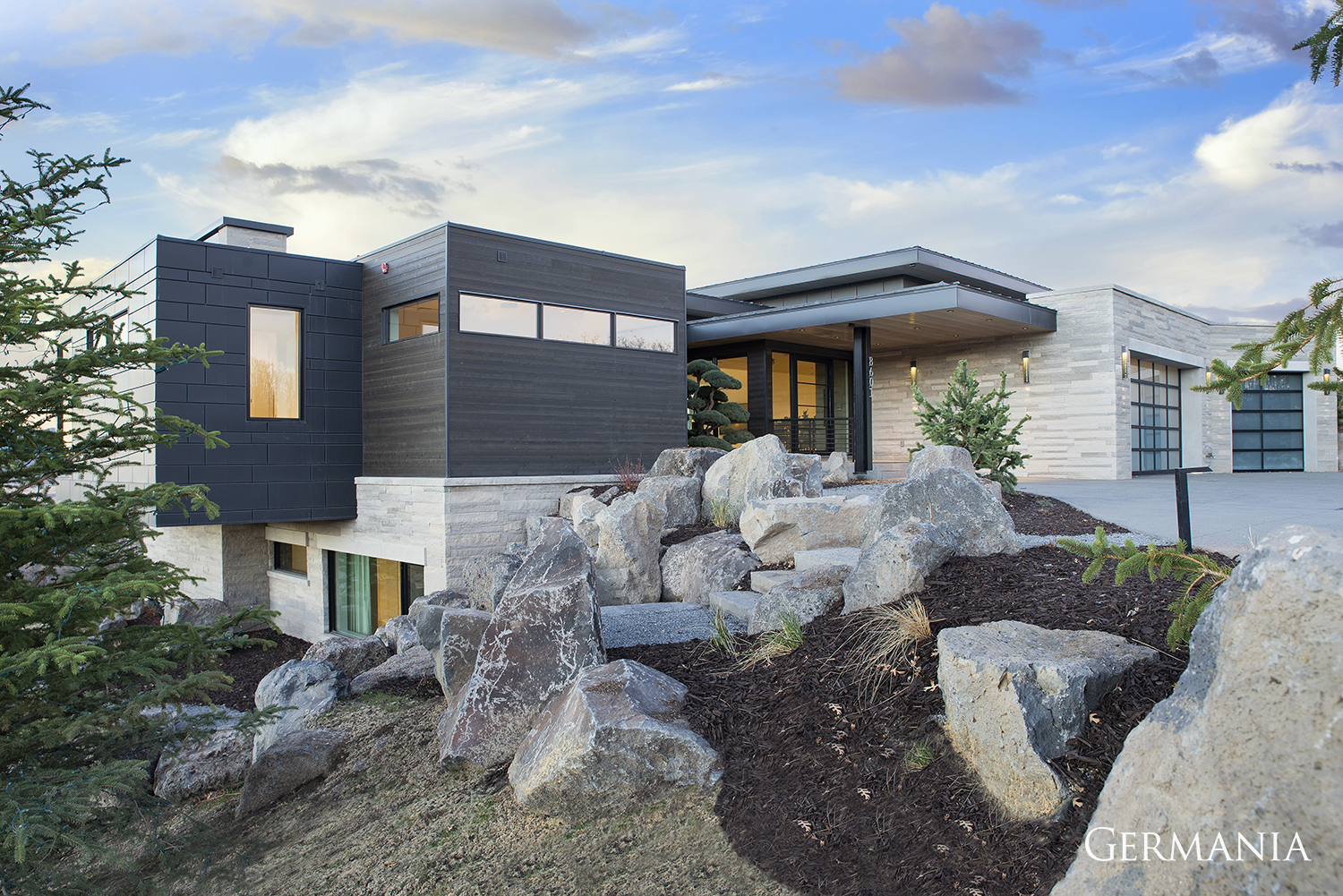 One look at the exterior of this home, and it's obvious why it's a favorite. With the Modern modular design, you can expect nothing but similar greatness inside.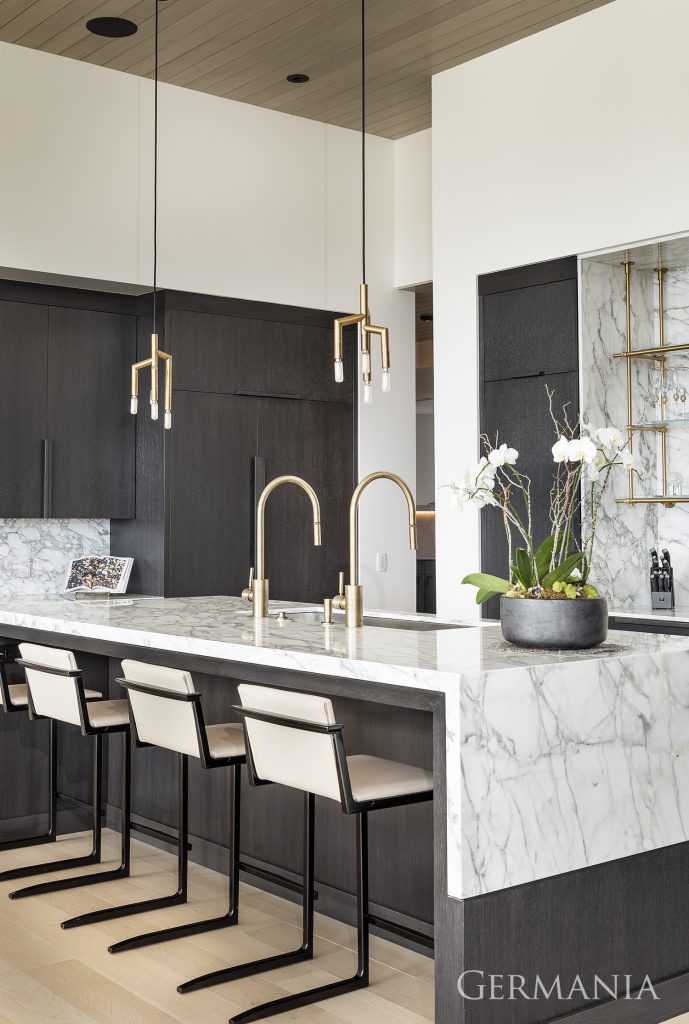 The sleek design and clean lines of the kitchen make time spent cooking an absolute joy. The carefully chosen light fixtures, the mirroring curves of the faucets, and the marble countertops really tie together effortlessly here!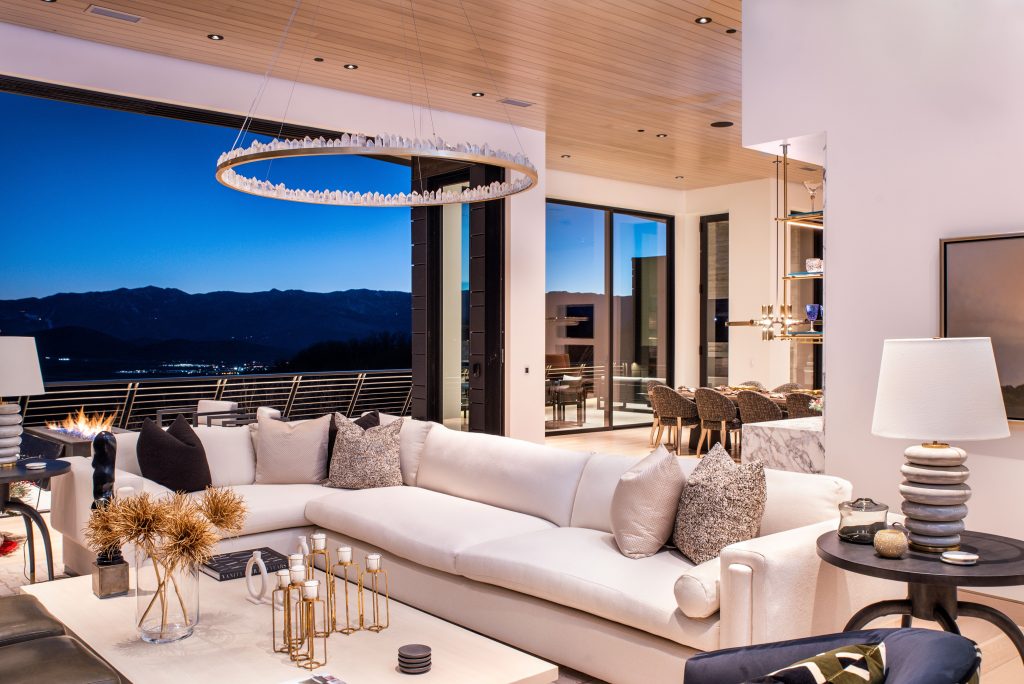 The simple elegance continues through to the living and dining areas where extraordinarily unique chandeliers give a pop of pure brilliance. The monochrome color schemes offer deliberate comfort and ease to enjoy the natural beauty of the window frames.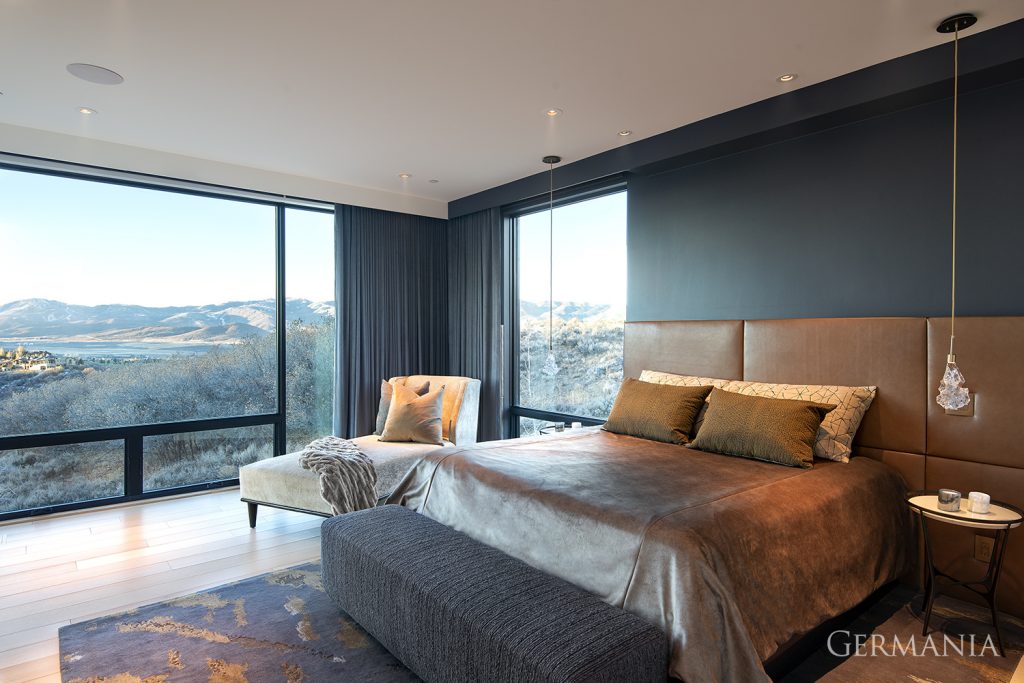 Floor-to-ceiling windows are an excellent design choice to take in the views upon first light and watch as the sun sinks low into a vibrant sky. And, of course, automated black-out curtains ease you into a night (or day!) of restful sleep.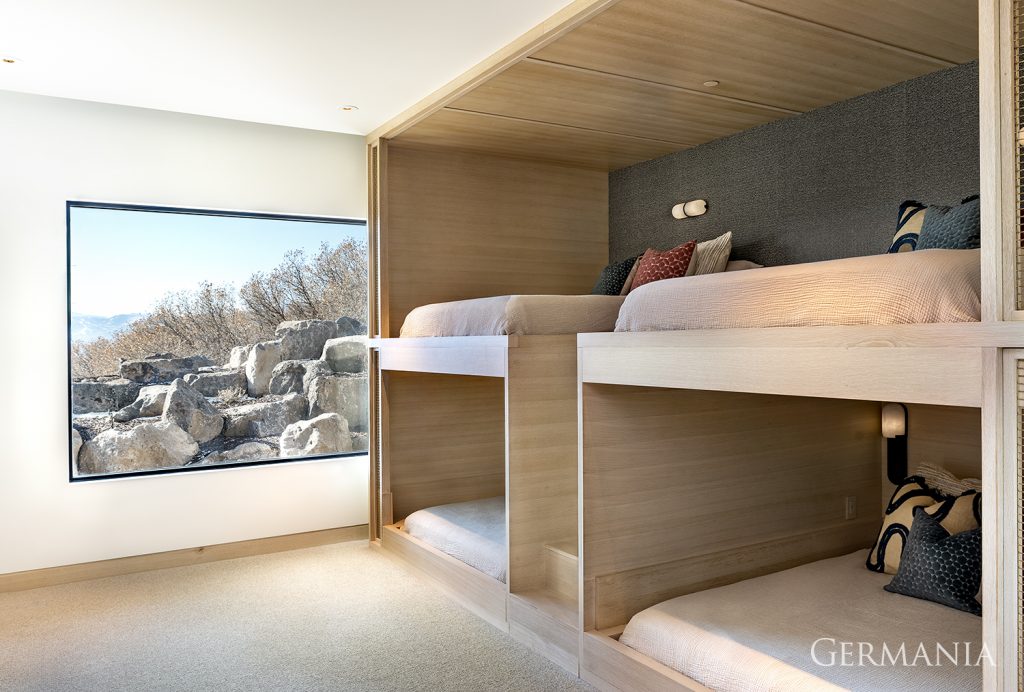 Built-in bunk beds for the kids, and if/when extra guests are staying over. The coziness offers a sense of security, and the individually-operated lights give night owls a means to keep reading or doodling until sleep finally takes over.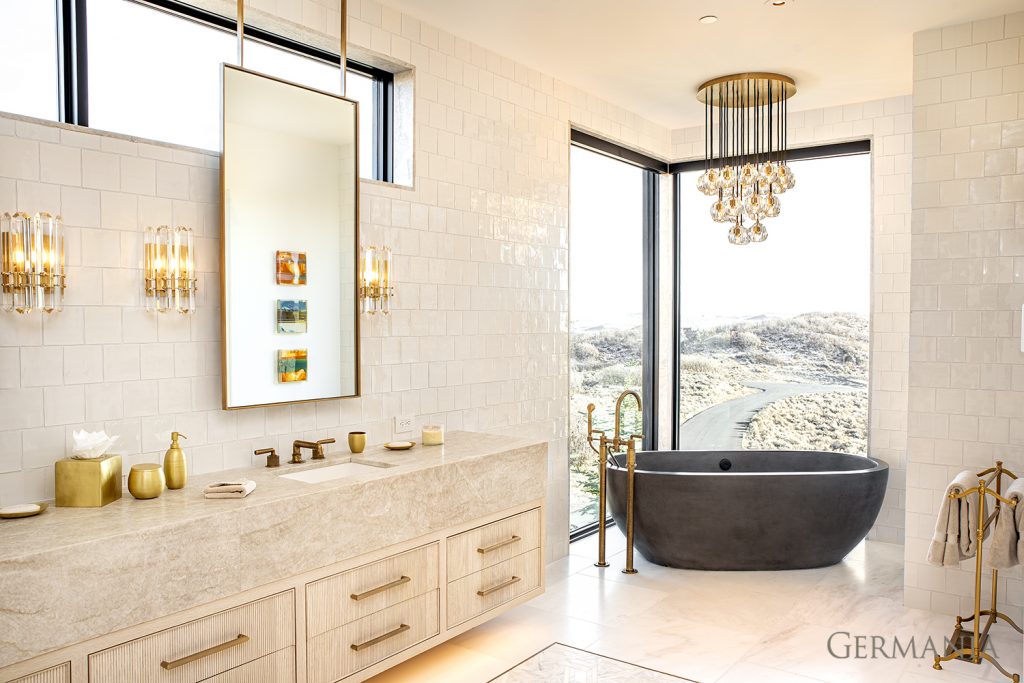 A spa-style bathroom with plenty of natural light, a stand-alone bathtub, and a vanity with plenty of get-ready and storage space. And then the lights! Brilliant light fixtures sure are a theme in this gorgeous home.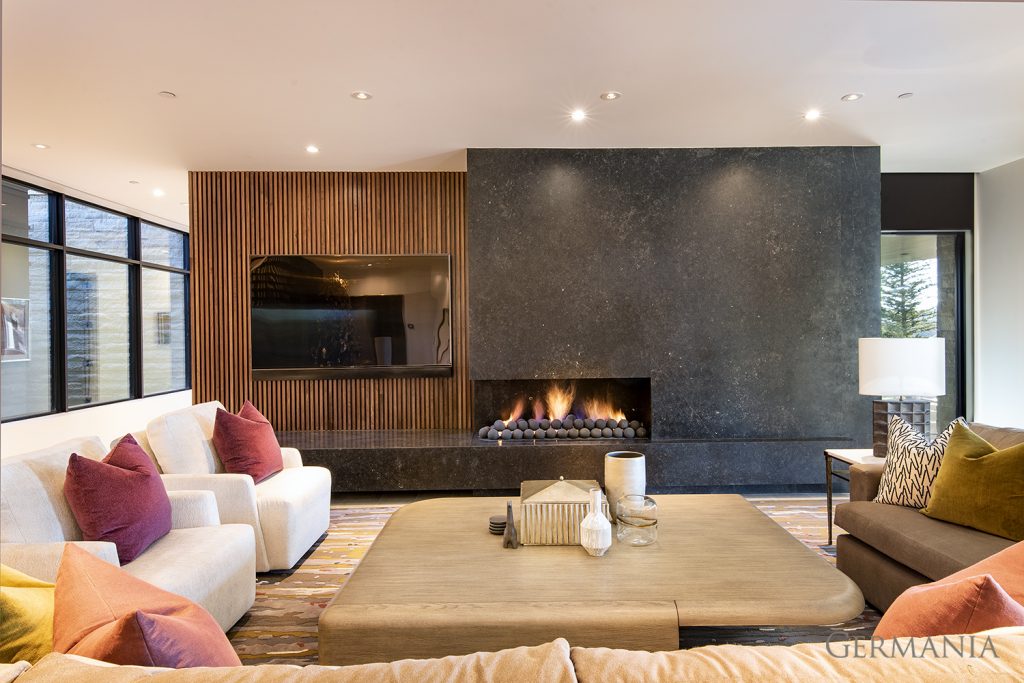 The sleek edges of the fireplace lend a high level of visual interest mixed with a calm restfulness to make this lounge area perfect for movie-watching, lounging, reading, or catching up. Any activity of respite is appropriate here.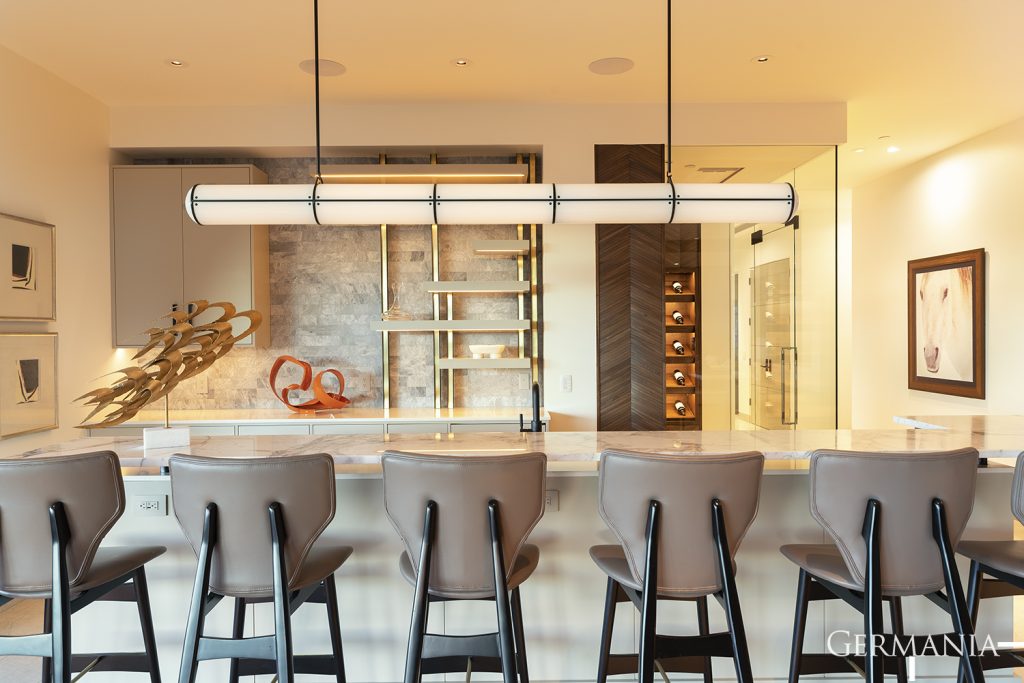 This custom bar and wine cellar, with its intriguing lines and soft glow, really enhances the overall modernity theme. Add the personal touches of the sculptures and it's plain to see why we love it so!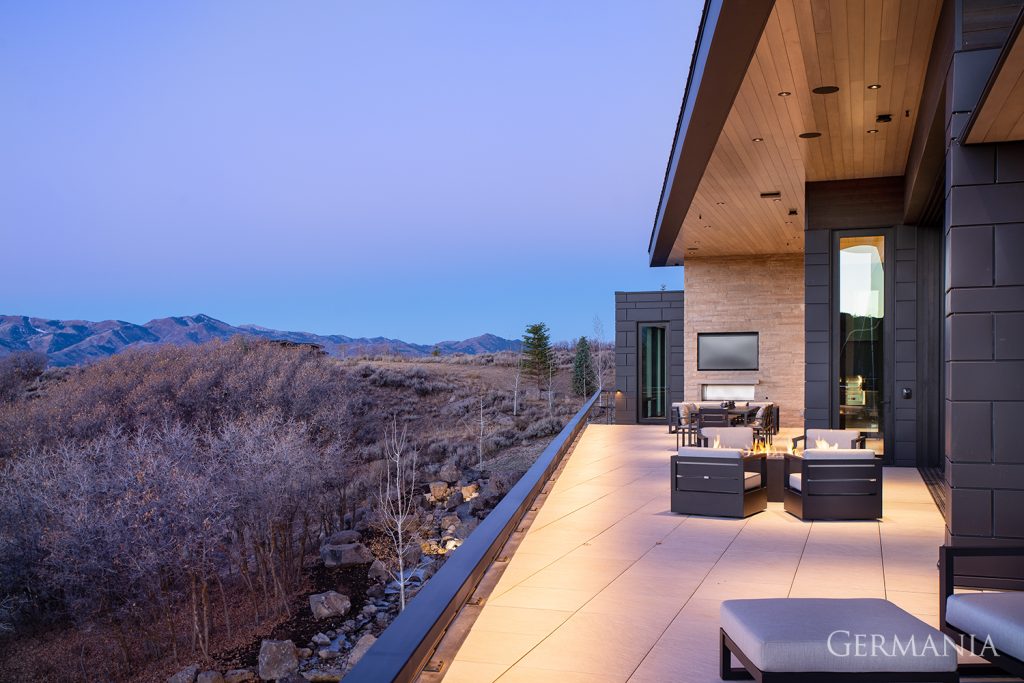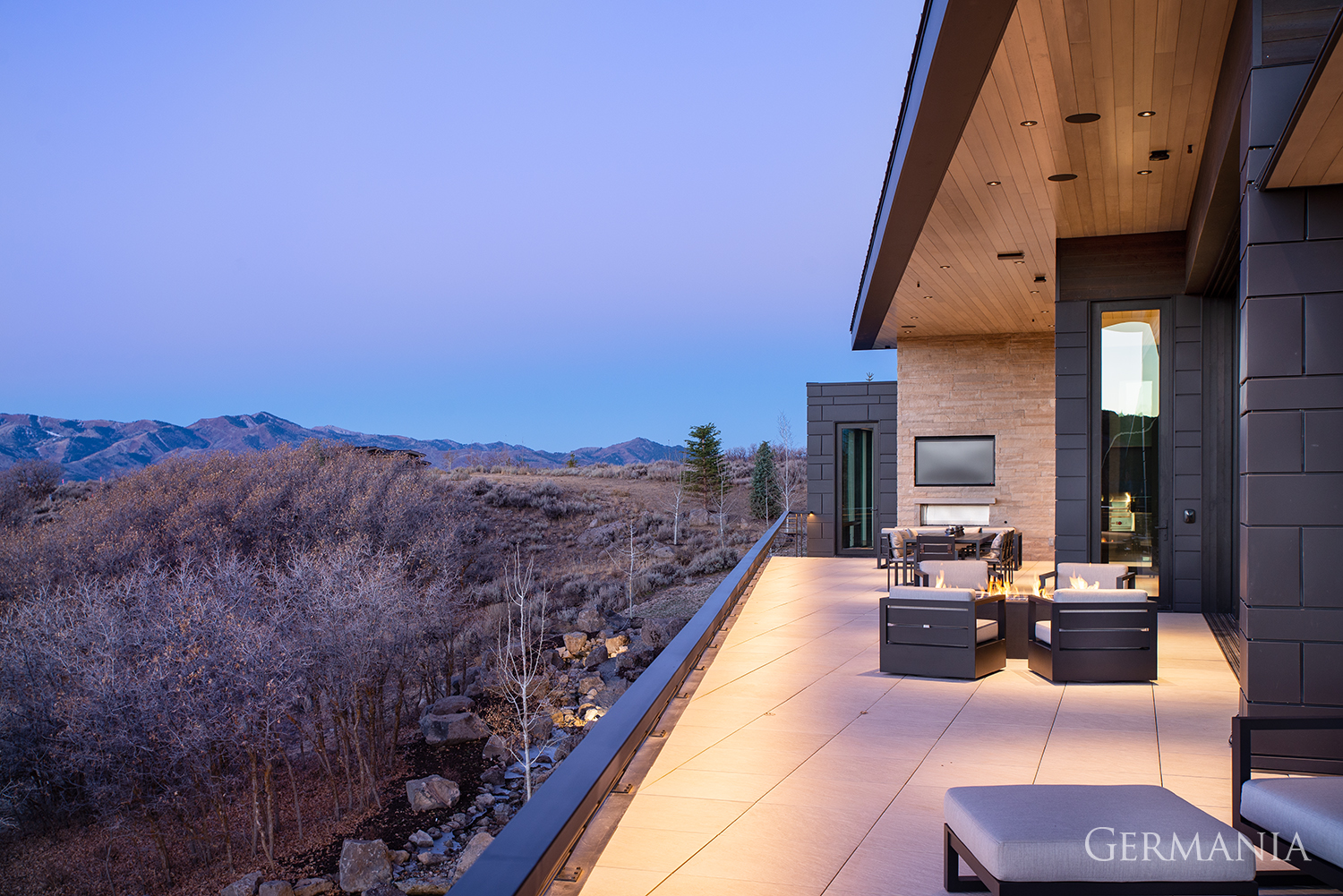 The extendability of living space this patio provides during every season (certainly thanks to those fire pits!) makes it a go-to place for morning coffee, evening contemplation, and just being surrounded by the beauty of the wild.
Deer Crest 3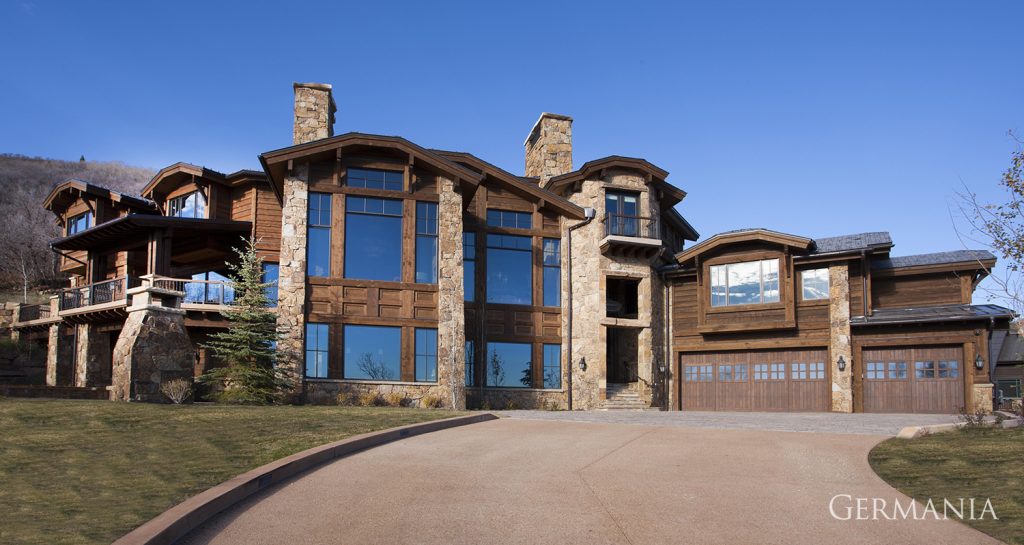 The craftsman style of this home build really made designing custom features a delight. The wraparound deck? The large framed windows? Stunning. And then there's all the personal touches and features inside!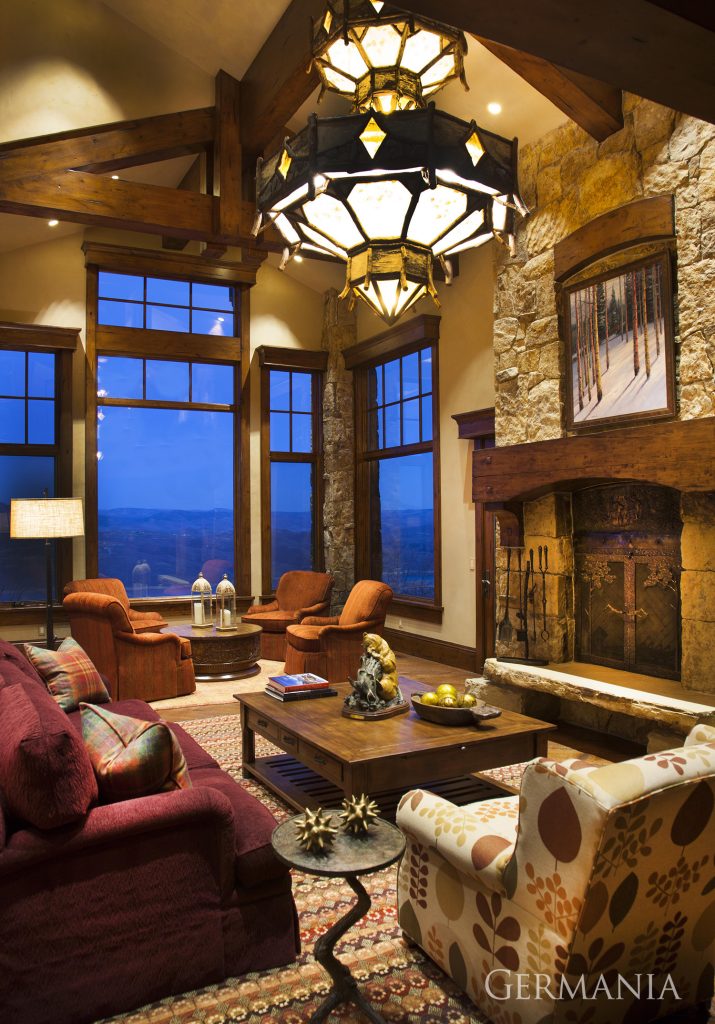 Trussed ceilings, a blazing fireplace, cushy sofas, and chairs make this living room a prime place for relaxation and entertainment.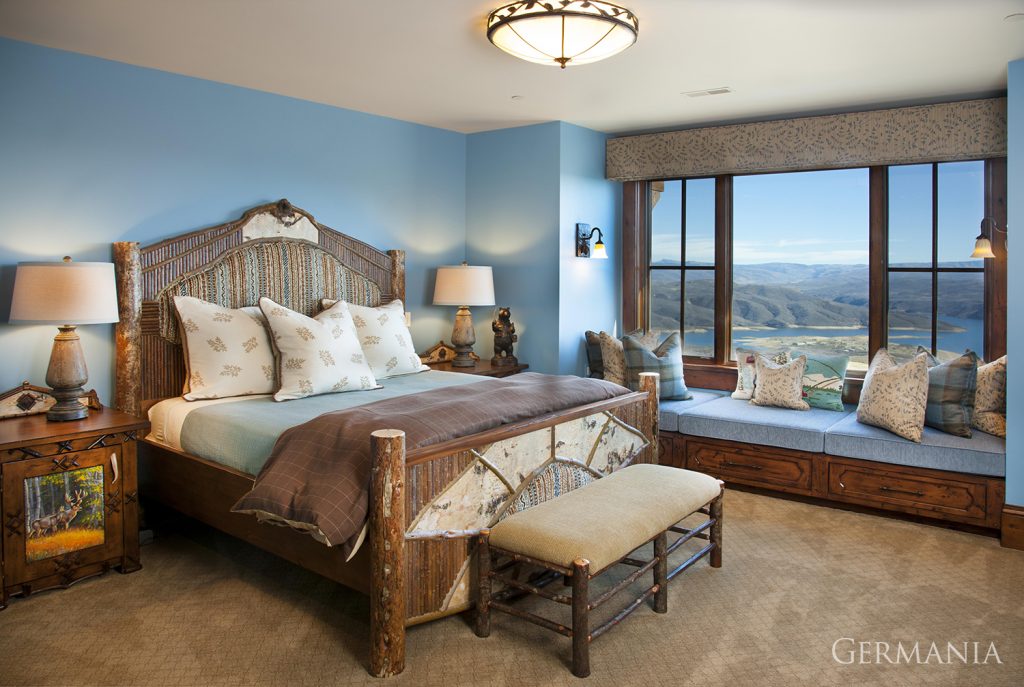 The complementary colors, the details of the nightstand and bed frame, all promote a sense of absolute comfort in this custom bedroom. And then with the perfect addition of the window nook opening to a spectacular view of a nearby reservoir will certainly make waking up in the mornings a breeze.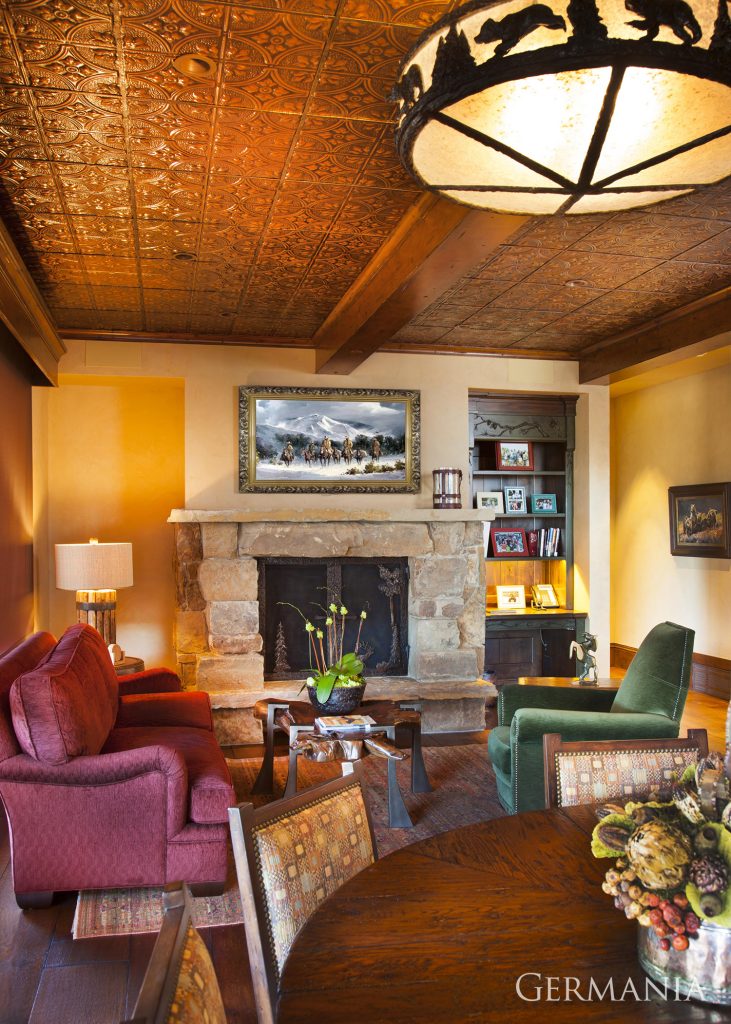 This sitting room radiates peace. And the custom ceiling tiles definitely add a high sense of luxury and design.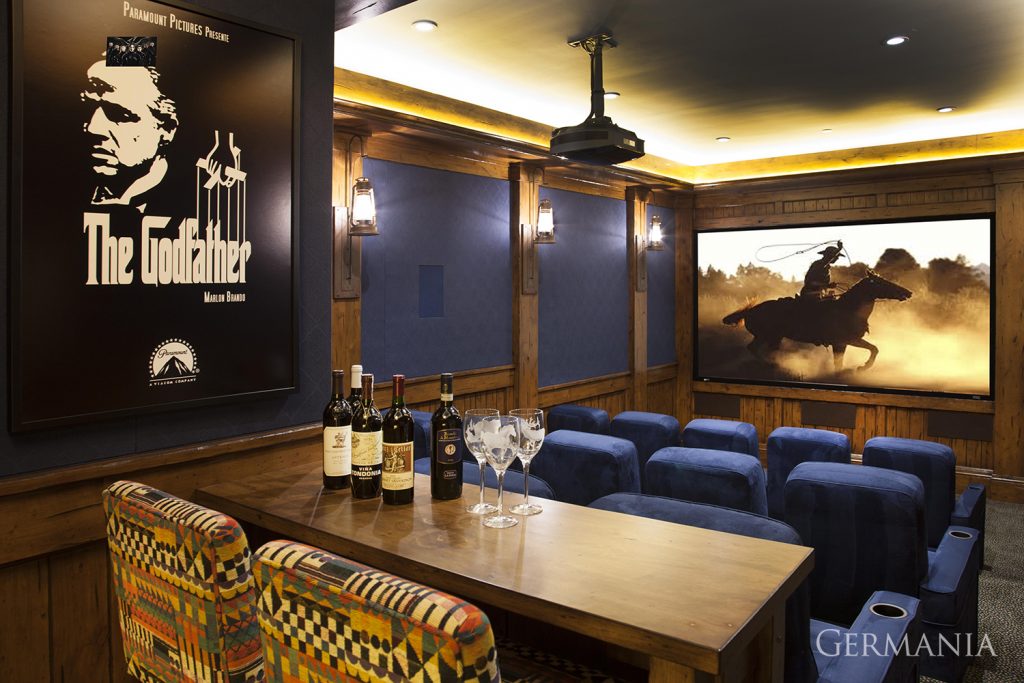 And what more is there to say about a private theater?! Truly a worthwhile custom feature!
Deer Crest 6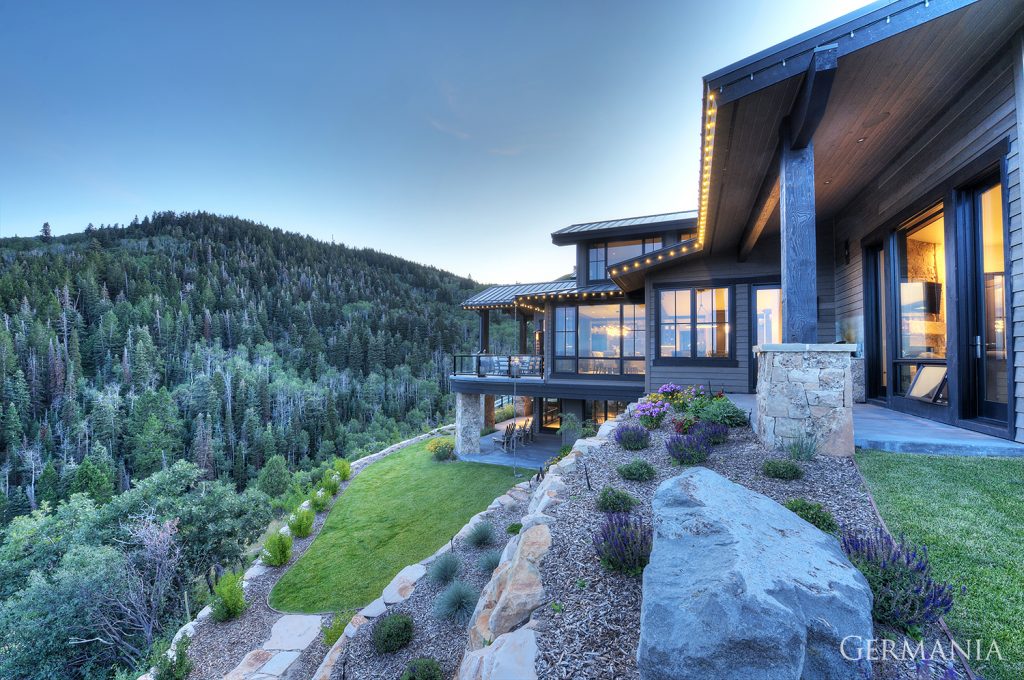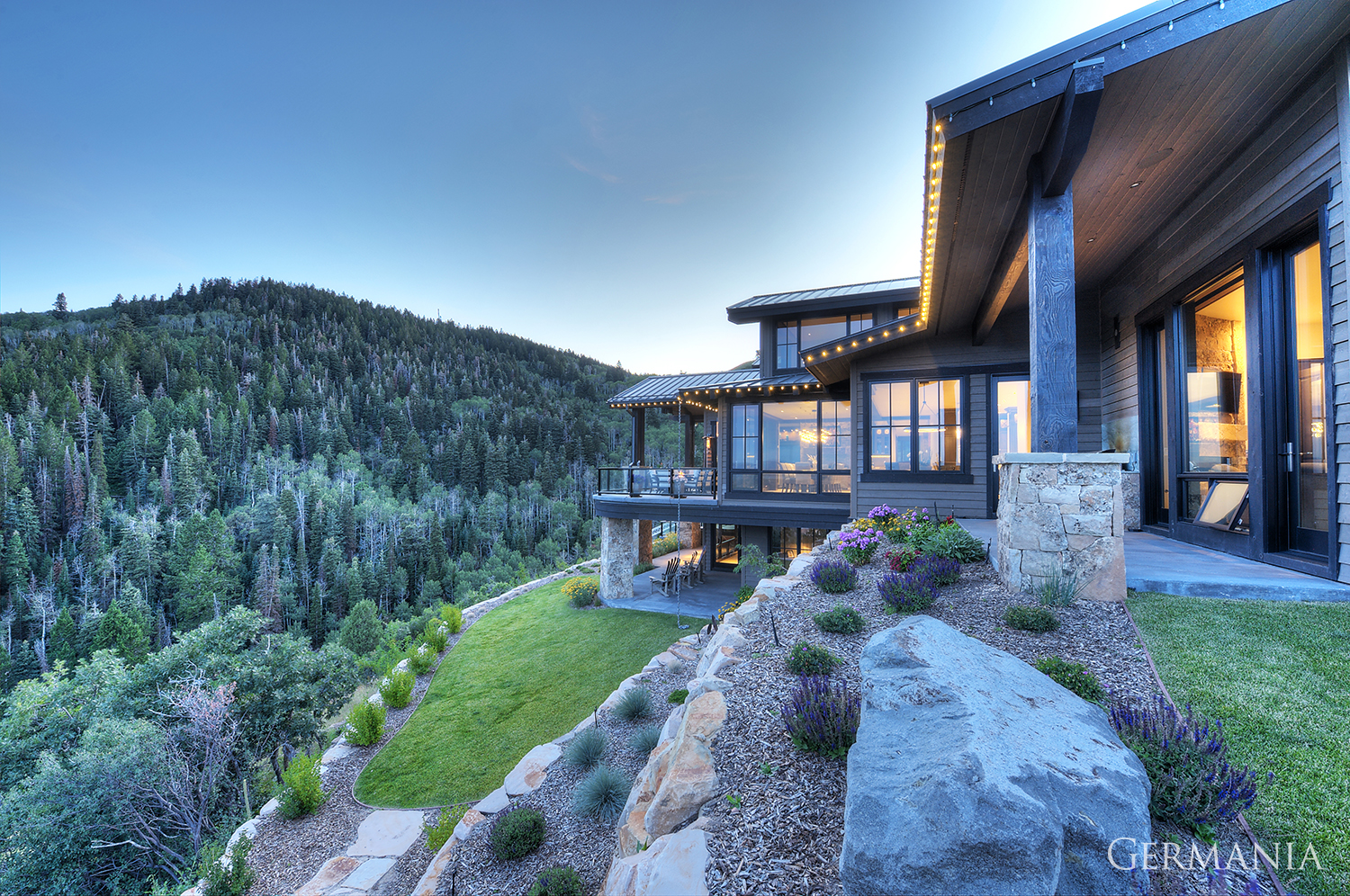 This custom build is anything but traditional. The way the landscaping blends seamlessly with the natural foliage is certainly a beautiful first impression. Wait until you see all the extra features inside!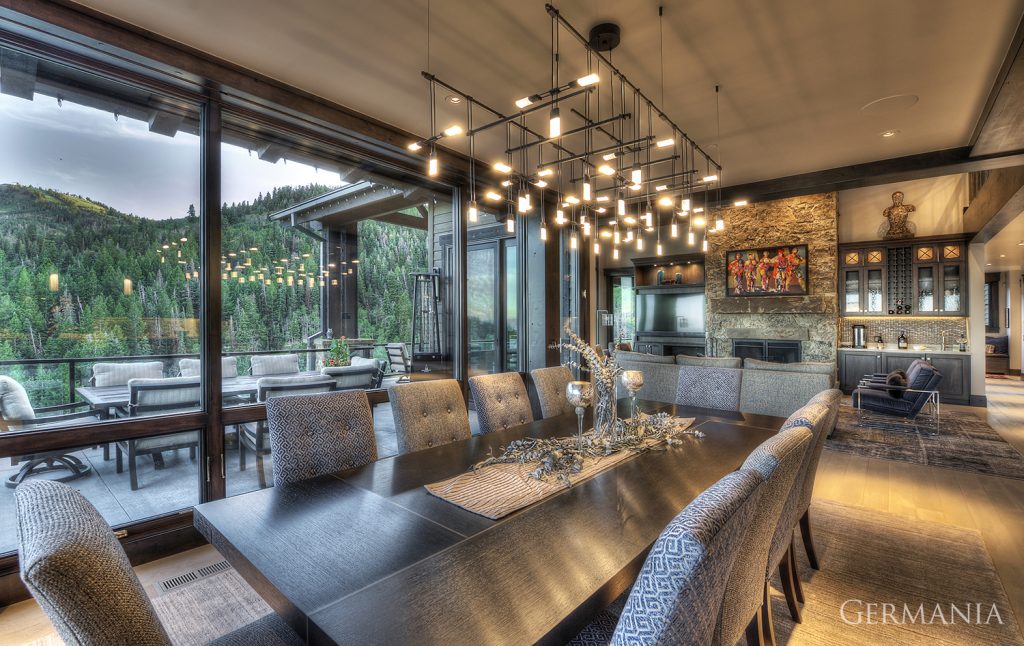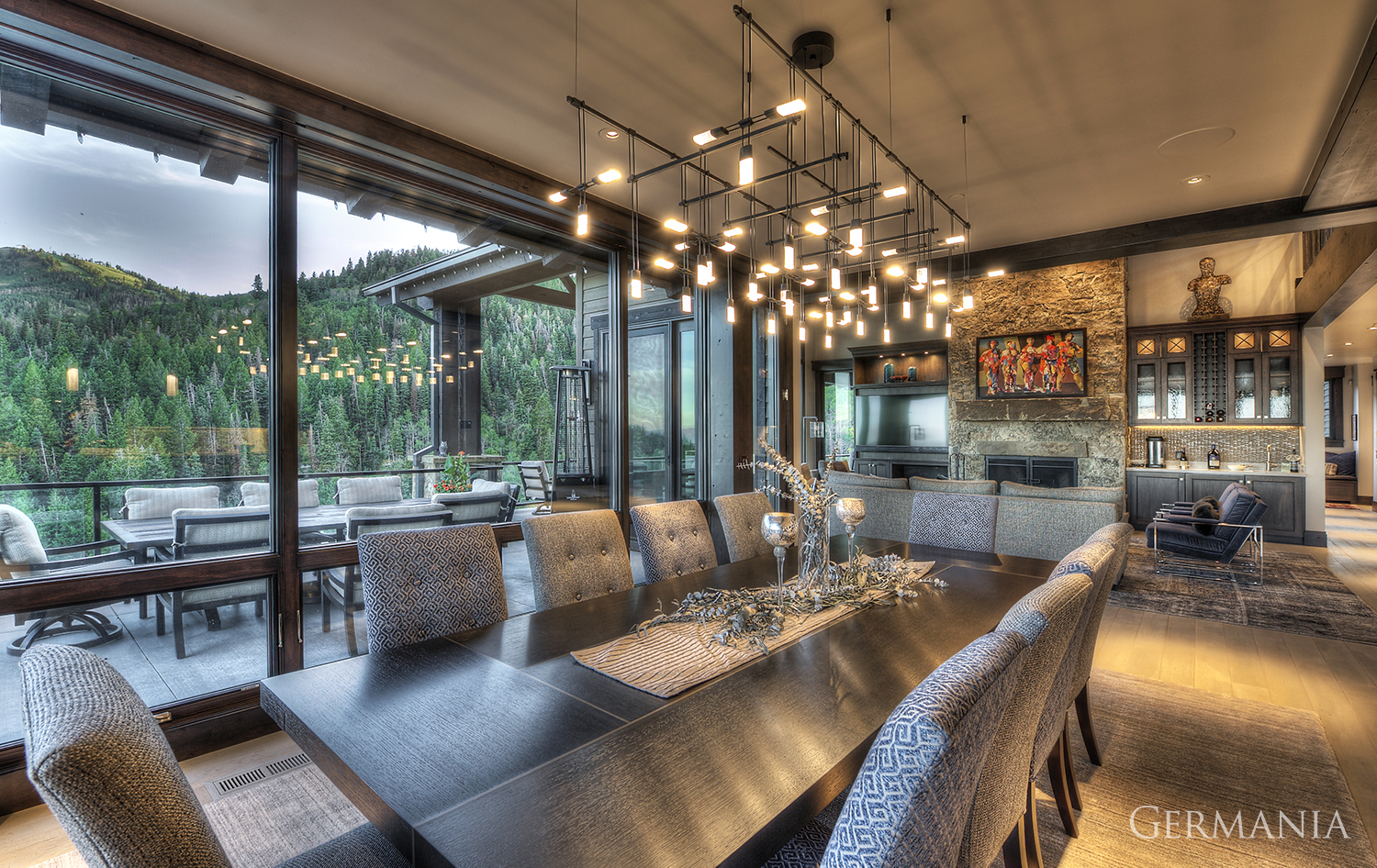 This dining area exudes pure magnificence, along with the open floor plan that allows for movement with grace from one area to the next.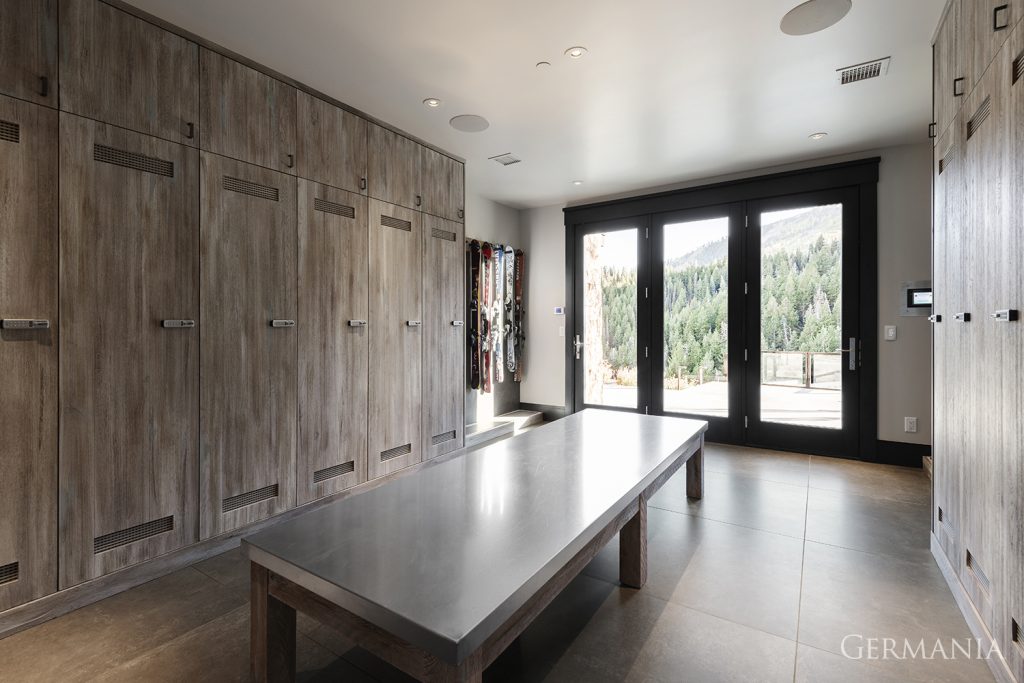 This mudroom was a fun feature to see come to fruition. Every family member and guest has their own cubby to store their ski gear and other seasonal outdoor outfittings. And what lies beyond those doors?!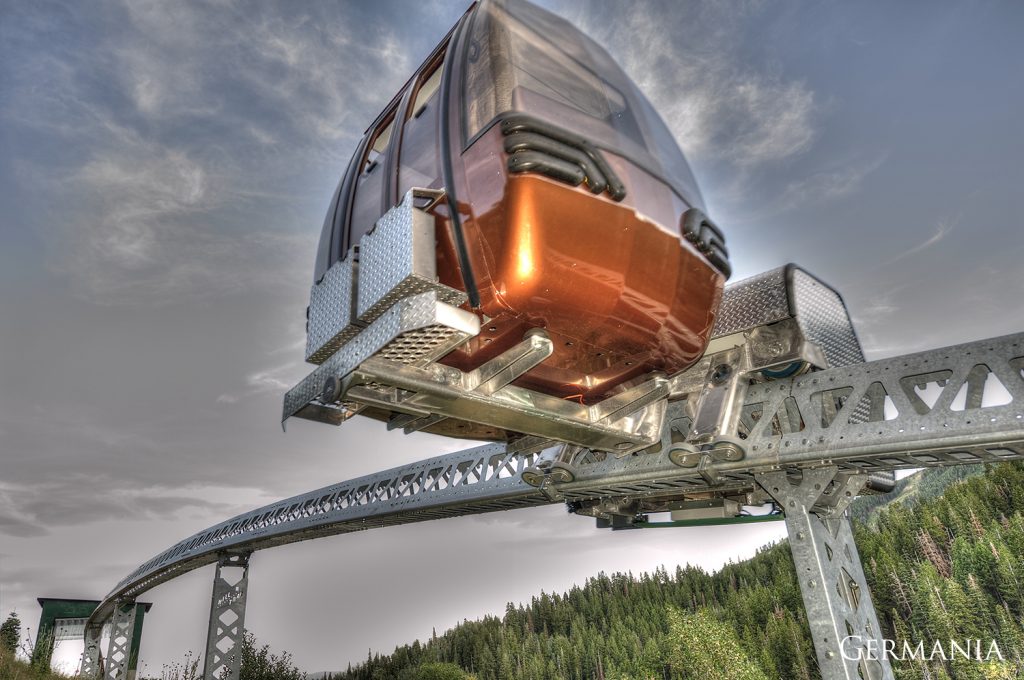 A private gondola that takes these homeowners from their Germania home straight to the top of the slopes!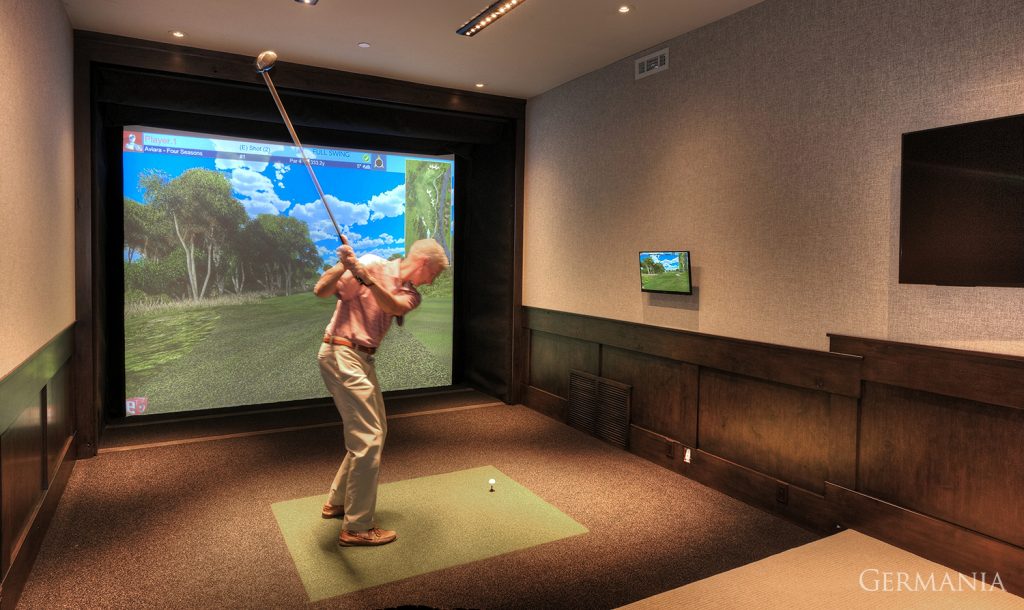 Tee-time any time! No inclement weather to disrupt this homeowner's preferred sport!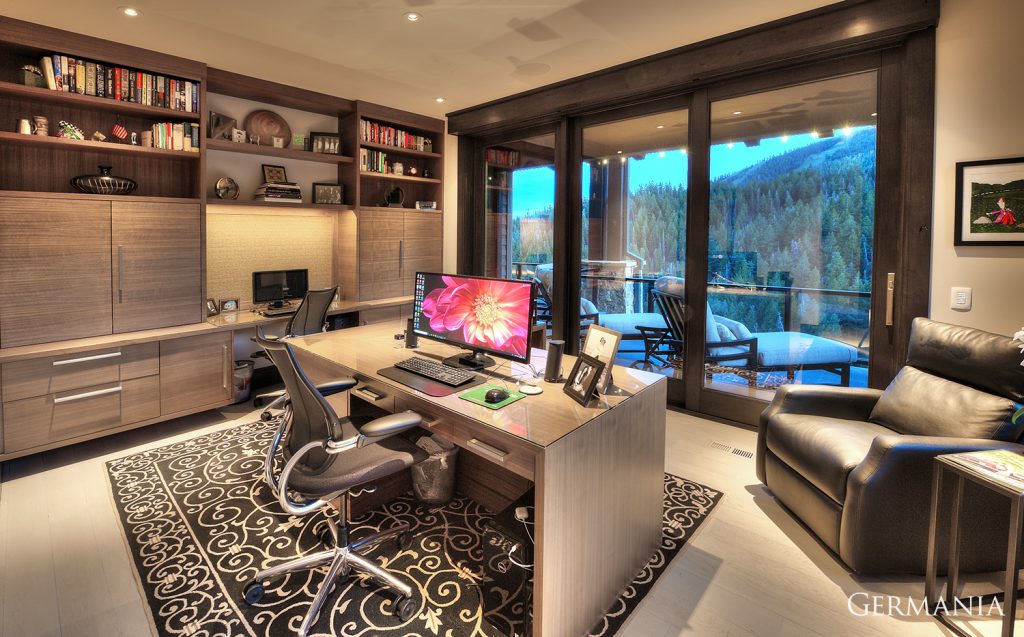 And a home office with a view. A spectacular view all year round.
Deer Crest 7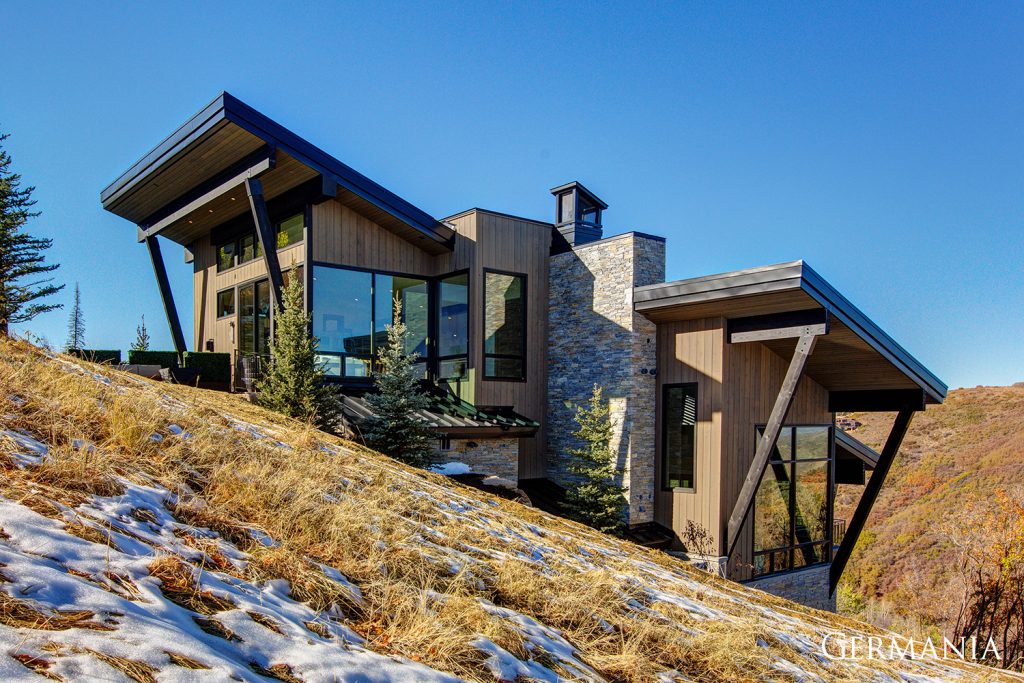 It's not hard to see why this beautiful contemporary home is one of our favorite design builds. Nestled perfectly on a rolling slope, there's so much view and space offered, especially once you get inside as well!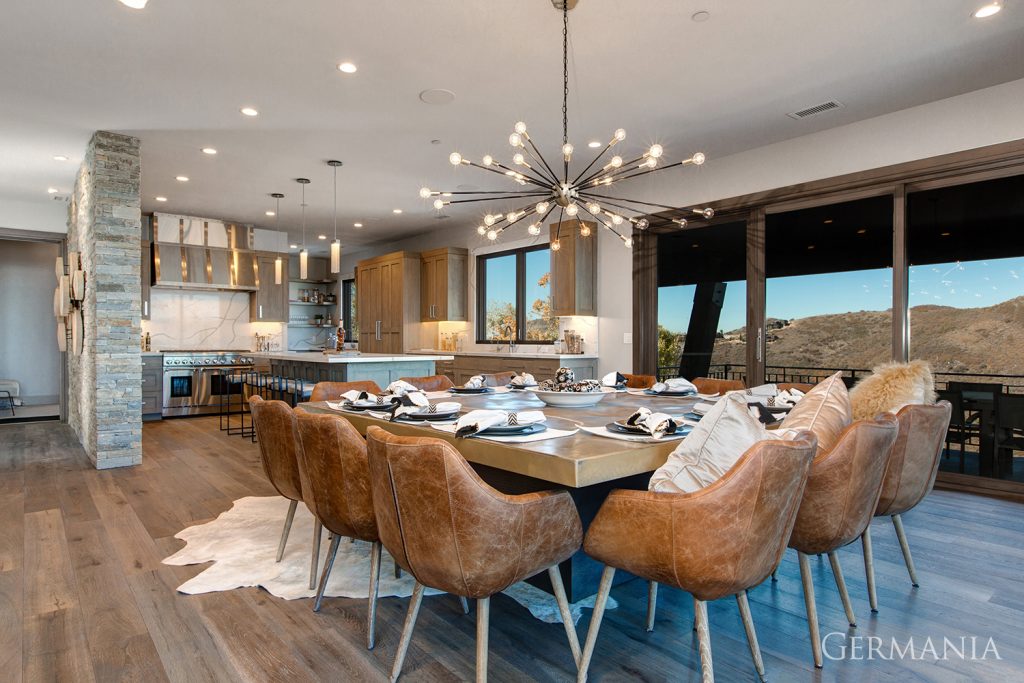 The open kitchen and dining area present such a beautiful cohesion to this homeowner's style. And the personal touches of the rug, chairs, light fixtures, and throw pillows tie it all together extraordinarily well!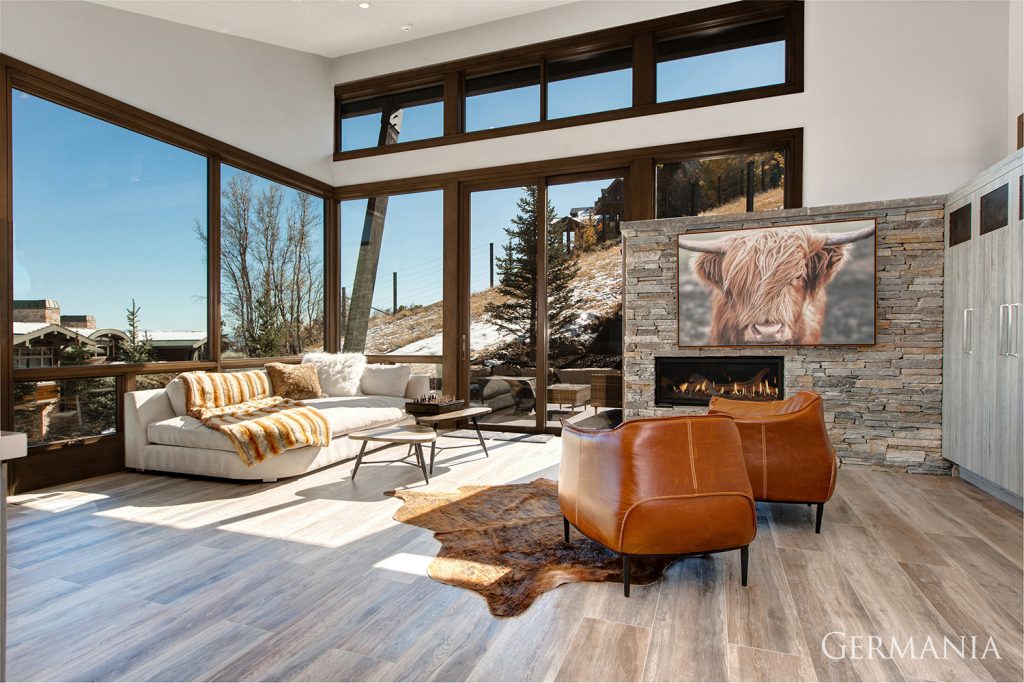 We love this open space, the floor-to-ceiling windows, the fireplace. All of it is perfectly suited for the contemporary flare.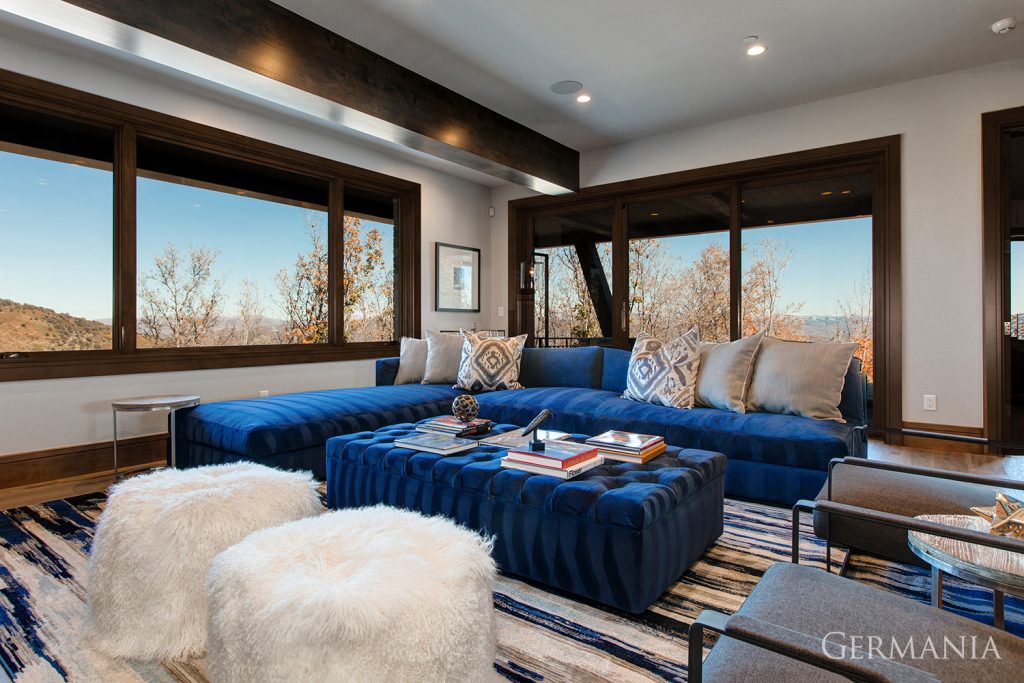 Vibrant colors, lush fabrics, clean lines, and wood detailing. Total luxurious comfort is on display here!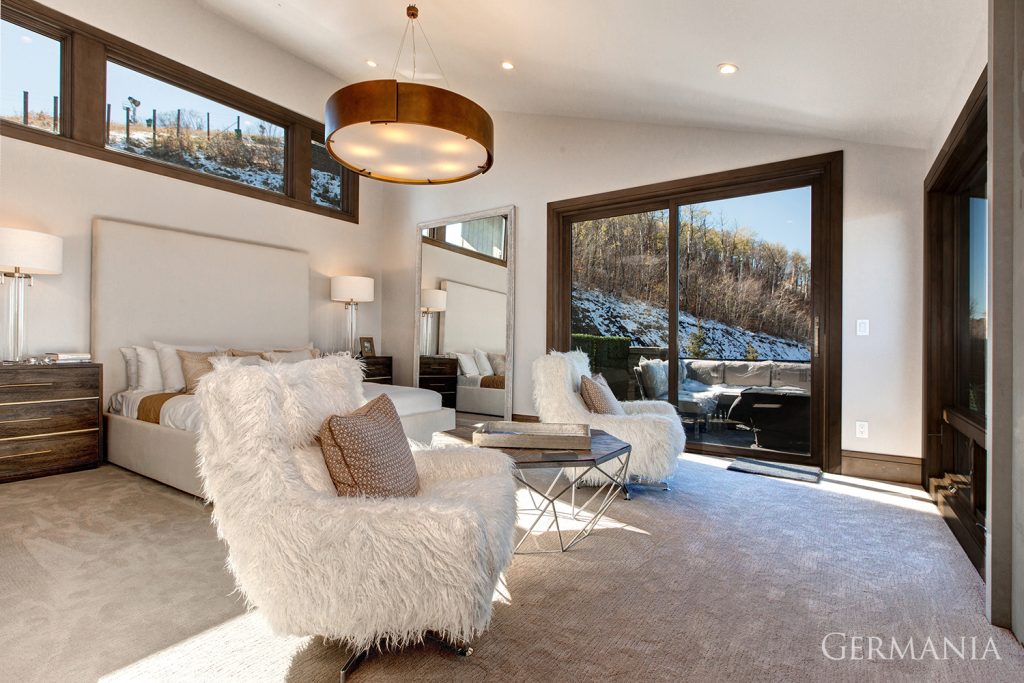 Each bedroom of this home presents immediate melty comfort. Certainly, a place where total rest and relaxation can occur!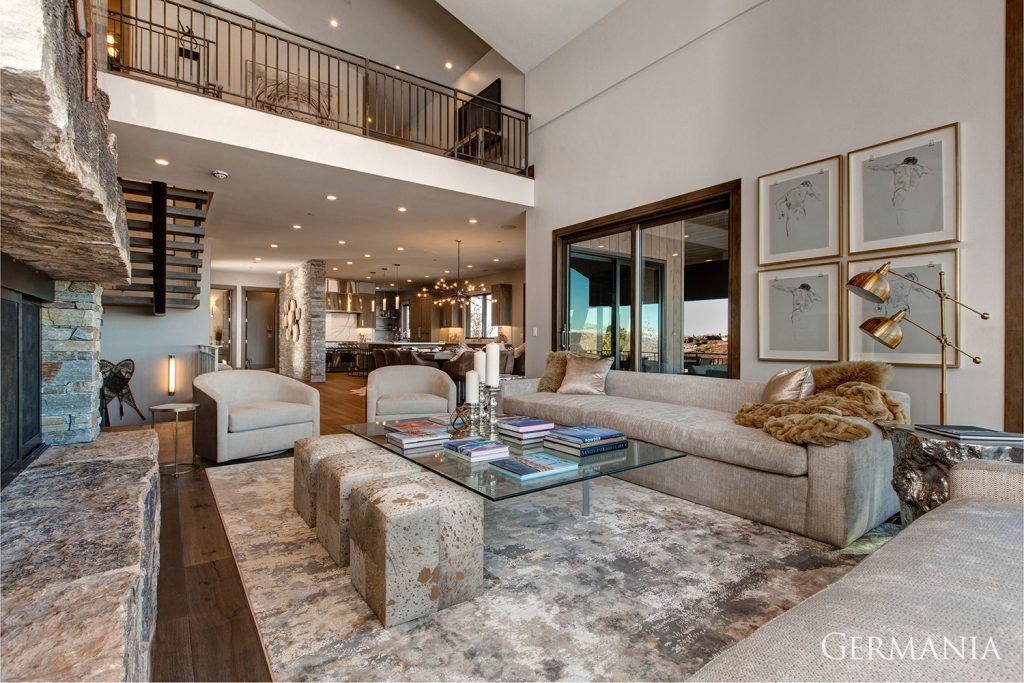 So much space! So many simple intricacies! An absolute joy to co-create this space with the homeowners.
Ridgeway Drive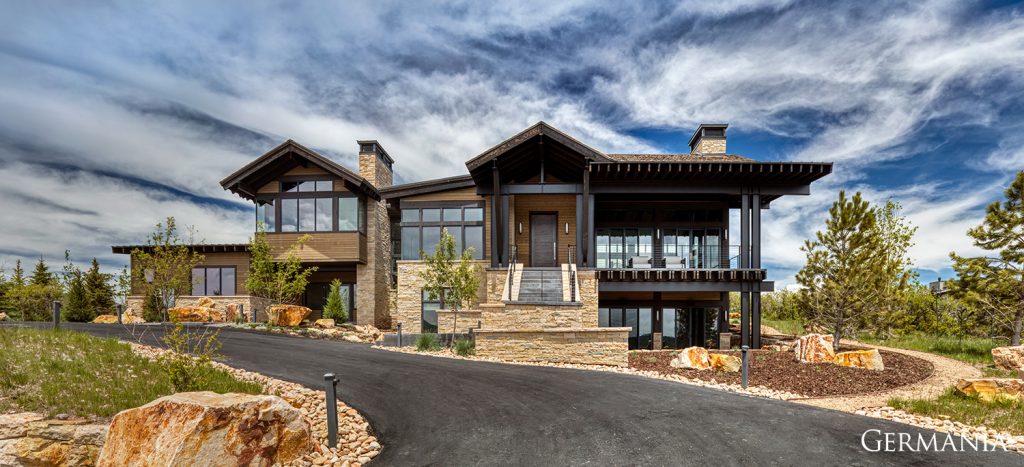 The angles and lines definitely give you an idea of what lies on the other side of that door. And those windows!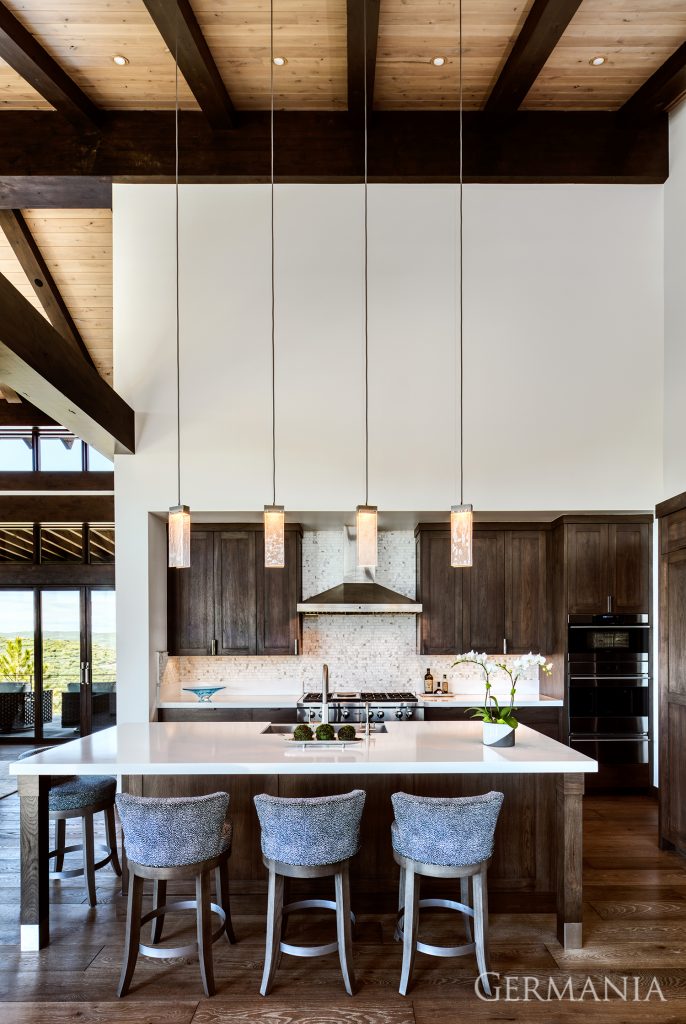 The tall raftered ceilings provide so much visual interest here, landing your eyes to rest on the easeful elegance of this kitchen.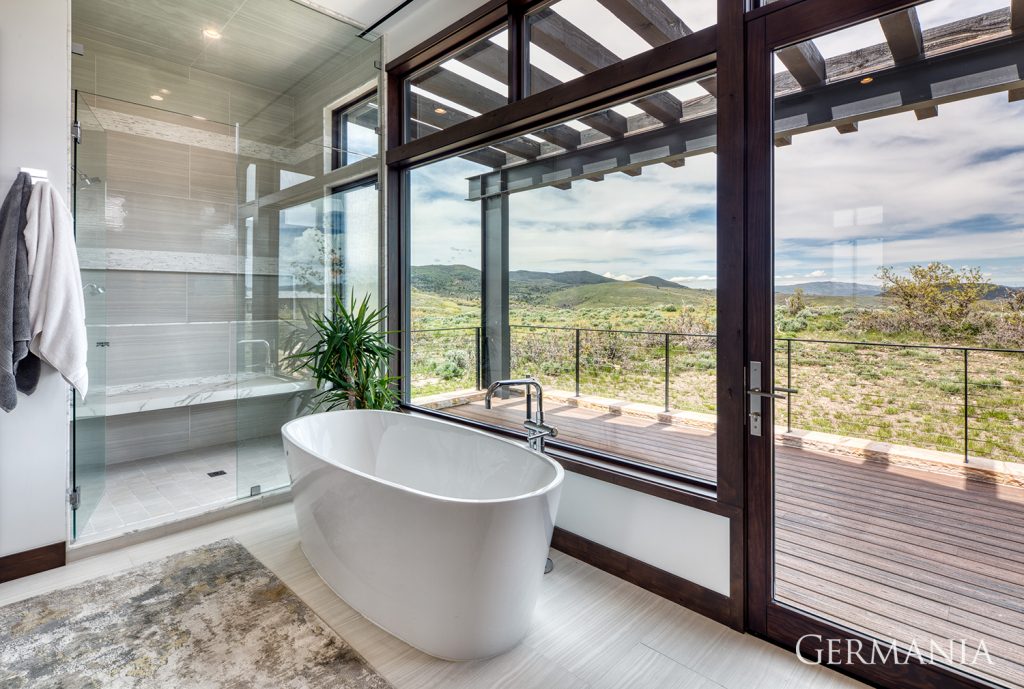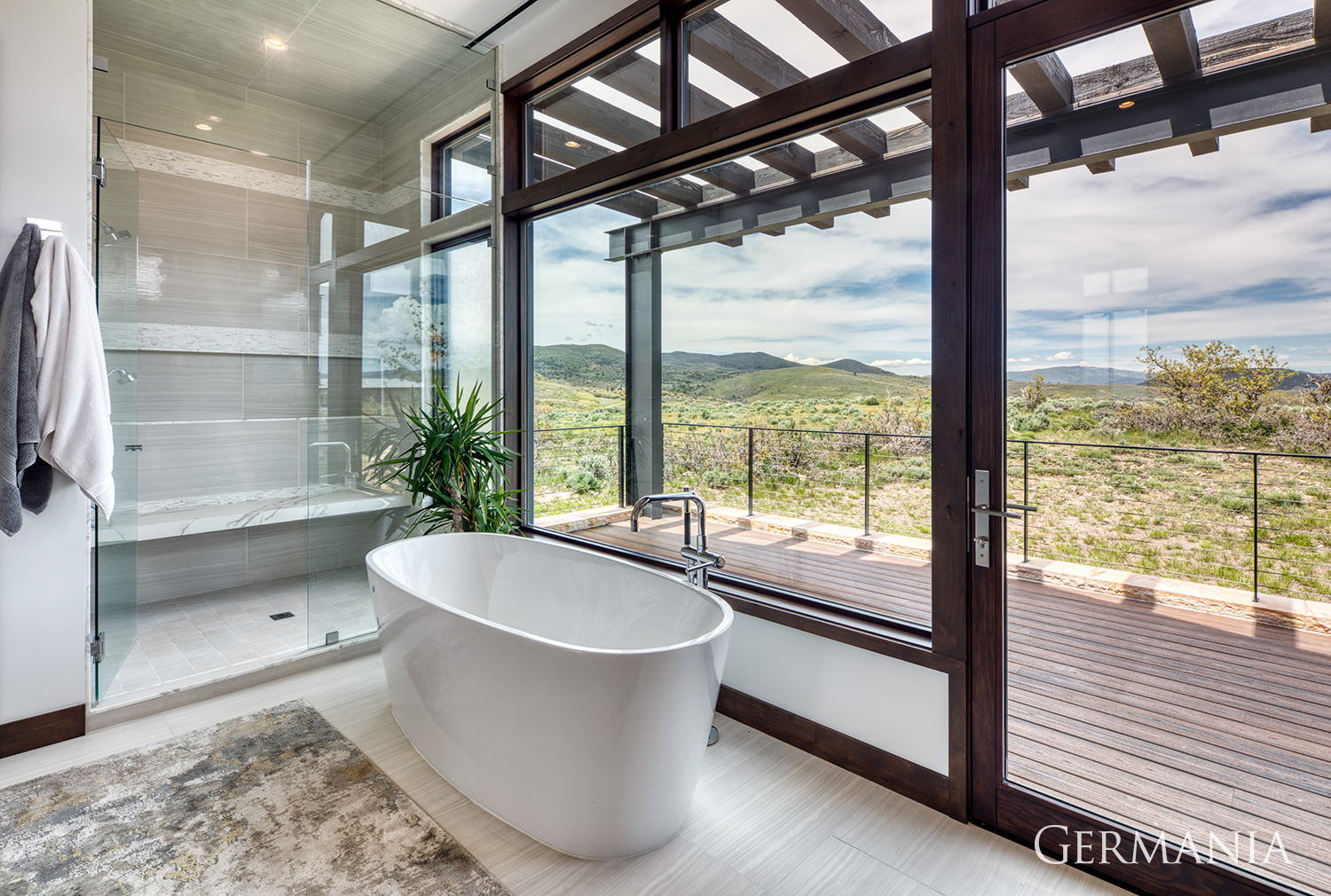 You can never go wrong with a spa bathroom. And to add further luxury to the daily goings-on in the tub, shower, or while getting ready at the mirror, the whole vast landscape offers more calm. Truly an ideal setup!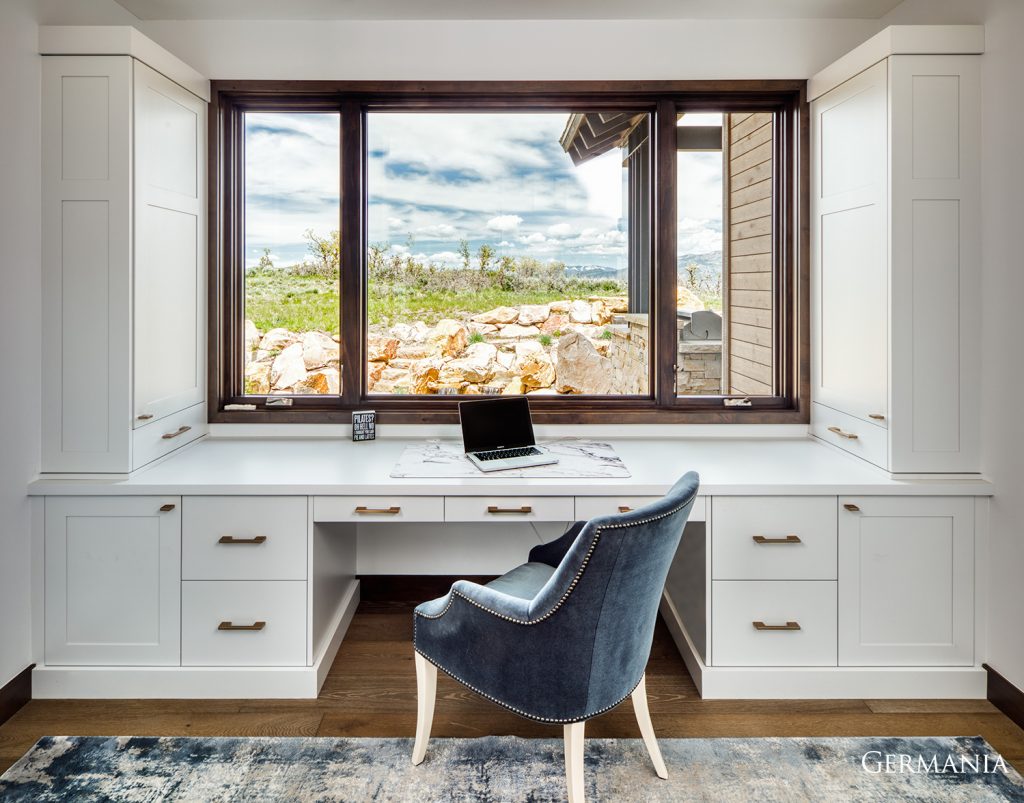 The simple magnificence of this workspace increases a sense of serenity and comfort. Work never has to be a hassle with a view like that!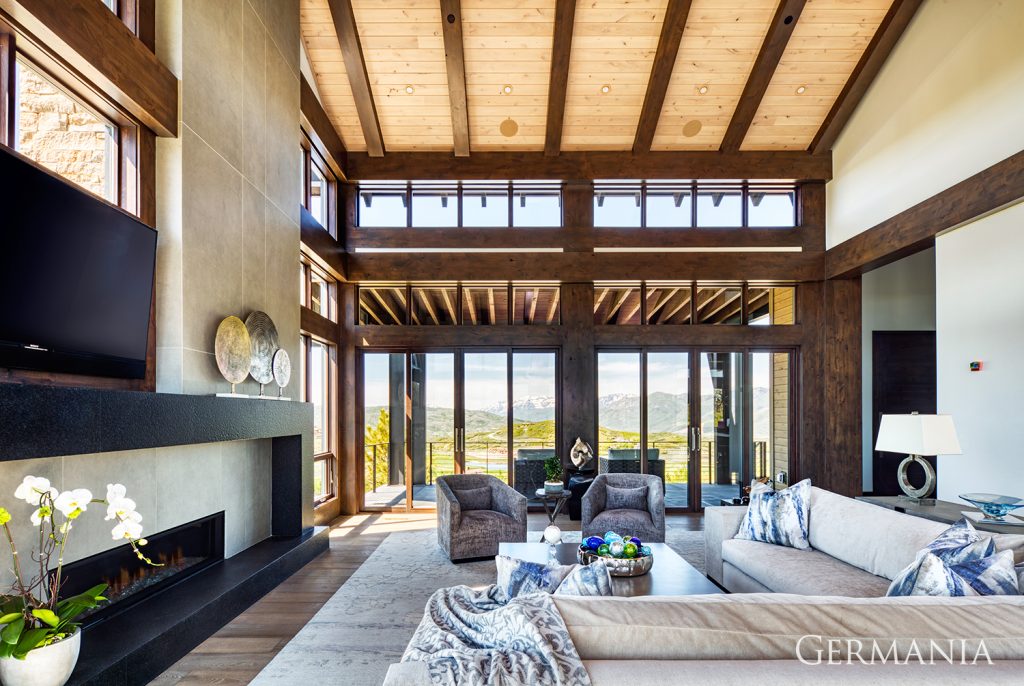 We love the cohesion of lines throughout this home, and what better shot than this to take so much of the linear artistry in!
Why Choose Germania Construction For Your Custom Home
As you can see, we speak the language of luxury custom homes. We are versed in any and every style, and most importantly we work with your personality and style. We have a dedication that is unmatched when it comes to what you want out of your custom Park City home. We will make every detail you have daydreamed about for your home into a flawless production that will inspire you every day you walk through your doors. We follow a simple formula to make it all happen.
Innovative Materials And Technology:
As your premier Park City residential contractor, we at Germania rely only on the very best materials and technologies to get your home built right. We use the finest materials and the highest quality technologies and innovative tools on the market to ensure your home has the most pristine finishing touches and features to make your life more enjoyable.
Qualified Professionals/Residential Contractors:
When it comes to work ethic, professional training, and the latest building information systems, Germania is your expert building team of choice. Every project we complete, we complete it with efficiency and style, resulting in consistent craftsmanship and unmatched quality that you can feel joy and pride in.
Custom Designs For Your Home:
We understand your home should be as unique as you are, and when you choose Germania, our professionals will work closely with you to bring every design and detail you envision into reality. We offer a variety of individual design solutions and use innovative tools and technologies to make sure every aspect of your home is completed flawlessly and exceeds your expectations.
Successful Design Experience:
When you meet with one of our design experts, we go through any and all anticipated worries you may have when planning up your custom home. Your comfort and confidence in how your home is constructed are important to us, that's why we offer portfolio images of past projects as well as direct client testimonials so you can know you're choosing the premier builders for your home.
Budget-Friendly Service:
Beauty, style, and elegance are achievable and affordable when you work with us. Being a local residential contractor provides us with relationships within the industry so that we can always offer competitive prices for our high-end home projects.
High-End Residential Construction:
Whether you are building your Park City home from the ground up or restoring an iconic historic home, we will always provide you with the best services available in the industry. Our team carries extensive knowledge and experience with luxury residential building projects, and we know what it takes to ensure every detail of your custom home exceeds your dreams.
Start living out your wildest home ambitions and contact Germania today!
More On Luxury Homes
Building Your Dream Home In Park City Is Within Reach
What To Look For In Your Family's Custom Luxury Home Builder In Park City