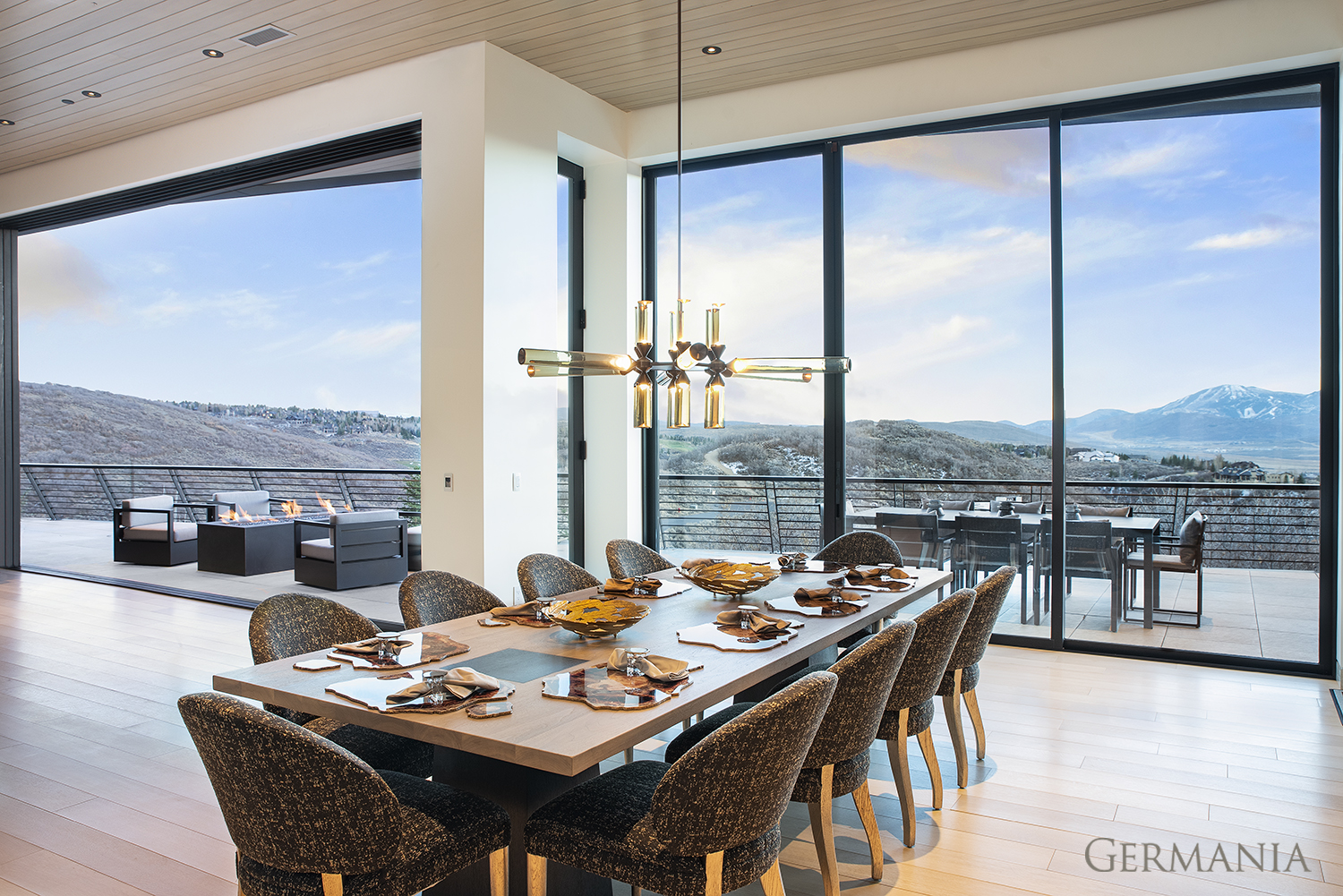 7 Dining Room Ideas For Your Custom Luxury Home
Recently, there has been a noticeable trend where dining rooms are concerned—many people have opted out of this formal, once-necessary space of gathering, meal-sharing, and winding down after the day for quicker, less formal places to gather. With technology at our fingertips, the custom of sitting with intent and sharing a meal with family and friends seems to have all but disappeared from our lives. And as with many, many aspects of our lives, the Covid-19 pandemic has offered all of us new ways to rethink how our daily routines impact our living spaces.
Many people started using their dining rooms again as classrooms for school-age children and even workspaces more secluded from the rest of the home. With this shift, we at Germania are seeing a change in the requests for custom homes to include dining rooms in open-concept living plans. Many are seeking luxury home builders who can retrofit their spaces and recreate separate dining rooms once again.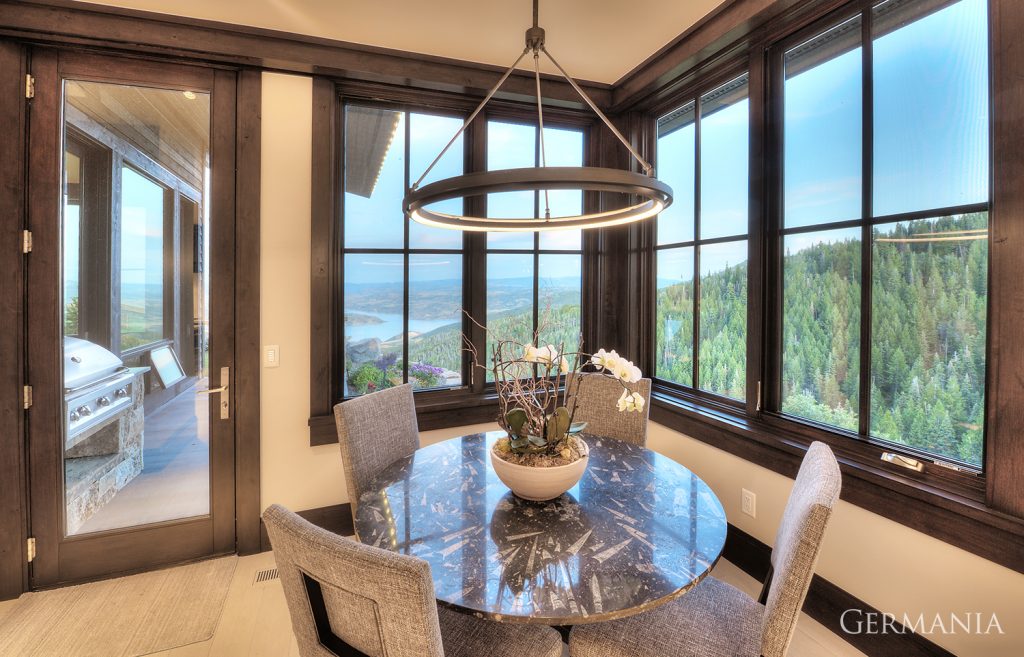 Whatever the case, there is certainly a strong desire to incorporate and return blissfully and nostalgically to the dining room of yesteryears many of us grew up using—a return to the intentiality of meals and sharing our days, a return to multifunctionality of space, a return to embodying the entirety of our home and using every corner with exuberance and joy. At Germania, we want to show you some of our favorite dining room ideas and concepts. We hope to get you excited once again about how luxurious and purposeful your dining room can be!
7 Custom Luxury Dining Room Ideas We Love
All The Right Angles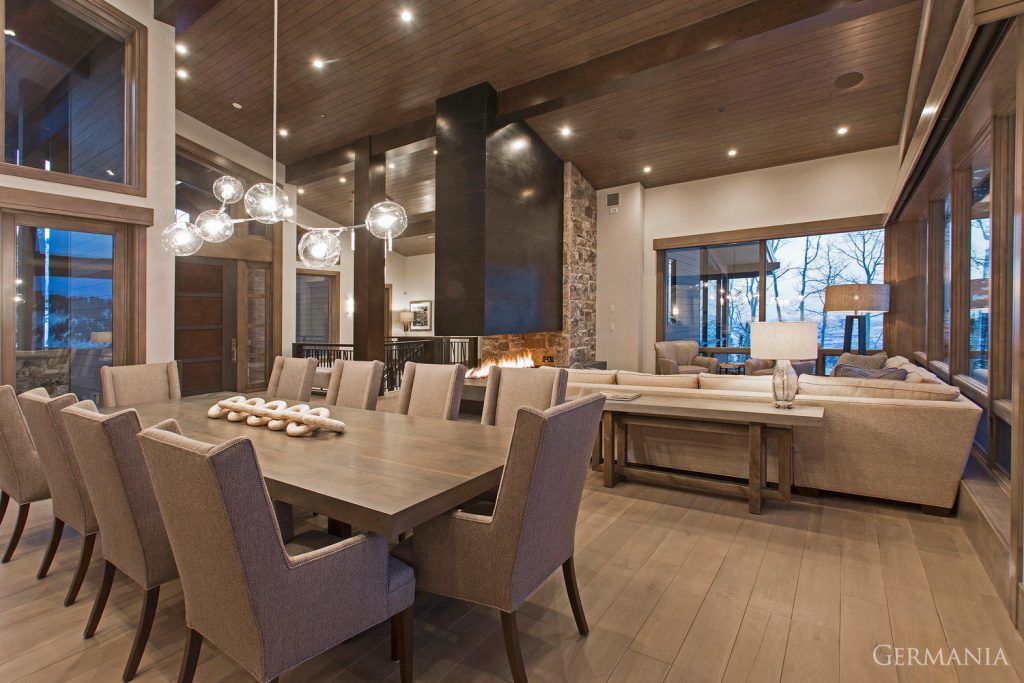 Bright and inviting, every curve and linearly-designed detail of this dining area creates balance and breadth, making it the perfect place for morning coffee contemplation as well as late night entertaining.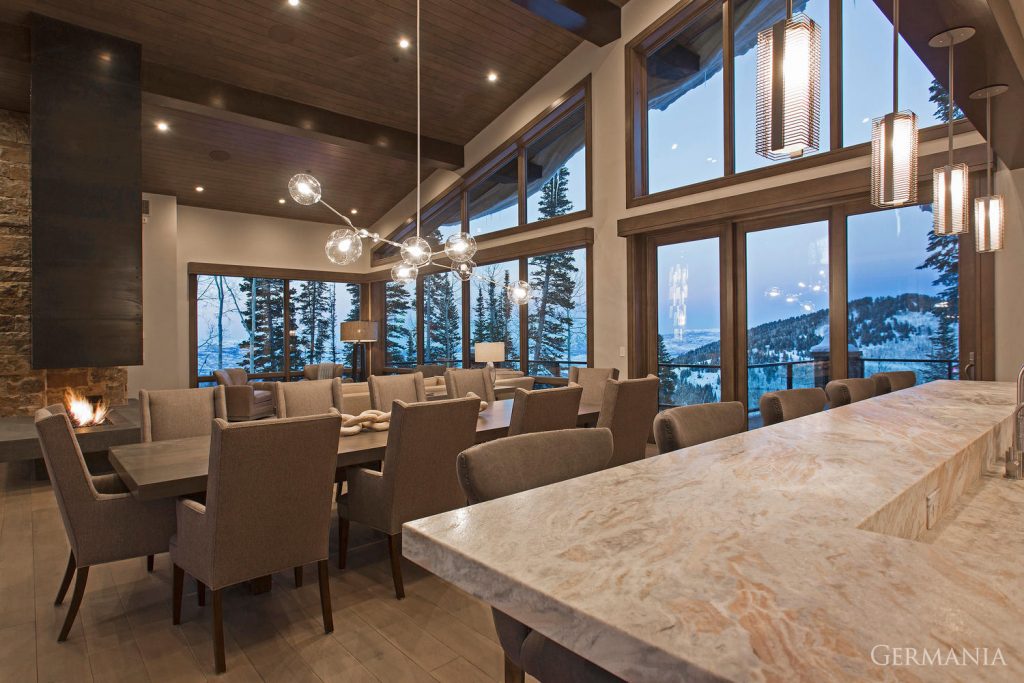 Dinner With A View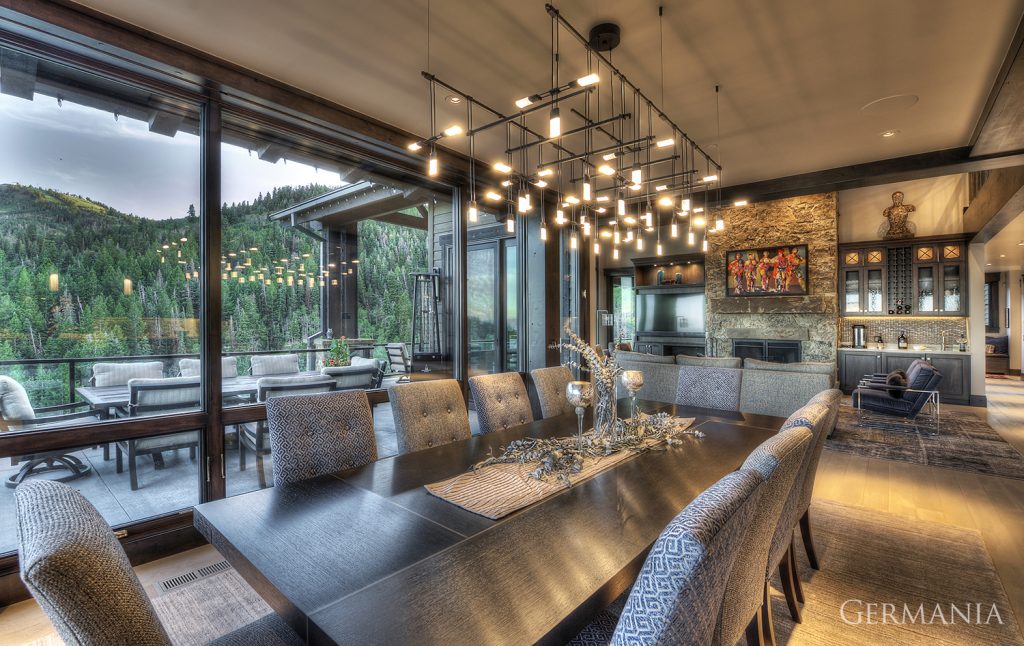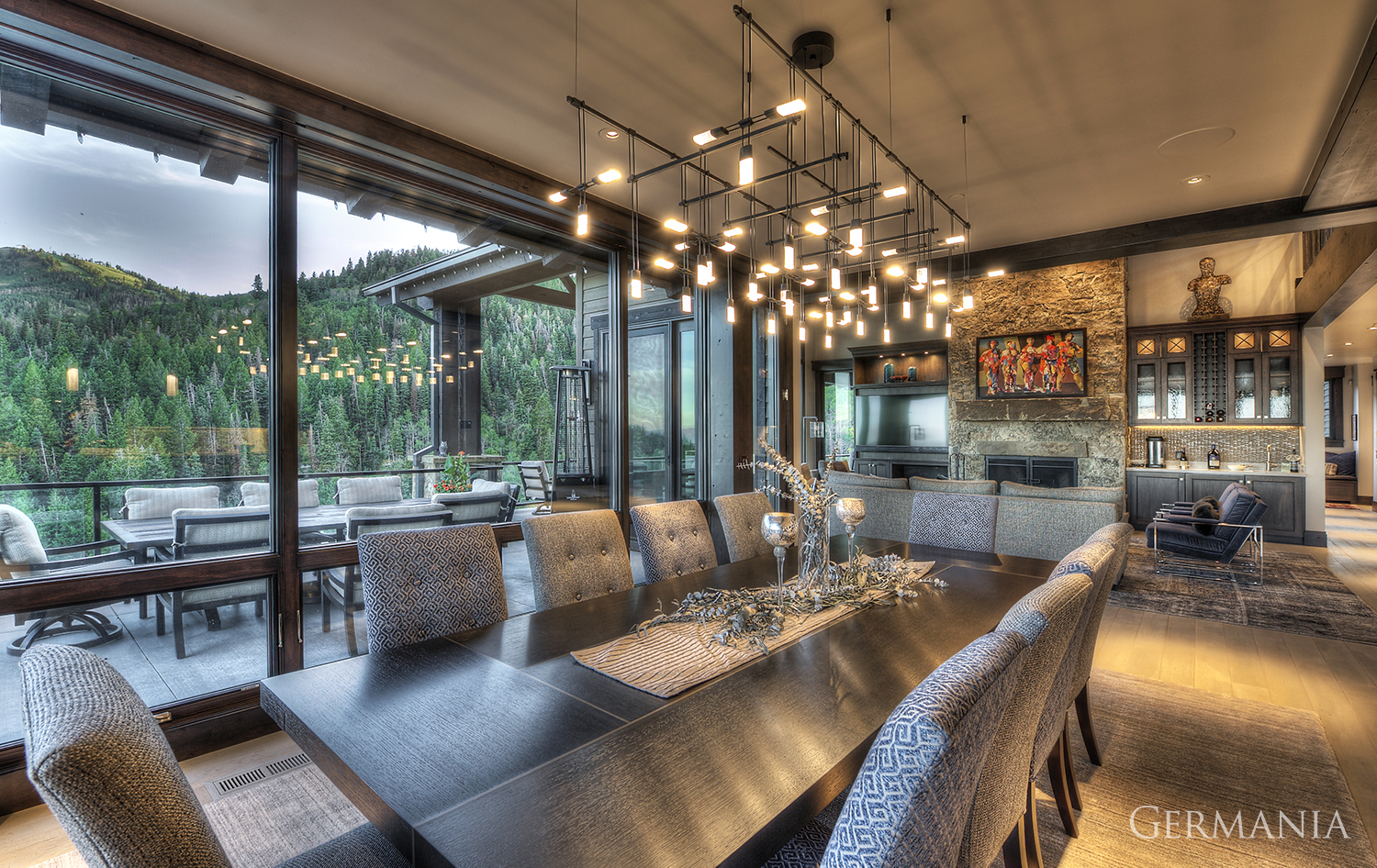 Illuminated and purely grand, this dining room offers a semi-open space, encouraging movement and multifunctionality. The floor-to-ceiling windows and doors to the outside offer a breathtaking view, entertainment enough for any gathering, any time, and an easeful transition to the other areas of the house for after-meal leisure and relaxation.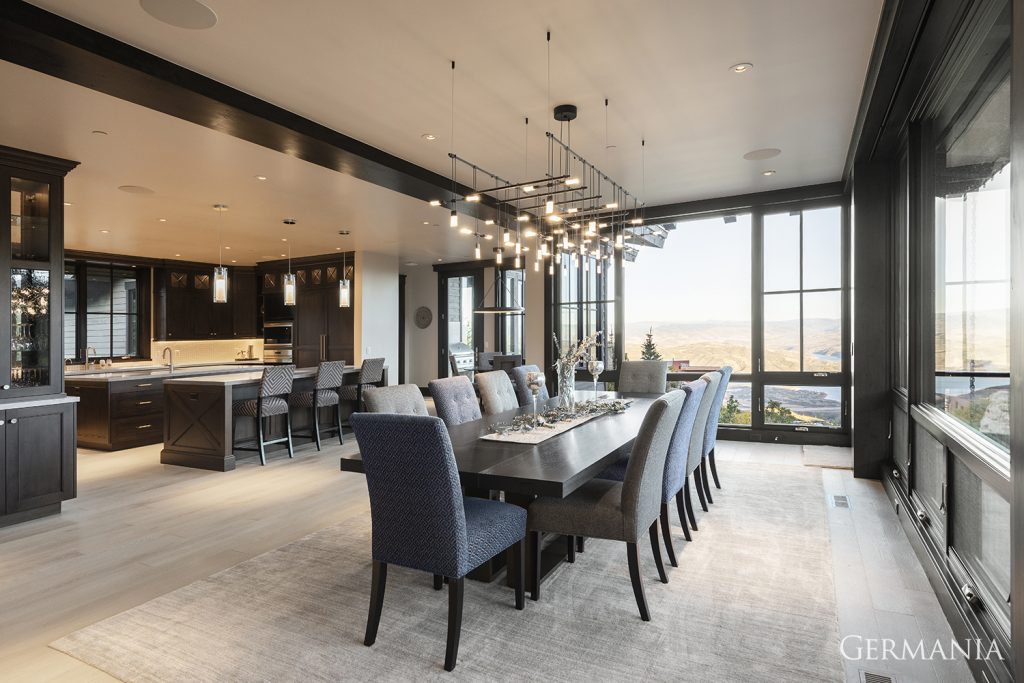 A Return To The Round Table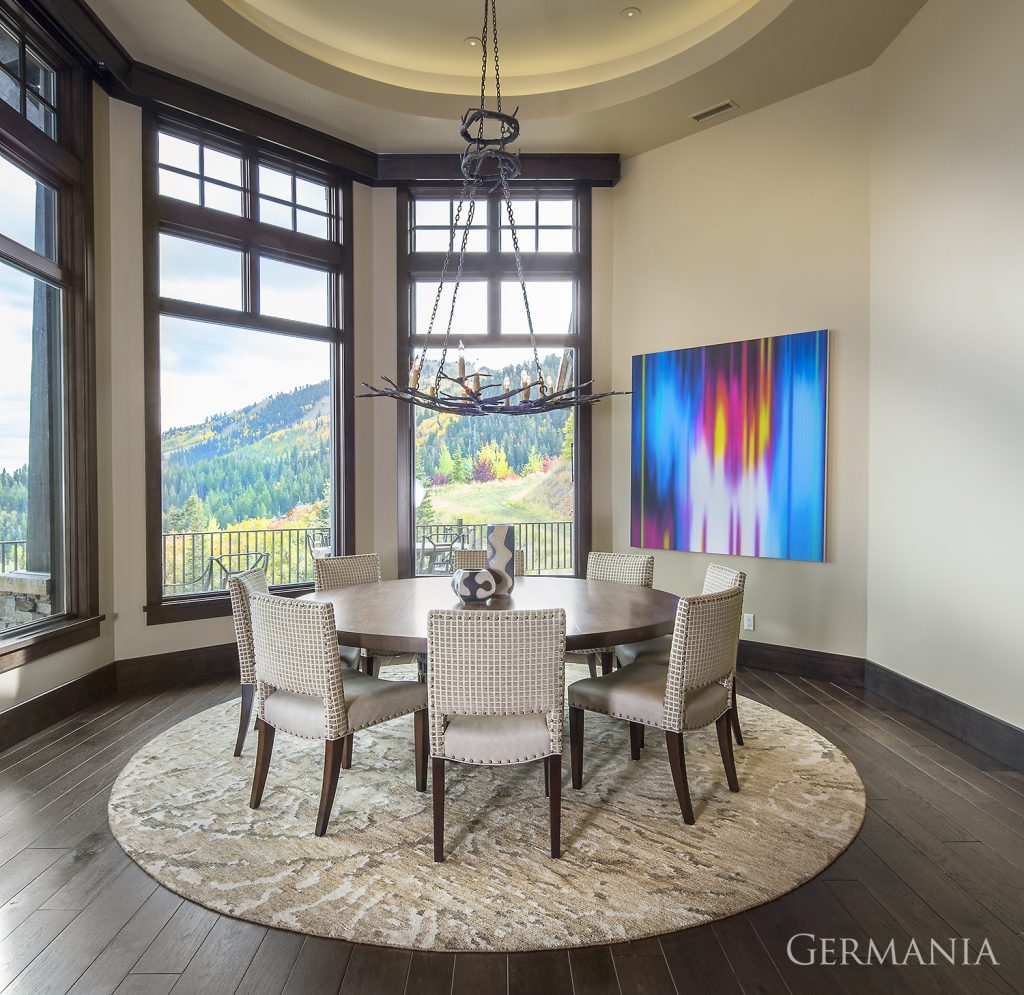 This dining room presents a near-panoramic view of the wild, natural world while offering simple and elegant design. The table is large enough to host plenty of family and guests, and also remains intimate enough for even just two people. And the distinctive color pop and the nature-inspired chandelier, and this dining room becomes perfect for any type of gathering.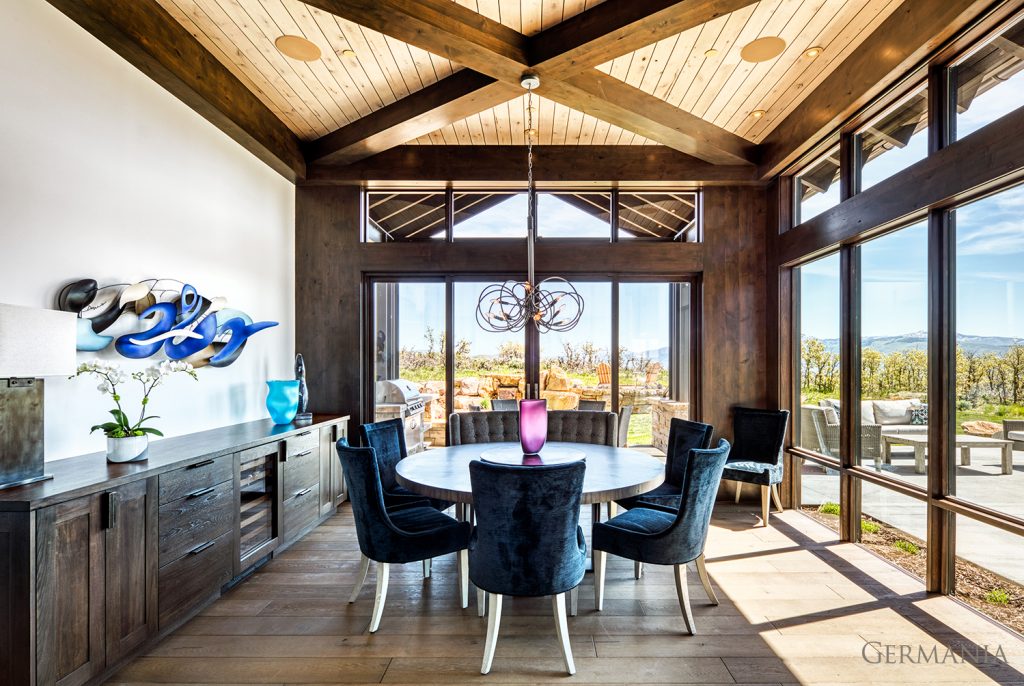 The circular theme repeated through the light fixture and the table provide a beautiful change from the expected rectangular dining table. This one in particular adds a certain unique flair with the mix-matched seat and chairs, making it a breeze to move from dinner to drinks or games without having to change location.
Everyday Elegance In Open Space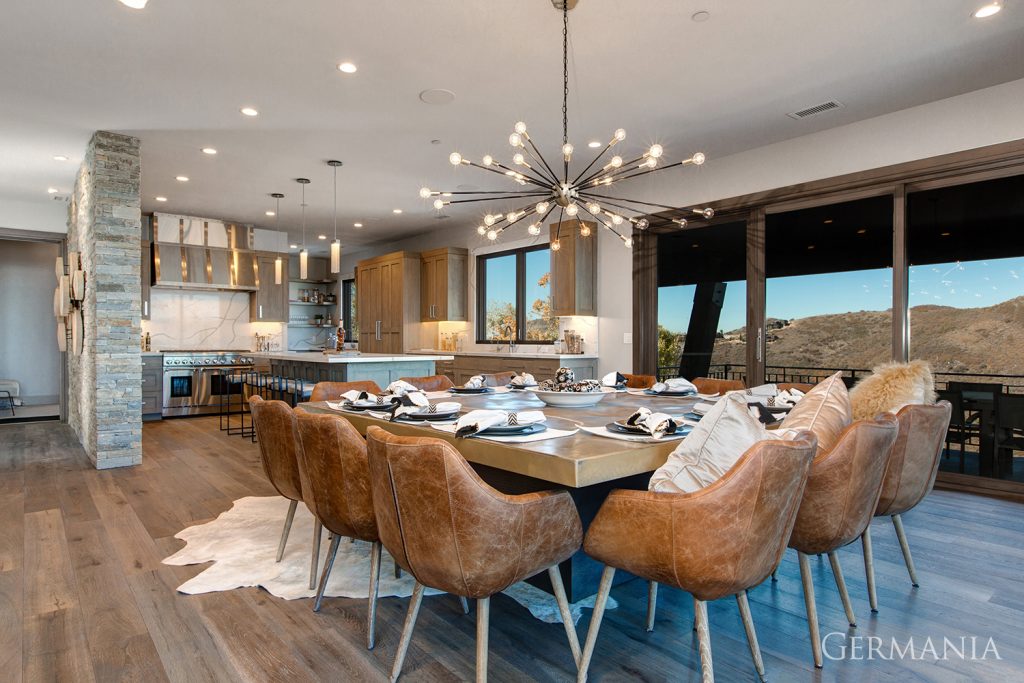 This dining area creates comfort, ease, and radiance, making it far more than a one-dimensional space used solely for sharing meals—what we have here is a gathering space, thanks to the chairs and pillows, where lounging and relaxing alone or with others can happen, as well as a space for work projects, school projects for the kids, or game night. We love our spaces to be more than just one thing, and this room demonstrates just that!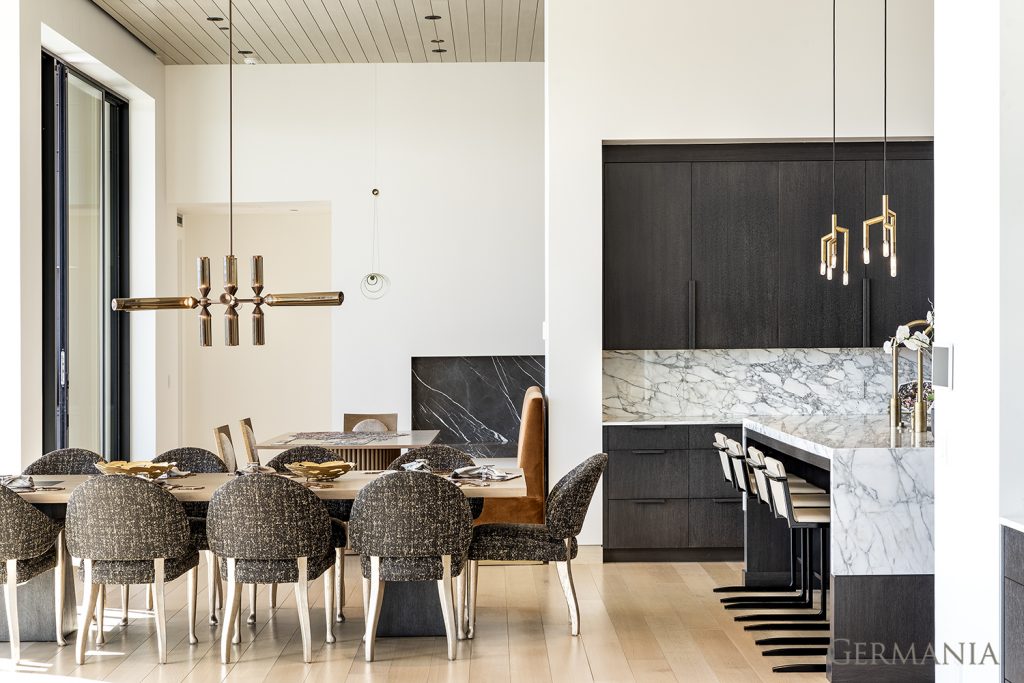 We love the cohesion of design in this dining space, as well as the livability of this open-concept plan. It's enough elegance and ease for everyday use as well as holding high potentiality for large, extravagant gatherings.
Outdoors Indoors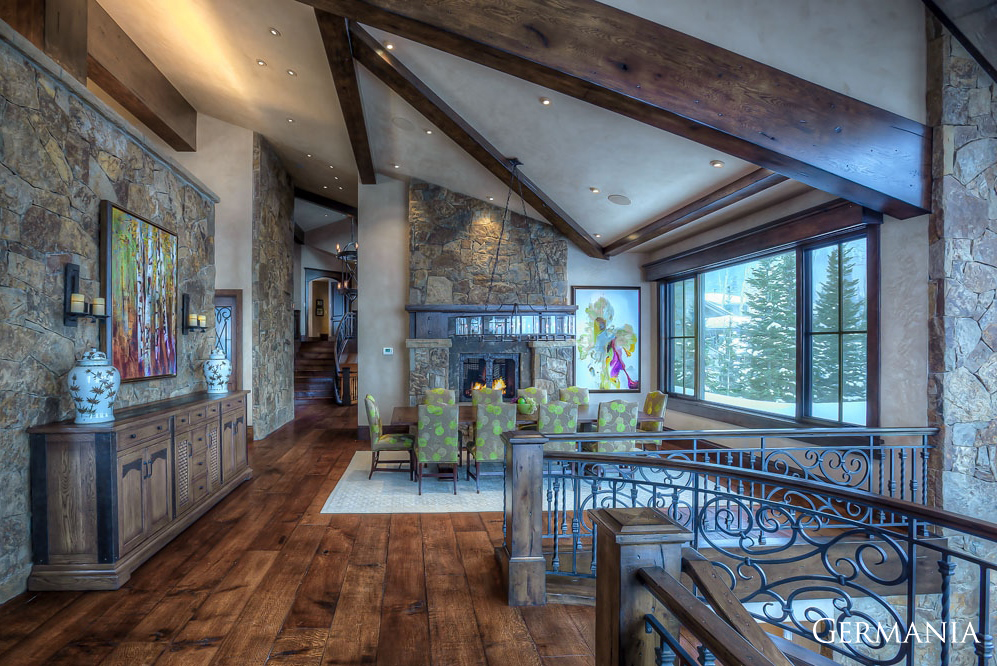 With an openness and yet a particular sort of secludedness, this dining room allows for rich gatherings and celebrations. The colors chosen for the art pieces and the chairs provide a beautiful transition of the great outdoors and bring them inside, offering the serenity of nature for every dinner occasion.
Classically Inspired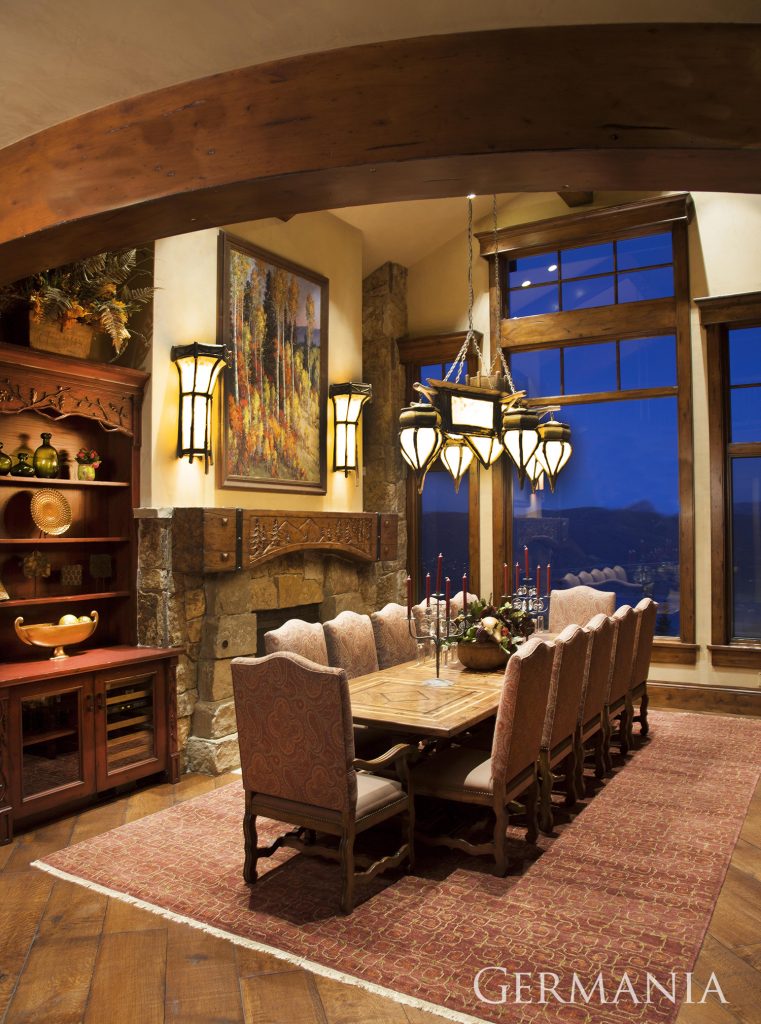 Classic and centered, with luxurious finishings and details, this dining room has it all—the grandeur of a breathtaking view, the warmth of a fire for winter entertainment, and plenty of room for all to gather among it's old world charm. We love how the palette provides a sense of enclosure and effulgence, ready for any guest and occasion.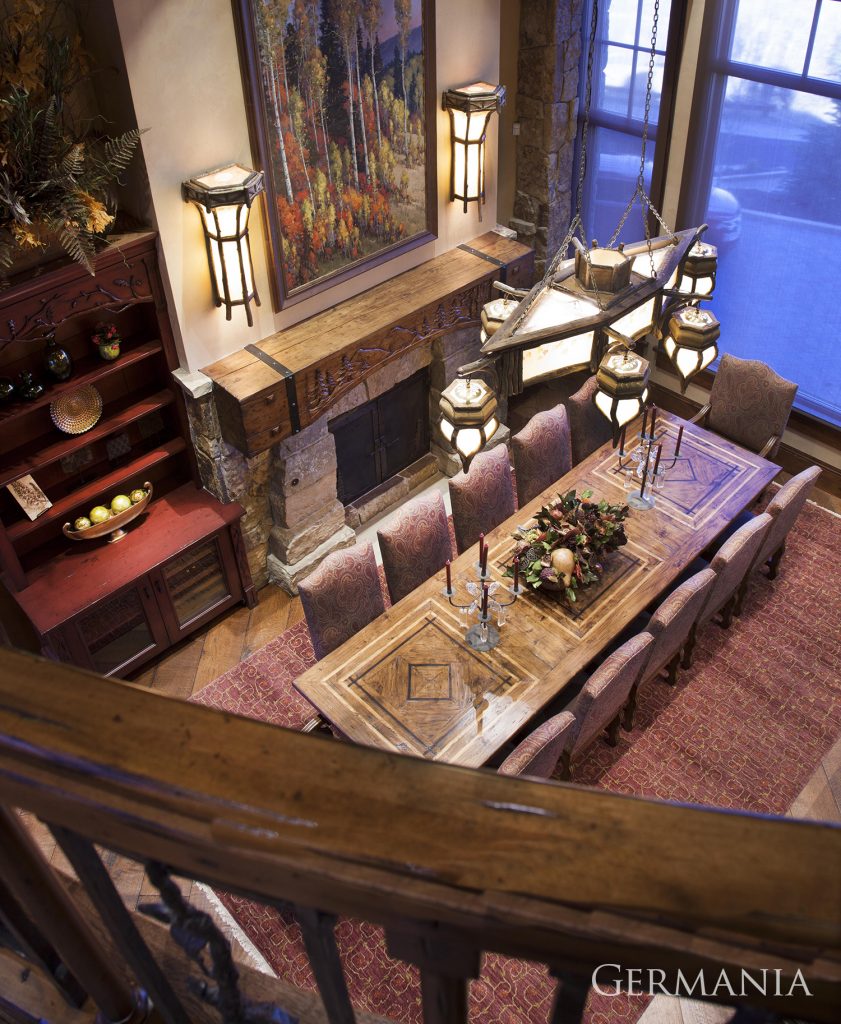 Close Enough For Comfort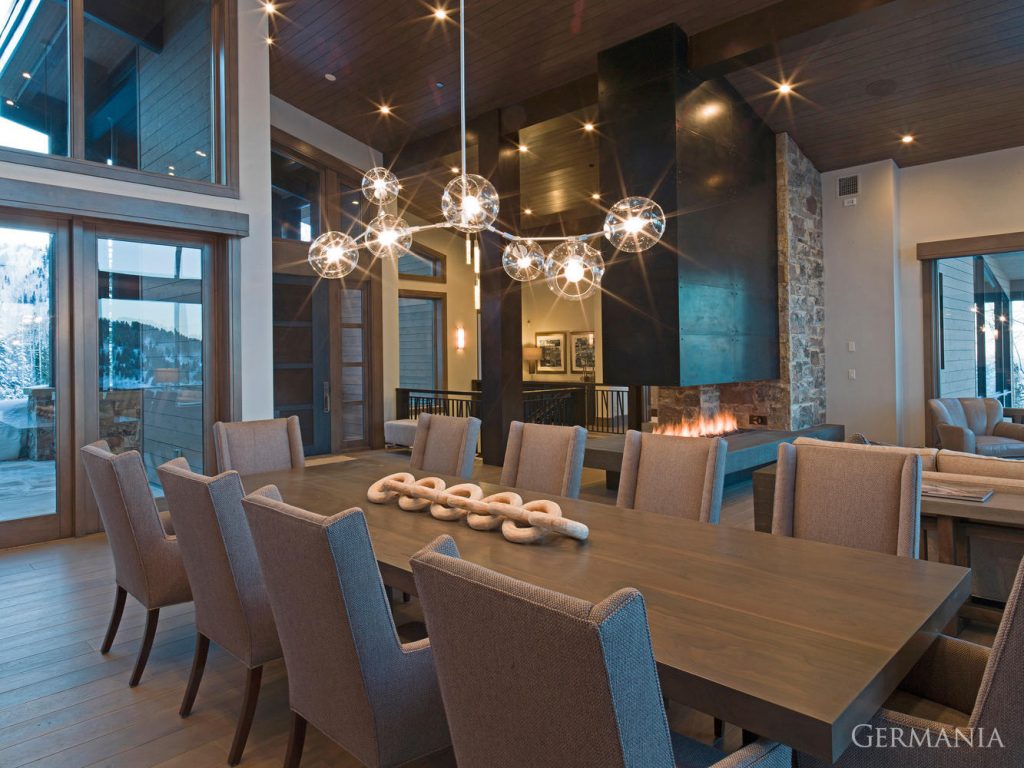 With such perfect proximity to the living area, the fireplace, and the wraparound deck, this dining area provides thoughtfully cultured and designated zones. The muted color scheme provides a soft blend of elegance, effortlessly tying together the designated zones. The choice of materials really makes this space an eye-pleaser and a place of pure luxury and design.
Why Choose Germania Construction As Your Custom Home Builder?
At Germania, we know how to create luxurious, multifunctional spaces that fit every aspect of your design aesthetic and how you use your home and spaces. We also know that you want the most out of each area of your home. Expert planning and designing from our dedicated team will help you create either open concept living spaces or ones that have more seclusion. Whatever you dream up, we want to work with you to make it happen! We work with the highest quality materials along with our meticulous planning to get you exactly what you want. Start living out your wildest home ambitions and contact Germania today!
More On Luxury Home
Building Your Dream Home In Park City Is Within Reach
What To Look For In Your Family's Custom Luxury Home Builder In Park City