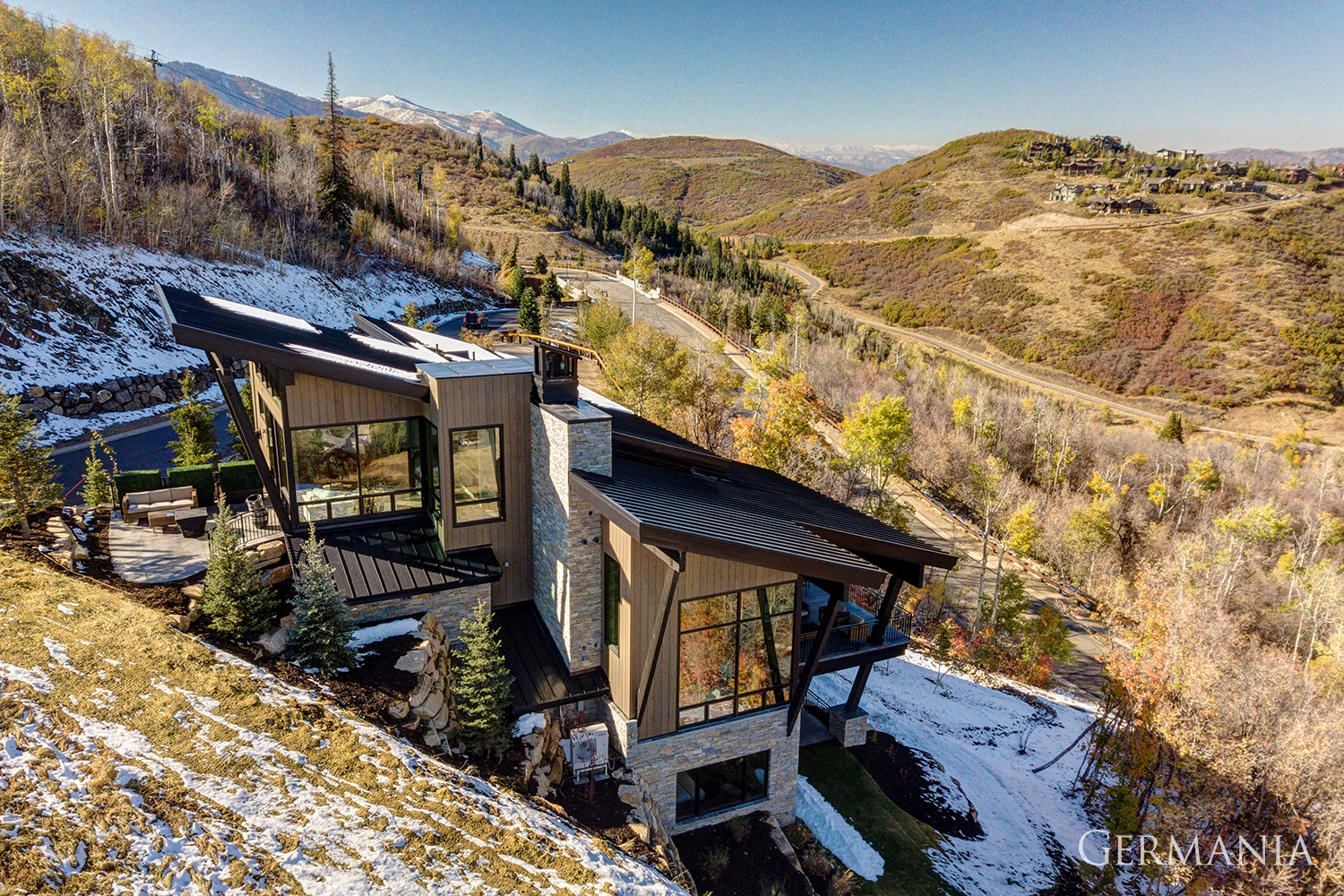 Ski Locker Room Ideas for Your Luxury Home
One of the benefits of having a custom luxury home in the mountains of Park City is the easy access to outdoor recreation like hiking, mountain biking, snowshoeing, snowboarding, and of course, skiing. But with all the outdoor activities comes gear. Lots and lots of gear.
If you're looking for more than a basic mudroom for skis, then you'll appreciate these boot room ideas. We've rounded up some of our best ski locker room ideas, and these mountain chalet mudrooms are both functional and stylish. We can help you decide how to outfit a ski room so you can easily store and access your gear through every season, without compromising the aesthetic of your beautiful custom home. This is just one of many reasons why Germania is considered one of the best custom home builders in Park City.
Ski Locker Room Ideas We Love
These ski locker room ideas are sure to get your design wheels turning. Whether your design style is rustic and natural, or modern and sleek, you can have a ski entryway that fits your aesthetic. And be sure to visit the Germania Portfolio for more home design ideas.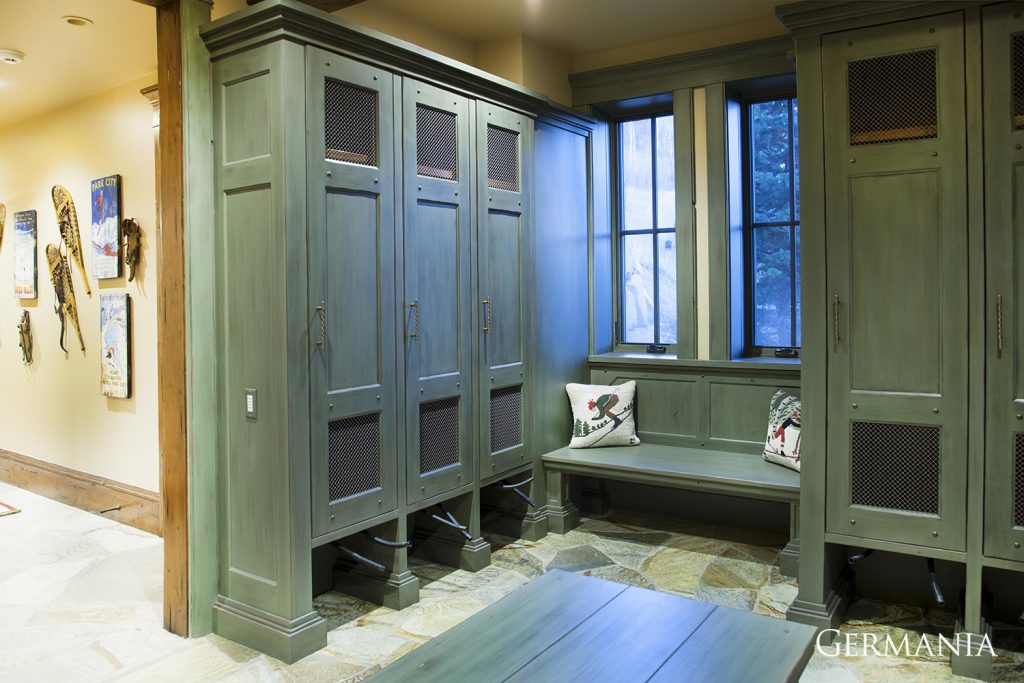 This is the perfect ski room for a mountain home. The ski locker room design features rustic finishes on the lockers with custom boot dryers tucked under each one. All your gear will stay tucked away and organized, and the earthy design adds to the mountain charm.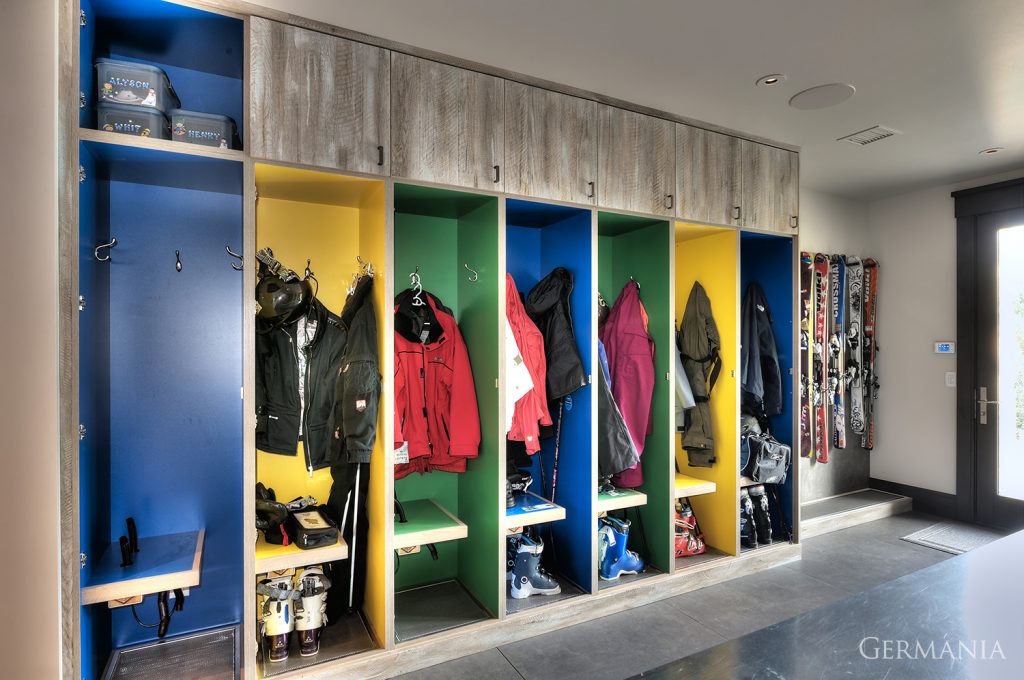 This ski chalet locker room is bright and colorful in the most subtle way. When the lockers are open, they reveal brightly colored interiors with an included boot dryer for the ski room in each one. When the locker doors are closed, it becomes a ski resort-style mudroom with clean lines and everything in its place.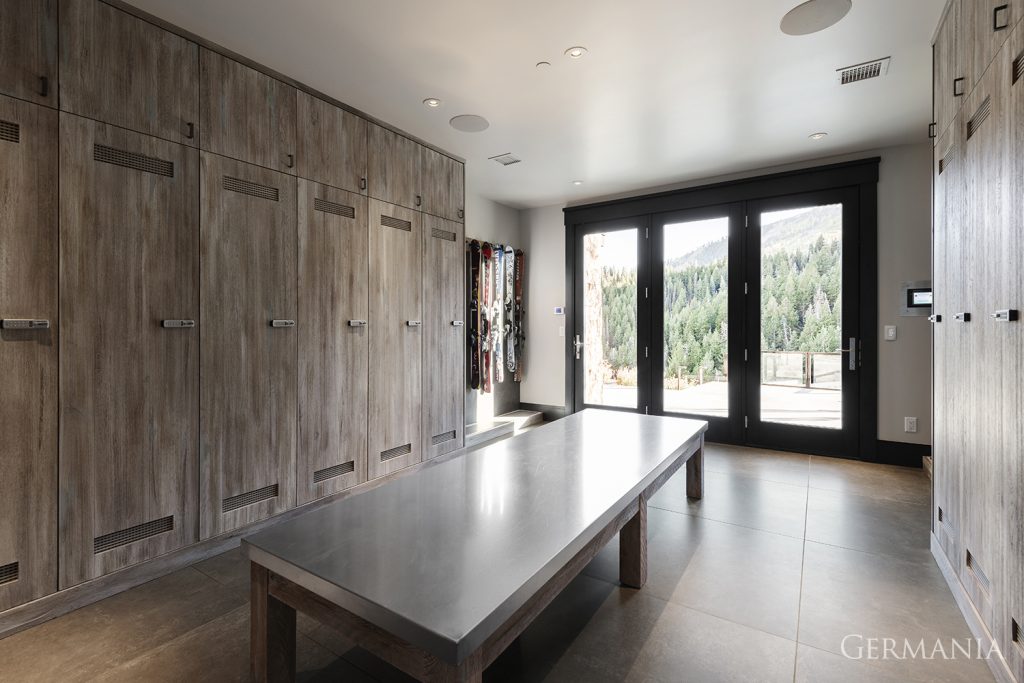 A large seating area is key in this ski entryway. Everyone can get in and out of their gear and stow it away right when they get to the house.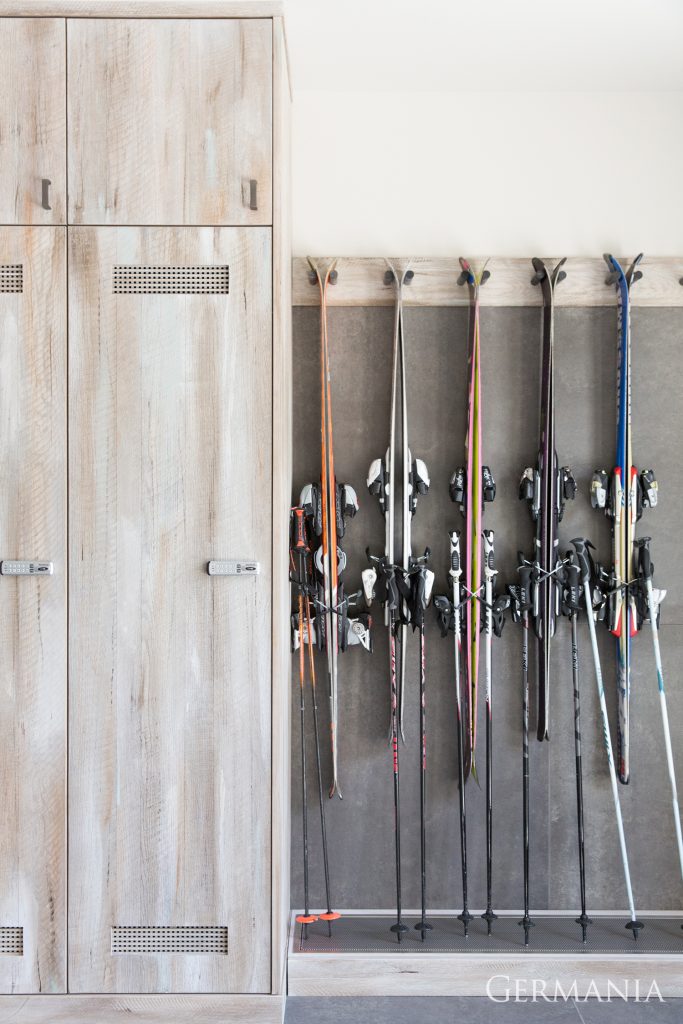 Vertical ski storage rounds out this ski and snowboard locker area. You'll avoid unnecessary scrapes and scratches and keep everything together as it drips dry. And everyone will know exactly where their stuff is when it's time to hit the slopes again.
13 Things To Consider With Your Ski Room Design
When it comes time to build your ski room in a vacation home, consider these additional ski locker room ideas. Which of these luxury features do you want in your design?
Drip Drainage
It's hard not to bring a bit of the snow in with you after a day of adventuring. Avoid turning your ski locker room into a ski swamp by including proper drip drainage options.
Ventilated Lockers
Sure, you want your gear out of sight, but you don't want it to get musty and mildewy. Ventilated lockers offer the best of both worlds.
Vertical Ski and Snowboard Racks
A vertical storage area for skis and boards will let them dry and keep them from getting scratched or damaged.
Boot and Glove Dryers
Nobody wants to put on wet boots or gloves, but they are notoriously the hardest gear to dry. Everyone will love stepping into dry gear when you install custom boot dryers.
Gear Built-Ins
It's much easier to keep everything organized when it all has a place. Consider building in specific places for gear like helmets, boots, skis, etc. That way there's no question where everything goes.
Charging Station
Need a little extra juice before heading out, or want to power up after a long day, but don't want to roam the house searching for a charger? An electronics docking and charging station can give everyone's devices a little boost so they are one step closer to posting their pics and videos.
Moveable Seating
Plenty of seating is key in a ski resort-style mudroom. Make sure you have enough space to sit and get in and out of boots and gear. And if the seating can be moved to accommodate different sizes of groups, even better!
Heated Flooring
After people put their cold toes on a warm heated floor, they might never leave the ski entryway. A heated floor will help keep everyone comfortable as they change in and out of gear. It can also help evaporate water from snow that gets tracked in from the outdoors.
Lighting
No more searching for a lost glove in the dark recesses of a locker. Throw custom lighting in each locker to take the design to a whole new level.
Weatherproof and Wear-Resistant Flooring
You want an area that will stand up to the beating it's bound to take. Look for flooring that fits your style, but that is also weatherproof and wear-resistant.
Heating
Pump a little extra heat into the ski changing area, or even include a gas fireplace to give it a cozy mountain chalet mudroom feel that will make people want to linger together a little longer.
Shelving
There are always odds and ends that need a home. Consider adding some shelving both in lockers and in other areas of the ski locker room. Shelves are great for holding personal items and small gear.
Hooks for Outerwear
You can never have too many hooks. Hooks for beanies. Hooks for coats. Hooks for ski pants. And hooks for things you didn't even know you needed hooks for.
When It's Time To Make Your Ski Locker Room Ideas A Reality
When you're ready to build a custom luxury home with your dream ski locker room design, contact Germania Construction. We've spent years making home design dreams come to life in Park City, Utah and we can make yours a reality too. Take a look at some of our other home designs and give us a call today.
More On Luxury Homes
Building Your Dream Home In Park City Is Within Reach
What To Look For In Your Family's Custom Luxury Home Builder In Park City