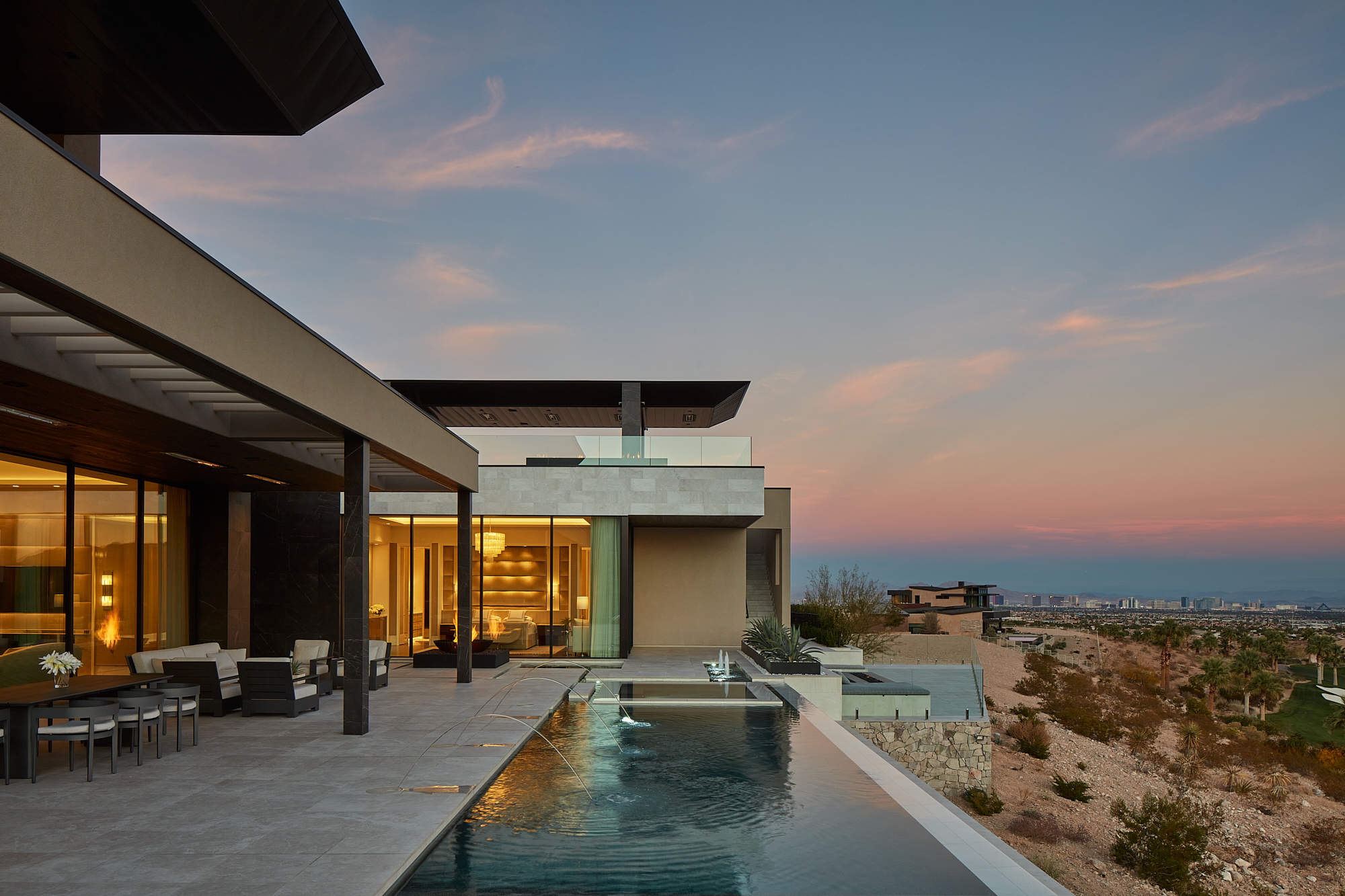 Project Highlight: Las Vegas
Las Vegas is known for luxury, and your Las Vegas home should be no exception. Whether you live in Las Vegas full-time or you want to build a vacation home, opting for anything less than a luxury home builder will yield disappointing results.
That's why this home in Las Vegas is such a stunner—from the custom light fixtures that feel more like art installations to the infinity pool with stunning views to the garage with plenty of room for all your automobiles—this home is exceptional in every way.
Blending beautifully with the desert background without losing the life and vibrancy of Vegas, this home exudes effortless elegance and class.
Kitchen Design At Las Vegas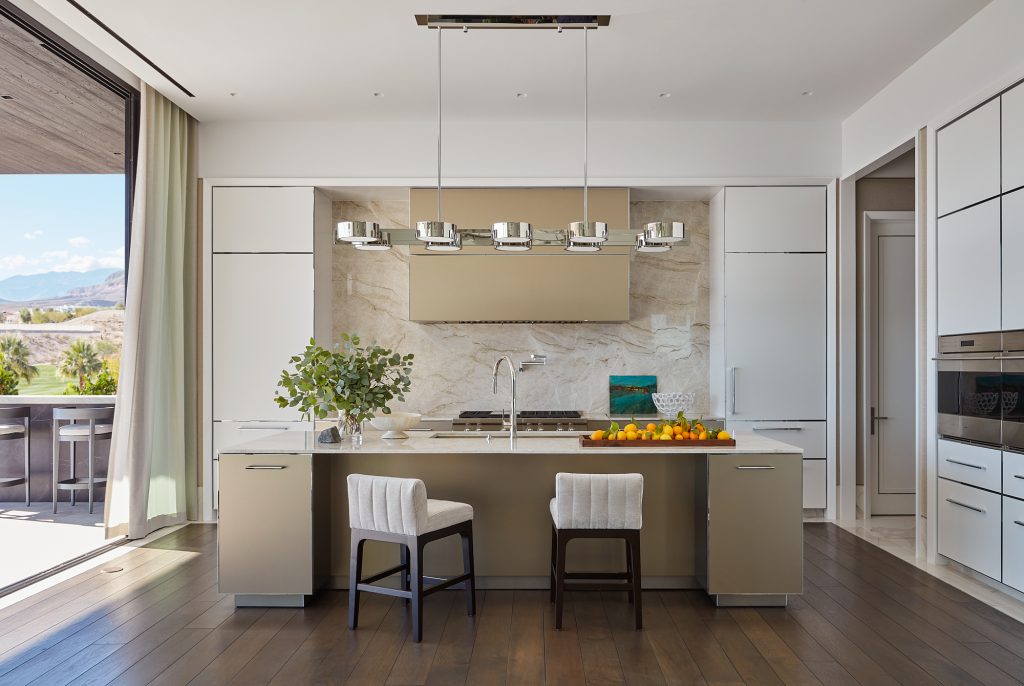 We wanted this kitchen to feel like a continuation of the natural beauty of the landscape, but also combine the chic, modern vibe the owners were looking for. By opting for a mixed pallet on the cabinetry (white and a creamy tan), and adding the natural stone backsplash, we melded the exterior colors and textures with the interior.
RELATED: Why Germania For Your Next Custom Home?
Paneled appliances created a seamless, cohesive look. But we wanted to ensure the contemporary feel of the home carried through to the kitchen, so we added a custom pendant light over the island and used chrome finishes throughout.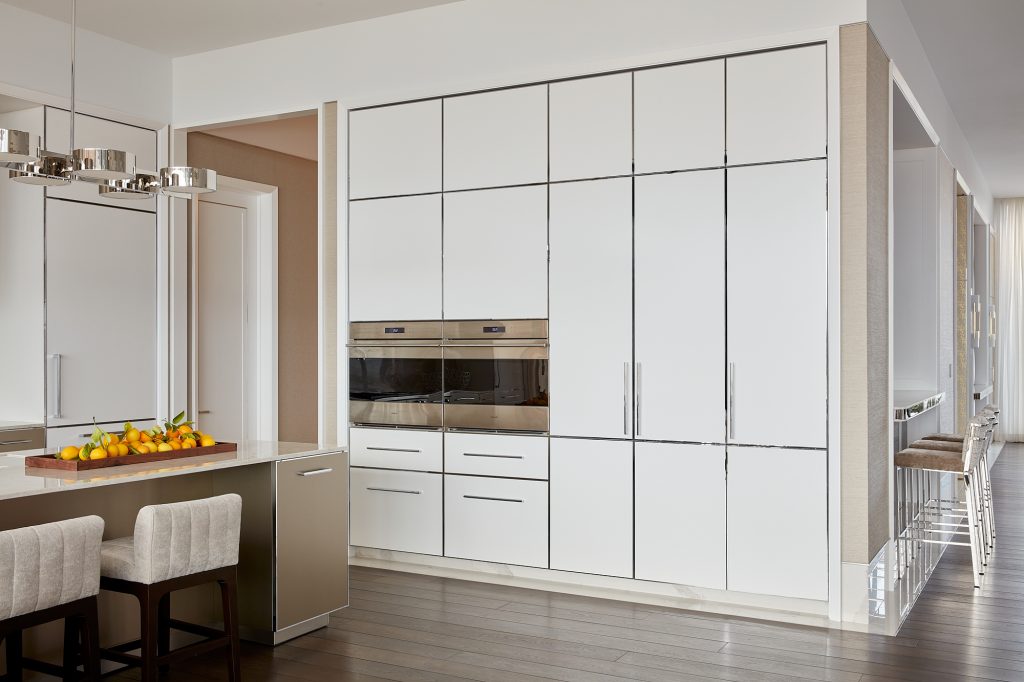 Kitchen Island Design
This kitchen island anchors the space and provides plenty of extra room for food preparation and serving. But, almost as importantly, it's a showstopping focal point of the kitchen. With custom cabinetry, sleek white countertops, and an in-island sink, it invites you to sit and stay a while.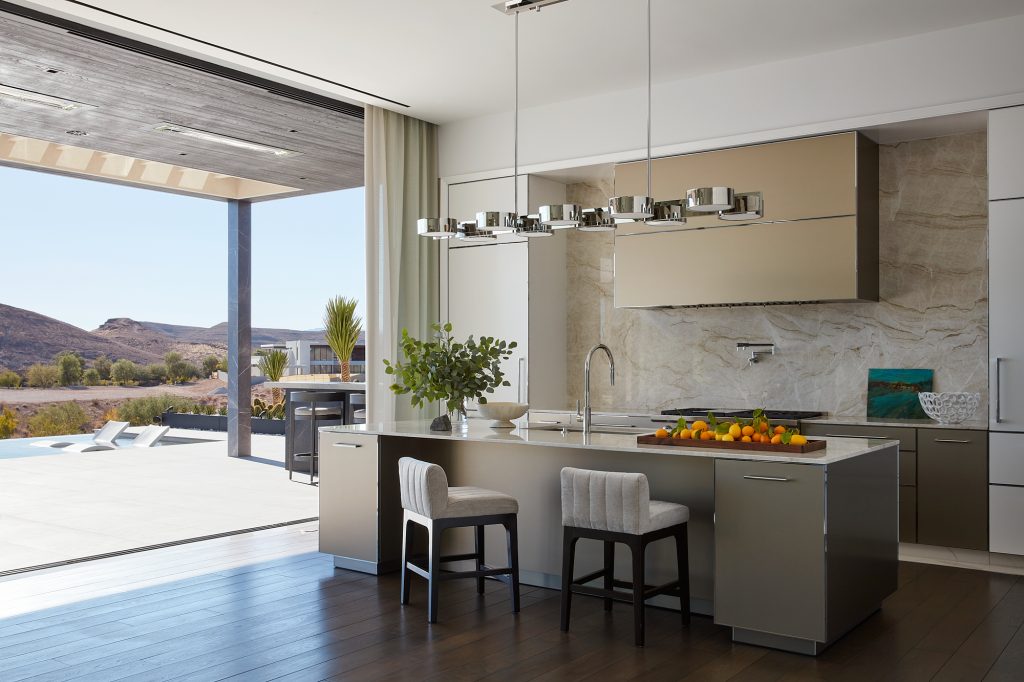 Dining Room Area At Las Vegas
While the stunning art hanging on the wall is beautiful, it certainly isn't the only masterpiece in this space. From the stunning floor-to-ceiling windows showcasing beautiful Las Vegas views to the custom chandelier, this space is full of exceptionally beautiful pieces of art. The ceiling design carries the natural elements of the outdoors inside and balances the white walls and curtains. This round table can easily seat 6-8, and with easy access to the outdoor living spaces, there's even more space for entertaining.
DISCOVER: Our Custom Home Portfolio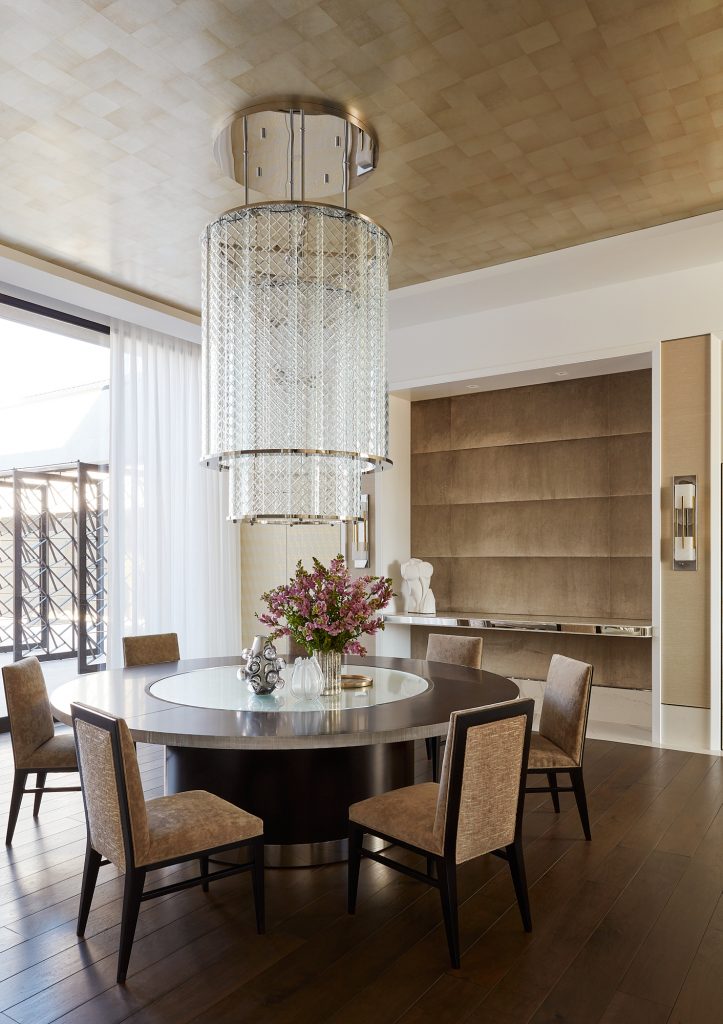 Living Room Design At Las Vegas
We wanted to keep the living room and kitchen open to each other, and we wanted to capitalize on the stunning views of the Las Vegas landscape. Floor-to-ceiling windows and doors, with custom curtains and an expansive porch, were a must. Understated furniture that blends with the neutral tones of the home with brilliant pops of cobalt blue blend with the rest of the home and the landscape around.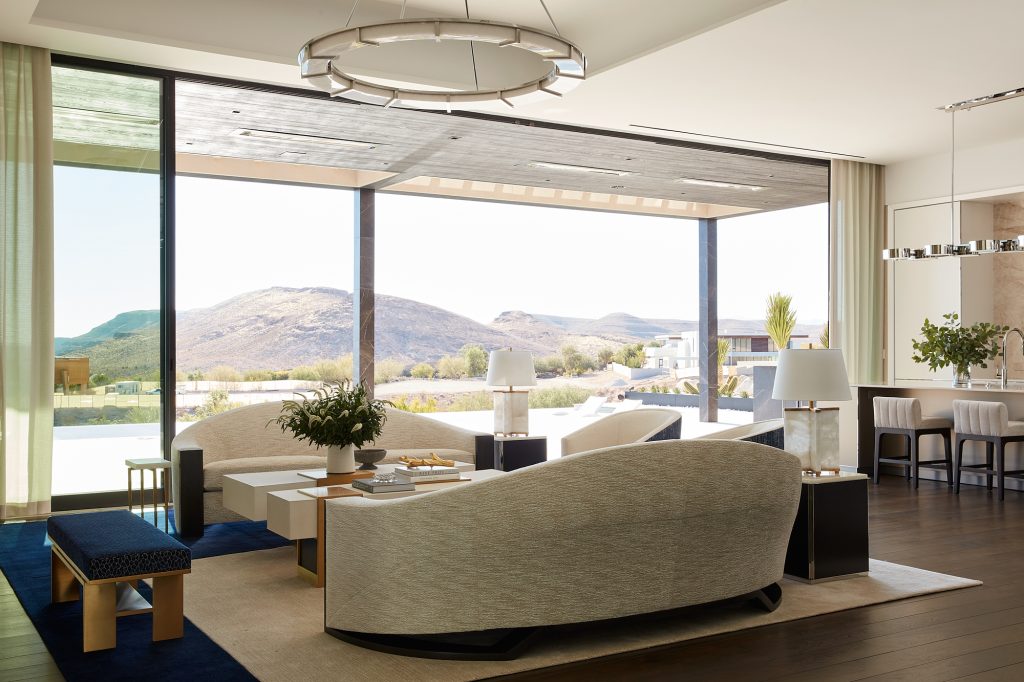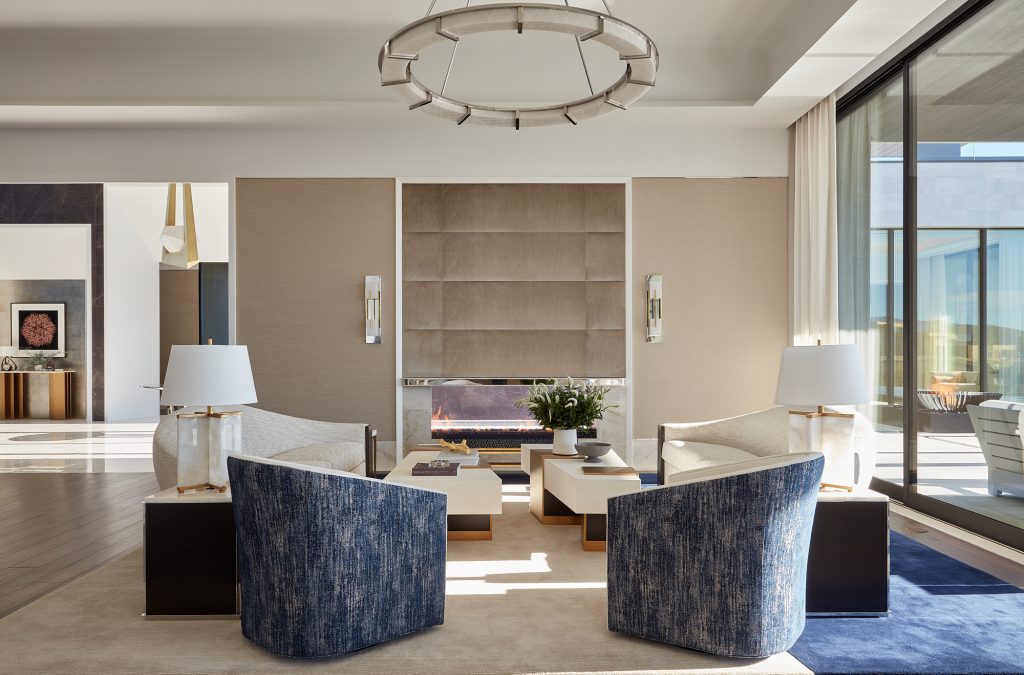 Adding a fireplace to this living room adds an inviting vibe to the home, and even though Vegas doesn't get much snow, the ambiance of the flames in the cooler months definitely adds ambiance to the space.
TRENDING: How To Build A Custom Home Without The Headaches
Master Bedroom At Las Vegas
Step from your bed to the pool through custom sliding glass doors or enjoy the long sunsets of Las Vegas from bed in this stunning primary bedroom. With a chandelier that catches the glittering light from the sun and water, a tufted ceiling-height headboard, and plenty of seating for cozy evenings at home, this master bedroom exhibits beautiful and unique features.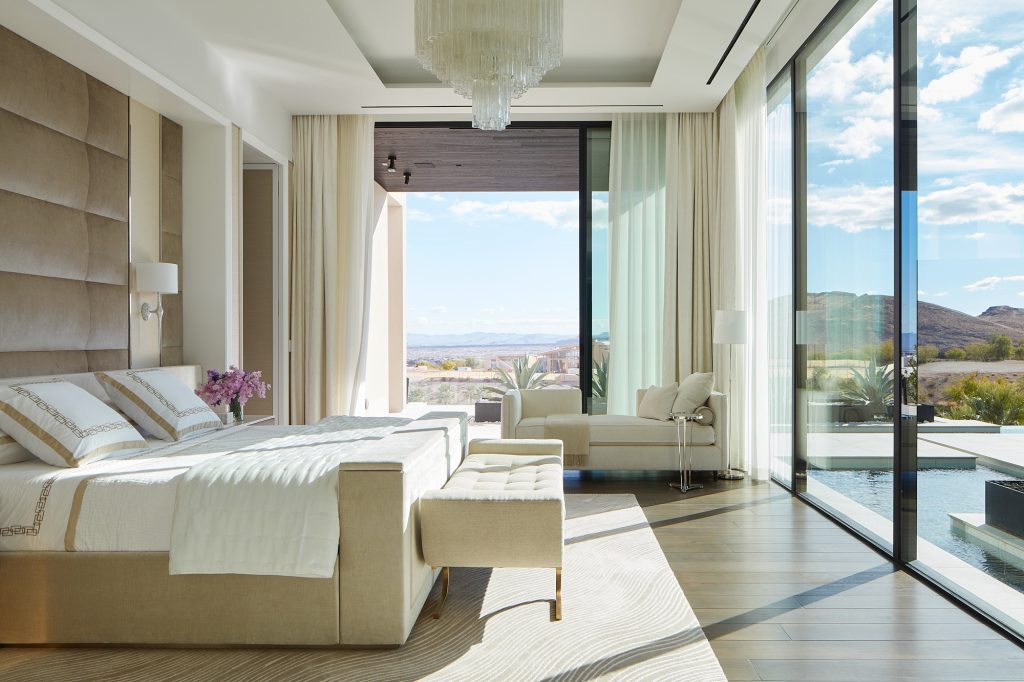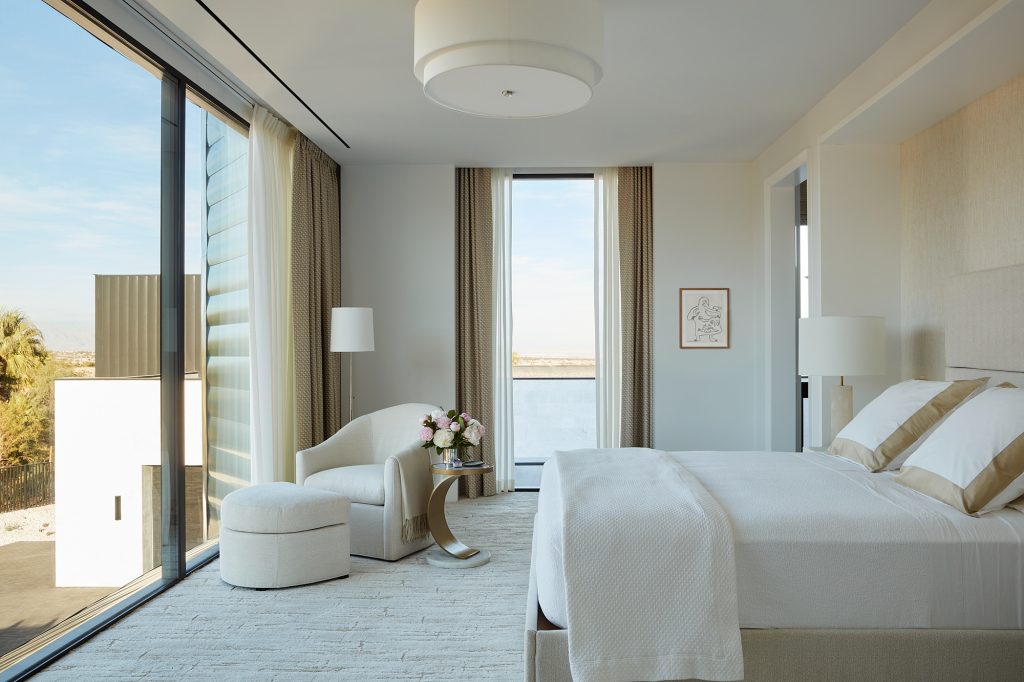 Bathroom Features At Las Vegas
While bathroom countertops work well enough, a custom vanity for makeup, hair and beauty storage elevates this bathroom from common to exquisite. With custom lighting, plenty of storage and comfortable seating, this addition to the bathroom brings functionality and luxury.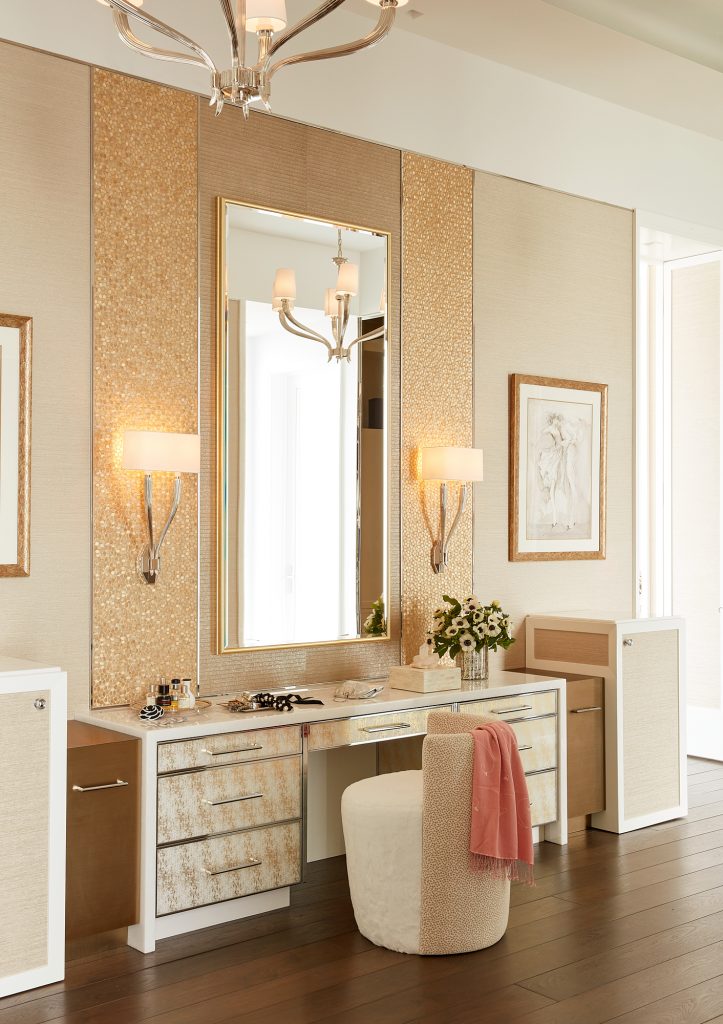 More than a soaker tub, this tub is a part art installation. With the unique shape, wallpaper, and art hanging above the tub, this space is more than just a place to unwind at the end of the day, it's part focal point and part art piece.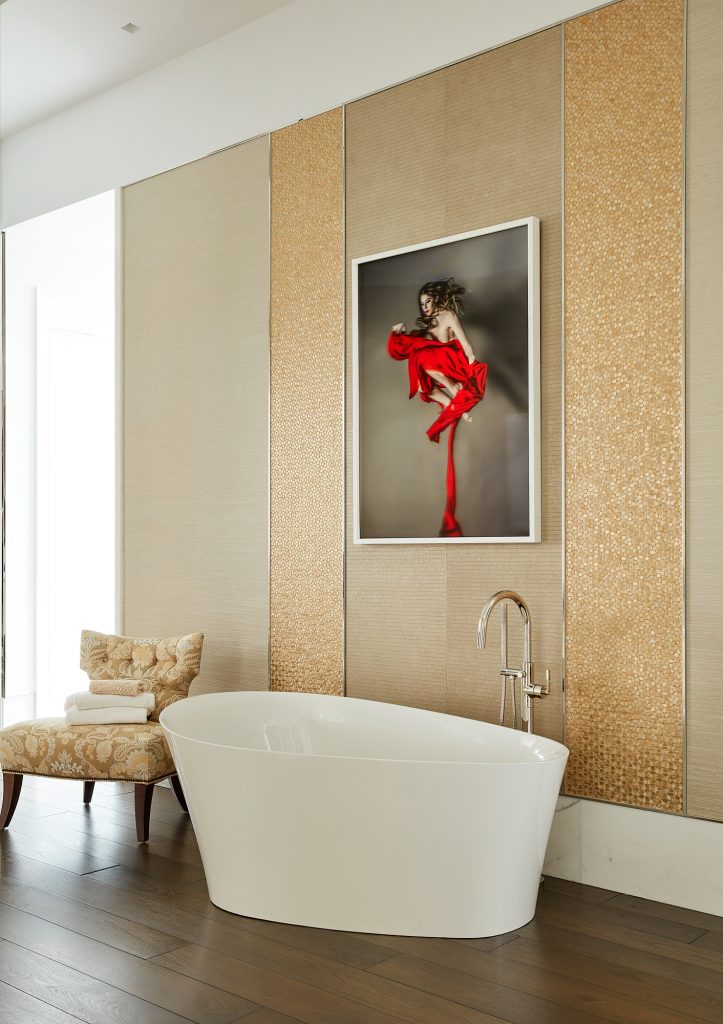 Lighting Design At Las Vegas
The light fixtures in this home are the understated heroes of the project- adding glam and drama to an otherwise neutral canvas. The showstoppers are the dining room chandelier, the lighting over the island in the kitchen, and the living room chandelier. But smaller light fixtures add glamor as well, from the nightstand to the hallways to the staircase.
Integrated lighting in a bedroom adds ambiance and a custom look to the space. But it also creates more space on the nightstand.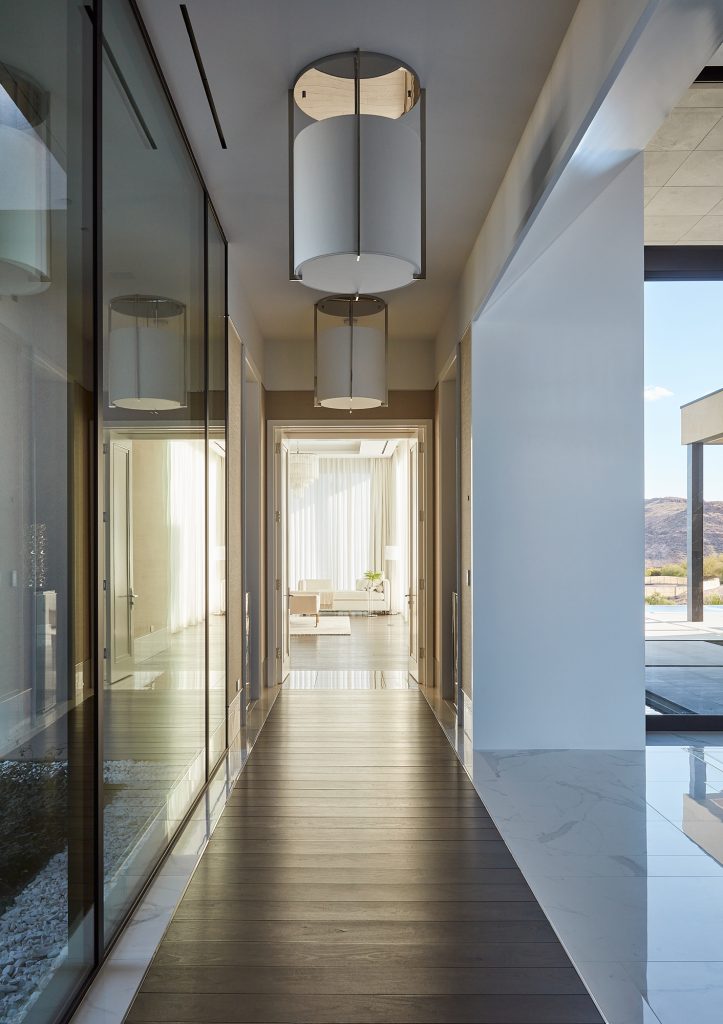 In an otherwise simple hallway, these dramatic light fixtures are a focal point that adds beauty and texture to the space.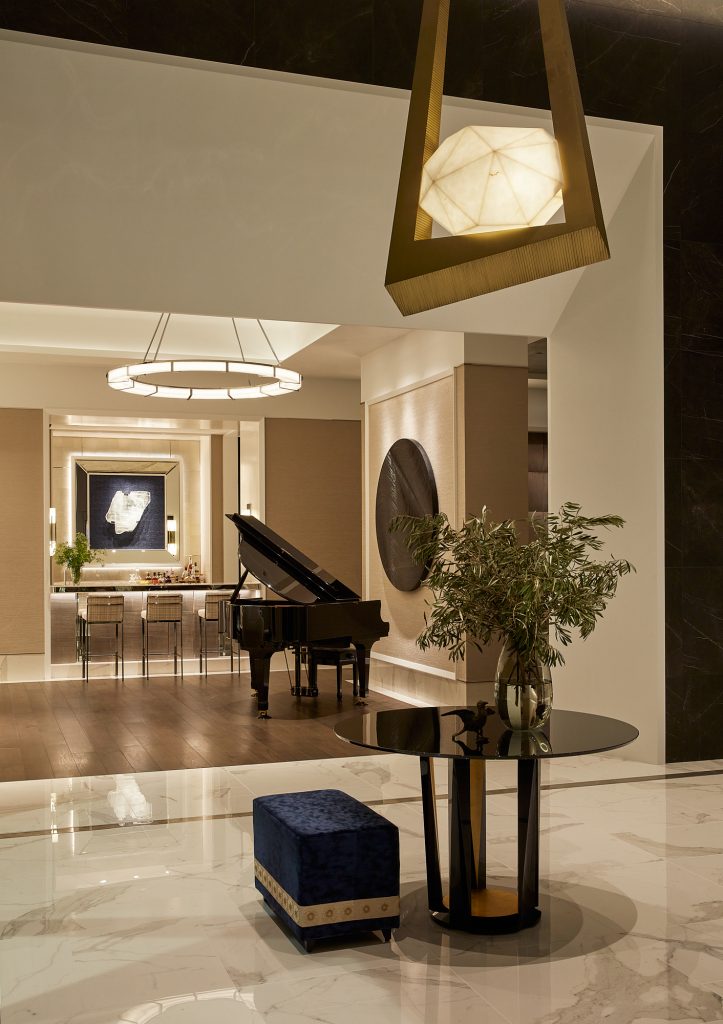 The light fixture over the piano adds light and beauty but still allows the piano to be the star of the space. But the fixture over the entry table is an art piece unto itself, a shining example of how lighting can be functional as light but also a focal design element.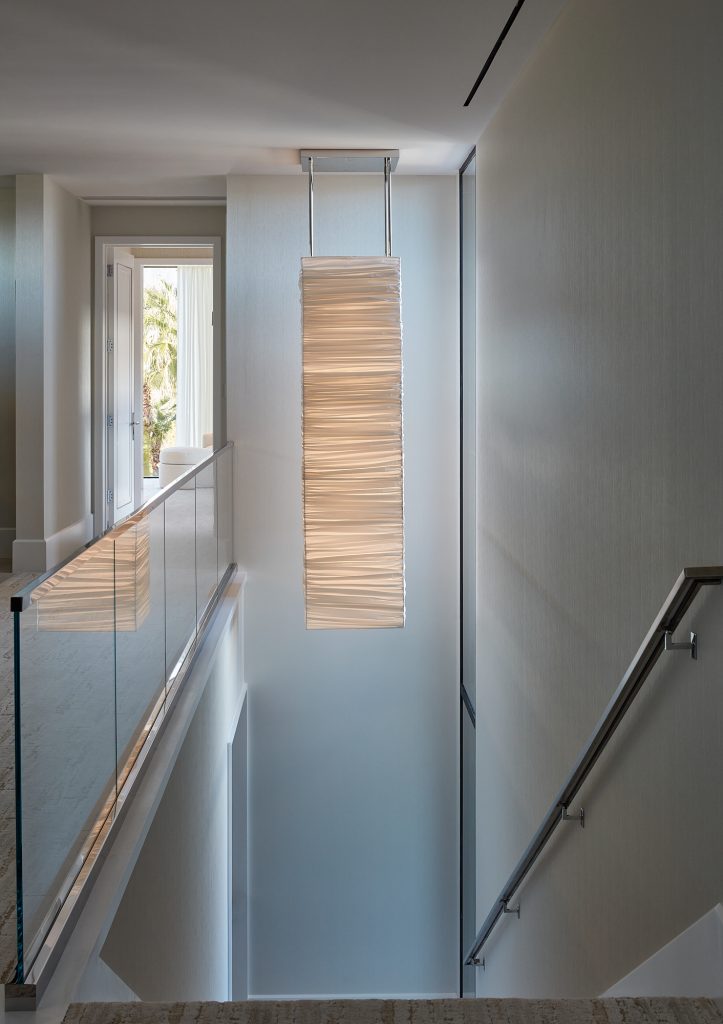 This statement lighting for the stairs adds texture, depth, and scale to the space, creating an effect that is nothing less than breathtaking.
Exterior Features At Las Vegas
In a climate like Las Vegas, your exterior living spaces matter as much as your interior living space. So creating beautiful, functional outdoor living spaces was a crucial part of our concept for this home.
Pool Design
Like an oasis in the desert, this pool shines with fountains, deck jets, and an integrated hot tub. Neutral tones with blue water add color and depth to the space, creating an inviting spot for a dip.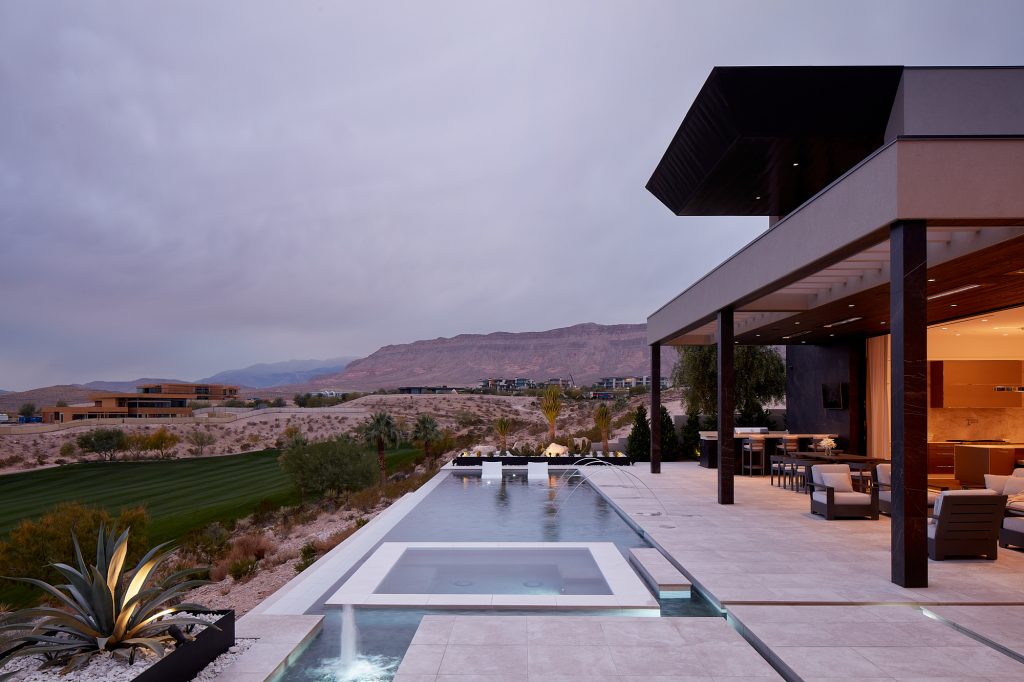 Outdoor Lighting
Lighting can make or break a space, but this front entrance is nothing short of spectacular. By highlighting the plants and exterior features, this entryway is inviting and a sneak peek into the beautiful home.
Decking
Opting for warm wood decking in an otherwise black-and-white space adds warmth and texture to the space, creating an inviting space for everyone to enjoy.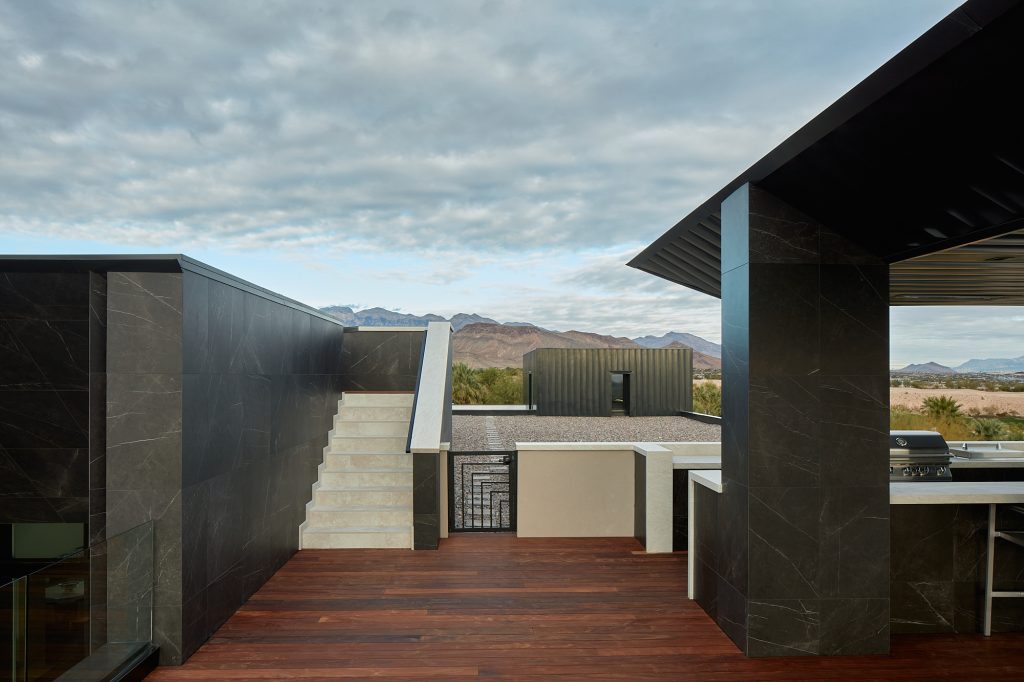 Gate
This home is full of artistic additions, but this front gate might be the most stunning. With geometric designs and a stark black against the white concrete, these gates are more than functional entrance points, they are beautiful art installations.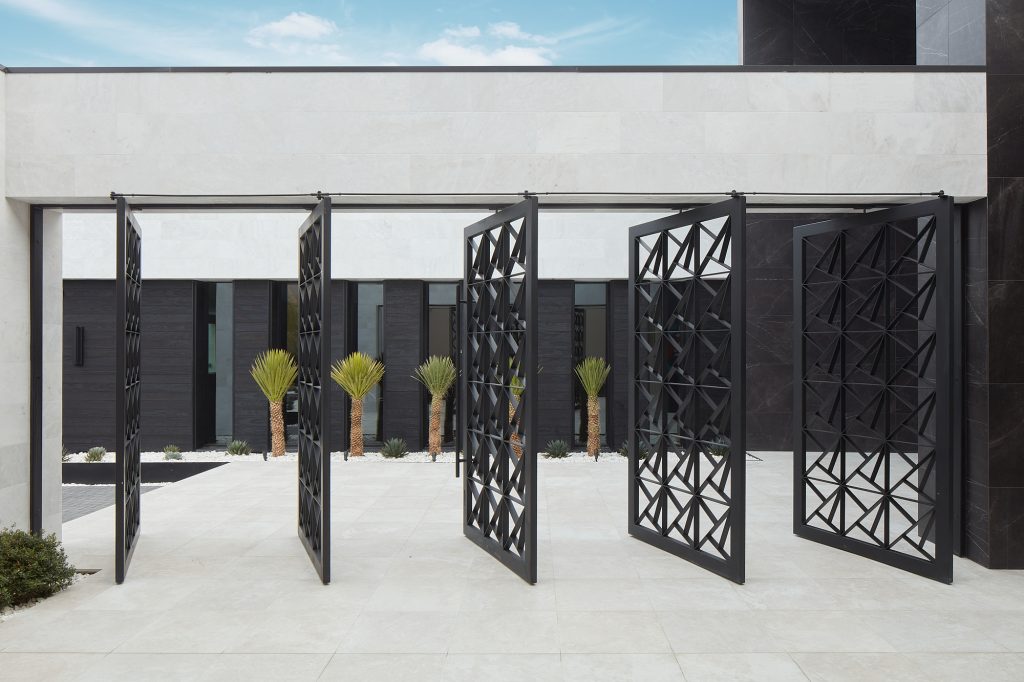 Garage
A luxury home means luxury cars, and thus a luxury garage. With beautiful lighting and plenty of parking, this luxury garage showcases the benefits of hiring a team dedicated to creating a custom space designed with your personality in mind.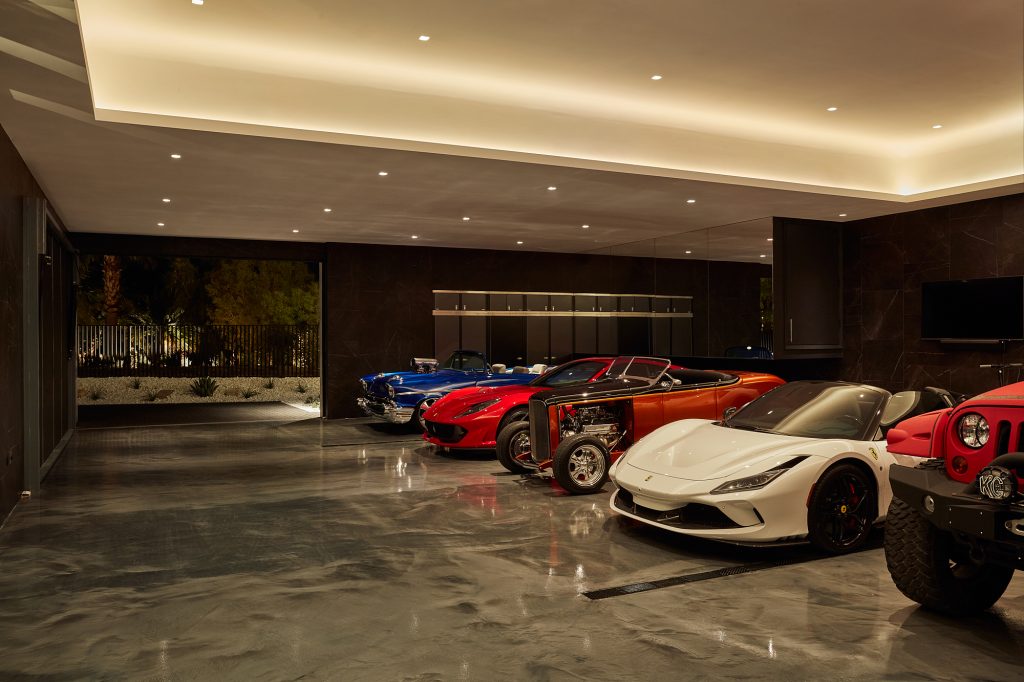 Landscaping
Landscaping in Las Vegas means lots of succulents and drought-tolerant plants, but that certainly doesn't mean the space has to be boring. Using yuca, succulents, gravel, and palm trees, this home's landscaping blends with the rest of the environment while showcasing the home's beauty.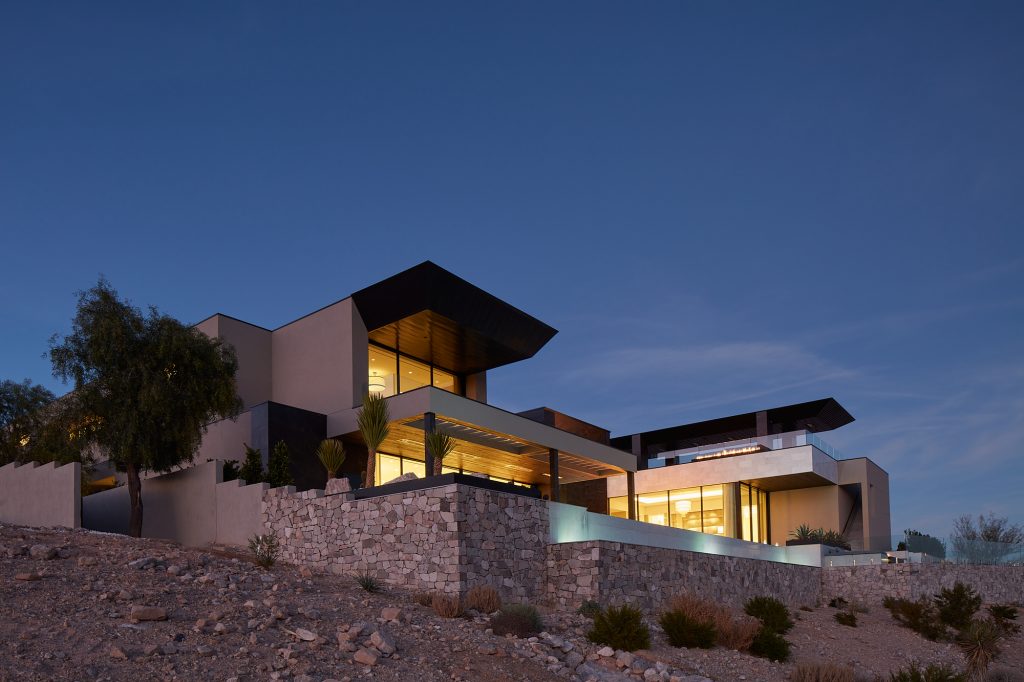 Hardscaping
This home sits on a sloped lot, which means we had the opportunity to add retaining walls to flatten the yard for the pool and living areas. Hardscape should match the overall aesthetic of the home and this stunning wall helps add color and texture to the property.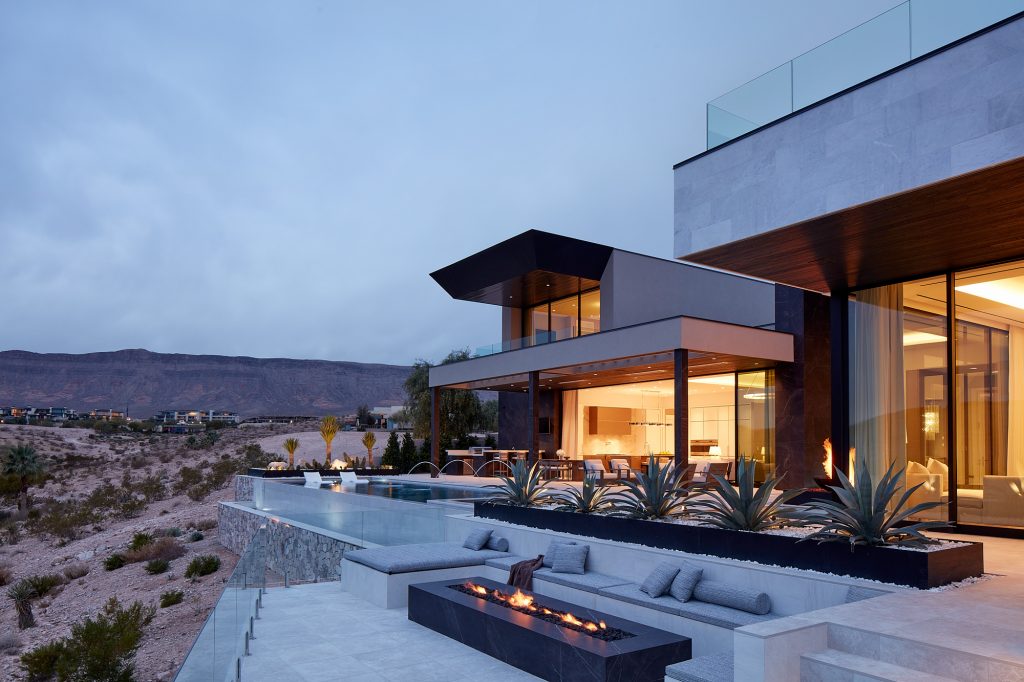 Looking for a Custom Home Builder in Utah?
Look no further than Germania Construction. Our team specializes in creating custom homes that match your personal lifestyle and aesthetic, this gorgeous custom home in Las Vegas was a special project that we loved, but our roots are in Park City, Utah. Choosing our team of experts guarantees that your home will have top designers, architects, builders, and landscapers on board to help create the home of your dreams. Not only will you have the best team to create your home, but our first priority is using high-quality materials for the climate of your home so that your home will last a lifetime with the best materials. We have a team of dedicated professionals who refuse to let any detail slide—from paint colors to light fixtures to the perfect wallpaper, our team won't rest until the final design is a work of art. Find out how your dream home is just a click away by contacting us today.
More On Custom Homes From Germania
Building Your Dream Home In Park City Is Within Reach
What To Look For In Your Family's Custom Luxury Home Builder In Park City