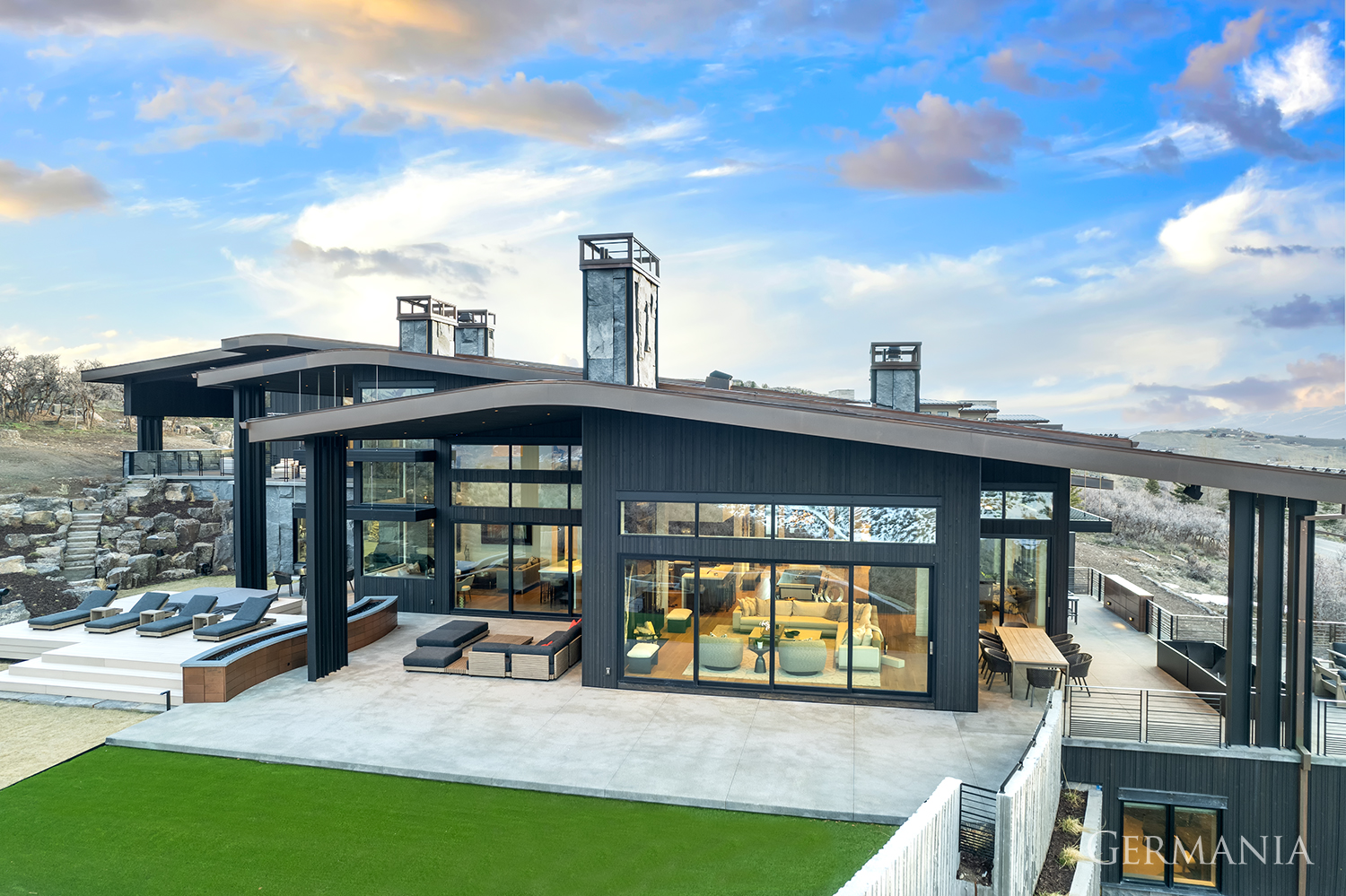 Park City Custom Home Highlight: Promontory Ridge Project
Elevated spaces that exude luxury in an effortless way are hard to come by—oftentimes when a builder claims a home is a "luxury" home what they mean is a few improvements to a cookie cutter, builder grade home. At Germania, luxury means something more.
We pride ourselves on creating unique homes that showcase the owner's taste and style, and this luxury home in Park City is no exception. From the custom light fixtures that resemble art installations, to the expansive primary bathroom complete with shower room and freestanding soaker tub, this home showcases the true meaning of luxury.
You can have your dream home in Park City, and we want to help you step into your own personal oasis.
Park City Kitchen Design At Promontory Ridge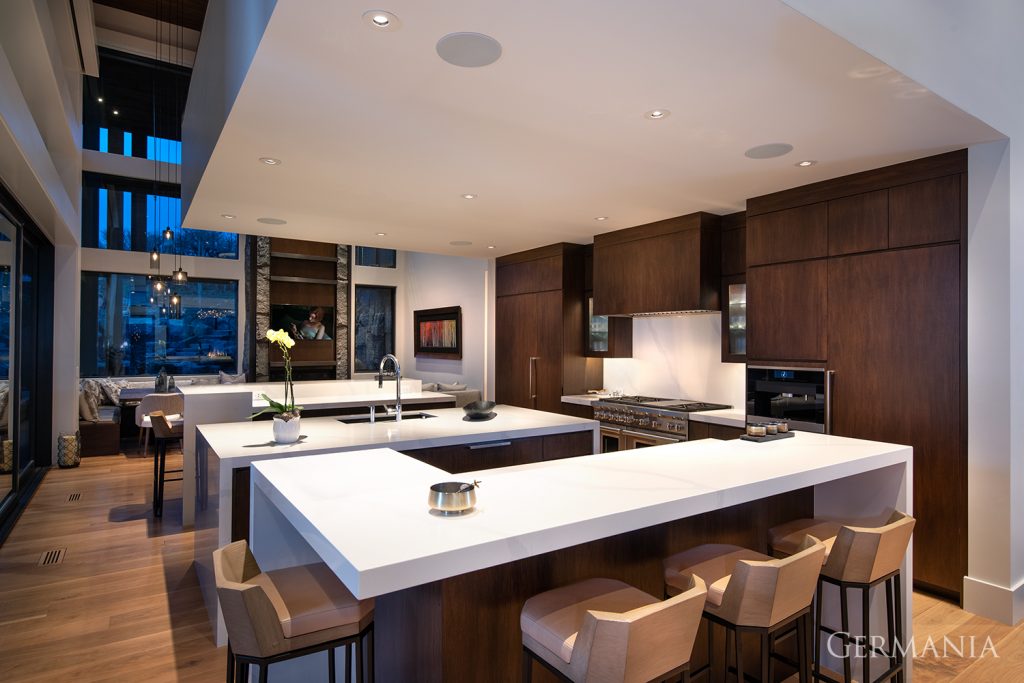 We knew we wanted to create a kitchen space that felt both intimate and still a part of the larger space, without sacrificing style, convenience or storage. Building a reading loft on top of the kitchen brought more livable space to the home, but it also lowered the ceiling for the kitchen, delineating the space from the rest of the great room without completely closing off the kitchen. The look we wanted to achieve was based on a few key concepts—make it contemporary, warm, elegant, and inviting.
RELATED: Why Germania For Your Next Custom Home?
By opting for a dark wood cabinet with flat fronts and paneled appliances, we warmed up the white countertops. Adding plenty of symmetrical storage to the kitchen brought elegance and a timeless look to the space.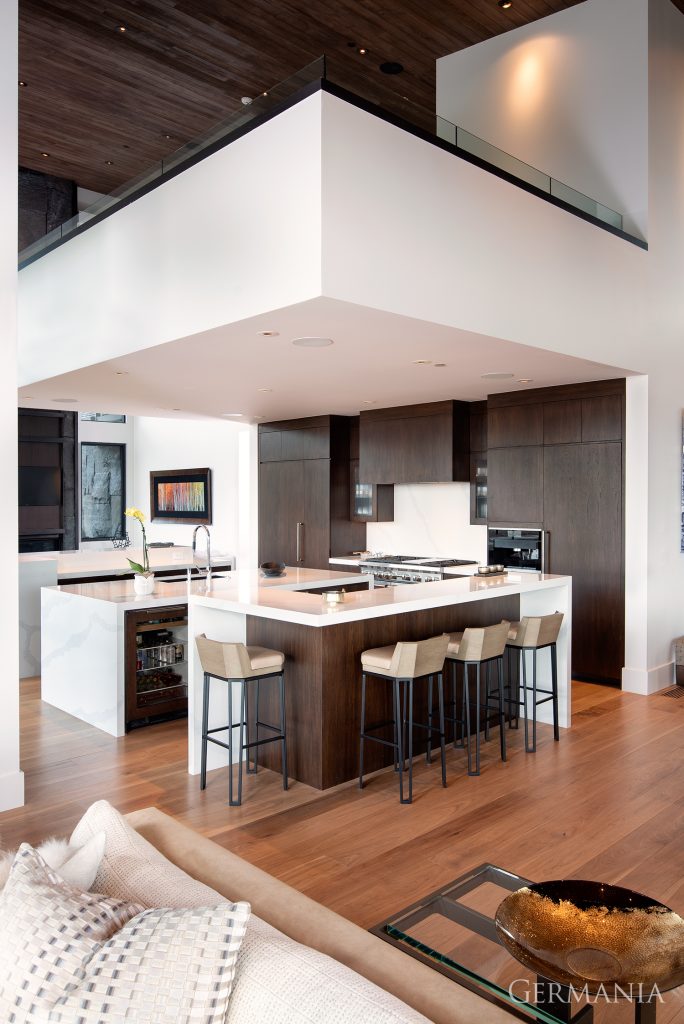 But the true hero of this kitchen are the three, that's right, three kitchen islands.
Kitchen Island Design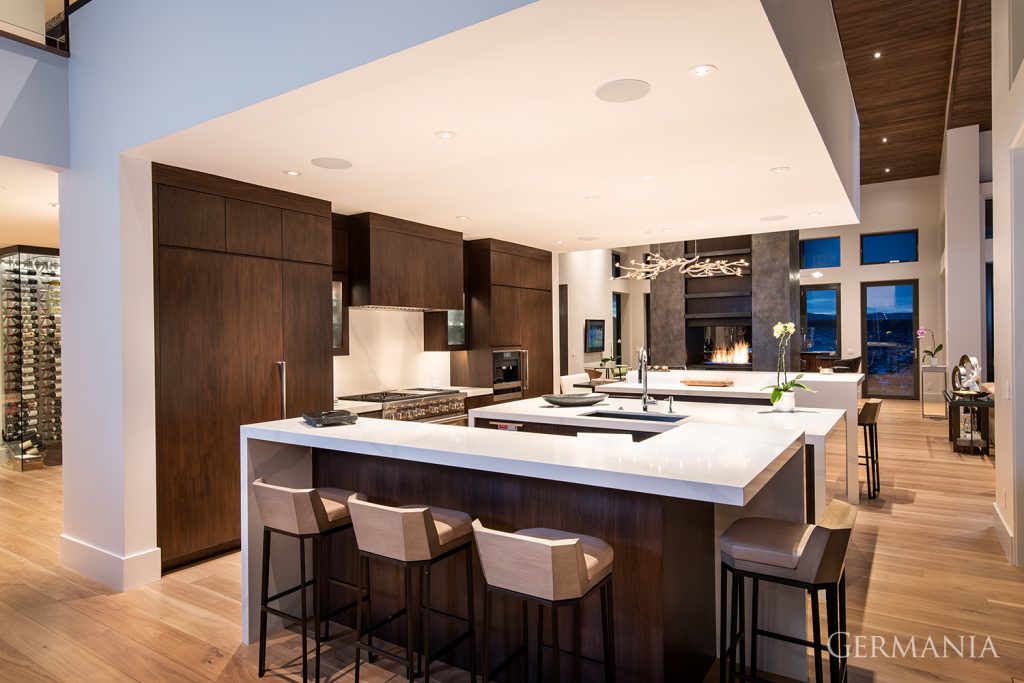 Adding three kitchen islands to this space allows for more prep room, as well as more seating in the kitchen. Adding waterfall countertops to the islands adds effortless style. Adding the sink to the middle island is a functional detail for the space, and the beautiful faucet anchors the space. With barstools lining the exterior islands, this kitchen is made for gathering.
DISCOVER: Our Custom Home Portfolio
One of the most functional and unique additions to this living space are the windows that open to the exterior bar. The homeowners can now serve dinner, drinks, and appetizers from the bar to guests outside with ease and style
Dining Room Area At The Promontory Ridge Park City Project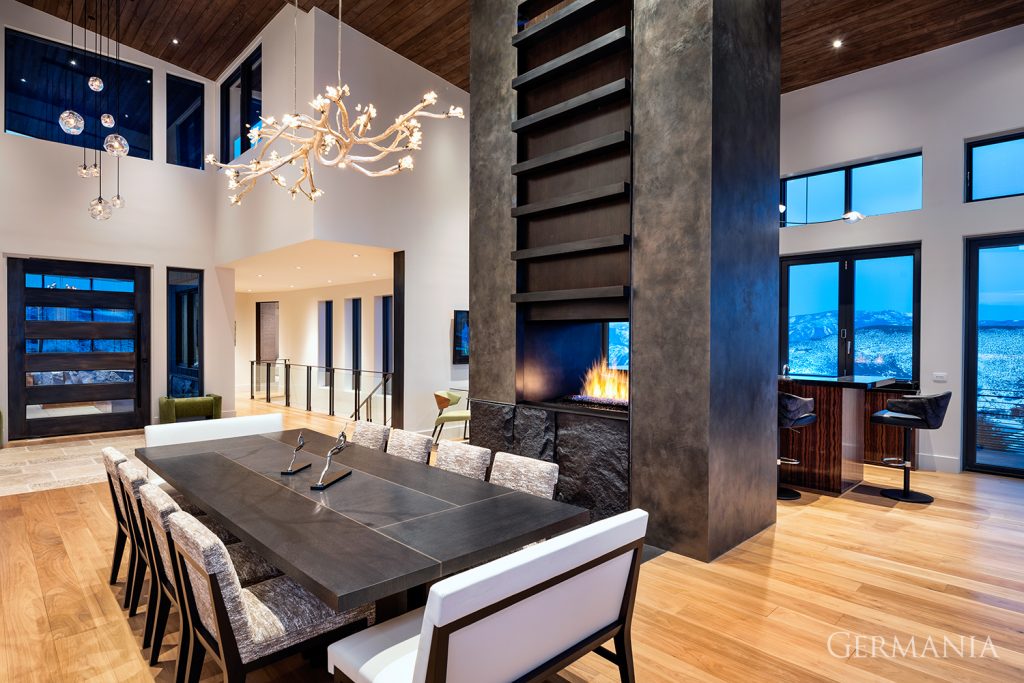 While the dining room is part of the great room, it feels like its own space without using walls to cut it off from the rest of the space.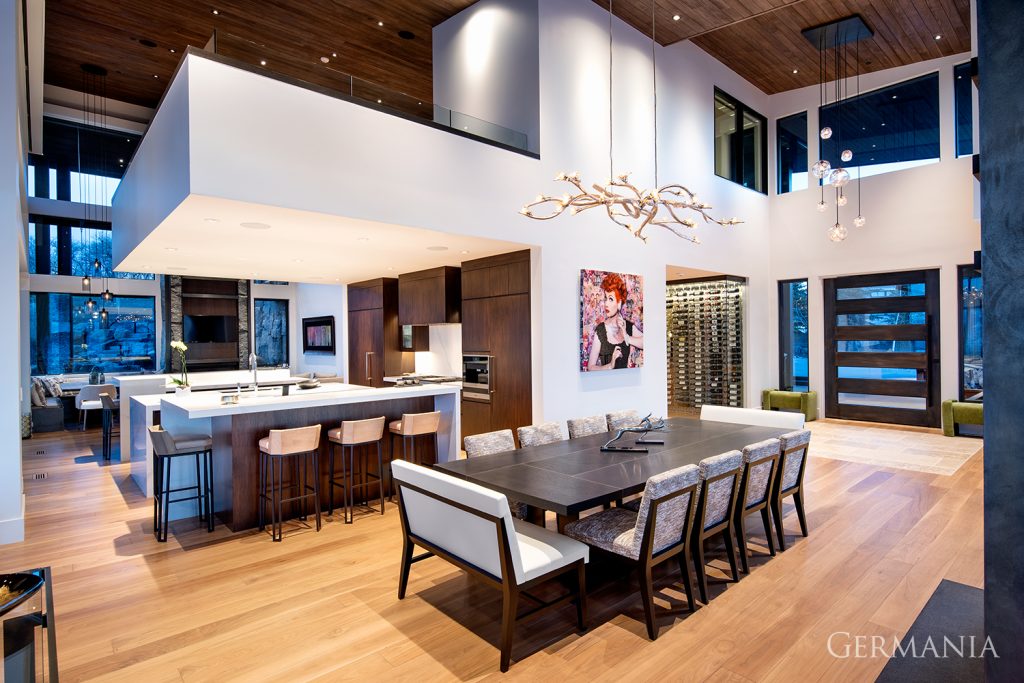 Living Room Design Perfect For A Park City Custom Home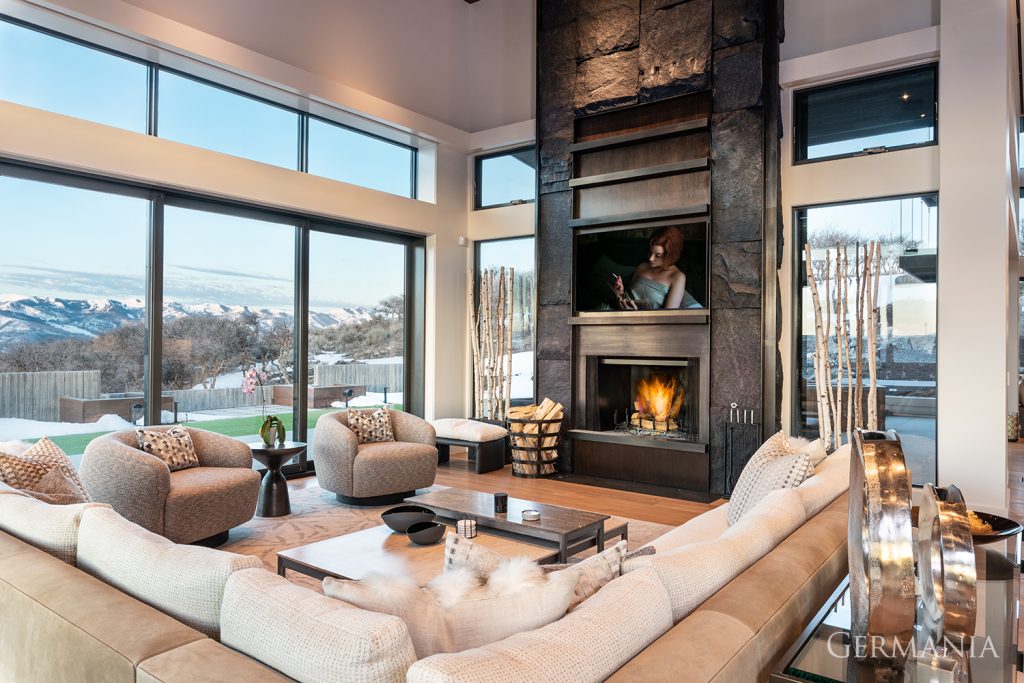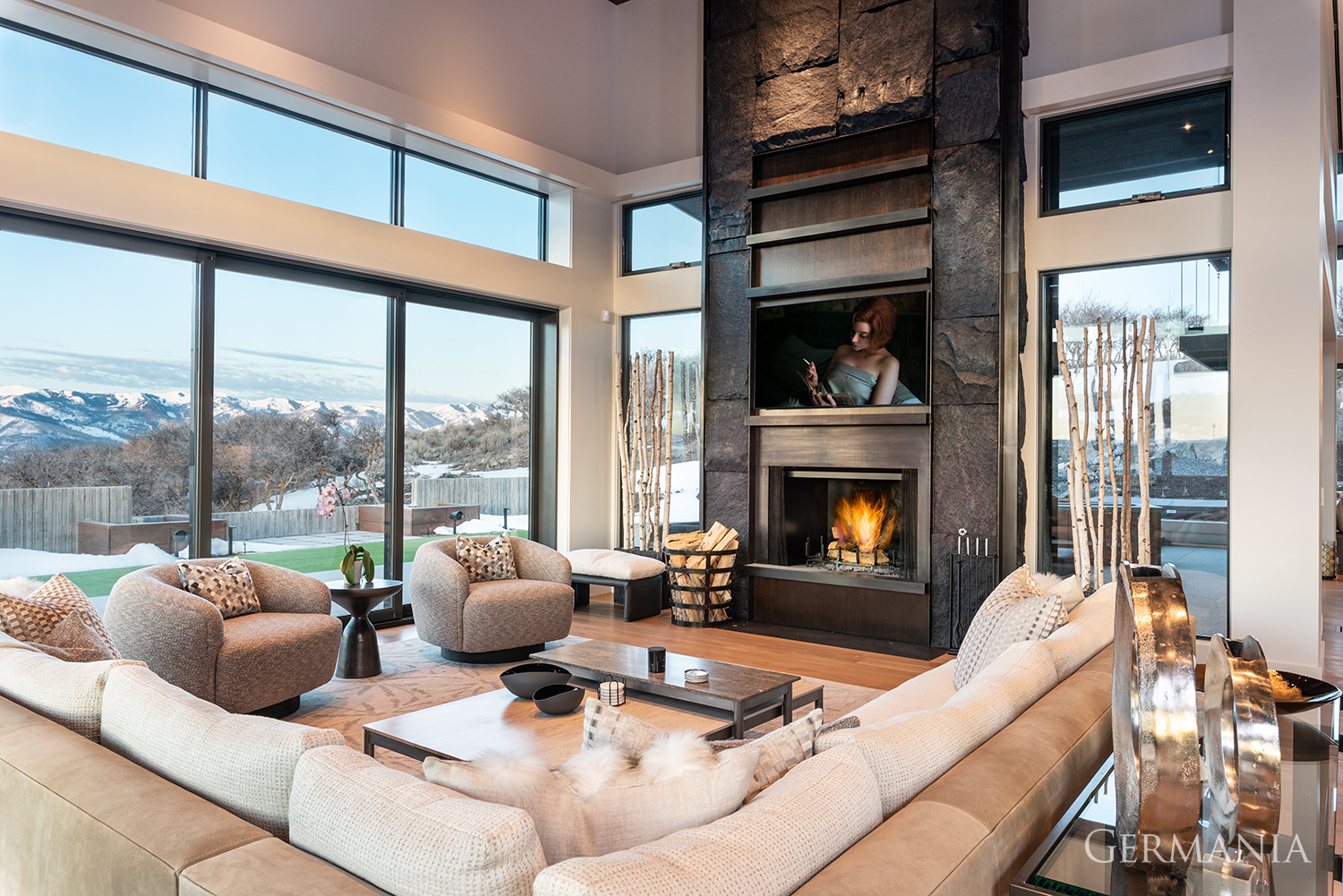 When you build luxury homes in the stunning mountains of Park City, well placed floor to ceiling windows are a must. Not only do the huge windows bring the outdoors in, but they add dimension and beauty to the whole home. With the stone fireplace with a built-in TV as a focal point, this living room has expansive views and inviting comfort. A huge sectional and extra seats this space is the perfect place to relax after a day of skiing or hiking.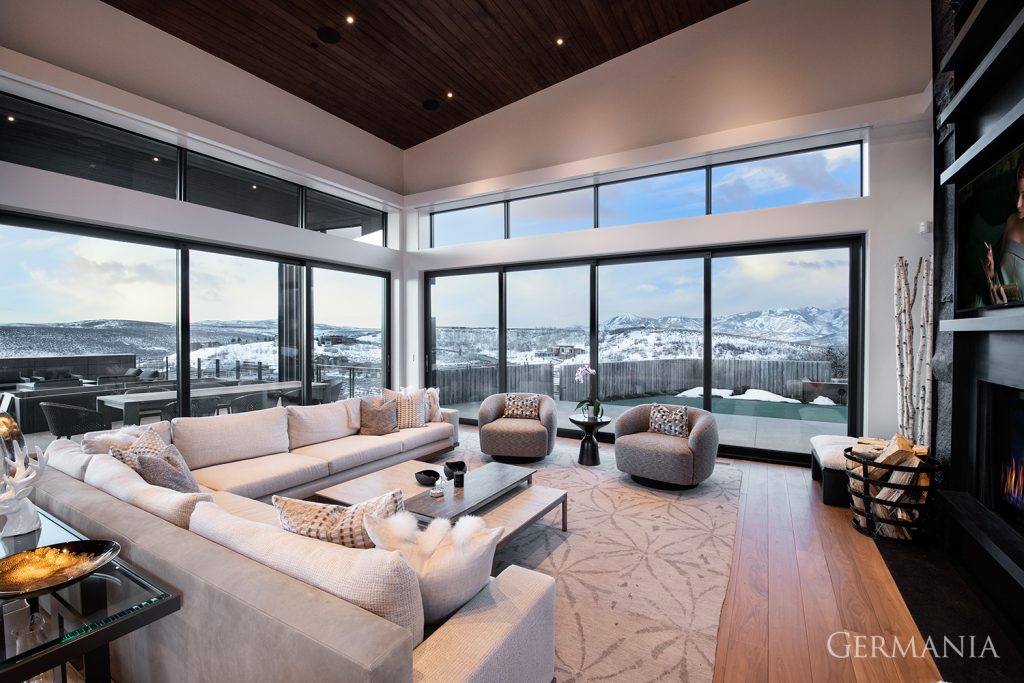 This space easily melts into the rest of the great room without losing its unique function and form. Easy access to the huge porch, inviting kitchen, and in-home bar makes this living room the hub of relaxation and conversation in the home.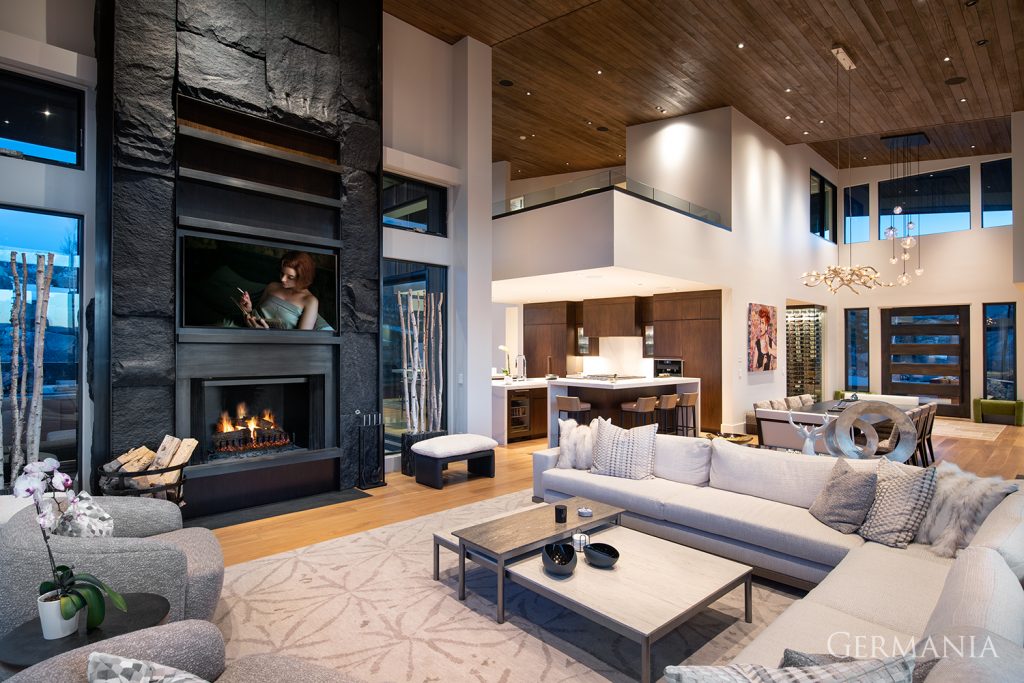 We added a separate TV space for movie night, Saturday morning cartoons or a late morning coffee. This cozy living space boasts a gas fireplace, custom wallpaper, and a huge sectional for a long movie marathon.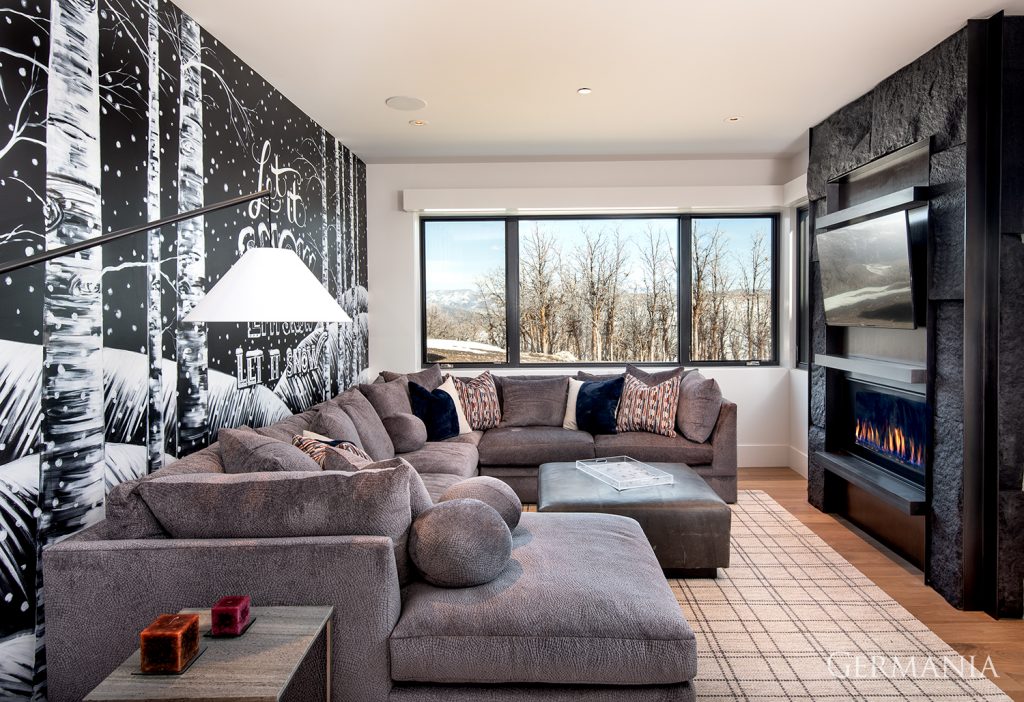 The Bedrooms At Promontory Ridge
The primary bedroom in this Park City home showcases easy access to the porch, a stunning accent wall, integrated bedside lighting, and of course a luxurious closet and bathroom. This space is exceptionally calming without feeling boring. Understated classics matched with unique textures and natural elements make this bedroom one of the most comforting spaces in the home.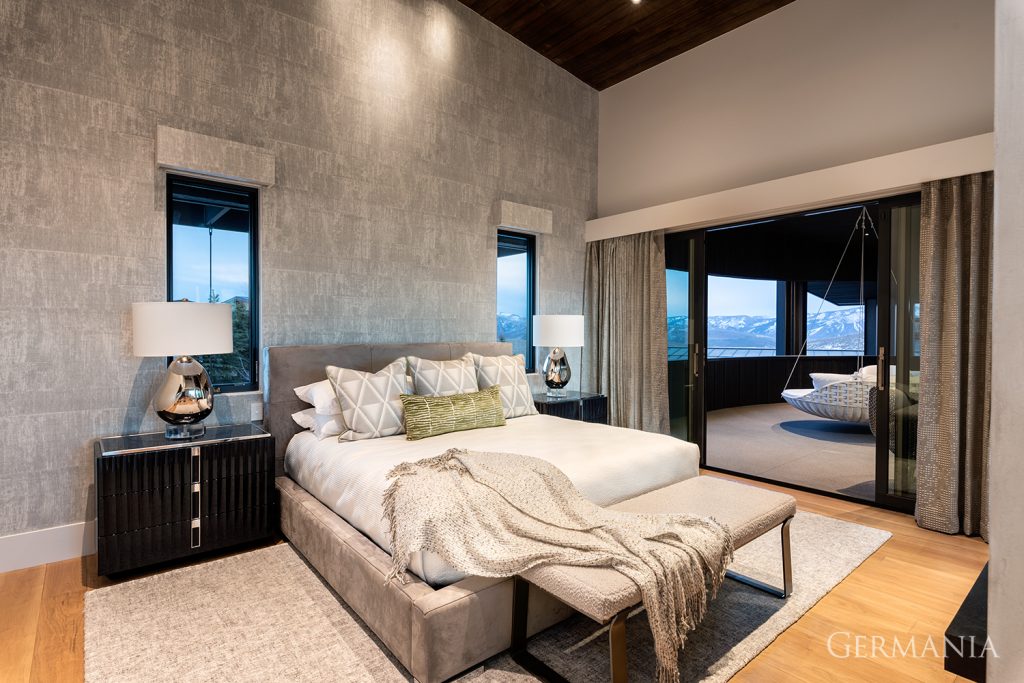 The double sided fireplace and extra seating area adds an inviting touch to the space.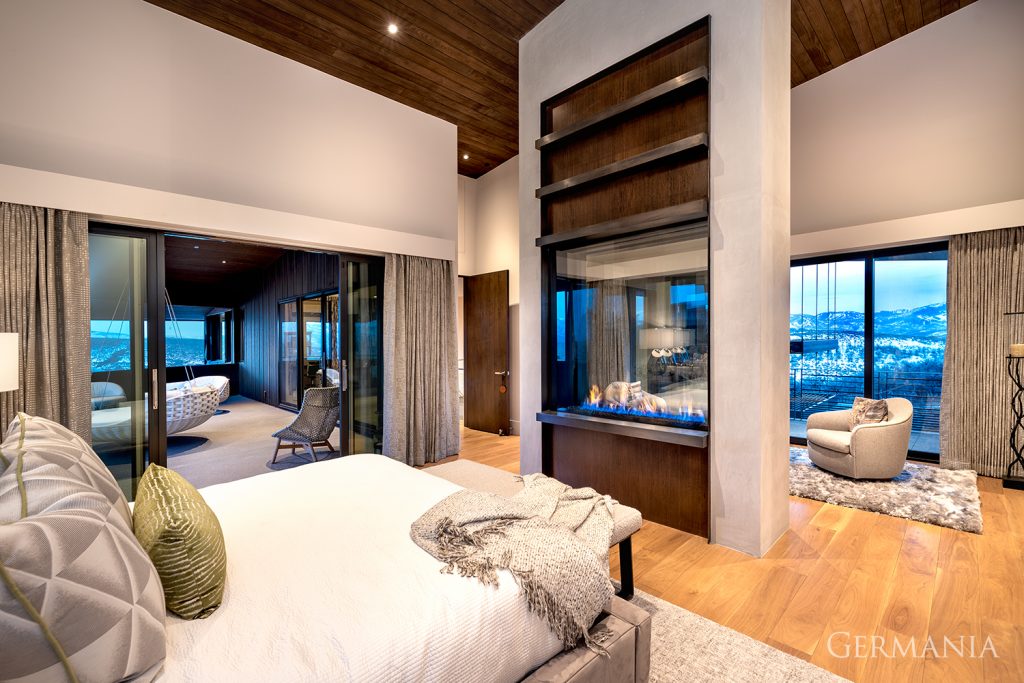 Bunk rooms are a fun, functional addition to any home, but especially a custom home in Park City. With more beds comes more room for guests, and this bunk room offers two queen beds and two twin beds. Integrated lighting, custom bunks and understated details like the butterflies on the wall make this the perfect space for kids to relax and play.
TRENDING: How To Build A Custom Home Without The Headaches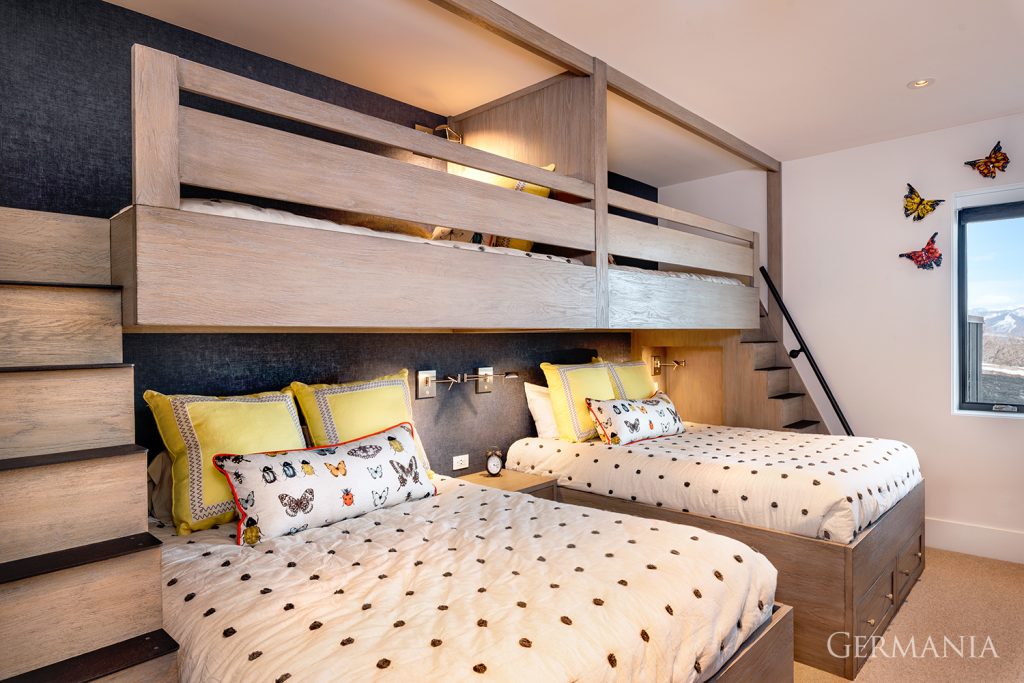 The other bedrooms in this home boast a beautiful balance of natural light, rustic elements and calming vibes.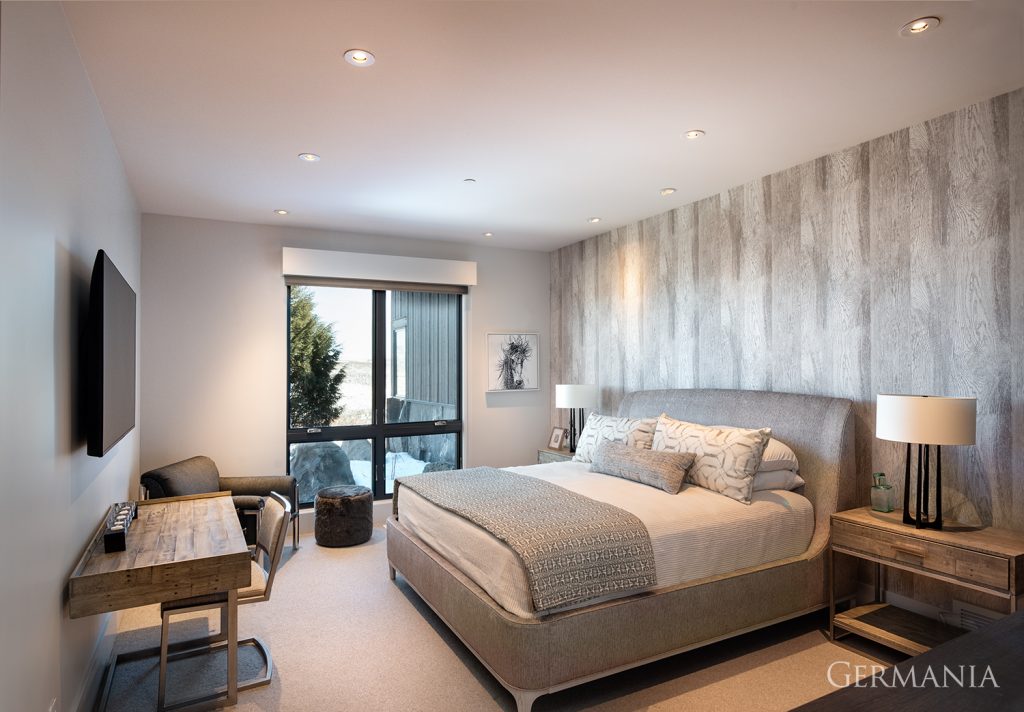 Using neutral tones, huge windows, and focal features like unique headboards and accent walls, these rooms are beautifully designed to rest and relax.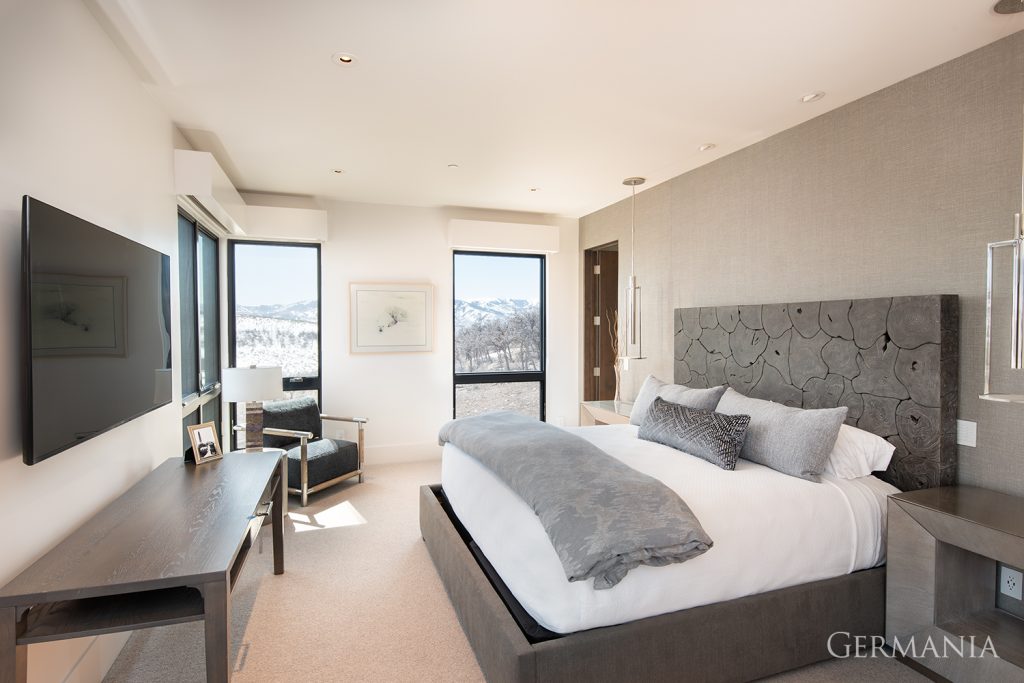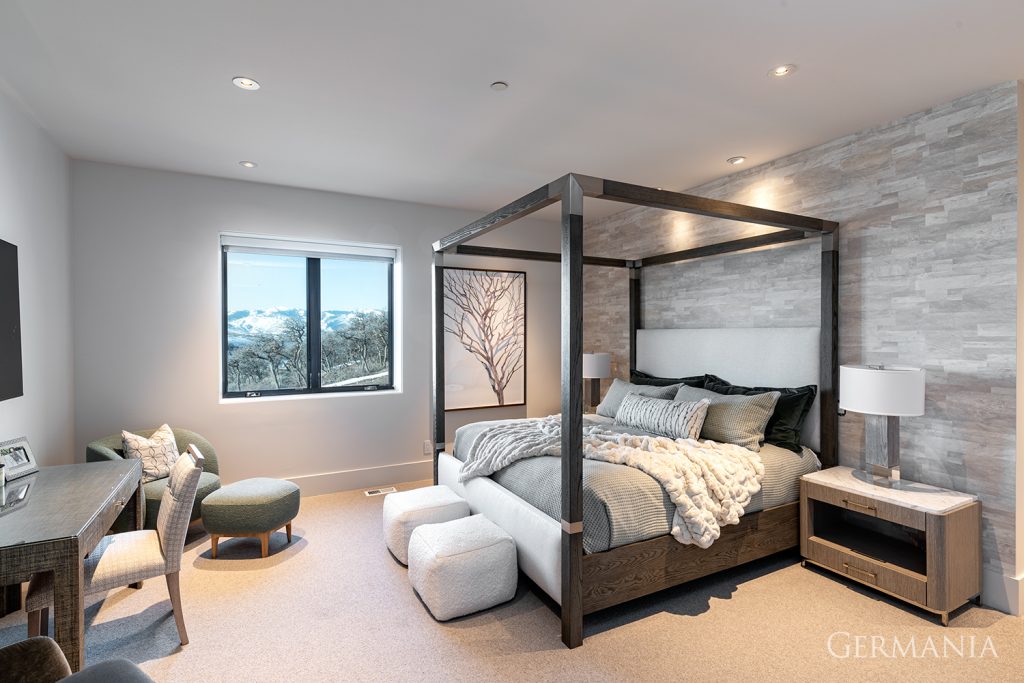 Bathroom Highlights At Promontory Ridge
We wanted each bathroom to feel like stepping into your own personal spa. So every detail was focused on creating a luxurious, relaxing vibe in every bathroom.
This bathroom showcases a deep set tub, custom vanity and luxury tile.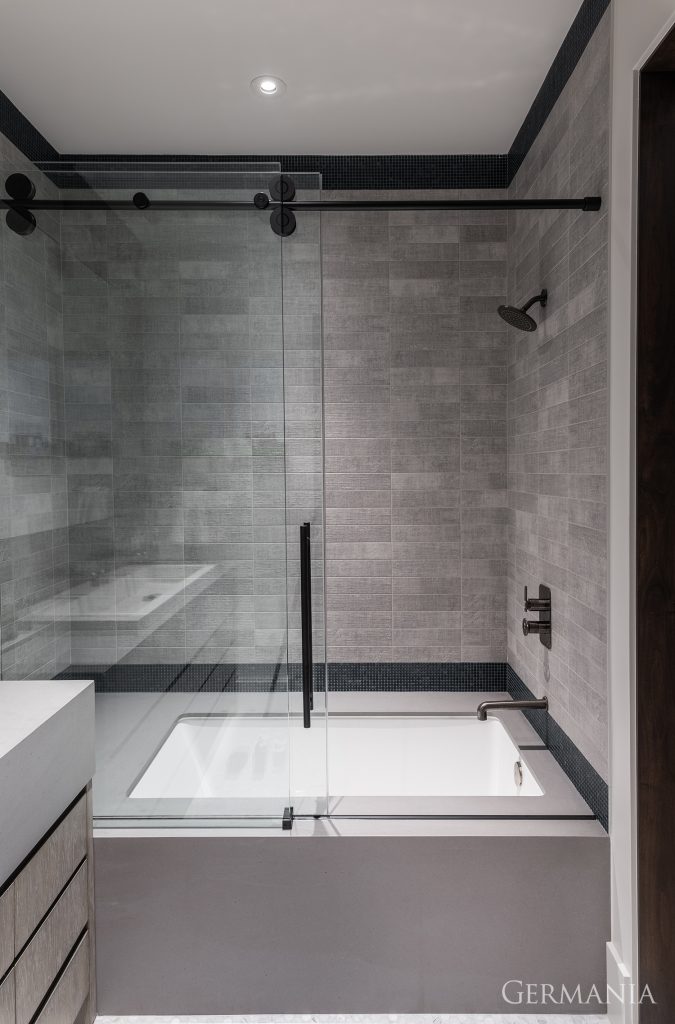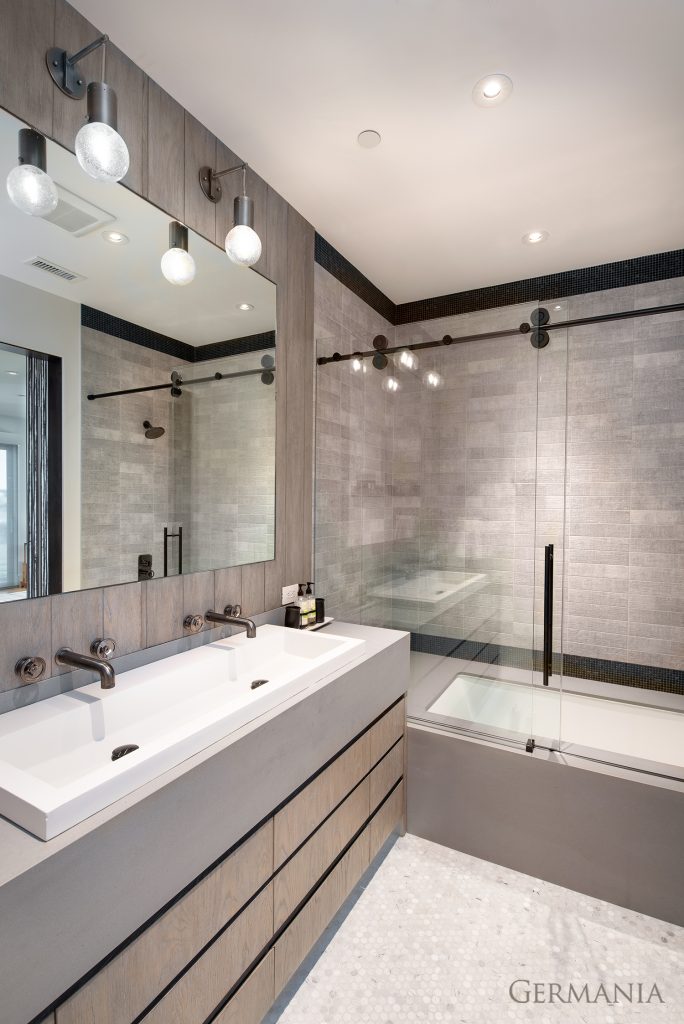 Double sinks, double mirrors and a custom vanity make this guest bathroom an elegant, functional addition to the home.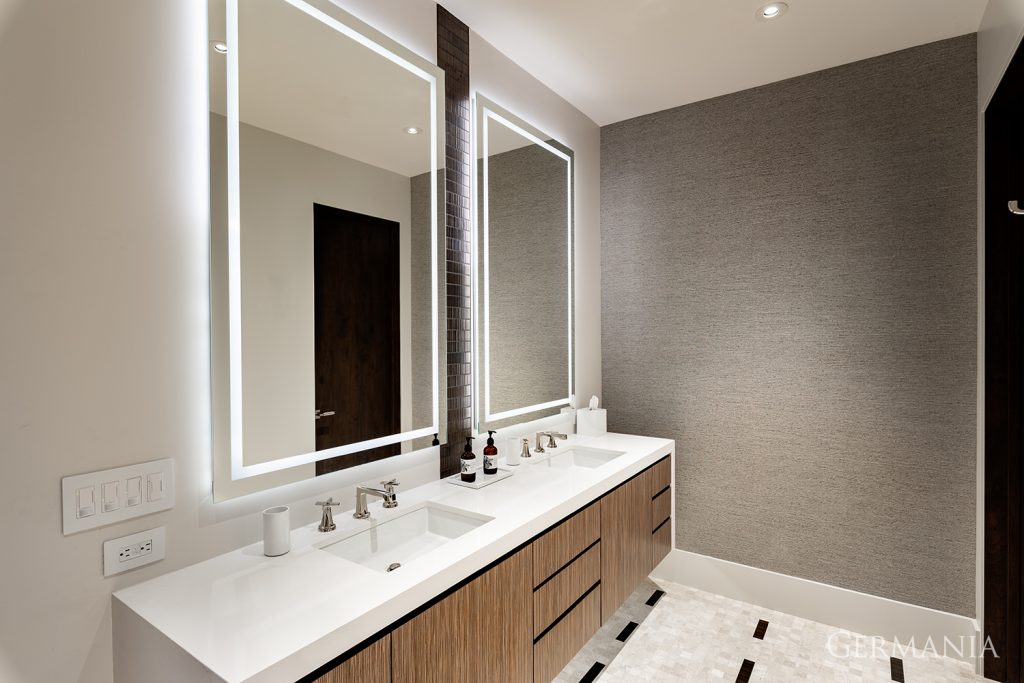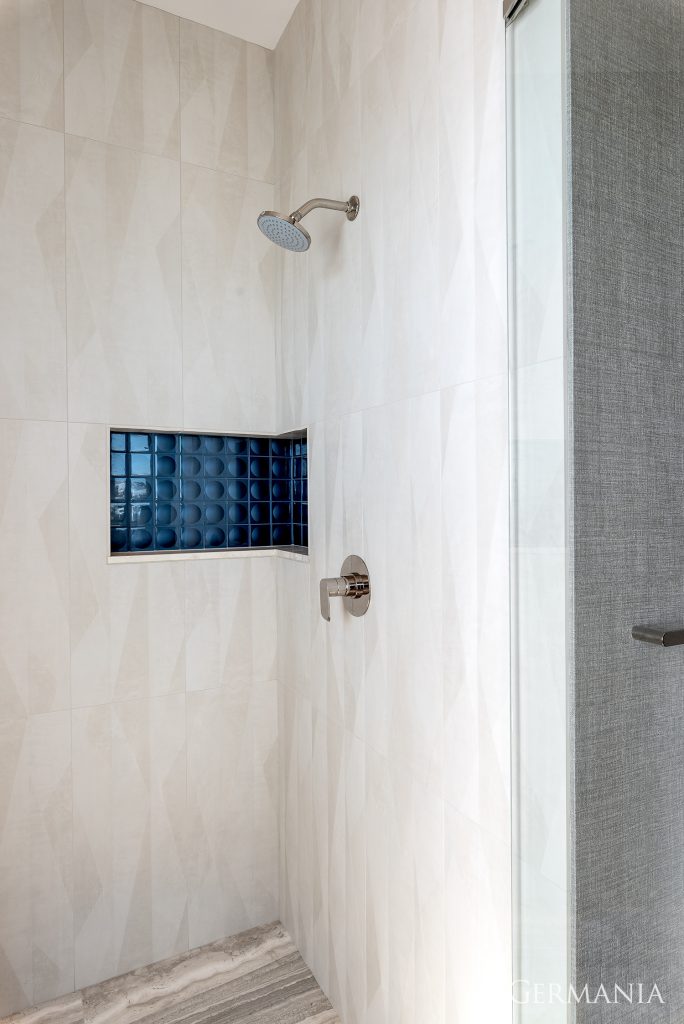 Double sinks plus plenty of storage make this space functional, but adding beautiful features like the custom vanity lighting, backsplash and walk in shower upgrade this bathroom to a home-spa.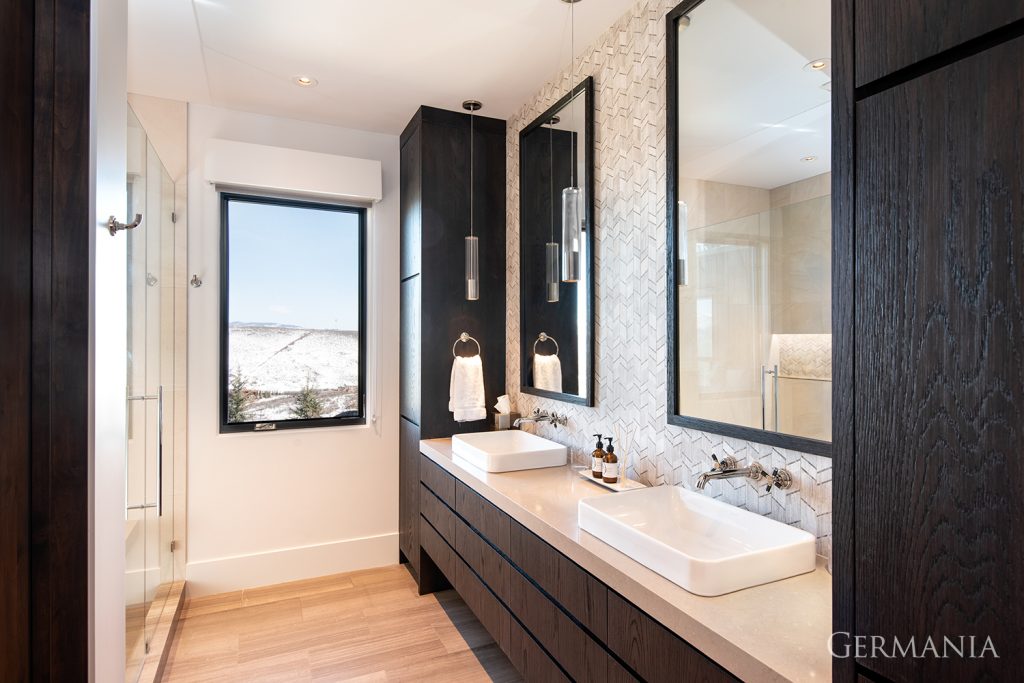 Custom lighting, a walk-in shower with a bench and exquisite lighting make this guest bathroom feel luxurious and relaxing.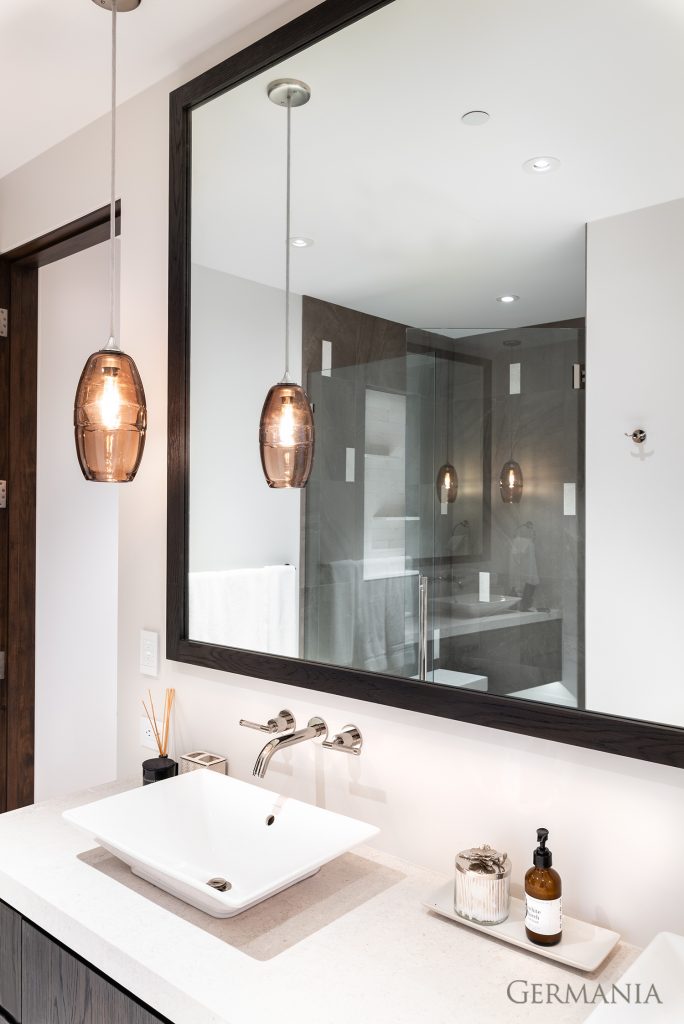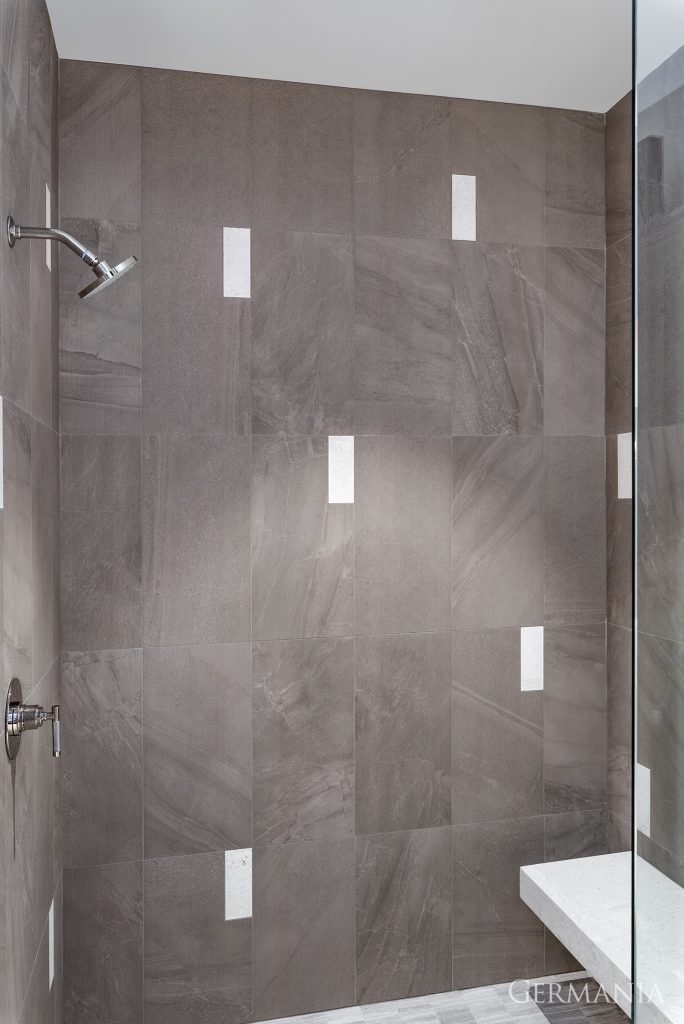 Finally, the primary bathroom takes luxury to the next level with floor to ceiling windows, freestanding tub, shower room, easy access to the porch and stunning light fixtures.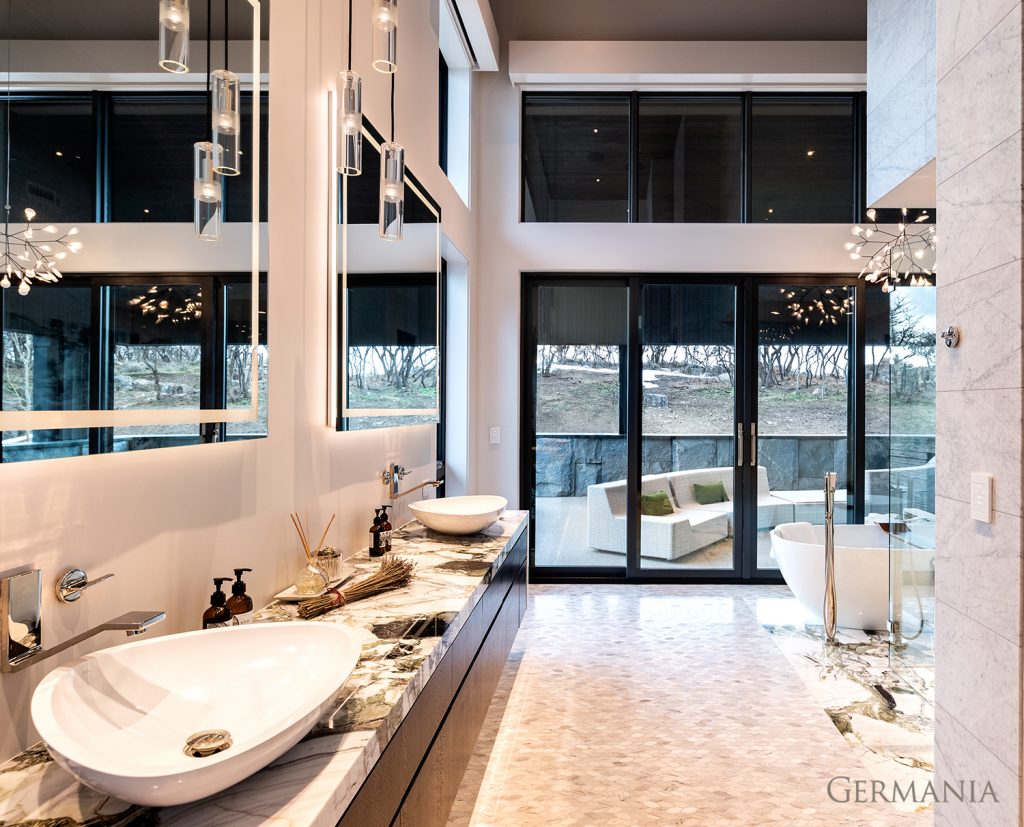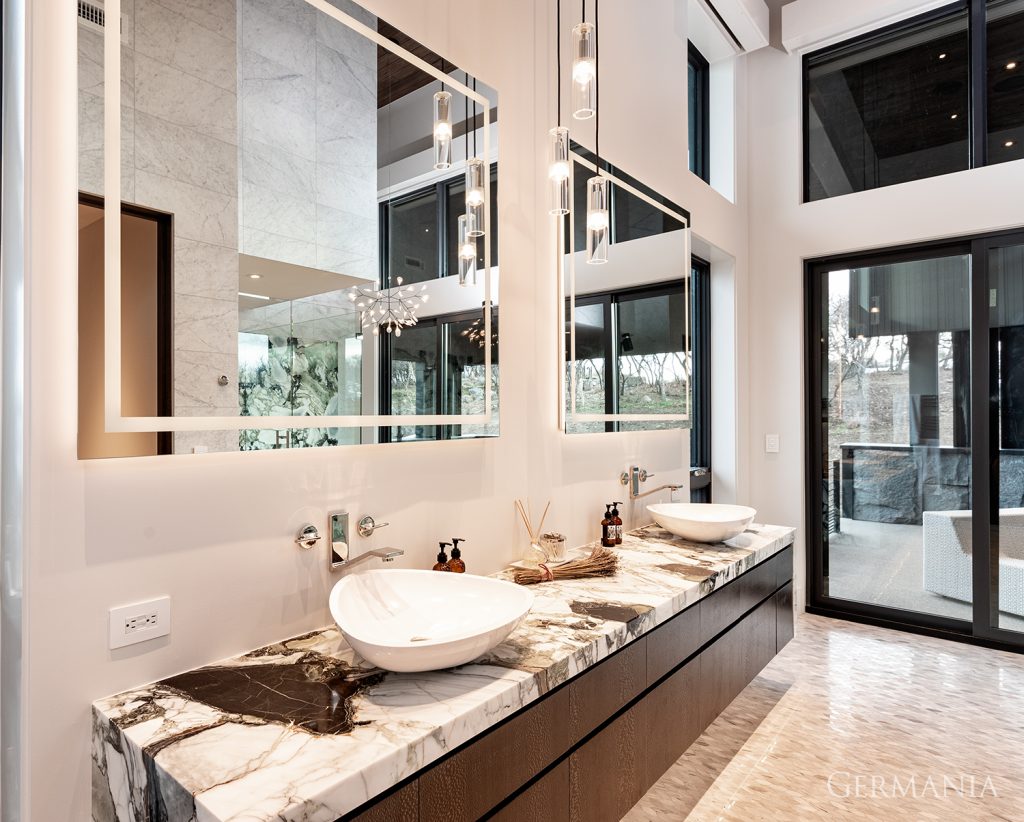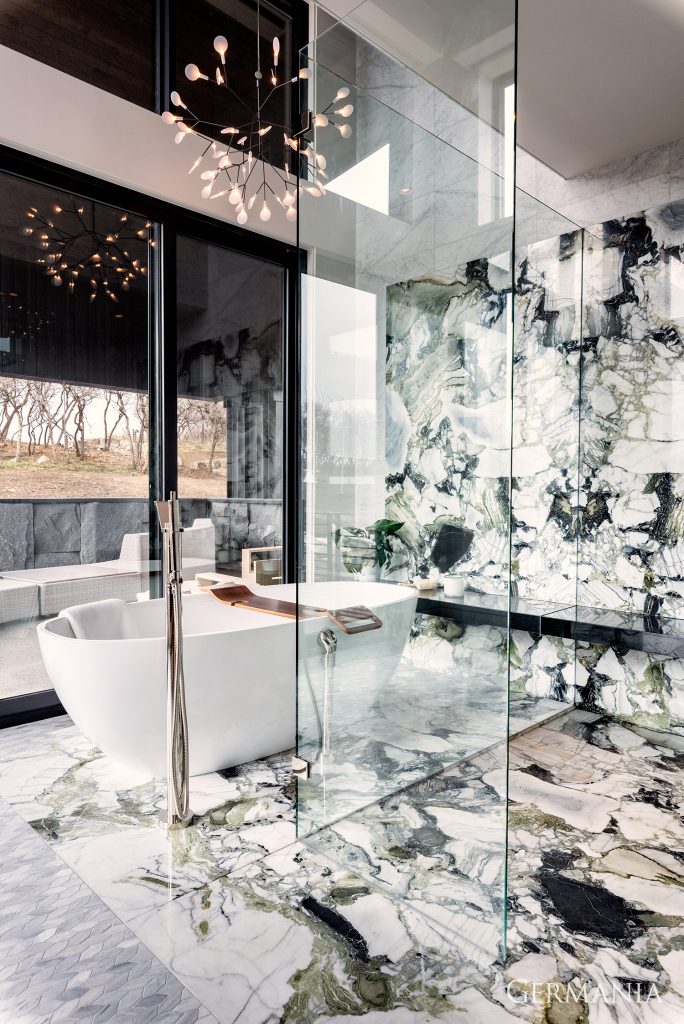 Exterior Features At Promontory Ridge
Spa
Every custom home in Park City needs a spa. Not only are they relaxing, but they can be used all year round. This in-ground spa is near the fire porch and fire features, making it easy to hop in for a quick dip no matter the weather.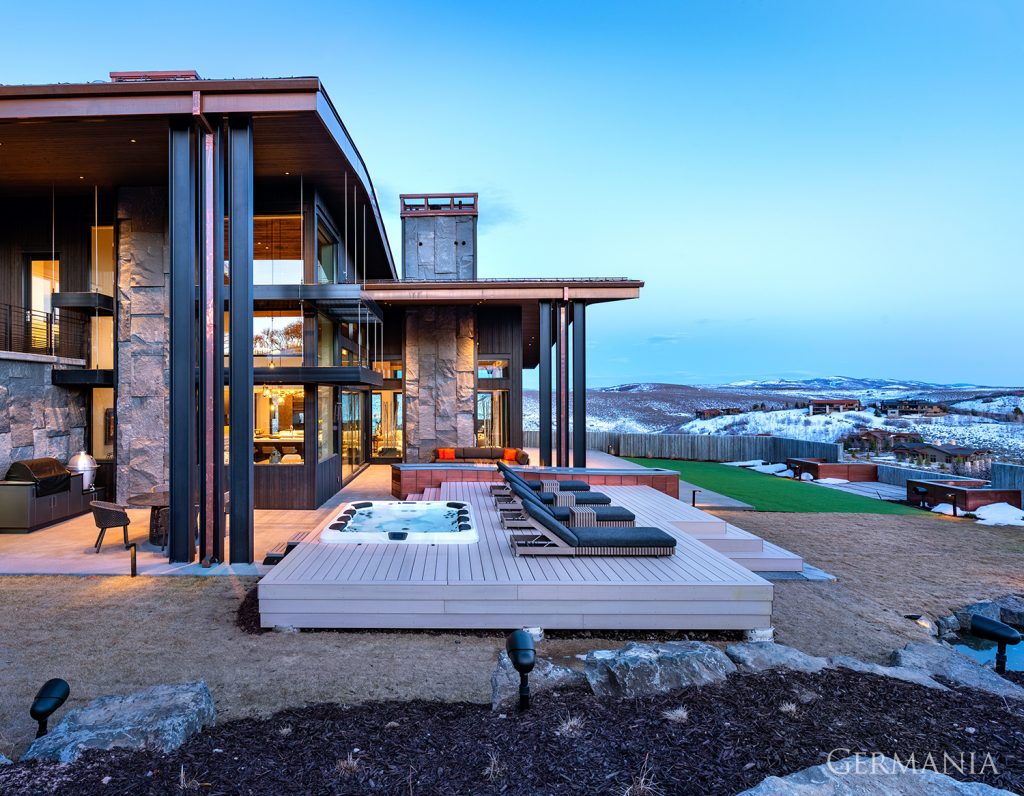 Decking
No matter where you build, materials matter, but the type and quality of your materials matter even more when it comes to mountain homes. That's why we opt for decking materials that will last for decades, ensuring the space will be an inviting place for friends and family to gather for years to come.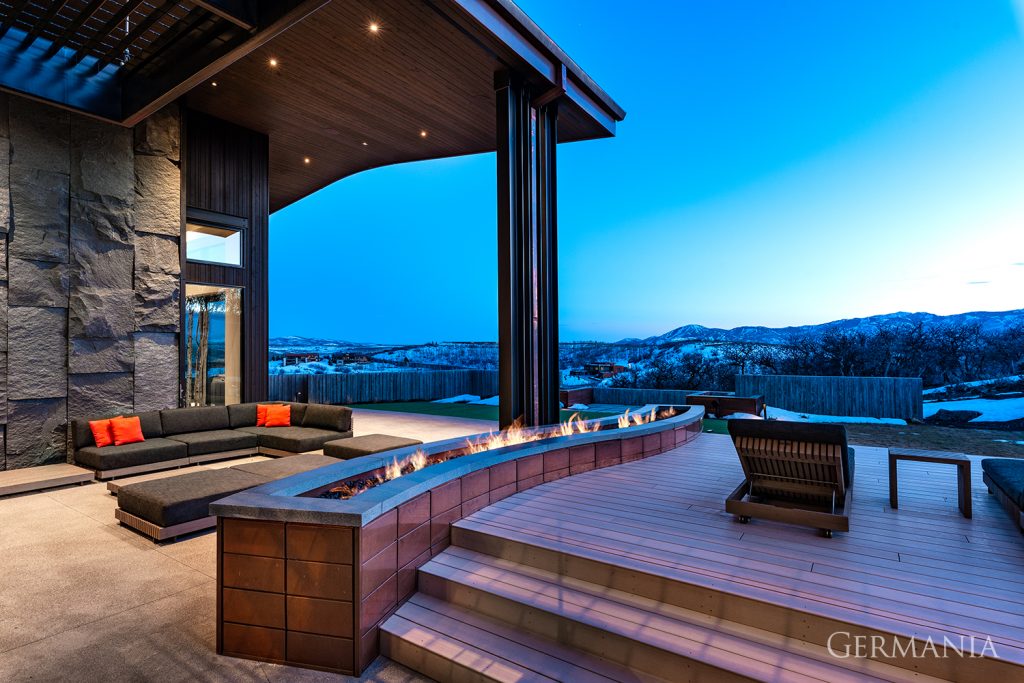 Outdoor Living
Creating usable outdoor living spaces for a mountain home in Park City is no small feat, but using carefully designed porches and awnings, our team installed multiple spaces to gather all year long.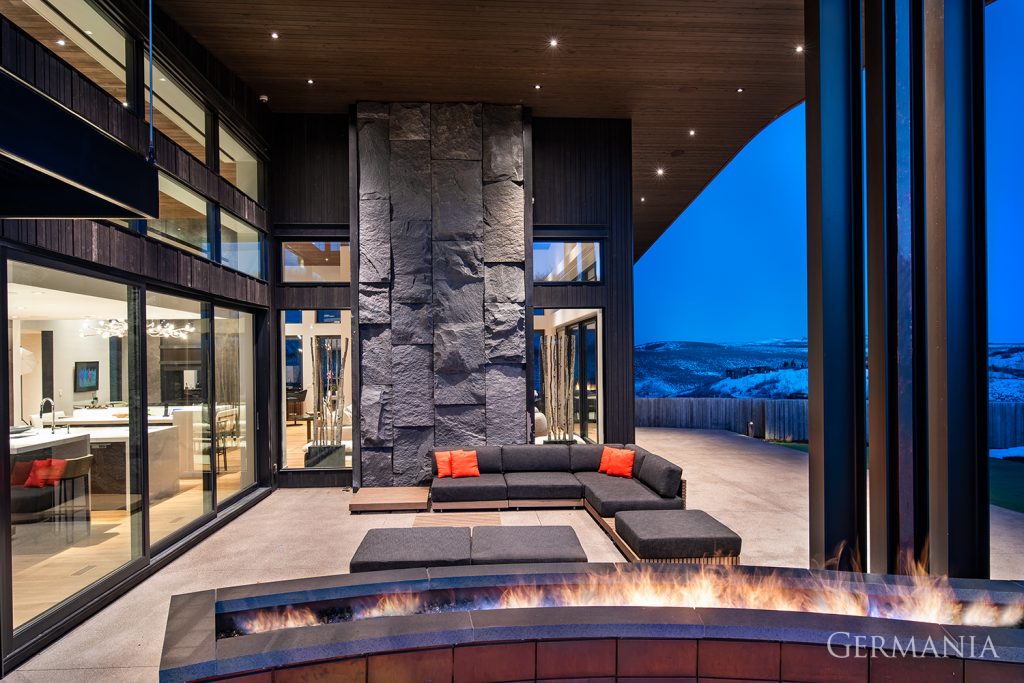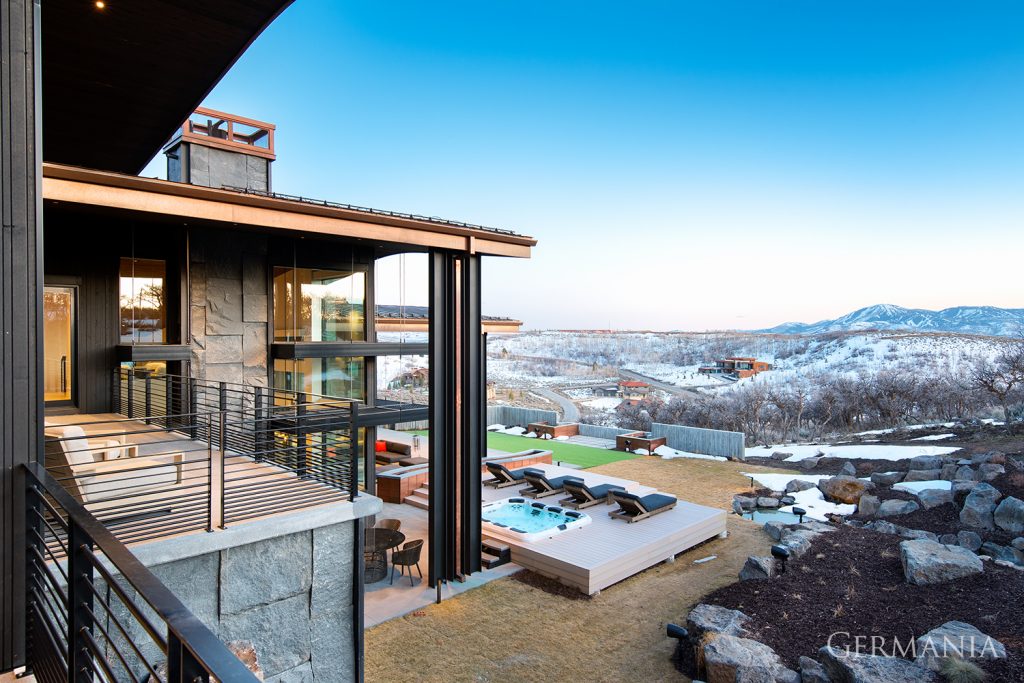 Fire Features
Fire features are a must in Park City homes, and this space boasts multiple fire features. From the rooftop fire pit with unobstructed views of the mountains and valley, to the fire wall to keep you warm all winter long, this space utilizes our best fire feature designs.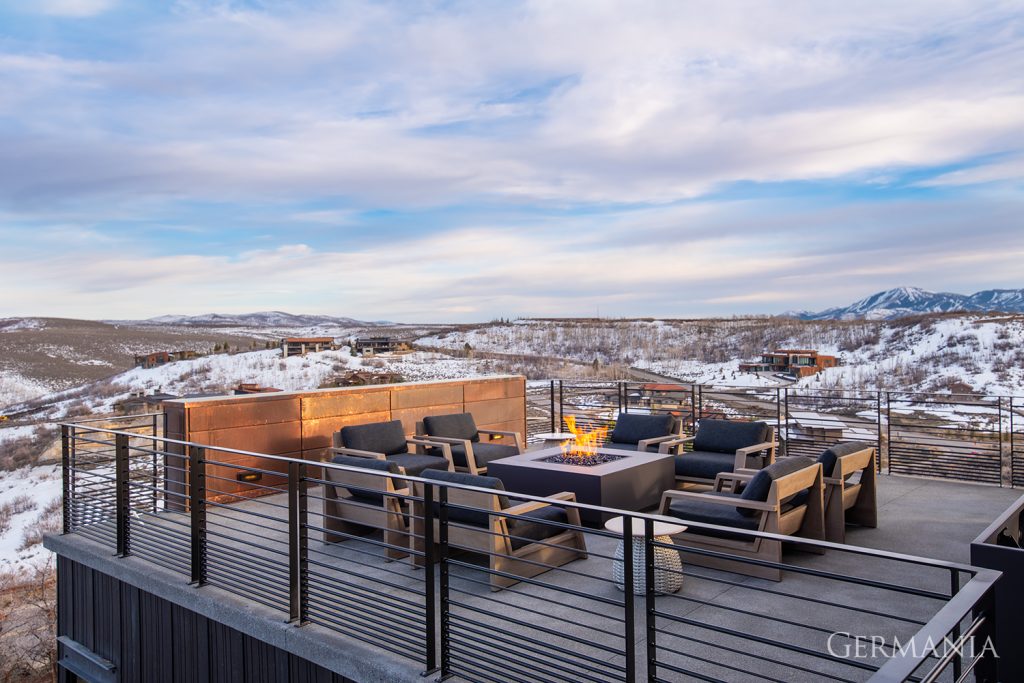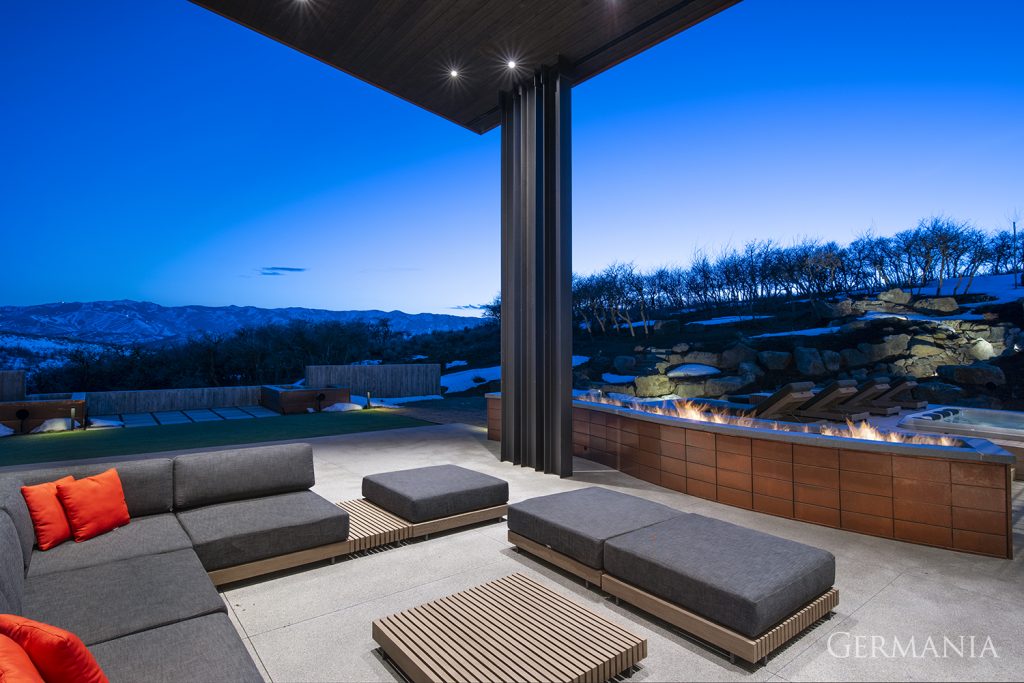 Landscaping
Adding greenery that can last through a long winter requires careful planning and installation. Our team added turf for year long access to usable spaces, plenty of evergreens for year round color, aspens and shrubs to create dimension.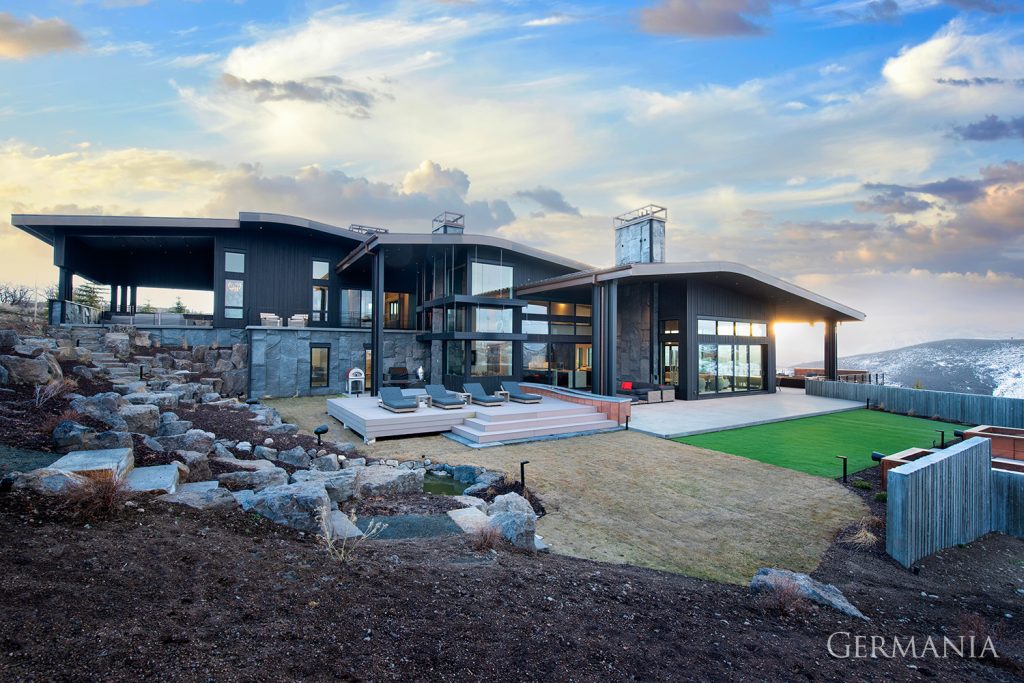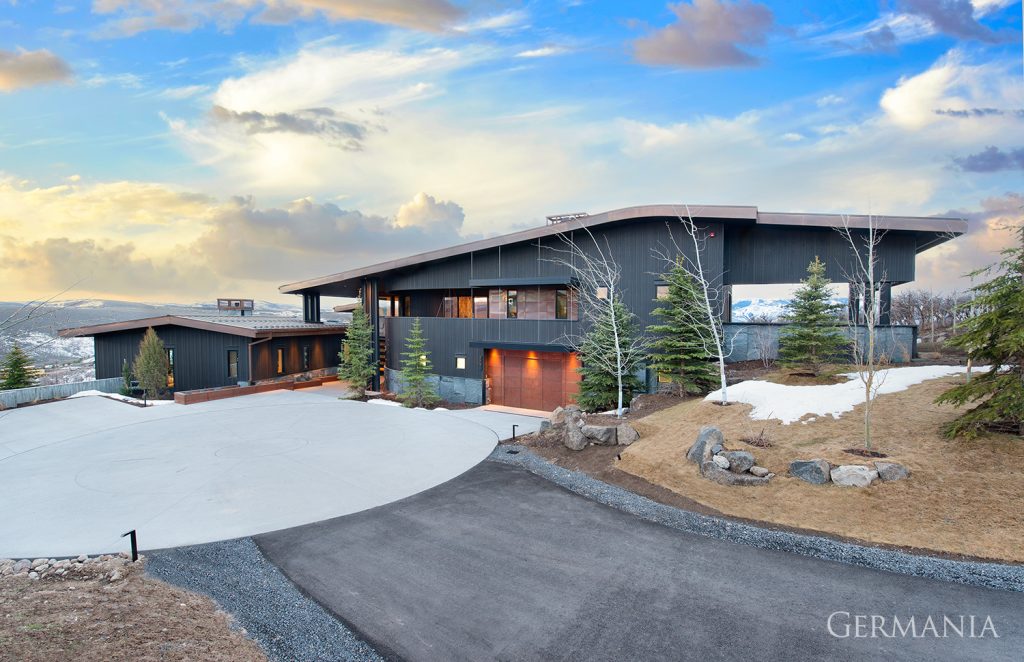 Hardscaping
Adding retaining walls is crucial for landscape design in the mountains of Park City, and in order to match the more contemporary vibe of the home we opted for cement and clean lines to help us create flat, usable space in this yard.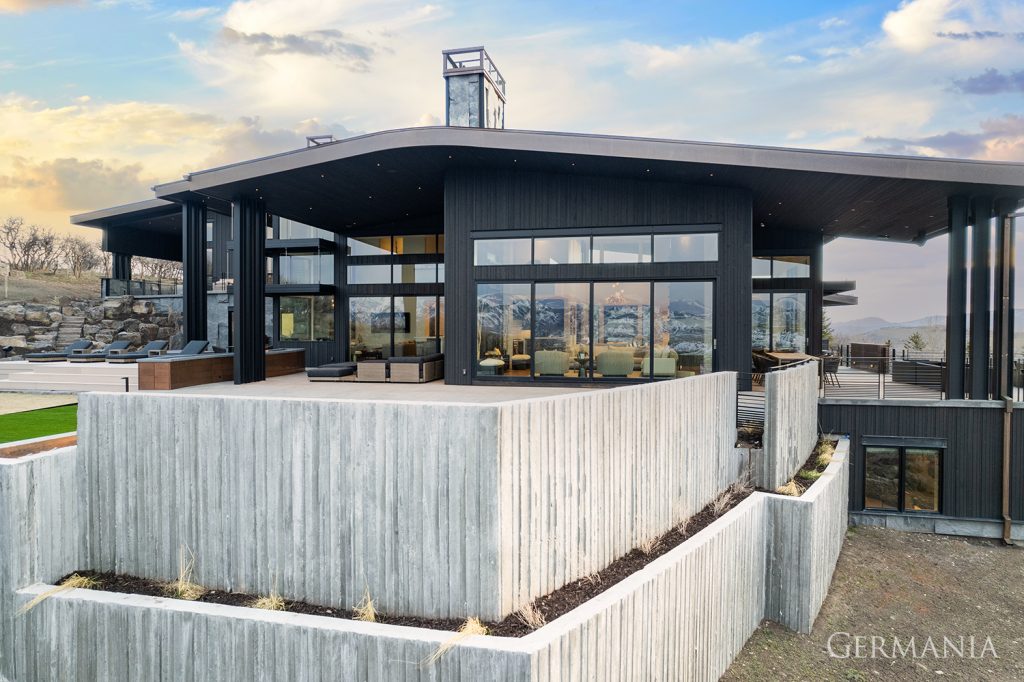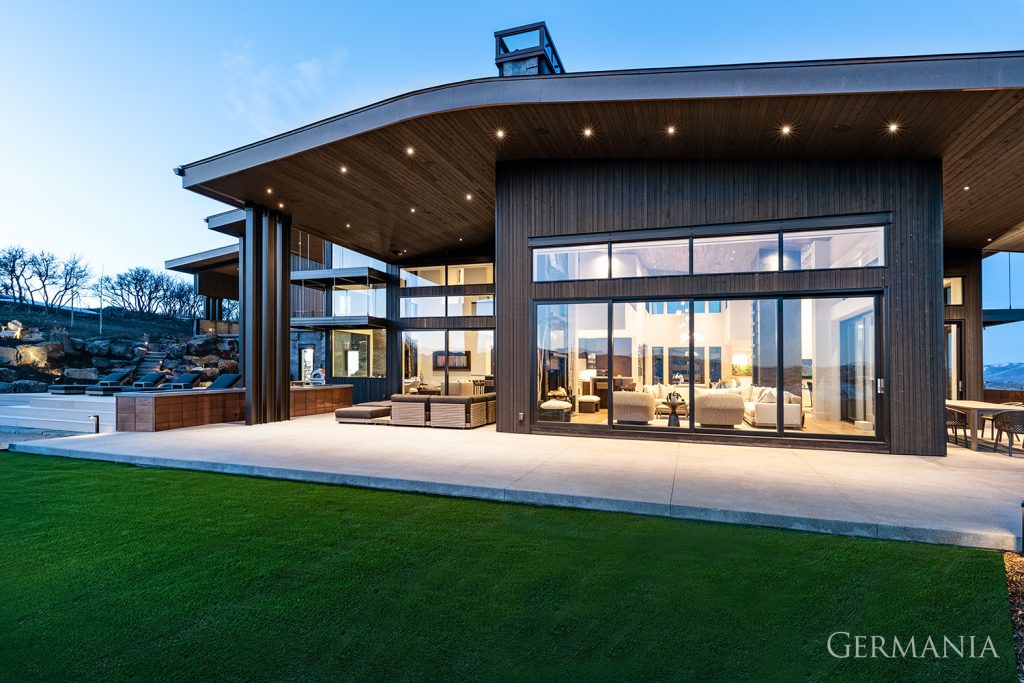 We also poured and sealed concrete in multiple outdoor living areas to create usable, beautiful spaces.
Germania Construction: The Custom Home Builder Professionals
Germania Construction is Park City's premier custom home builder, and not just because we create beautiful homes or because we have a unique eye for designing contemporary mountain homes, but because our clients often become our friends.
The process of bringing their dreams to life using our expertise sparks a bond that often ends with friendship. Not only do our clients love their experience working with our team, but they love the quality of materials, the exceptional design and the seamless process of communicating deadlines, changes and more.
Our team is known throughout Park City and surrounding areas to be the only choice for luxury custom homes, and we are proud of that honor. Find out how we can make your luxury mountain home dreams come true by contacting us today, we can't wait to start on your project!
More On Custom Homes From Germania
Building Your Dream Home In Park City Is Within Reach
What To Look For In Your Family's Custom Luxury Home Builder In Park City