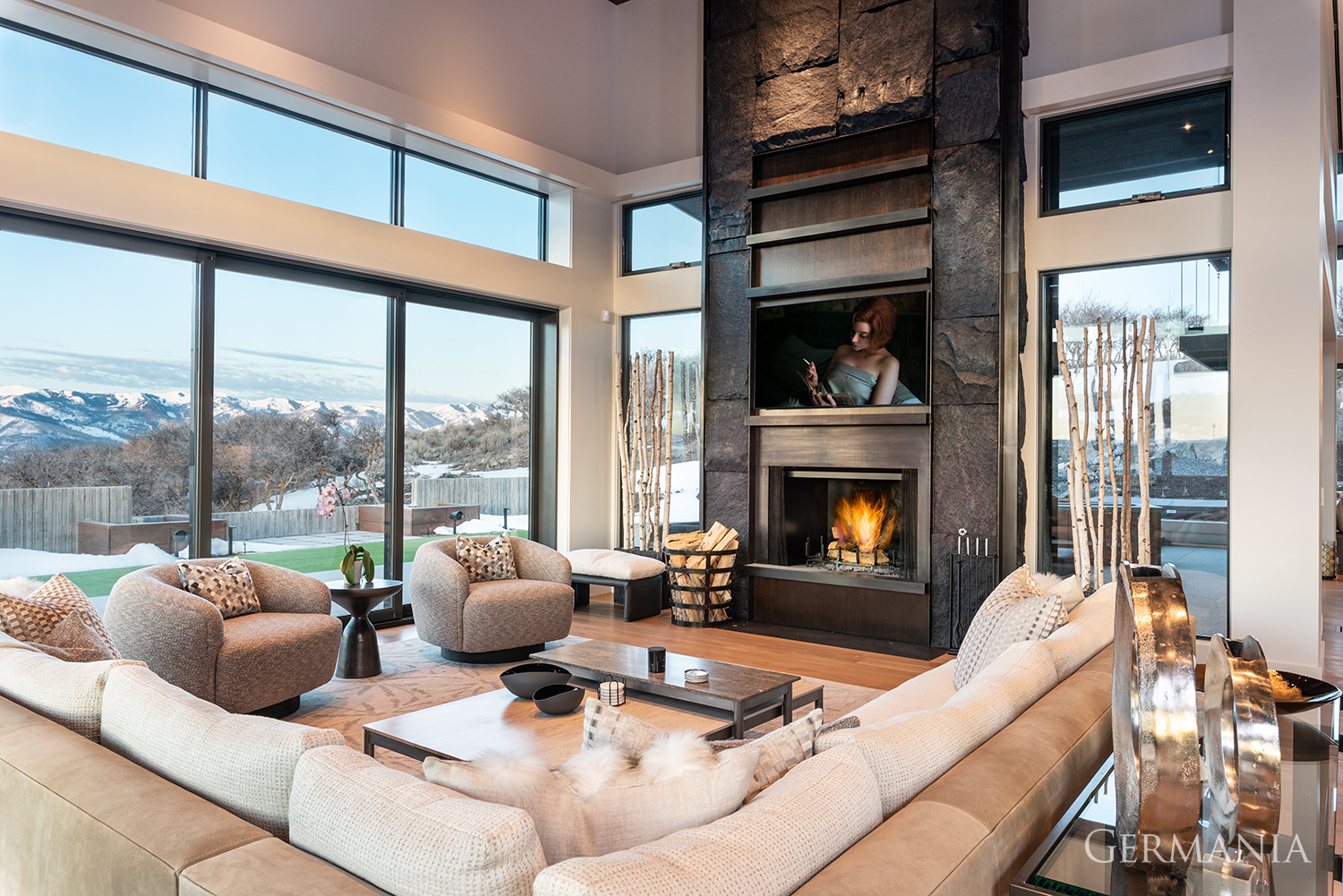 Living Room Ideas For Your Custom Luxury Home
Do you love spending time in your living room? It's one of the most important rooms in any home. It's a place where you can relax and unwind after a long day, or gather with friends and family for some fun. If you're looking for some new ideas to make your living room even more luxurious, you've come to the right place.
A luxury living room includes more than just fancy throw pillows and artwork. Whether you want a formal space with traditional furniture and decorative details, or a casual area with comfortable sofas and plenty of natural light, these ideas will help you get started. So take a look at these inspiring photos and ideas, and start planning your perfect living room today!
What You Need To Know About Custom Luxury Living Rooms
When considering different living room ideas for your custom home, it's important to consider how the space will be used. For many people, the living room is the primary entertaining space. This means that it needs to be both comfortable and stylish. Getting that "just right" space comes down to picking the right combination of furniture, fixtures, and finishes. Fortunately, there are a number of ways to achieve this, and you might be surprised how inexpensive and intuitive some of them are.
Unique Artsy Touches
The human brain loves novelty. It is drawn to anything that looks slightly out of the ordinary, and your mind will automatically decide that something out of the ordinary is more interesting and expensive than the average run-of-the-mill decor. That said, you don't need to spend a fortune on these unique touches. Anything artsy-looking can go a long way to giving your home that high-end look and feel. Try to choose pieces that have a cool, interesting shape, a unique color, or have a deeper meaning to you. Don't be afraid to use antiques or large scale art to make a personal statement or add some drama to your living room.
Mix And Match
Vibrant hues and textures have a way of making a room look more expensive. Textures such as velvet, mohair, and boucle are fantastic choices for upholstery or accent pillows. These types of fabrics are very on-trend in our current market, so it's easy to find a piece or fabric that you like that will complement your living room decor.
A mix of highs and lows will round out any design theme. When you have intentional contrast, the room reads as more expensive. Some of the best advice we have is to choose key pieces like lighting or luxury fabrics for high-end items, and then mix and match those with some more natural hues and materials like wood, glass, and stone. However, when in pursuit for the perfect piece, always avoid lower cost woods and veneers. These are sure to cheapen any space, and leave the room feeling pretentious instead of classy.
Use Metal
Like how gold earrings can elevate a simple black dress from nondescript to chic, tasteful touches of metals like gold or silver can have the same effect on your home. One of the best ways to incorporate shiny metals is through the use of smaller artistic sculptures of more traditionally, through picture frames or mirrors. A glint of gold on the walls or the coffee table will bring a tiny bit of glamor to your living room space.
Use A Variety Of Shapes
Don't be afraid to use a variety of different shapes to add visual interest. Especially on-trend right now are curvy shapes. Whether it's a curved armchair, a round coffee table, or the arc of a floor lamp extending over the sofa, curves feel at once luxurious and unique–just the ticket for making a room feel like a million bucks.
Keep It Simple
Keep your design palette clean and simple when decorating fireplace mantels and coffee and side tables. Using just one or two pieces or a well-coordinated, but small, collection of decorative objects with interesting shapes and materials will provide a much better presentation than an eclectic grouping of objects.
Trendy swivel seats, velvety accent chairs, or leather-laden sofas are all pretty ways to add a dose of luxury to a room. The shape and materials the seats are made of can make a big difference in how they come across. Stick with natural colors, flowing shapes, and simple constructions. Of course, designer labels and luxury brands are just fine, but we suggest keeping those to a minimum. Upscale-looking homes often rely on minimal vessels, containers, and decorative objects to convey elegant luxury.
Use Dramatic Lighting
Lighting has an incredible ability to turn any space into something special. Try modern orbs that never go out of style, or experiment with some non-traditional or abstract shapes. It's really fun to play with lighting and experience how it can transform a room. Lighting is also an easy way to infuse personality into your space without committing to a complete design theme. We love veering off from the design board to explore different lighting options that can reflect an owner's style and personality while making a dramatic statement.
Windows With Sweeping Views
We know you don't live in Park City just for the shopping! Many of our clients have wonderful wooded mountain views framed with sweeping floor to ceiling windows. Don't be afraid to let the outside world set the stage for a beautifully designed interior. Dramatic windows with sweeping views really add class and luxury to your interior spaces.
Go Green
While not exactly luxury, incorporating plants into your design theme is a lovely way to add beauty and variety to your surroundings. Look for high-end planters made from neutral colors and made from natural materials like ceramic and clay. Simply shaped planters can lend an understated beauty. Again, we always love to incorporate hints of black into any design palette, as we find it's an easy and foolproof way to add luxury to your living room space. Like lighting, when it comes to choosing planters, this is an area that you can play around with and pick items that suit your personal style. Experiment with different textures, sizes, shapes, and materials, like wood or metals to give the room life and keep it from feeling flat and lifeless.
5 Living Room Ideas For Your Custom Home
Now that we have the basics out of the way, we'd love to share with you some designs that we just can't get enough of.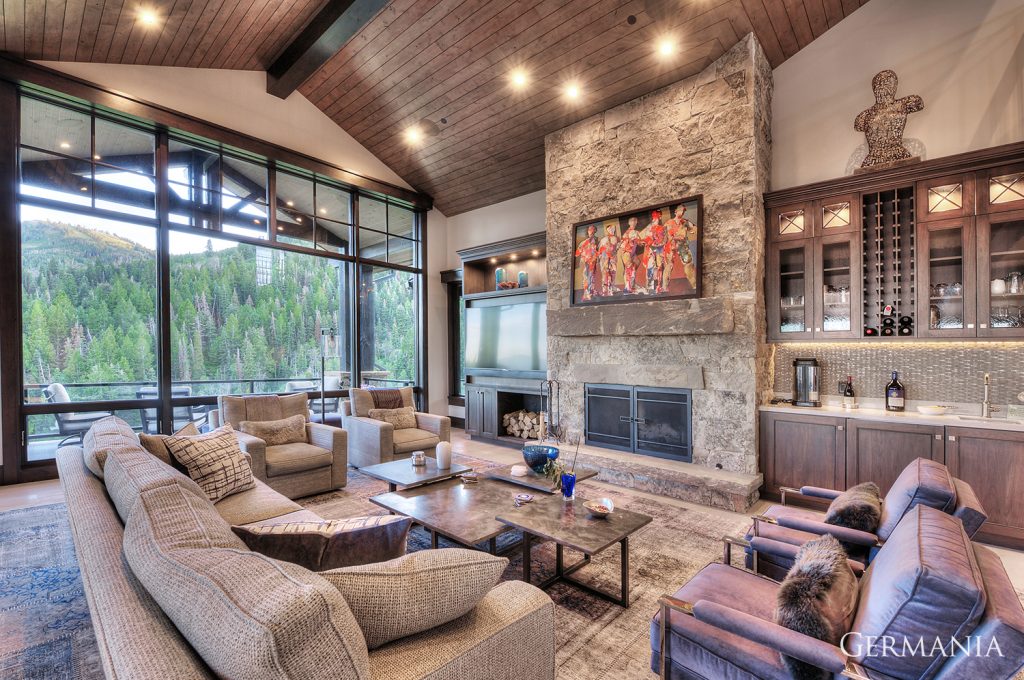 This custom home uses dramatic floor to ceiling windows to showcase the gorgeous Park City mountain views. In many ways, gorgeous views like these are just as important as interior design. You'll also notice that this client has chosen a luxury purple velvet armchair to add visual interest and a bit of elegance to the neutral design theme. Natural wood ceiling paneling and built-in cabinets complete the custom look with touches of metal through the room and a playful artistic sculpture adds a bit of personal flair.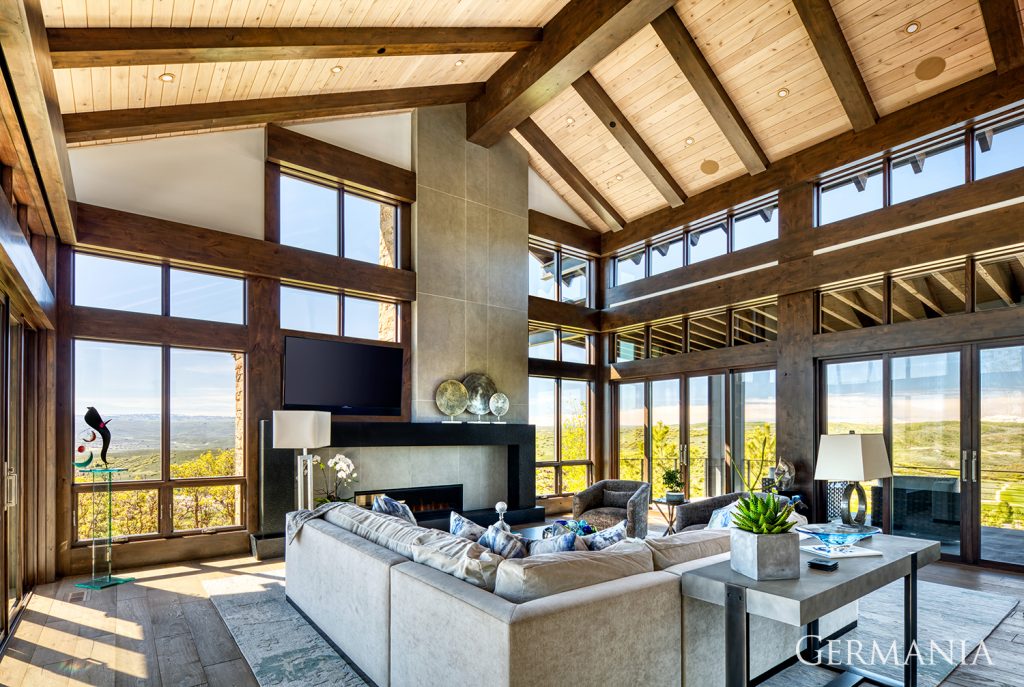 The phrase "seeing for miles," takes on a new meaning with his luxury Park City custom home. With three out of the four sides composed mostly of glass, this living room is flooded with natural light and unobstructed views of the surrounding mountains. We particularly like the asymmetry of the fireplace juxtaposed against the symmetrically placed windows. Notice again the touches of black in the fireplace surround and table legs–this and the use of metals really brings this room alive.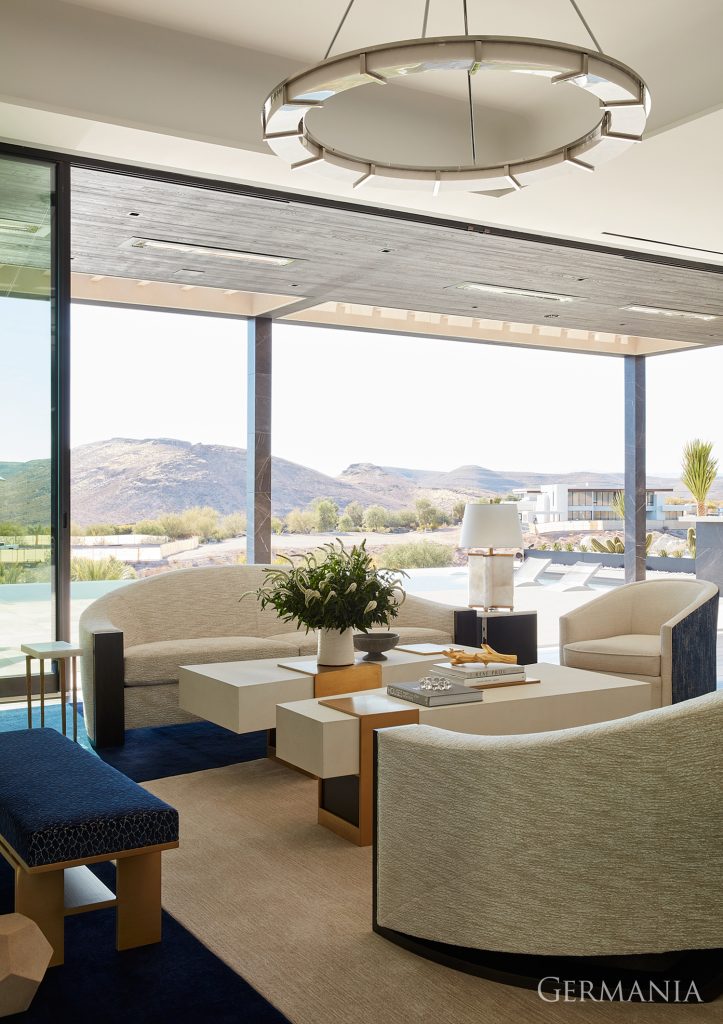 Floor to ceiling windows seem to be a popular theme with luxury home builders. It's one way to enjoy the Park City area and its amazing scenery. This living room also incorporates curved furniture that plays nicely with the blocky shapes of the coffee table. Hints of black add instant sophistication and the natural wood on the coffee table and bench legs bring warmth to the monochromatic design palette. Last (but not least!), the overhead chandelier echoes the curves on the sofa while lending personality and style to the space.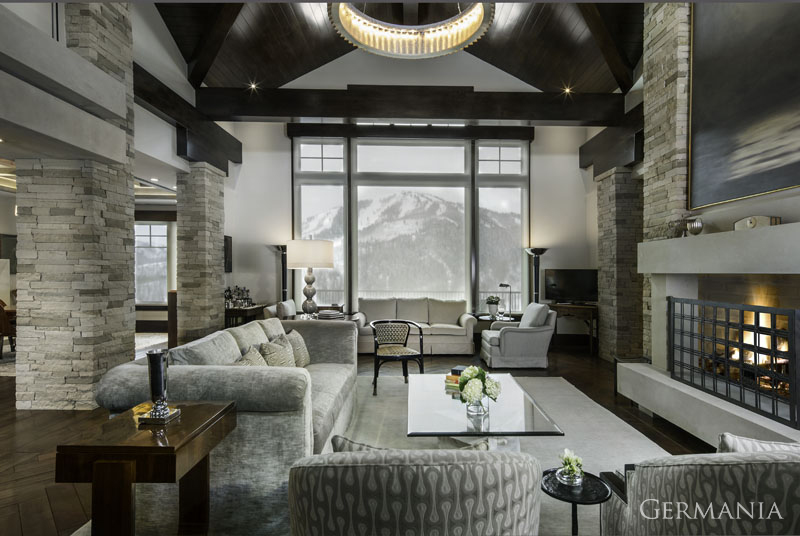 This luxury living room comes across as naturally bold and substantial. Perhaps this room is the perfect compliment to the bold and substantial mountains rising commandingly just outside the windows. With a large-scale home like this, it's completely appropriate to go bold and big with dramatic beams, vaulted ceilings, and a substantial fireplace. Notice the hints of black scattered around the room, and how the gridded pattern on the fireplace grate adds a design element that breaks up the monochromatic design pallet.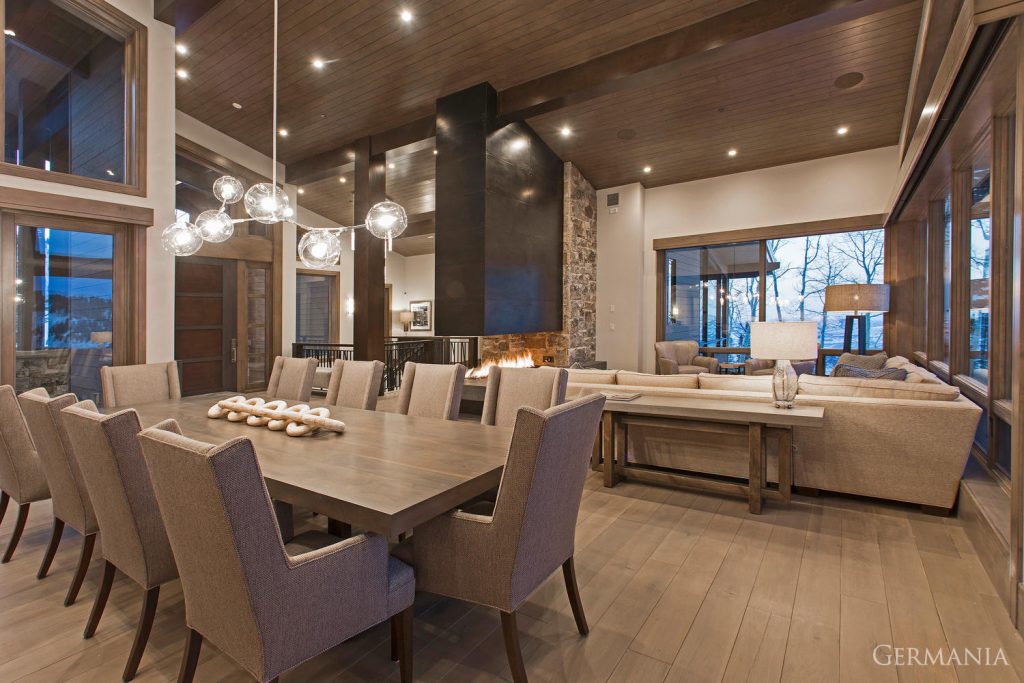 This living room does a fantastic job of using simple, interesting shapes to add instant elegant luxury to the room. The braided sculpture on the living room table along with the modern chandelier gives this space personality and understated simplicity. Notice how the mix and match of different high-end materials like glass and warm wood bring out just the right amount of high-end class. Surround everything with beautiful floor-to-ceiling windows and you have the perfect recipe for a luxury custom living room that is a cut above the rest.
Why Choose Germania Construction For Your Custom Luxury Home?
Germania Construction offers high-end custom luxury home construction in Park City and surrounding areas. We've mastered our craftsmanship; we only use quality, high-end materials. That's how we can ensure that every detail is attended to with exquisite care while providing unparalleled transparency throughout the construction process. If you're looking for a dedicated partner to build the home of your dreams with all the luxurious bells and whistles, a consultation is only a phone call away.
More On Custom Homes From Germania
Building Your Dream Home In Park City Is Within Reach
What To Look For In Your Family's Custom Luxury Home Builder In Park City