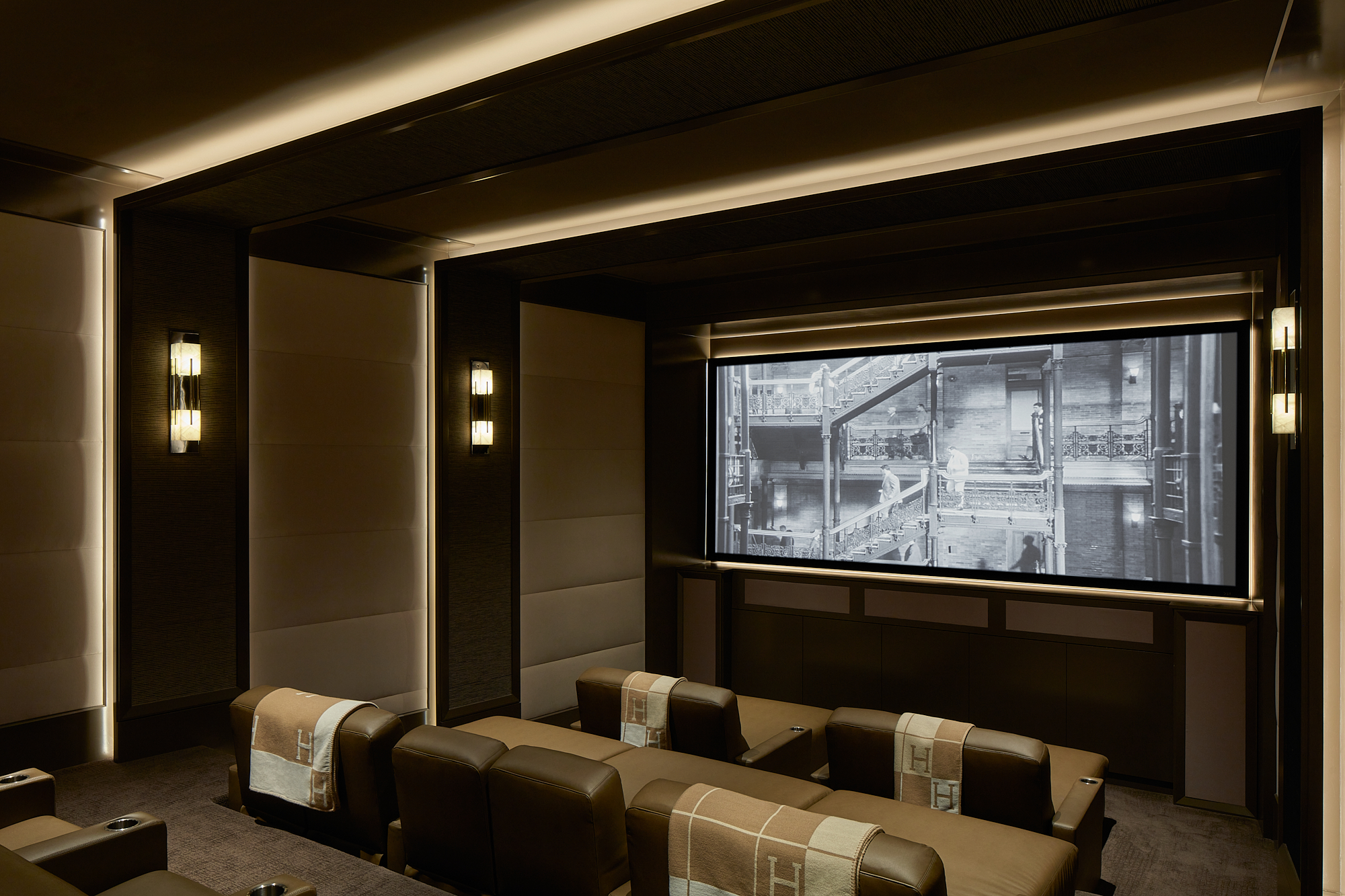 5 Theater Room Ideas For Your Custom Luxury Home
If you're working with a custom home builder in Park City, chances are, you've discussed your plans to incorporate a theater room. With the planning phase underway, it's now time to scour the internet for custom theater room ideas. No custom home is complete without a theater room for those weekend nights when all you want to do is order takeout and throw on your favorite pajamas. Who wants to fight the crowds and popcorn mess in a public theater when you can have your own private screening in the comfort of your Park City custom home? It's actually no contest; the tastefully designed home theater wins every time.
5 Custom Park City Theatre Room Ideas We Love
We absolutely love working with our Park City customers to design one-of-a-kind custom homes, built to suit. Part of the joy in building homes comes from executing our customer's vision regarding the fit and finish of their home. Part of what makes these homes so amazing is the addition of unique, exclusively designed rooms, like a custom home theater room. We'd love to share our top five theater room ideas designed exclusively for custom Park City homes. This is one room in your house that will get plenty of lounge time–entertain the kids or relax with friends in these luxurious custom theater rooms–this room is a space for all.
LEARN MORE: The Experts In Building Custom Homes In Park City
Perfectly Designed
This Park City custom home theater offers an intimate screening of your favorite film, along with a well-designed color scheme and layout. A pairing of side lights and small can lights nestled in the ceiling above gives the room a warm glow, while the lighting surrounding the screen forms the perfect picture frame. Sound panels complete the cocoon-like feeling of this perfectly designed custom home theater room.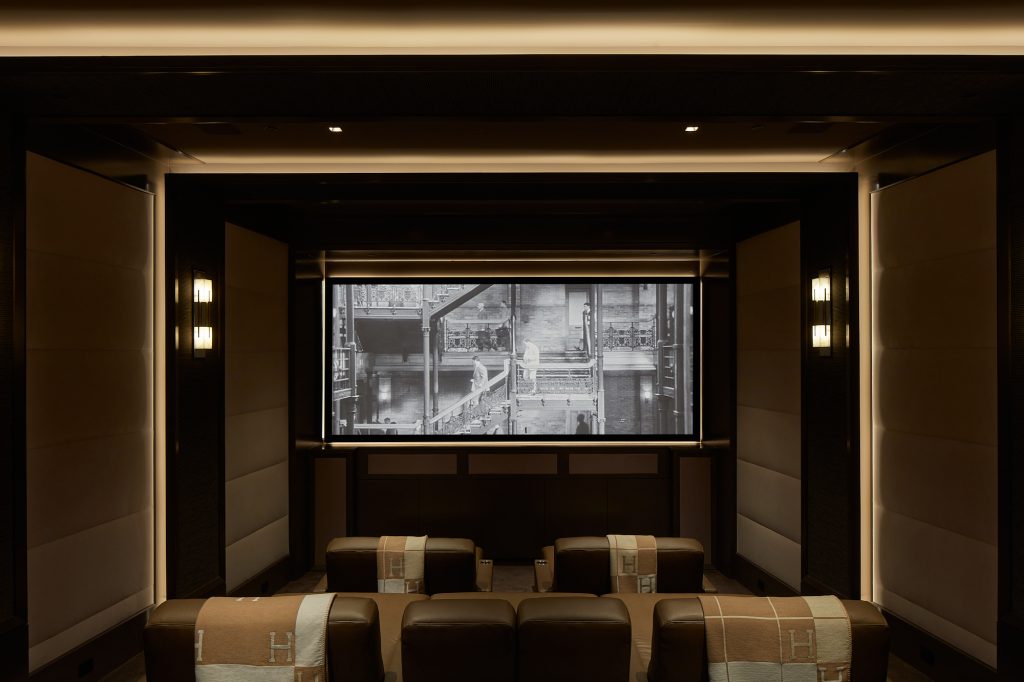 Ambiance Meets Form And Function
This custom home theater is multi-functional with seating for those who enjoy a late-night snack along the back, while the rest of the moviegoers enjoy front-row seating. Built for larger groups, this room is loaded with stylish details. From the colorful geometric upholstery on the back row chairs to the Godfather poster on the wall, this custom home theater can't help but impress even the savviest home theater owner.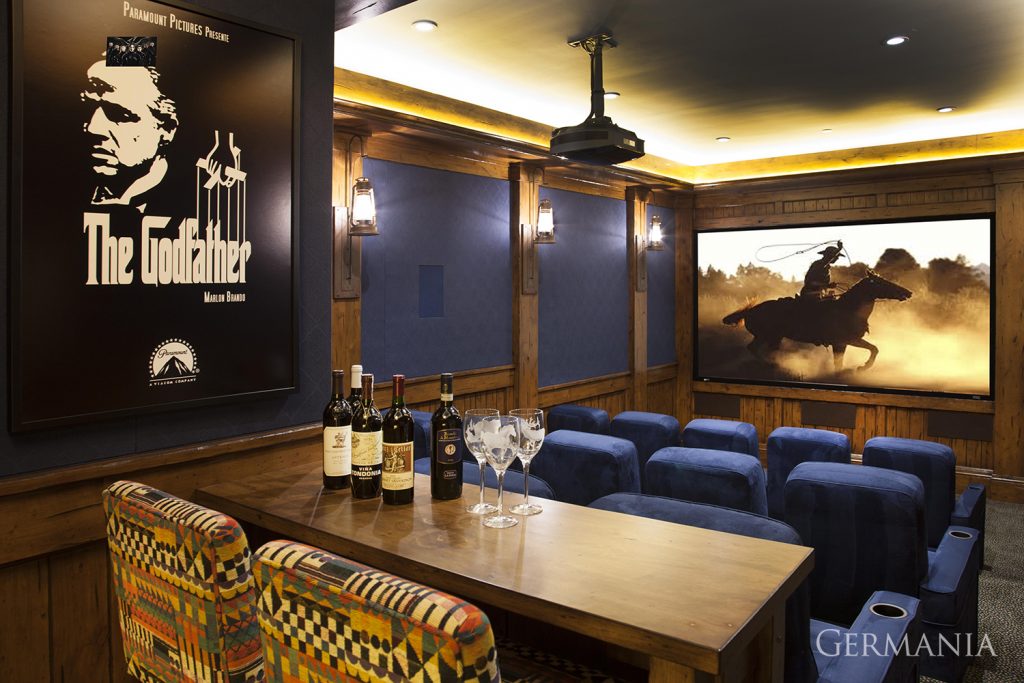 A Relaxing Oasis
As Park City's premier custom home builder, we know how important it is to incorporate family-friendly spaces into your home. With a plethora of activities and recreation around the Park City area, there's nothing better than bringing your friends and family into a home that was built to entertain family and friends of all ages. A theater room is just one of those spaces. With ample seating and a moody color scheme that encourages relaxation, this is the perfect room to unwind after a long day on the ski slopes or running errands around town.
RELATED: Why Germania For Your Next Custom Home?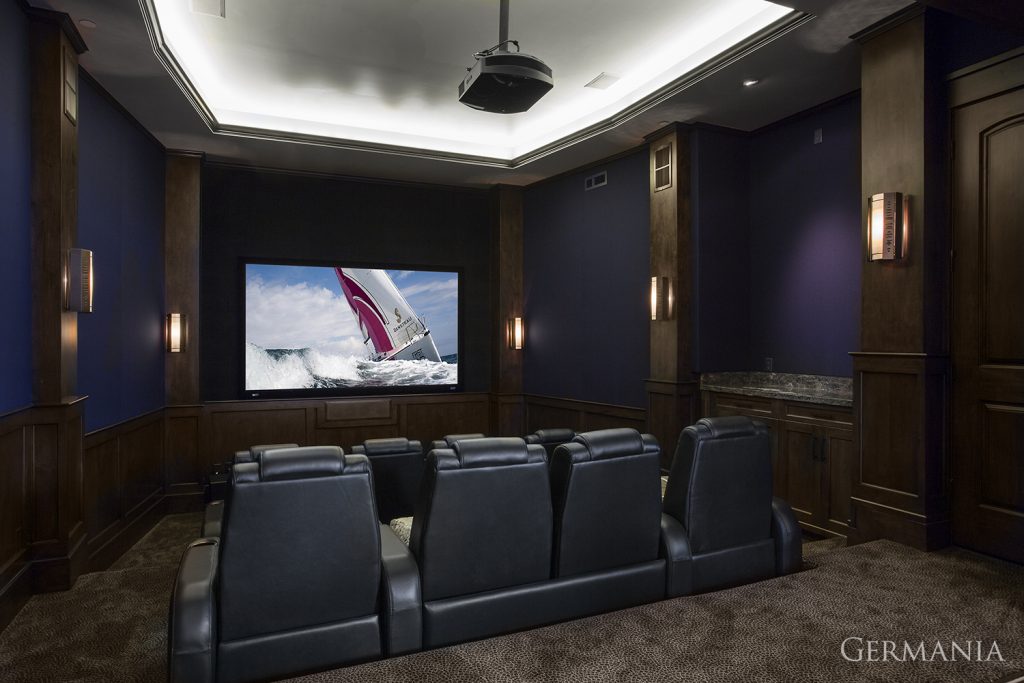 Designed With The Owner In Mind
Designed with a rustic flare, this custom Park City theater room provides casual floor seating for the younger generation who like to lounge while also providing the grown-ups in the room plush, leather seating. The room's unique shape reflects the owner's style and vision for this room, while the recessed ceiling and wall scones give this room the mood lighting that a theater room deserves.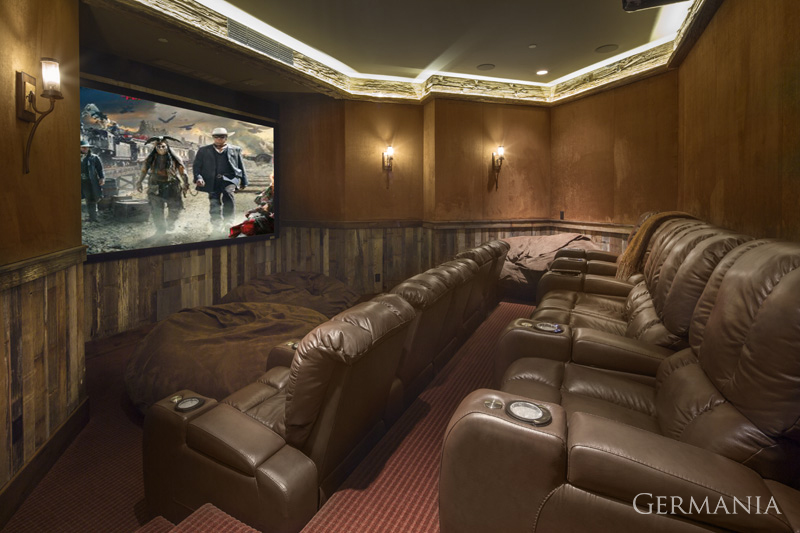 A Theatre Room With A View
Who says you can't have a theater room with a view? This Park City home owner has created the perfect home theater that feels at once relaxing and inviting without sacrificing the home's amazing views. Meant to be enjoyed at all hours of the day, this room is the gathering place for family and friends. The distant mountain in the distance only adds to the ambiance of the room, while the wood accent wall adds personality and is the perfect complement to the plush carpeting and deep couches.
TRENDING: How To Build A Custom Home Without The Headaches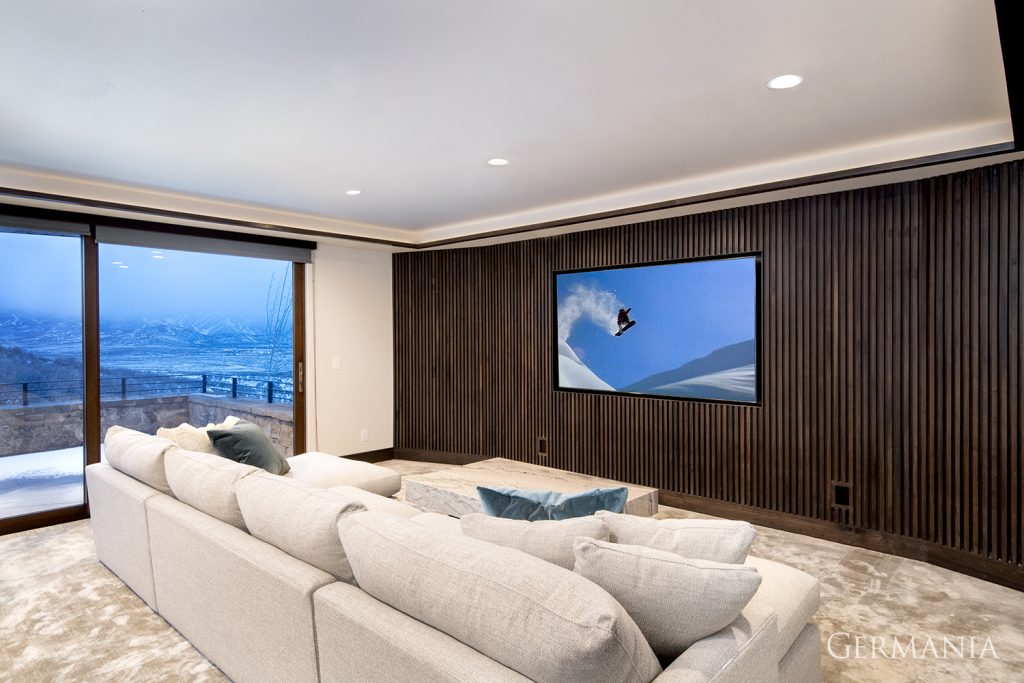 Why Choose Germania For Your Park City Custom Home Builder
Germania Construction is not your average Park City custom home builder. We often work on referrals, and we take pride in the fact that our clients recommend us unequivocally to their families and friends. Our clients know that we never sacrifice or compromise on quality, and we can honestly say that our trade partners are the best in the business.
Throughout the build process, many of our clients have commented on how effortless the process seemed from start to finish, and that doesn't just happen by chance. We achieve this high standard by managing expectations all along the way. We value communication and feel that financial transparency is essential in a working relationship.
The houses we build are truly works of art that often require enhanced engineering and manufacturing techniques–all of which we are well equipped to handle. And just because we are a custom Park City home builder does not mean that we are not cost-conscious. We are constantly on the hunt for the right product, with the right quality, and the right availability, for the right price, and we won't rest until we find it.
So if you're in the market for a custom Park City home, and you want to work with an experienced partner who can bring all your visions to life–including those custom spaces like a home theater room–we urge you to check out our online portfolio or give us a call to inquire about a consultation.
More On Custom Homes From Germania
Building Your Dream Home In Park City Is Within Reach
What To Look For In Your Family's Custom Luxury Home Builder In Park City