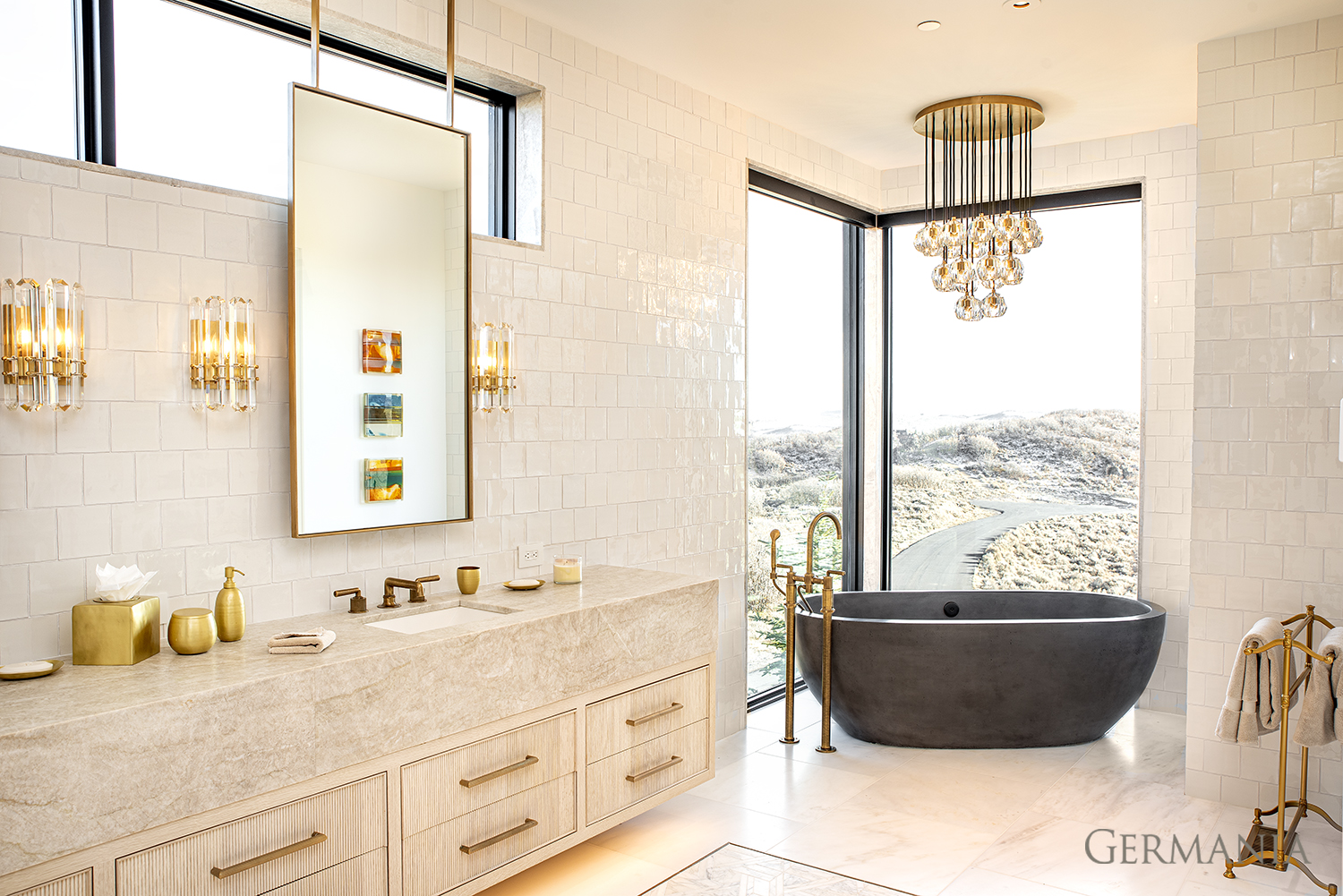 5 Bathroom Ideas For Your Custom Luxury Home | Luxury Bathrooms
There really is no place like home–especially when your home is a luxurious, custom home built with attention to every detail. If you're in the market for a new home and are looking for ways to make your bathroom feel more like a spa experience, look no further. We love to share our tips for creating that one-of-a-kind bathroom that will have you looking forward to a long soak after a full day on the Park City slopes. Whether you're looking for an expansive grandiose experience or something more minimalistic, we'll share our inspiration and bathroom ideas for custom homes to help you create the bathroom of your dreams.
What Makes A Bathroom Custom And Luxurious?
When it comes to luxurious, custom bathrooms, it's not all about size, although size does play into the space. For bathrooms to feel extra special, look for quality materials, unique and large-scale light fixtures, handsome flooring, custom built-ins, repeated design themes, and excellent craftsmanship.
Other luxury features like heated floors or a fireplace can create a spa-like bathroom. Look to install upscale features like a steam shower or a jetted tub, or if you really want to go all out, add a sauna or steam room.
5 Custom Luxury Bathroom Designs We Love
Sometimes, it's just the little things that matter most. While you will most likely dedicate a large space to your private bathroom, what makes a bigger impact than size is how and what you fill that space with. A custom, luxurious bathroom is defined by high-end fixtures, handsome flooring, carefully chosen lighting, elegant colors and textures to create interest, and built-in cabinets for a high-end finish that will be heads and tails above the new, but typical, master bathroom. It was hard to make a short list (we've designed A LOT of bathrooms), but we've pulled together five of our favorite luxury bathroom designs that we absolutely love.
#1: A Room With A View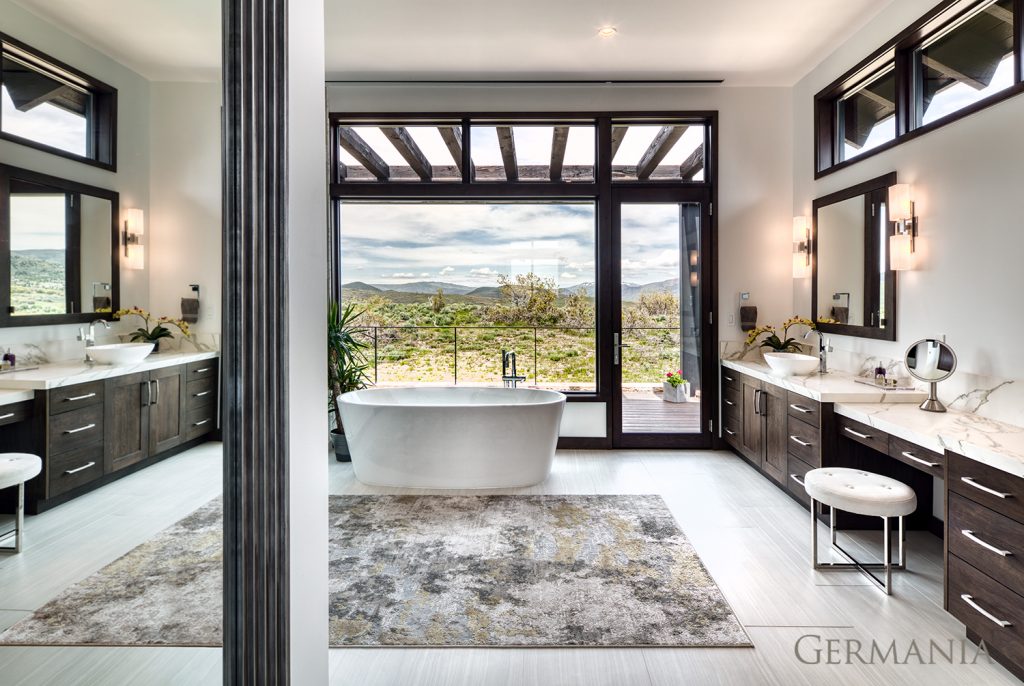 Gone are the days of the small-windowed (or no window!) bathrooms, where getting in and out quickly used to be the name of the game. Current trends treat a luxurious bathroom as a room where one wishes to linger and spend time. It's a place of contemplation to think and recenter after enjoying a Park City sight-seeing trip with extended family or unwinding after a long day at work.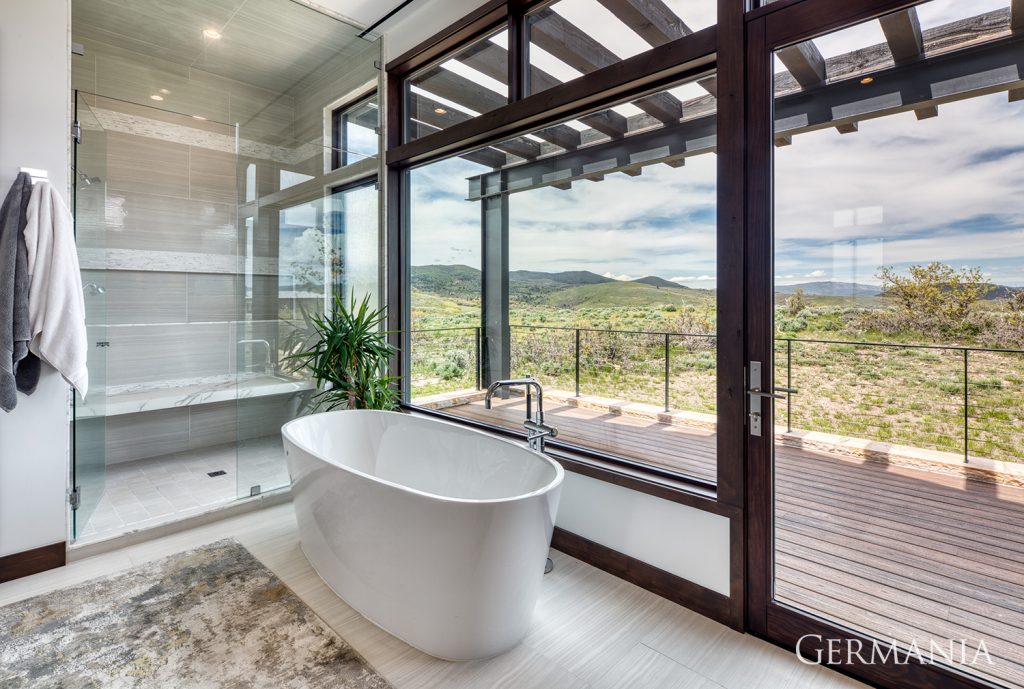 We know you are surrounded by fabulous landscape, so let your luxury bathroom take full advantage of this fact by making sure you create a bathroom that's a room with a view. Not only will this give you wonderful natural light, but you will also have a stunning window into nature, which is always restorative and recentering. In both of these pictures, you'll notice how the designers took the opportunity to make one wall of the bathroom a window to the outdoors by using a combination of floor to ceiling sliding doors and windows.
#2: Bigger Than Life Lighting
When we say "bigger than life lighting," we don't just mean size. Using lighting that is unique to your space and style can make your private bathroom into a space all your own.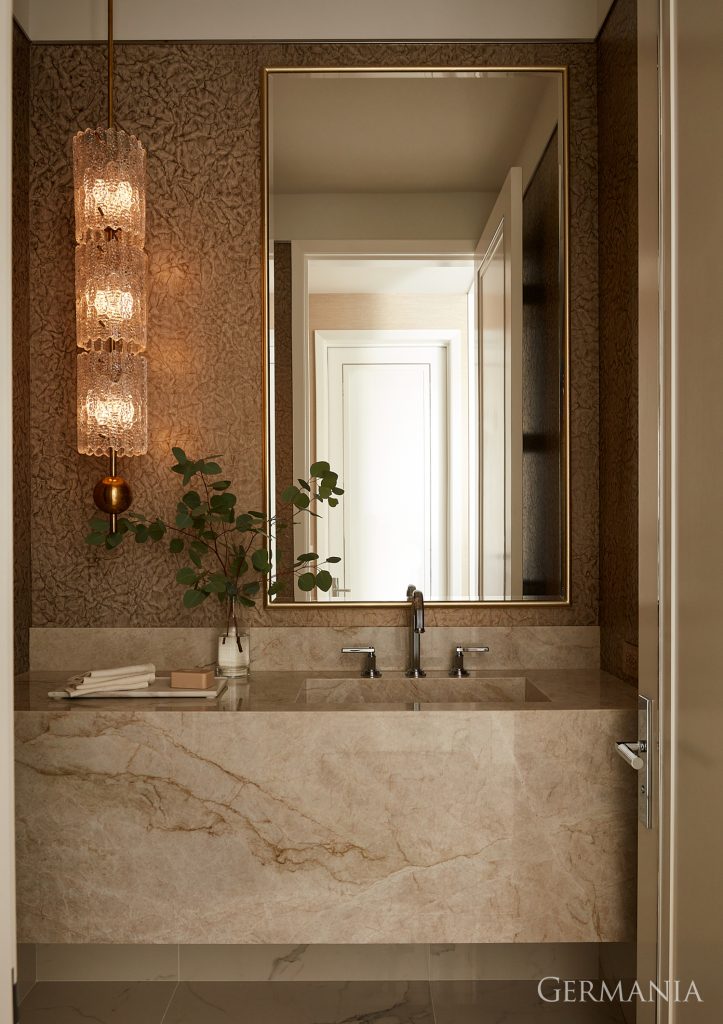 This powder room does a fantastic job of showcasing lighting that is both unique and stunning. The lighting in this room, although simple, has many notable design elements. You'll notice how the rippled glass texture gives this light visual interest while the warm lighting tones compliment the cream and beige undertones of the marble. The brass knob at the end gives a glimmer of light that is the perfect finishing touch with just the right amount of mid-century modern. Other up-scale elements of this bathroom include the vanity and sink shaped out of pure marble slabs, and an asymmetrical design that adds interest and variety to an otherwise smaller space.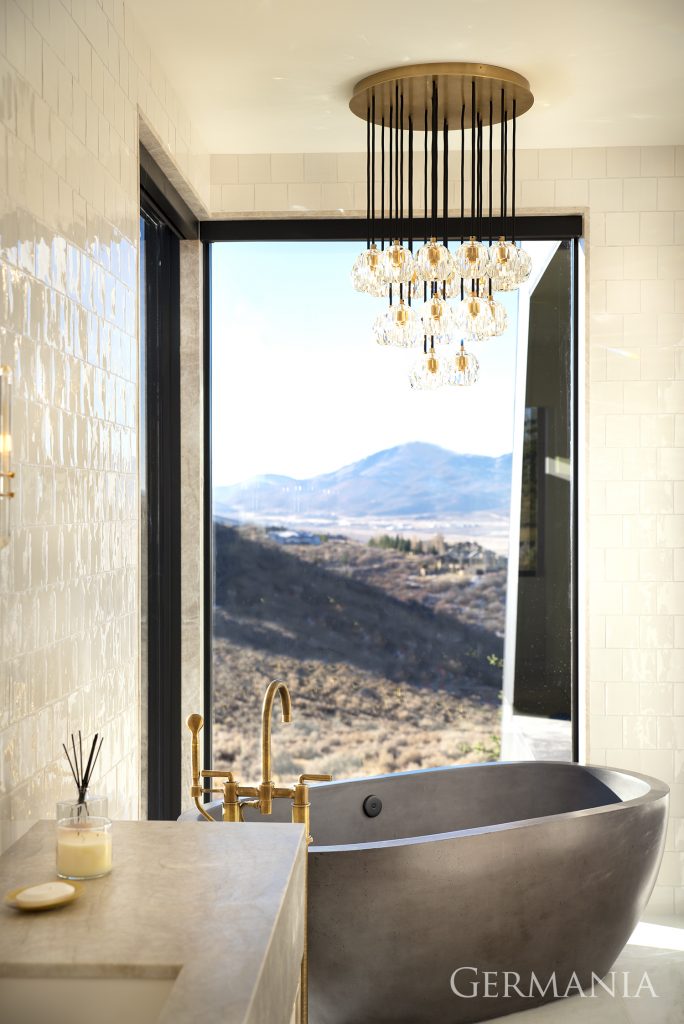 By the same token, this master bathroom incorporates not only floor to ceiling windows, but a tastefully designed chandelier that echoes the metal fixtures of the tub. This is probably a good time to point out that the luxury bathrooms that make the biggest impact are those that incorporate more than one luxury design element.
#3: Built-in Cabinetry
Nothing says luxury more than carefully designed cabinets that are built specifically for your space. In this master bath, it would be incredibly hard to find this vanity at a brick-and-mortar store. When you walk into this space, your eye is immediately drawn to the unique, one-of-a-kind vanity with built-in cabinets. Obviously designed with the owner's style in mind, this piece is at once symmetrical and functional at the same time. The mixed metals and gold finishes complete the overall design by adding visual interest.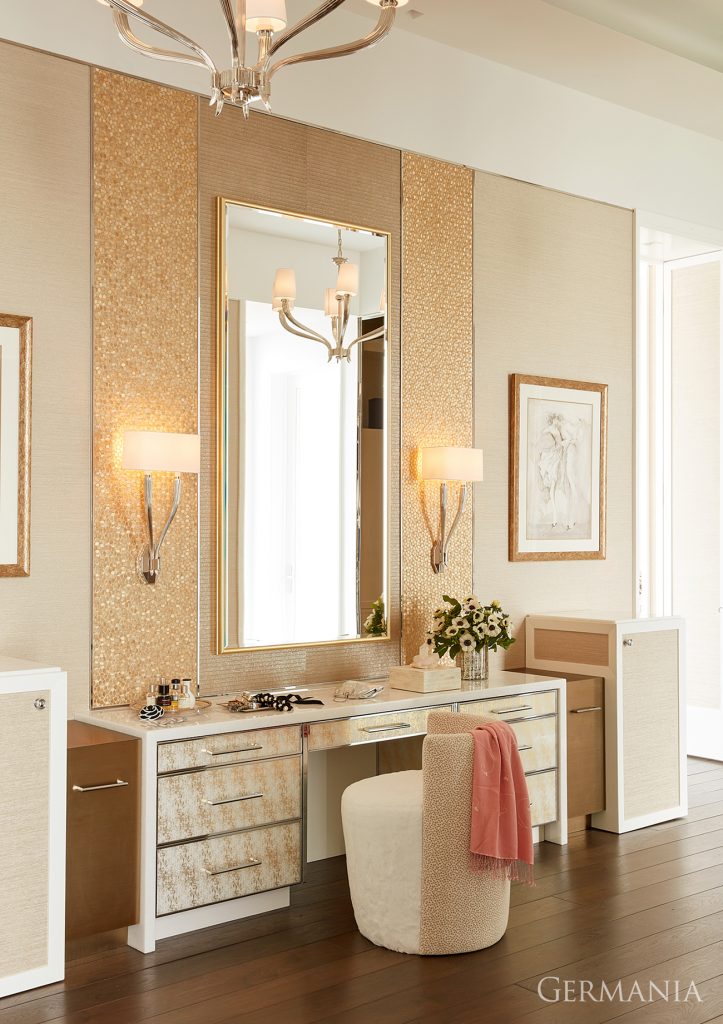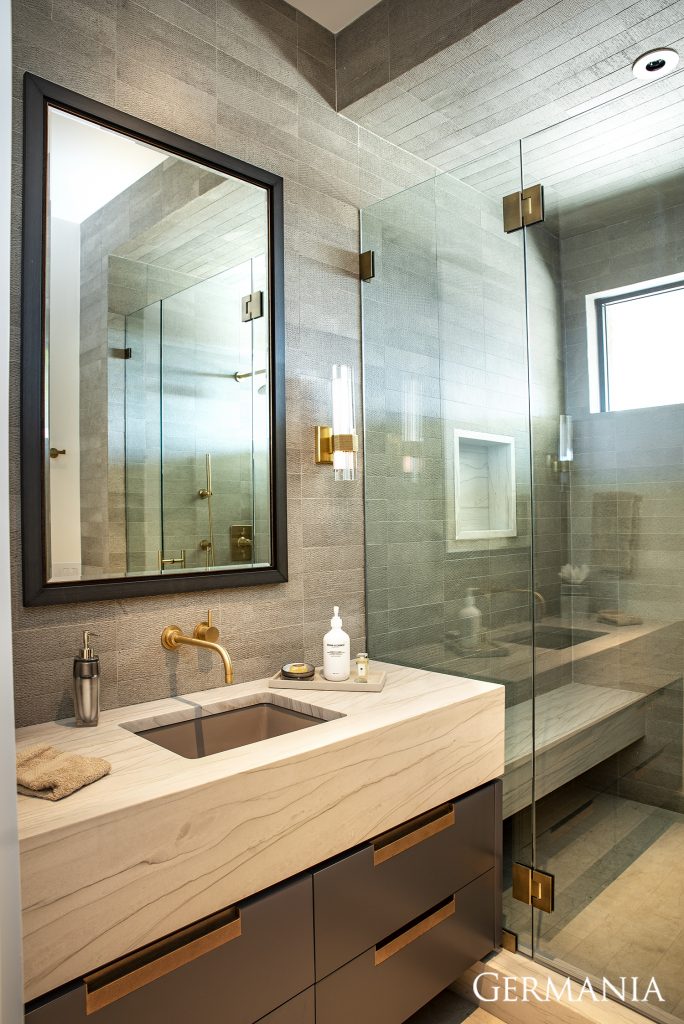 This built-in cabinet with its thick countertop of solid marble is indeed a showstopper. While the heavy, horizontal brass handles give substance and shape to this masculine vanity.
#4: Go Bold: High End Fixtures And Dramatic Colors
From the custom countertop to beautifully carved vanity doors, to the bold, green tiled background, this bathroom has all the right design elements. In wall, high-end faucets create a spa-like look and feel, while the brass metals used on the vanity, faucets, and lighting gives this bathroom a cohesive look that only comes from intentional design.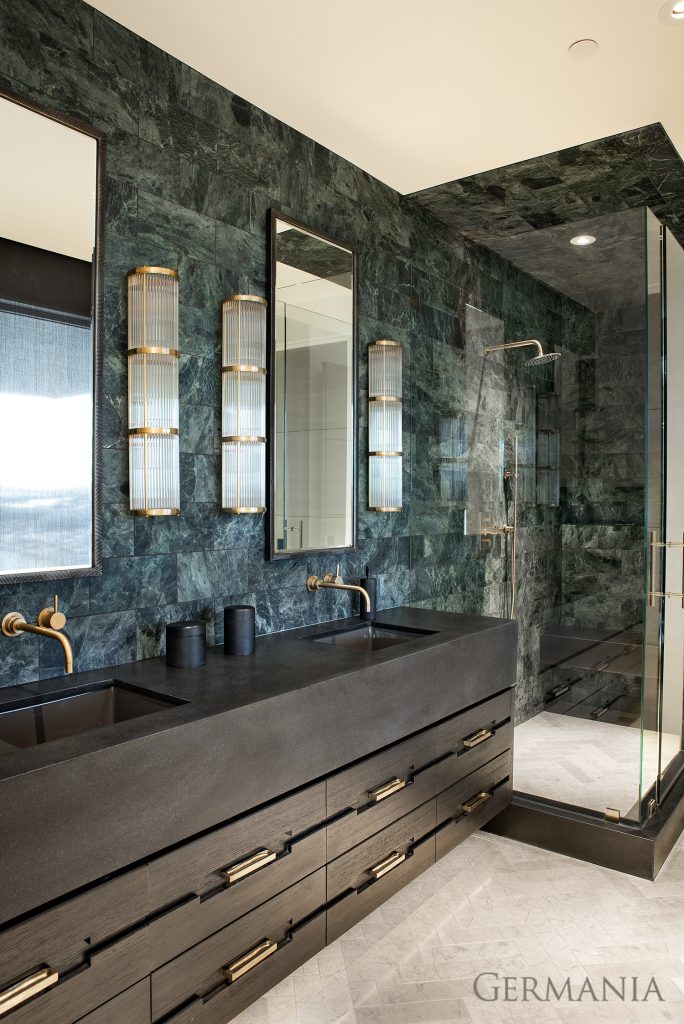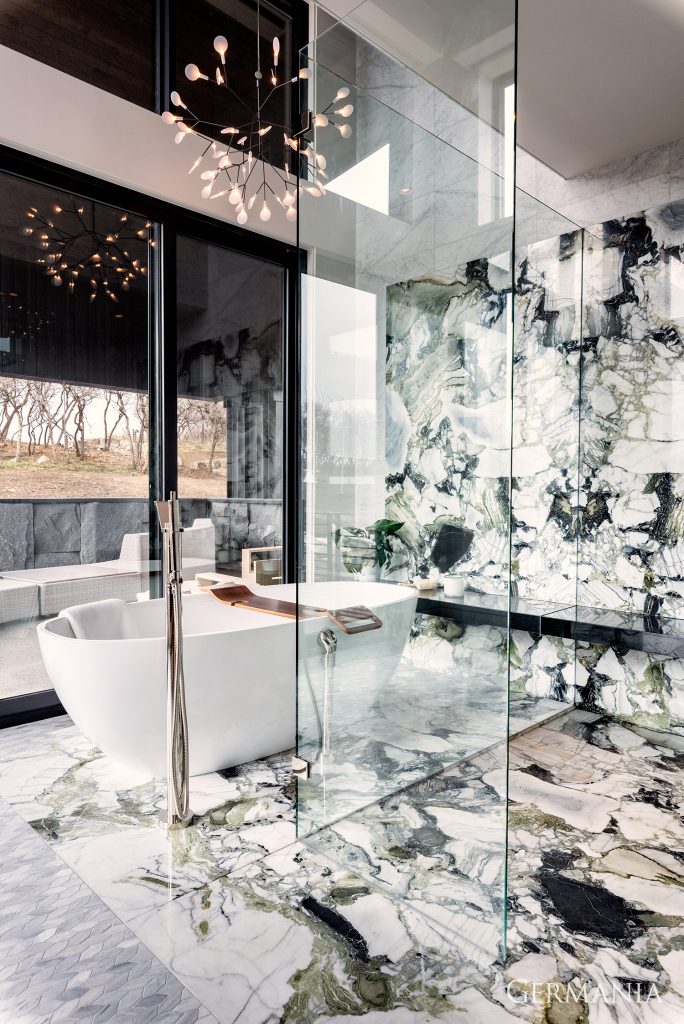 This master bath is definitely all about drama. With its bold floor and wall patterns, the nearly floor-to-ceiling windows, and unique lighting fixtures, this is a bathroom that you're not likely to forget.
#5: Attention Grabbing Design Elements
In each of the following bathrooms, there are simple design elements that are delightfully curated. From the random white tile square that breaks up an otherwise monotone shower and asymmetrical shelves, to geometric black floor tiles that give an artsy Park City vibe to an otherwise traditional floor, to a coordinating top and bottom edging in a contrasting color to give this basic shower the lift it needs to bring it to the next level. Whatever your fancy, adding attention-grabbing design elements like these will set your bathroom apart.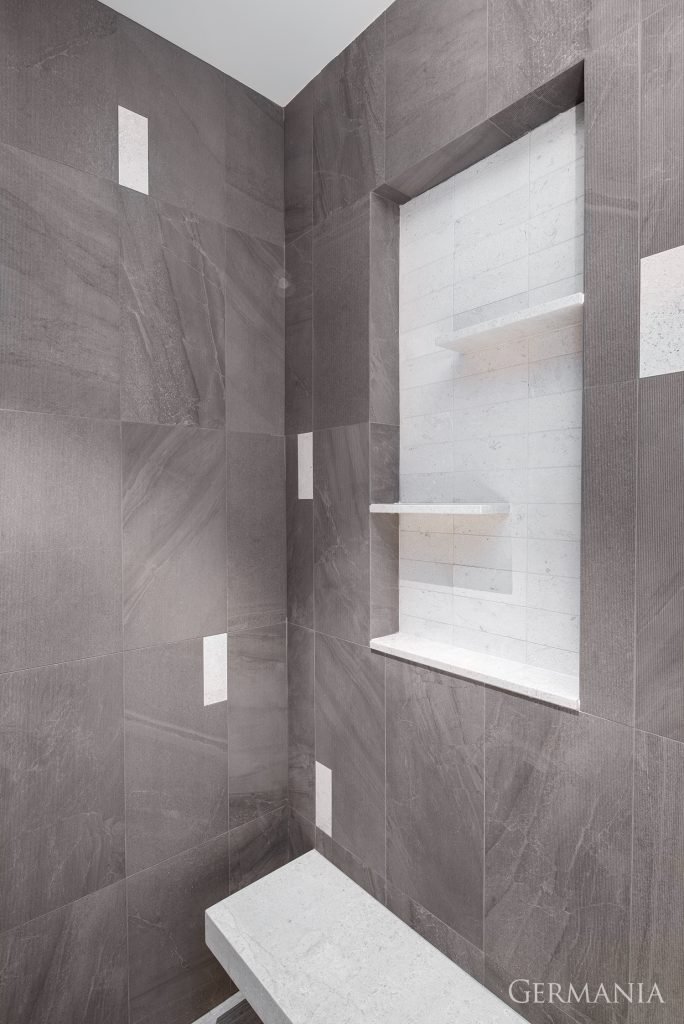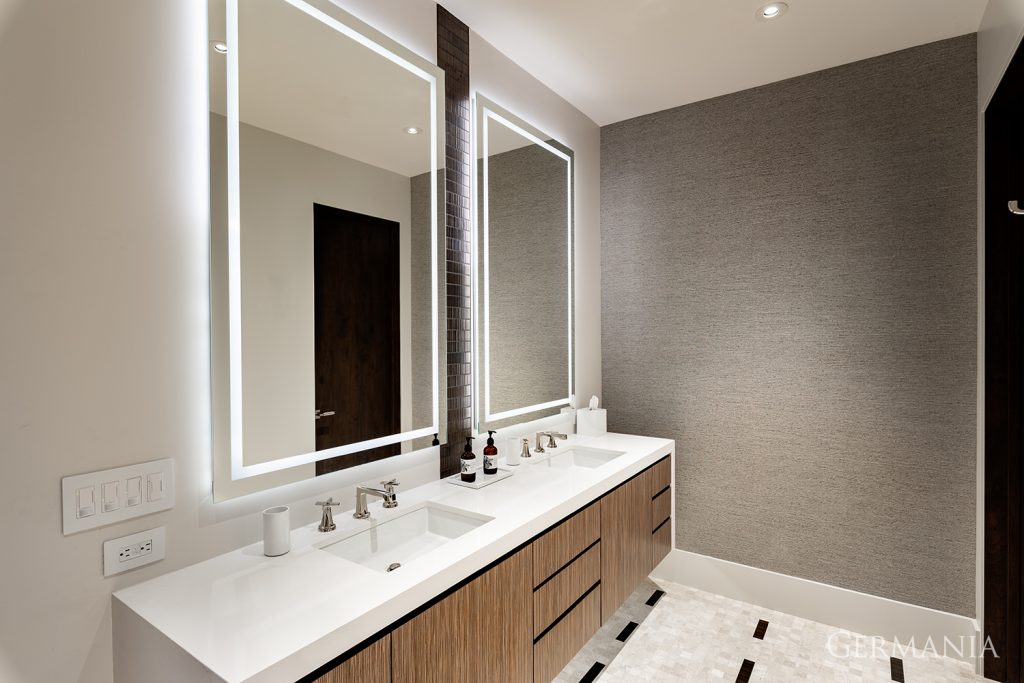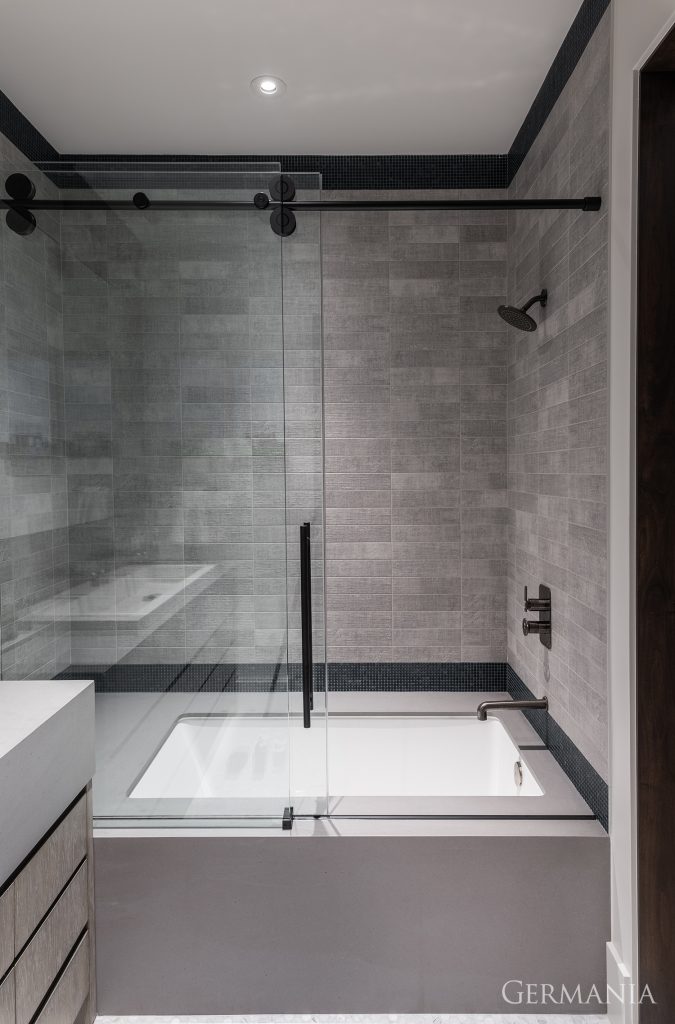 Why Choose Germania For Your Custom Luxury Bathroom?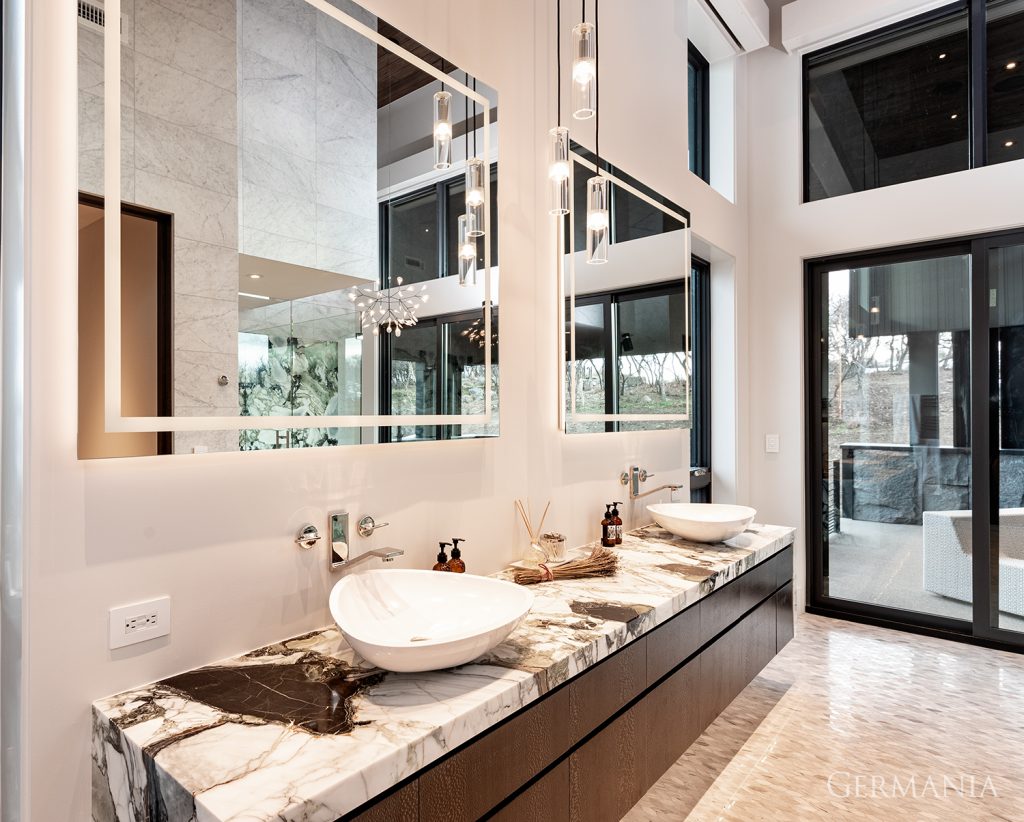 When you are dreaming of building your dream home, it can often be an overwhelming process. But with the right partner, building your dream home becomes a cherished adventure. We care deeply about what matters to you most, and we work tirelessly to ensure that anything that you can dream up can become reality and more importantly, a place where the people you love feel at home.
You can rely on us to provide transparent and high-touch customer service. We've built lasting relationships with our clients, architects, subcontractors, and suppliers who are all deeply passionate about mountain living. We know how important it is for our customers to be confident in their decisions, so we work hard at providing a positive experience from start to finish. We are dedicated to project managing your expectations through financial transparency and communication about deadlines or changes along the way to staying on top of timelines with scheduling updates. Don't be afraid to peruse our Park City portfolio to see more samples of our work.
We are committed to building high-quality homes, and we never compromise on anything. If you're ready to take the next step, get in touch with our team of experts today!
More On Custom Homes From Germania
Building Your Dream Home In Park City Is Within Reach
What To Look For In Your Family's Custom Luxury Home Builder In Park City