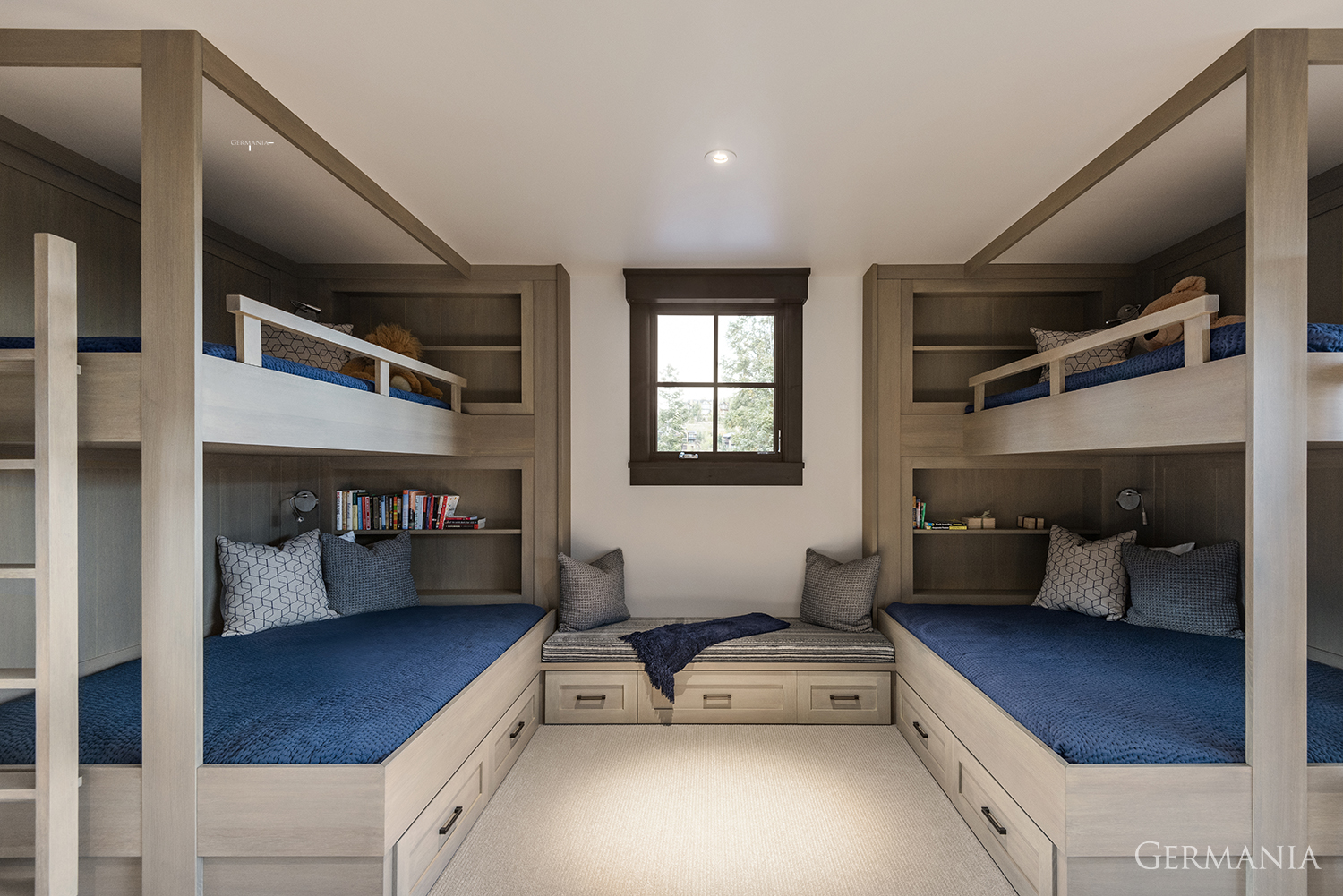 5 Amazing Custom Bunk Rooms in Park City
Like most homeowners, you're always looking for new and innovative ways to make your home feel custom and unique. One easy way to do this is by adding a customized bunk bed to your home design. Not only will a well-designed bunk room give your family and guests a fun place to sleep and recreate, but it can also be a great way to save space in smaller bedrooms, or comfortably accommodate extended family and friends.
When it comes to bunk bed ideas, our team of custom home builders in Park City has plenty of options to share. So whether you're looking for bunk bed ideas for a custom home that is traditional or something more modern and sleek, you're sure to find something that fits your style.
5 Custom Park City Bunk Room Designs We Love
A well-designed bunk room will incorporate design elements like built-in shelves, space-saving design ideas, and storage, while also allowing for accessibility and functionality. A customized bunk room is really fun to create. This is an area of your home where you can take some design risks and execute a more playful aesthetic. It's also one way to add instant luxury to any custom home.
As a custom home builder in Park City, we know how important it is to have a comfortable, well-designed space that can accommodate large family gatherings on that perfect powder weekend on the mountain slopes. A custom bunk room makes perfect sense when you have a large family that loves to take advantage of all the great outdoor activities that Park City has to offer.
The possibilities are endless, and you can choose from a variety of bunk bed styles, including traditional bunk beds, loft beds, mix-and-match twin over queen beds, and even bunk beds with built-in desks, shelves, drawers, or storage cubbies. And because bunk beds come in all different shapes and sizes, it's 100 percent possible to design a bunk room that fits perfectly in your space.
However, before we get into inspirational pictures, consider these questions before you start planning or dreaming: How will this space be used? Will your child use this as an everyday bedroom with room to expand when out-of-town guests come to stay? Do you need to sleep adults as well as children? How can you make each space unique and private? Do you need storage space, and how will you incorporate individual lighting that is both functional and unique?
It was hard work paring down our portfolio to just five of our favorites, but in the end, we found our top five best bunk bed ideas that we just can't stop looking at.
#1: Carving Out Personal Space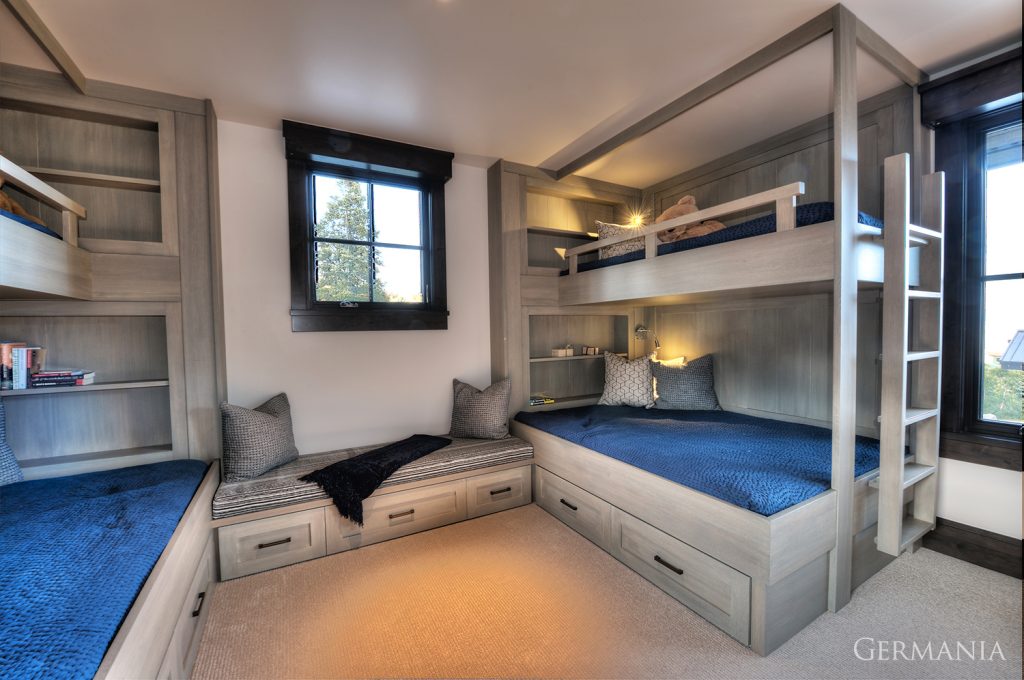 This bunk room is well proportioned, using a symmetrical design that allows for great use of the space. We love how the bunk beds have built-in storage for that favorite book or outdoor treasure. Each space also has its own light, giving it a sense of personal space even when sharing it with others. Including storage under the bunk beds and under the bench between the two beds ensures that everyone has a spot to put their belongings to keep the space nice and tidy.
#2: Multifunctional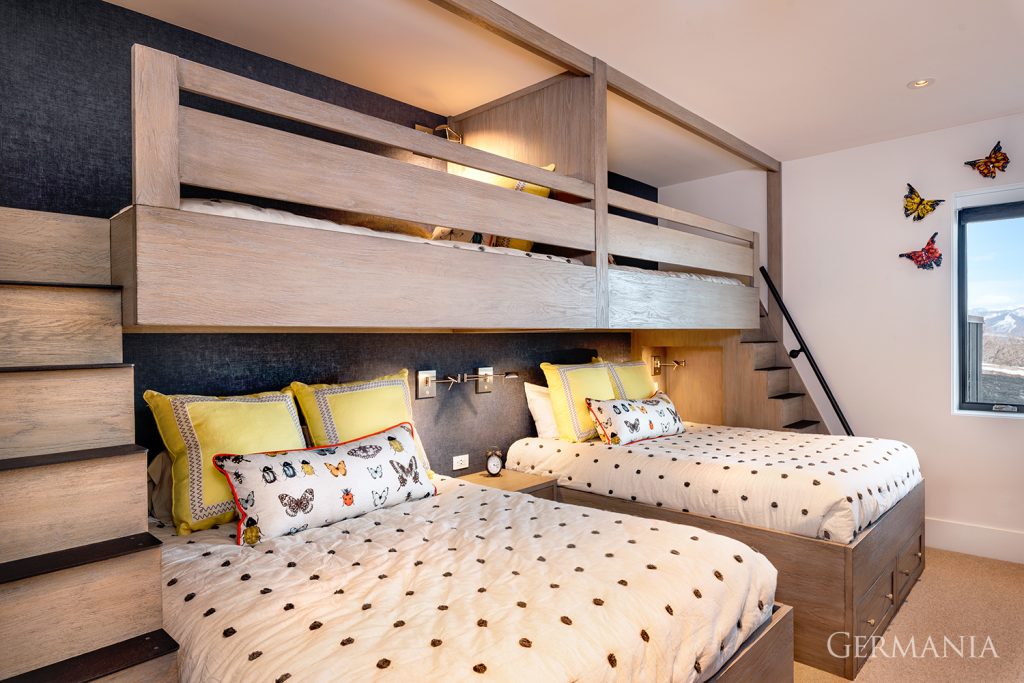 This bunk room does a fantastic job of implementing multiple design elements. Due to twin bunks over queen beds, this room is multifunctional. It can be a great space for teenagers and tweens to have their own space, but it can also be a family room for adults and children to comfortably sleep all together as one family unit. This design does an amazing job of utilizing the space in an otherwise smaller room, and having separate access points to the upstairs bunks lends a sense of privacy. Again, with all spaces, having personalized lighting goes a long way to keeping each space private while also allowing those night owls to devour a book without keeping others awake.
#3: Maximizing Space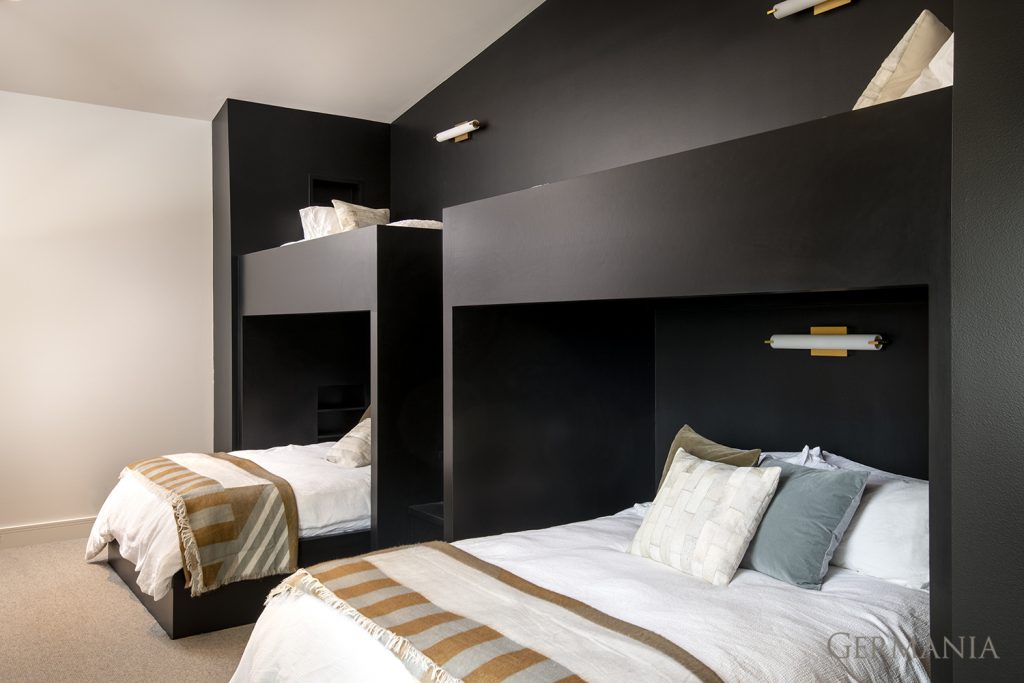 We love how this sleek, monochrom vibe with touches of gold and light blue makes a sophisticated statement. This bunk room, like the image above it, does a great job of maximizing space to accommodate multiple sleeping arrangements. More cozy and functional than even the most luxurious hotel room, the T shaped design sleeps six in style. The stairway going up the middle of the built-in bunks serves double duty as a privacy screen from the other queen bed. The lighting, structure, and colors all work amazingly well together to create an oasis that is perfect for all, yet at the same time perfect for individual needs.
#4: Simplicity In Design And Function (H3)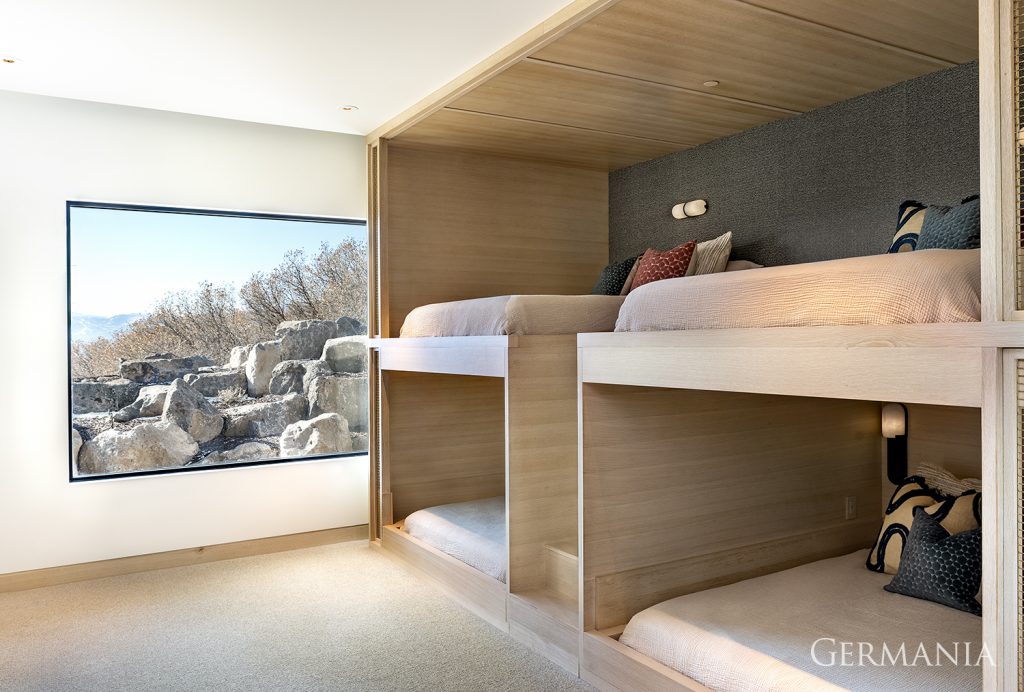 There is something so appealing about these earth tones and simple design cues. The straight lines and flat fronts of this built-in bunk system has none of the flair typically of built-ins, but these double bunks still get high ranks for their simplicity of design and functionality. With double queen beds on top and bottom, this room comfortably sleeps up to eight. Throw all the teen cousins in this room, or have your littles snuggle in tight. The no-nonsense framing and flat fronts allow for easy cleaning and bed making–one of the two biggest gripes when it comes to bunk rooms. Making beds is a breeze with this simple design that will easily sleep a family unit or welcome happy campers to sleep away cousins camp.
#5: Accessibility And Function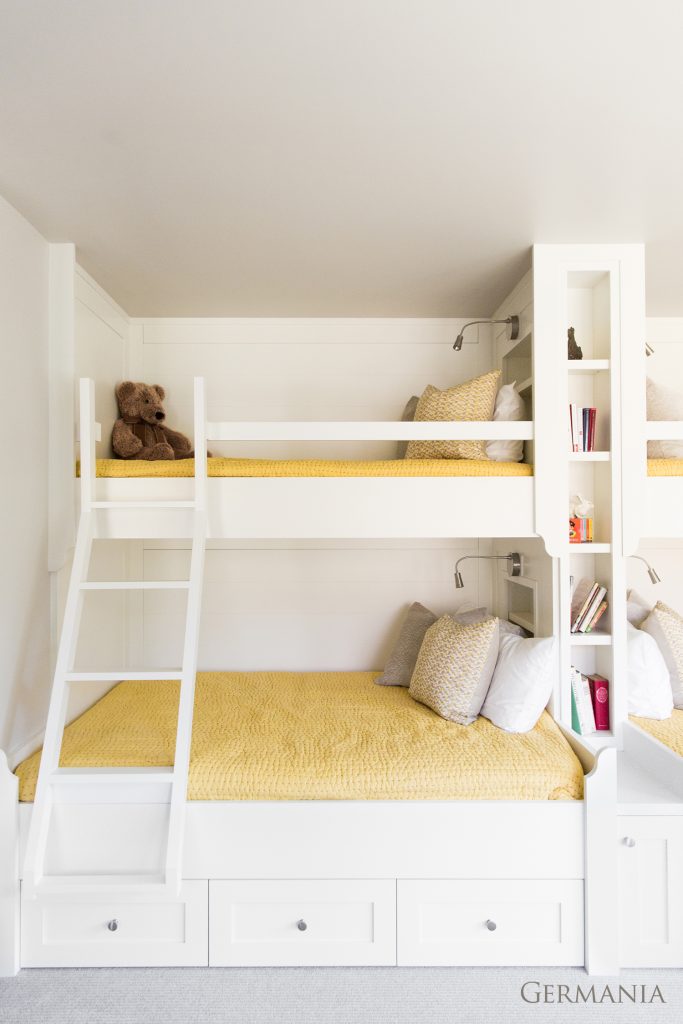 This bunk room is bright and cheerful. With separate spaces decked out with individual storage and lighting options, this is any child's special haven. We love the built-in drawers and detailing on the bookshelves which use design language that is playful and approachable. We love the narrow built-in bookshelf between the bunks, which allows excellent use of space and functionality. Twin-over-queen bunks give this room functionality and space to sleep almost twice as many guests as the more typical twin-over-twin arrangement. Entertaining guests can be overwhelming, especially if you don't have enough designated beds. But with a bunk room like this one, this is one worry you can't forget about.
Why Choose Germania For Your Park City Custom Home Builder
We hope this quick peek into our portfolio has inspired you to start working on your own plans. If this small peek just wasn't enough, we encourage you to check out our online portfolio for even more bunk bed ideas and inspiration.
Looking for a custom home builder who can help you create your dream bedroom? Why not enlist us as a partner? We specialize in creating custom homes in Park City complete with luxury bedrooms and bunk beds, using only the best materials and construction methods. Whether you have a specific design in mind or want us to help you plan your dream space, we'll make sure that every detail is taken care of. And because we're a custom builder, we can tailor our services to exactly what you need, ensuring that your finished bunk room is exactly what you've been imagining. So if you're ready to take your bedroom to the next level, contact Germania today. We'll be happy to show you what we can do.
More On Custom Homes From Germania
Building Your Dream Home In Park City Is Within Reach
What To Look For In Your Family's Custom Luxury Home Builder In Park City