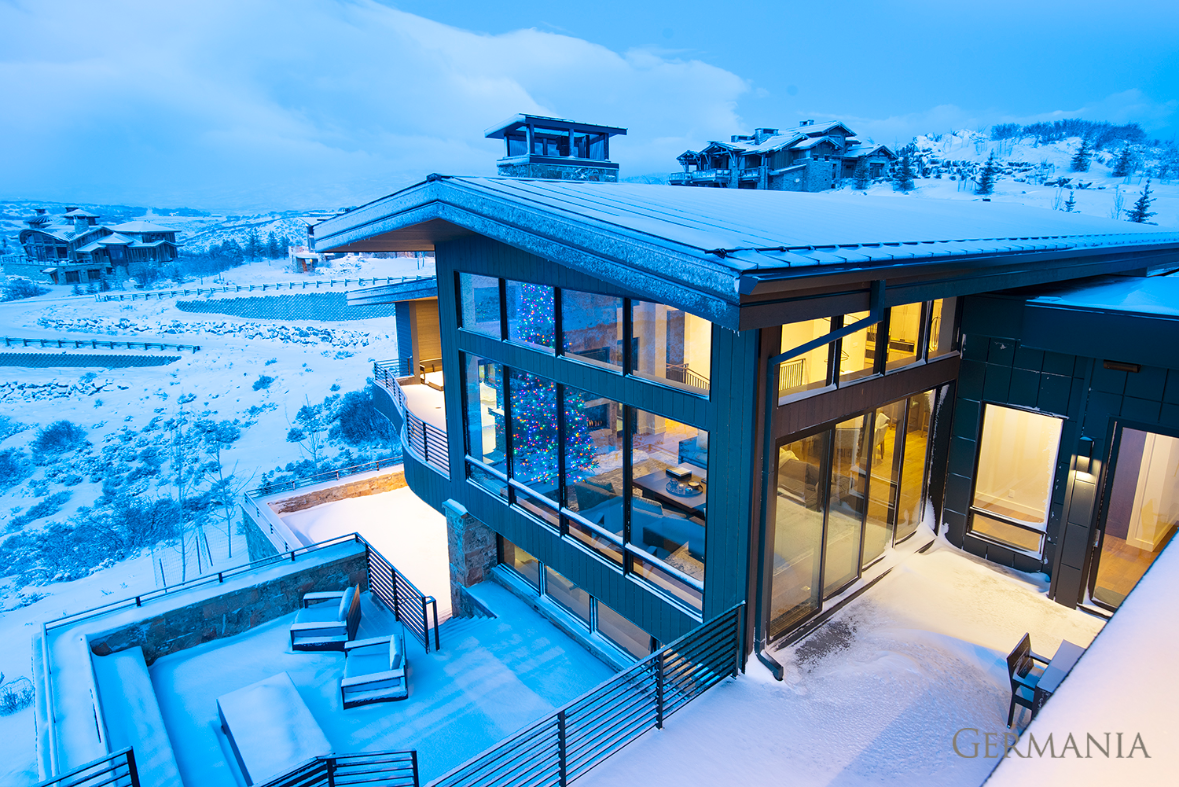 Inside Modern Home Designs of a Park City Custom Home Builder
When you think of the style of home a Park City custom home builder would specialize in, visions of mountain lodges and rustic decor probably come to mind. While it's true the beautiful mountain town inspires many rustic retreats, as a leading custom home builder in Park City we have catered to clients with various design styles. Let's peek inside some modern custom homes we've built. You'll be amazed at how well the modern design style pairs with Park City's surroundings.
What Makes A Custom Home "Modern"
A modern custom home can be defined in two ways. One way is a home that features the latest conveniences and technologies. The other more commonly used definition refers to a home's design style. Contrary to what it sounds like, the modern style is over 100 years old. In contrast to the more ornate styles that preceded it, modern design is based on simplicity, functionality, and elegance. It seeks to showcase a structure's natural form and beauty. Germania Construction can incorporate as many modern features and design elements as possible as a custom home builder. Whether you're all in on the style or just want hints of it to shine through, here are a few of the characteristics you'll find in a modern custom home:
Clean Lines
Geometric shapes, simple lines, and asymmetry are all hallmarks of a modern design style. This style is meant to feel uncluttered and airy. Sometimes, people take things to the extreme, which is why others hesitate to consider modernism. However, the most common use of the design should feel open and free.
Open Floor Plans
Speaking of openness, open floor plans are another characteristic of modern design. You won't find a lot of walls and tiny rooms in a modern home. Your custom home builder can help you design spaces that flow into one another and allow everyone to be together while allowing for subtle visual and architectural separation of space.
Multi-Functional Spaces
Because of the open floor plans, rooms in modern homes often serve more than one purpose. For example, the kitchen isn't isolated; it features seating and flows into the breakfast nook area. Unlike the castles of old, today's homes have practical rooms that function for many different purposes.
Energy Efficiency/Eco Friendly
This feature of modern Utah custom homes has little to do with aesthetics and everything to do with keeping up with new building requirements and trends. Energy-efficient and eco-friendly homes aren't just better for the planet but often save the homeowner money. Water-saving toilets and shower heads, LED light bulbs, efficient windows, and other current technologies keep a home running as smoothly as possible.
Minimalism
Less is more is the mantra of the modern custom home. Subdued colors, no ornate intricacies, and simple furnishings complete the look of a modern home. All of this comes together to create a look and feel that is light and uncluttered.
Inside A Park City Custom Home
Germania Construction has experience building Park City custom homes with modern architecture, design style, and state-of-the-art inclusions. Let's look inside three of the modern custom homes in Germania's portfolio. Each home has its own distinct style but with modern elements overall.
Kitchens
Each of these custom modern kitchens features some form of dark wood with clean, straight lines throughout. The low back barstools, light countertops, and sleek lighting combine these modern looks for a clean and simple appearance.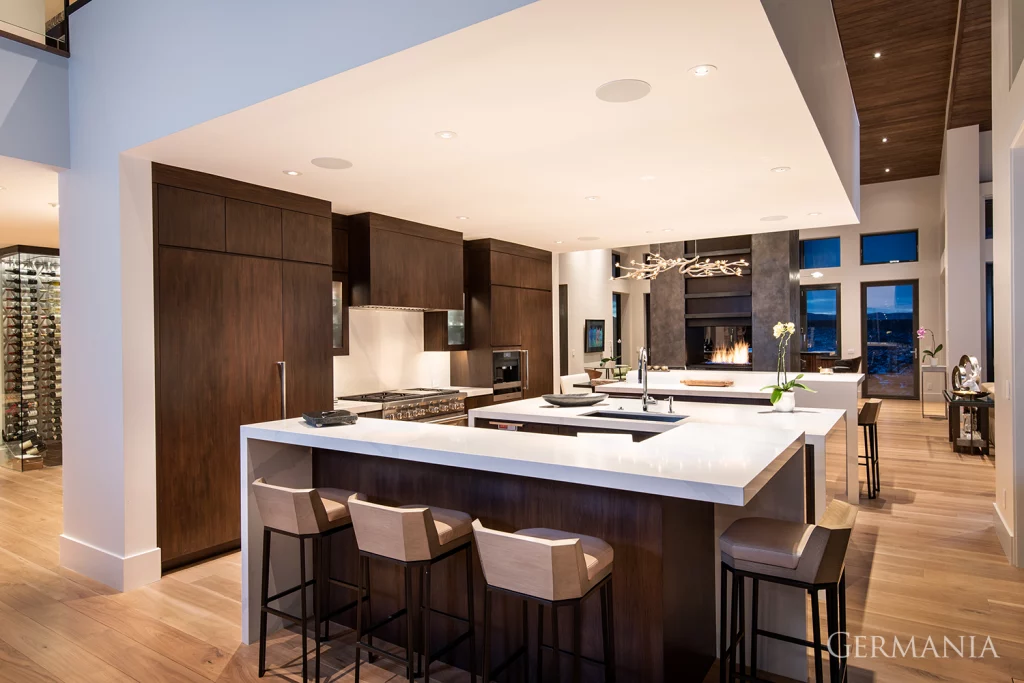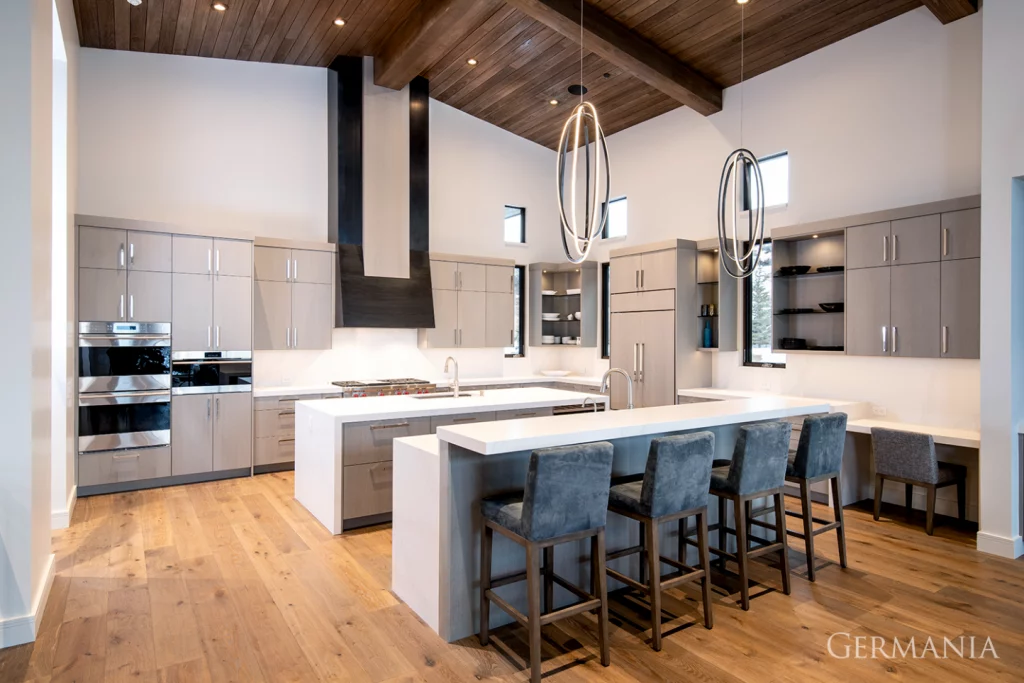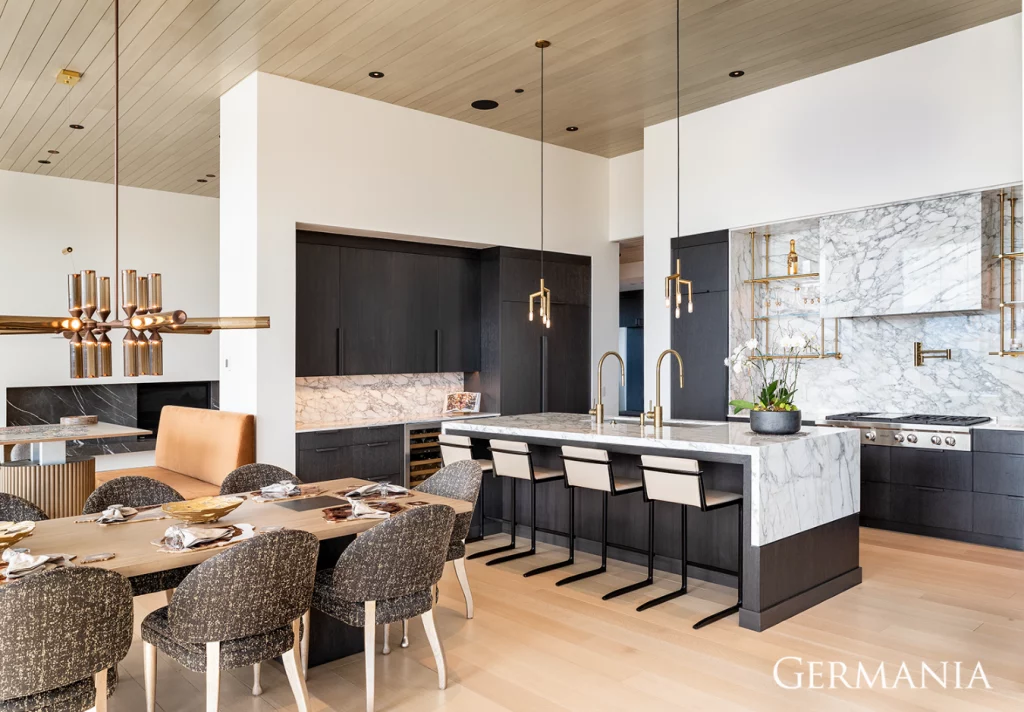 Living Rooms
Straight lines, low seating, and plenty of natural light flowing through large, simply framed windows can be seen in each living room. Each one also features a unique fireplace that accents the space and adds to its modern character.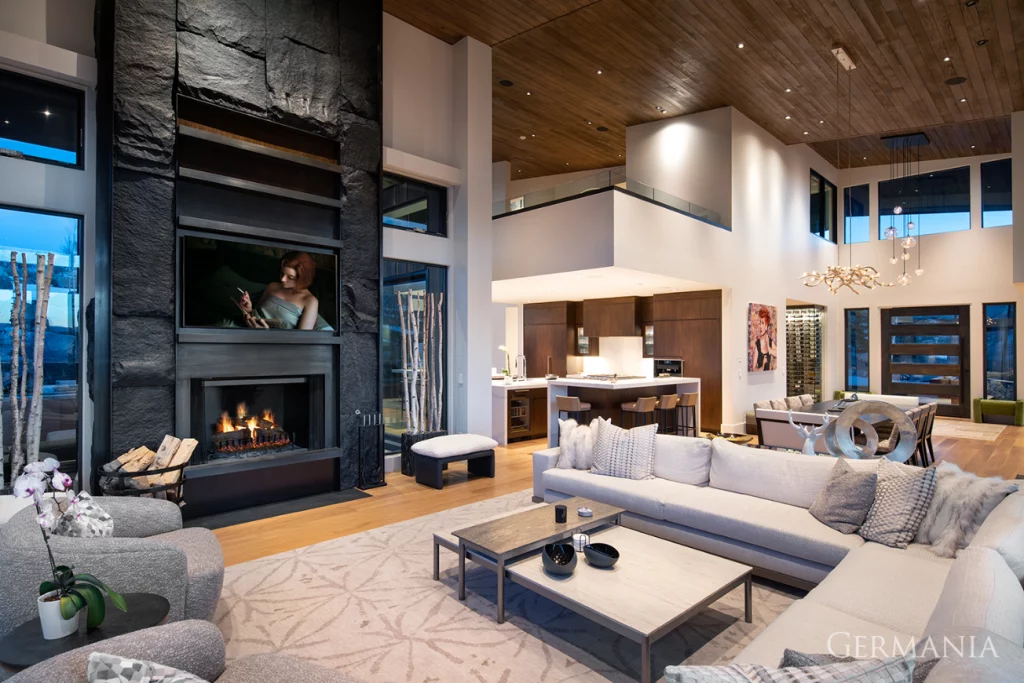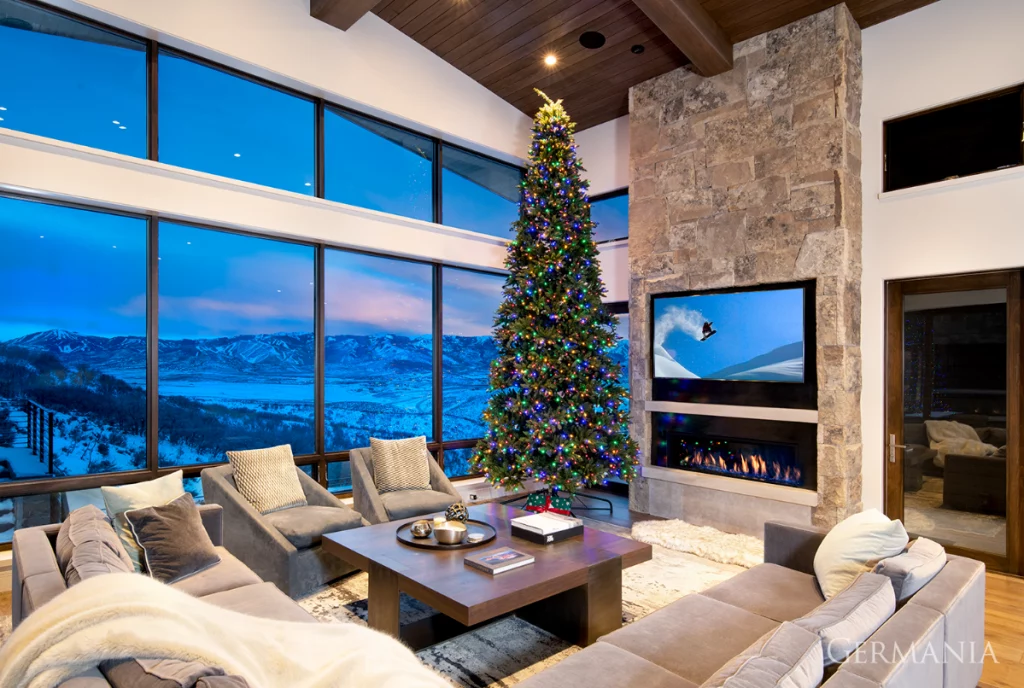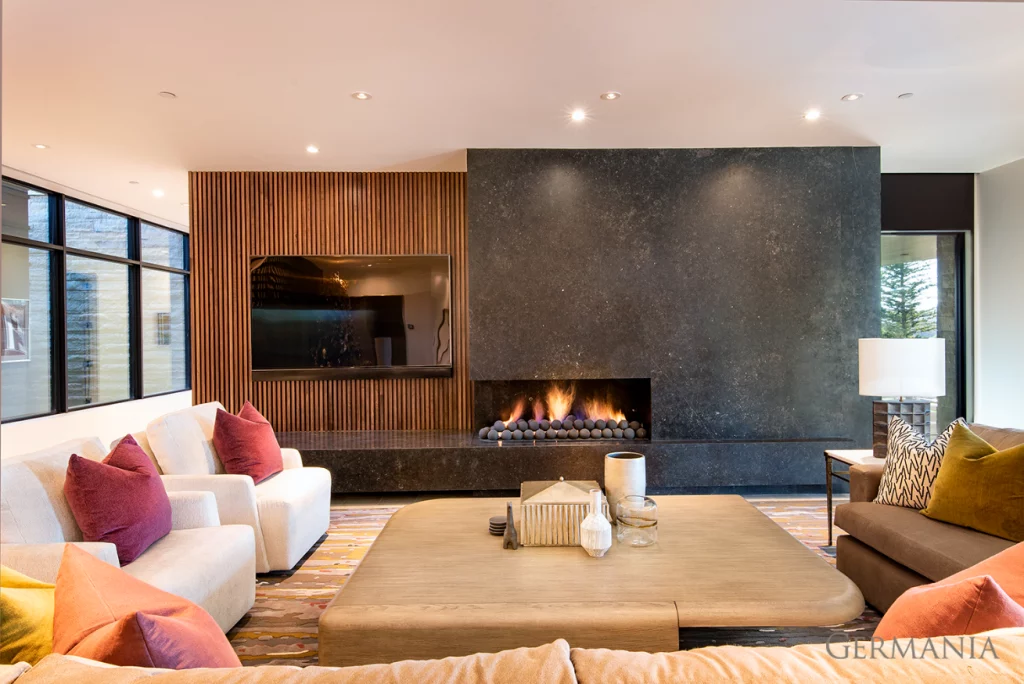 Dining Rooms
These dining room tables, chairs, and spaces are filled with clean lines and geometric shapes. They utilize unique lighting options that bring style to the space while remaining minimalistic overall.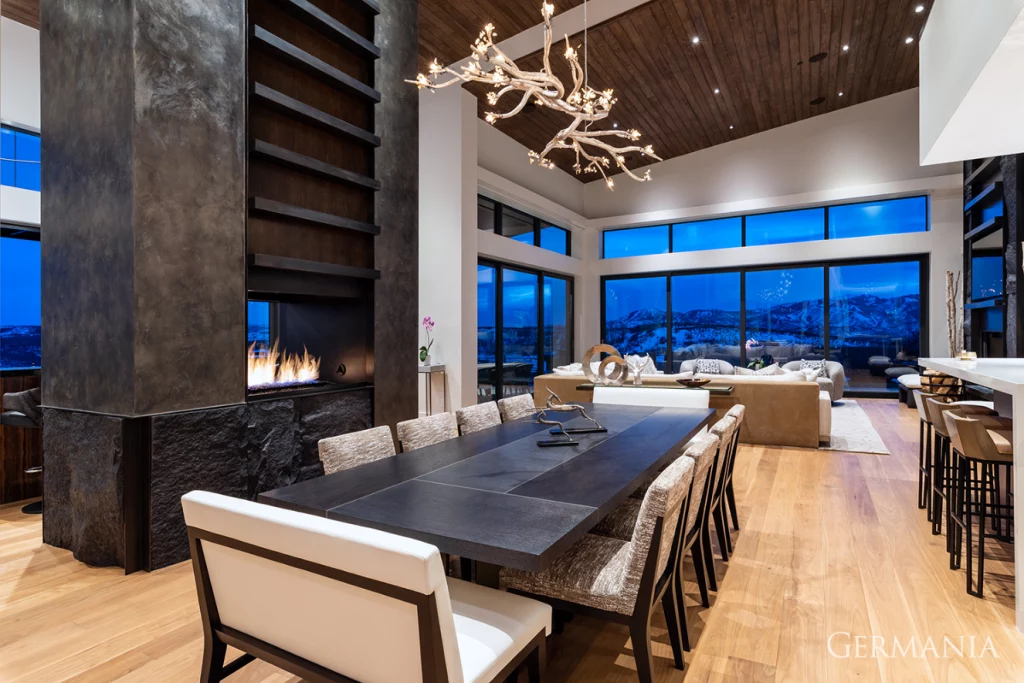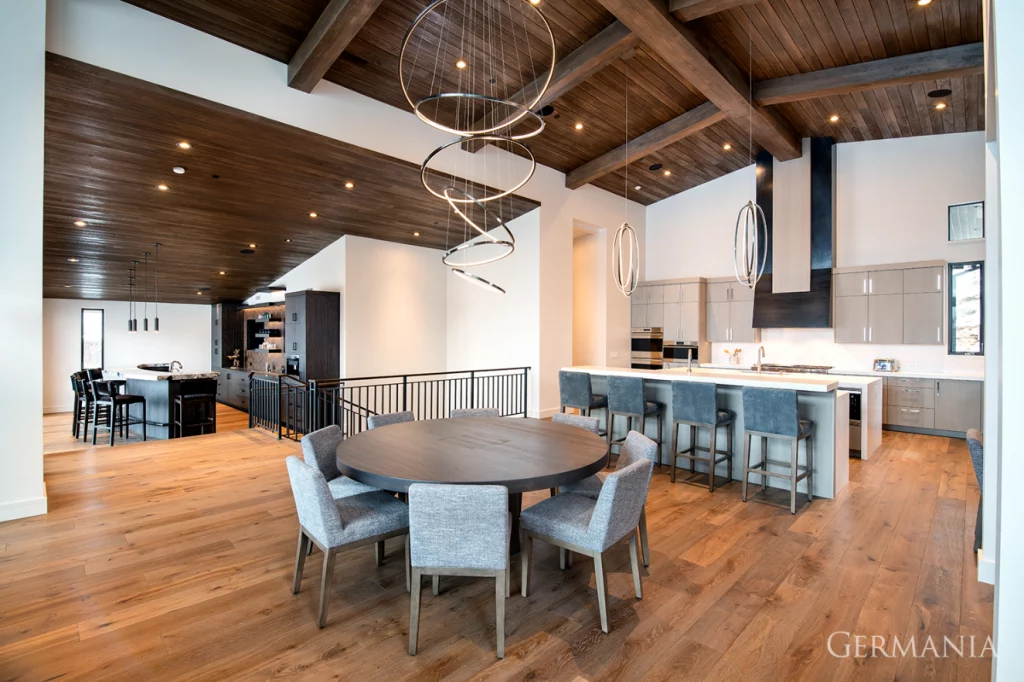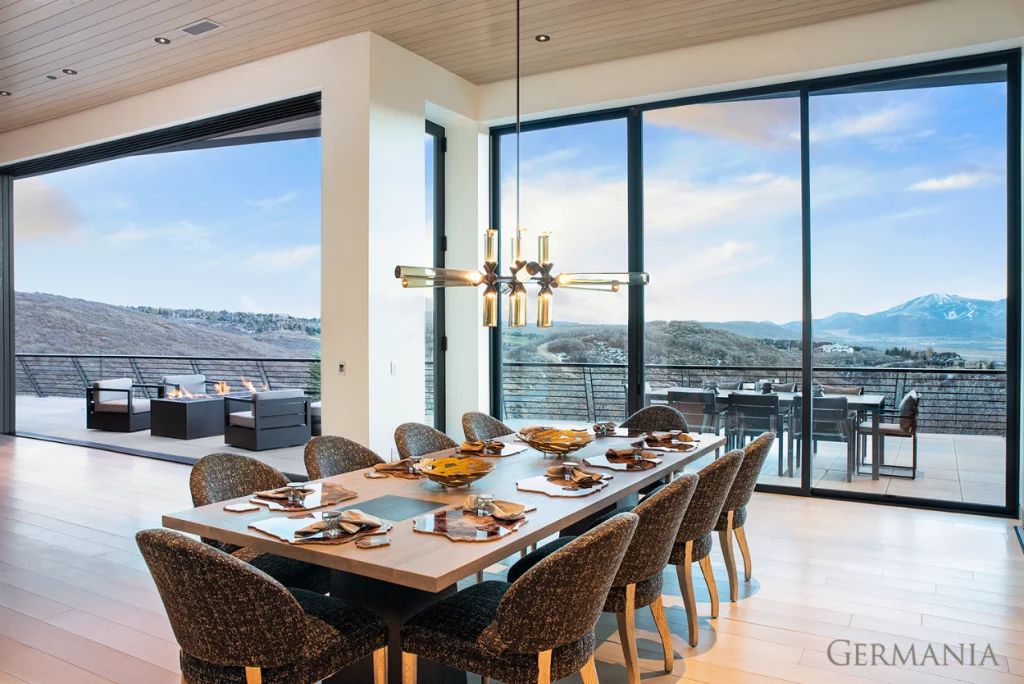 Primary Bedrooms
Simple elegance is the name of the game in each of these primary bedrooms. While each has a fireplace to add ambiance and warmth to the space, they are also uncluttered and feature breathtaking views.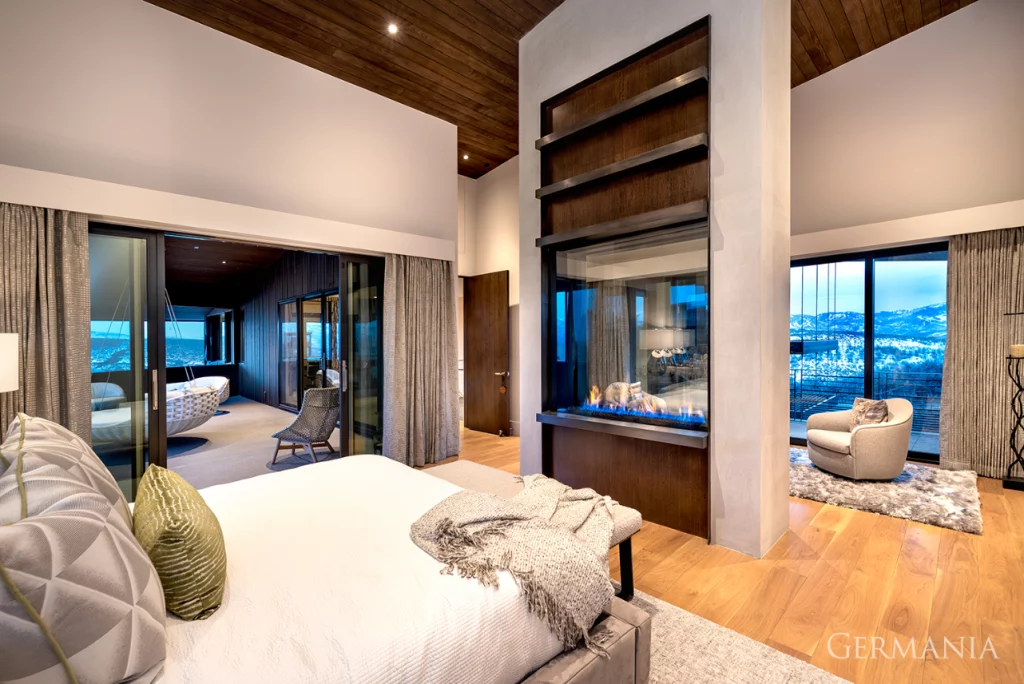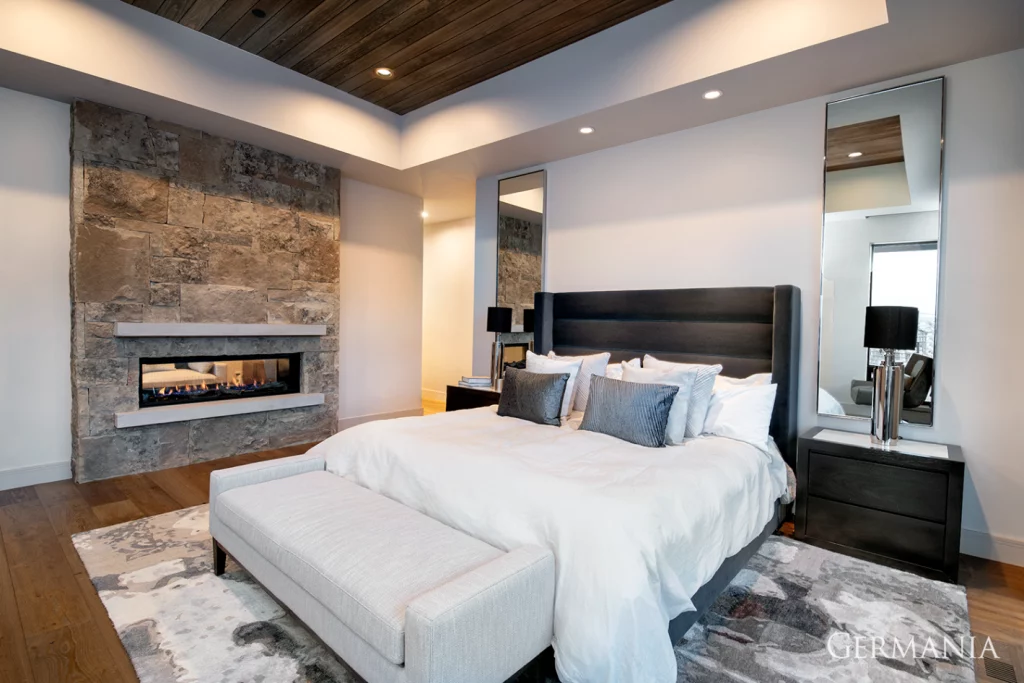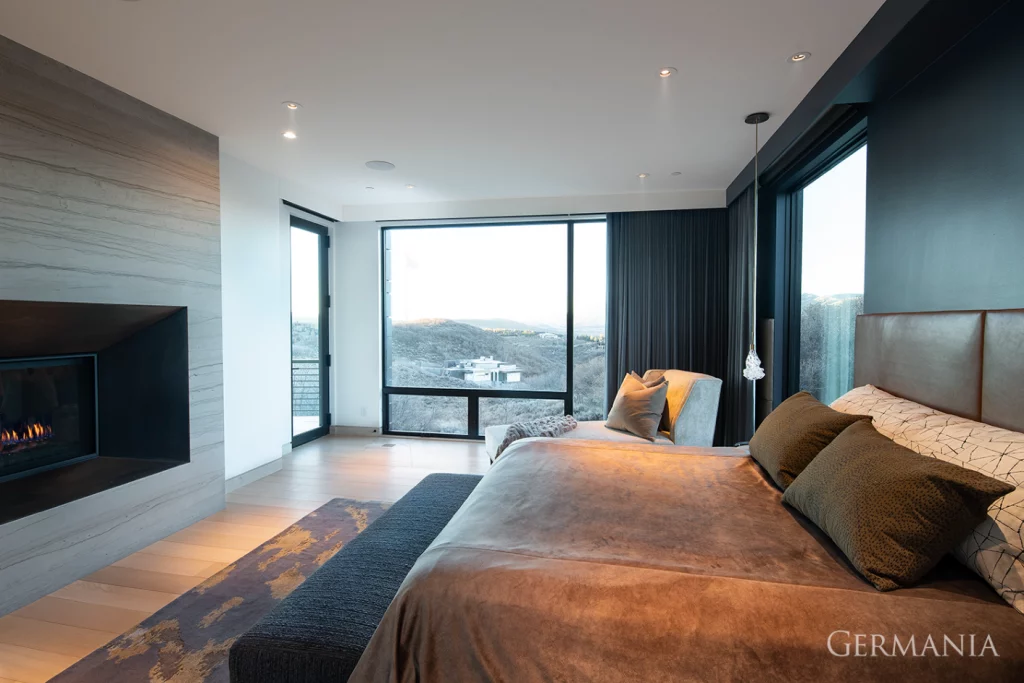 Bathrooms
Getting clean is a pleasure in a space as bright and airy as these. Every detail, from the custom lighting to the bright finishes, speaks to the high-end luxury of these relaxing retreats.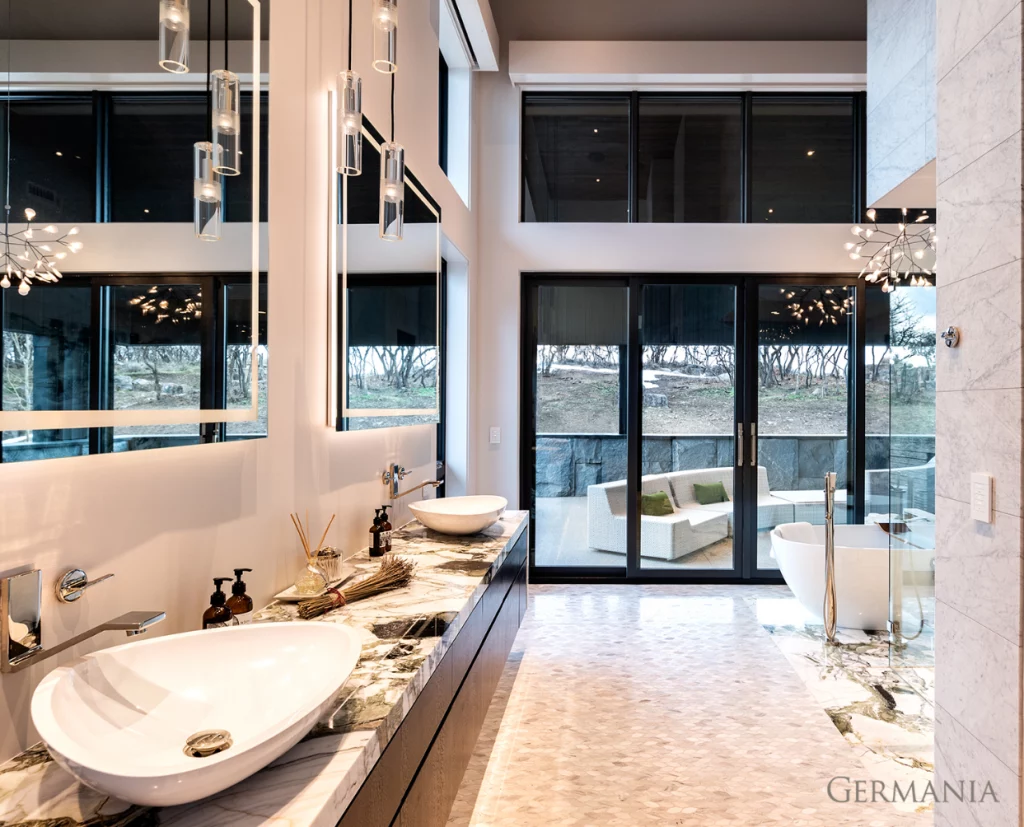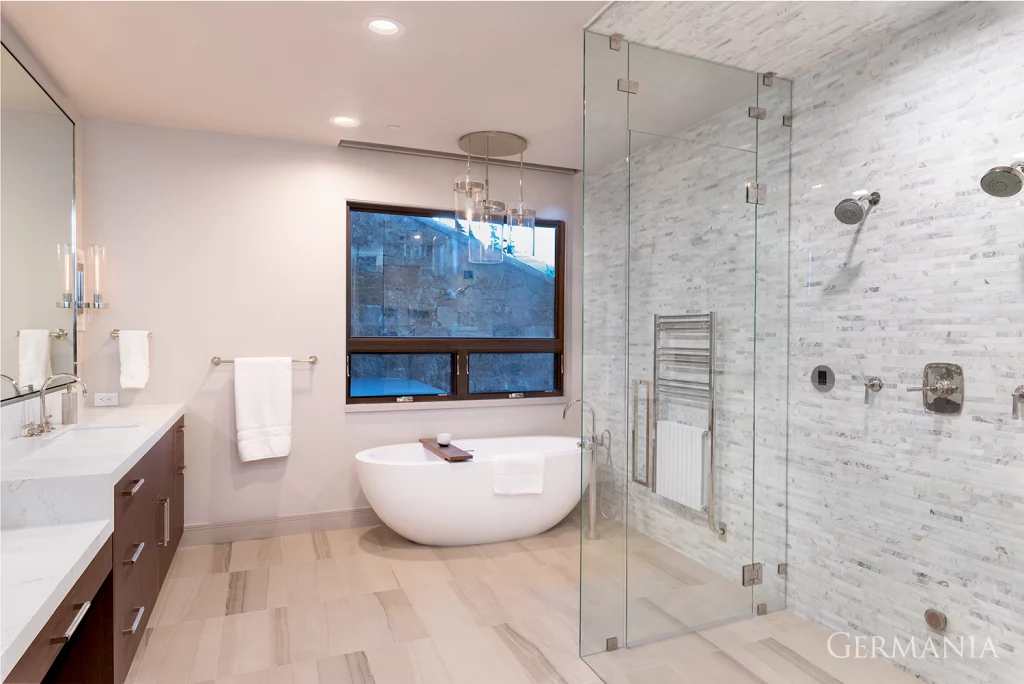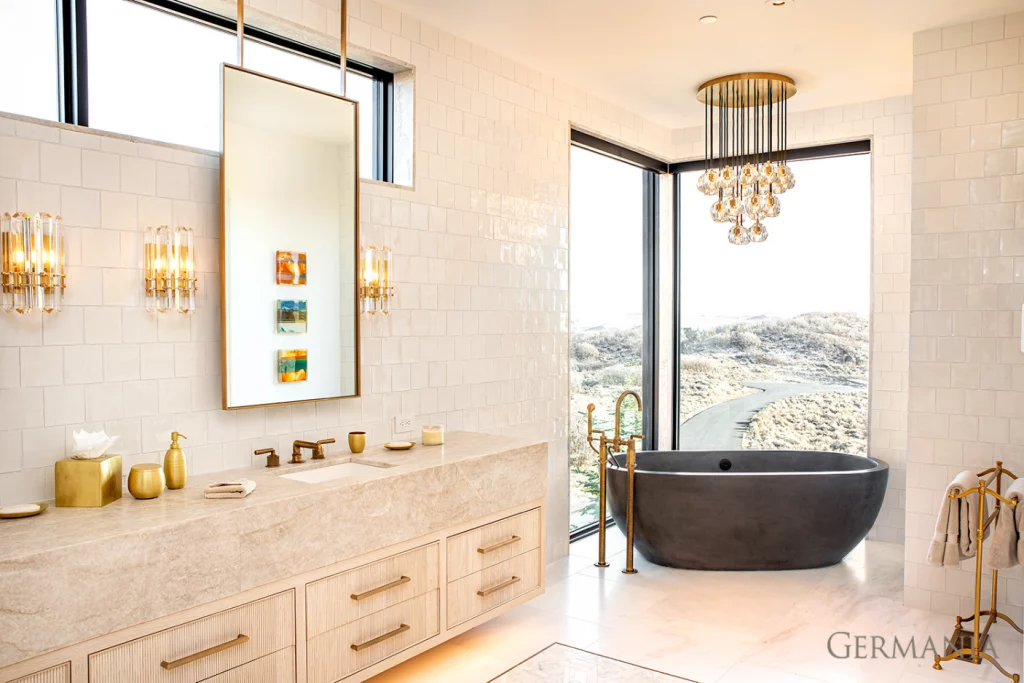 Fireplaces
A fireplace isn't just a practical addition to a space but can also be an elegant feature. These fireplaces are works of art as they contribute to the overall modern design of the spaces.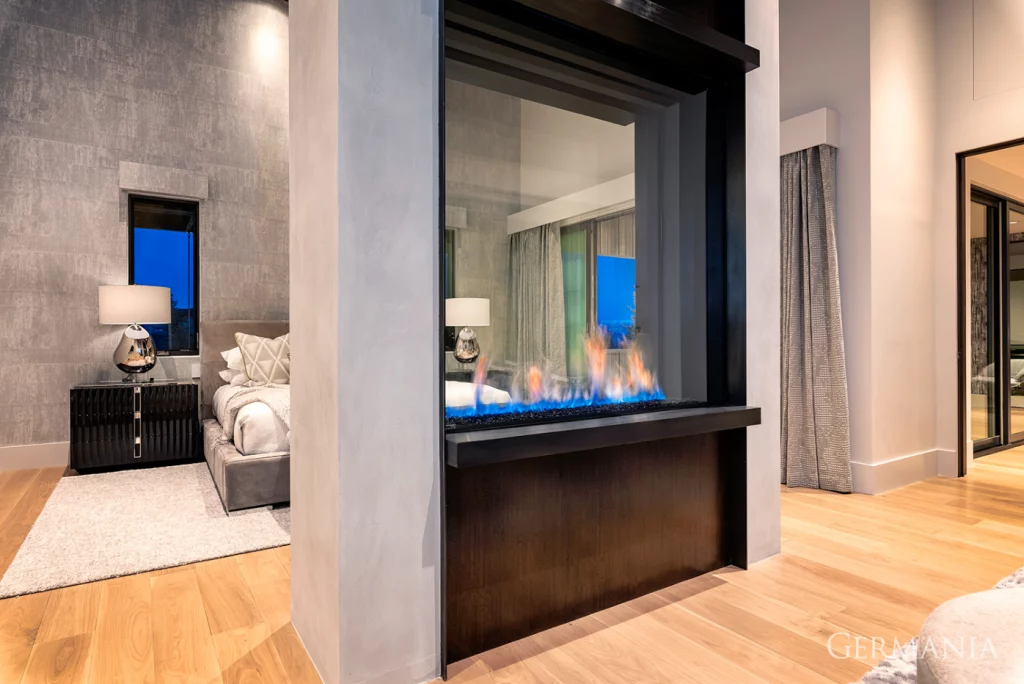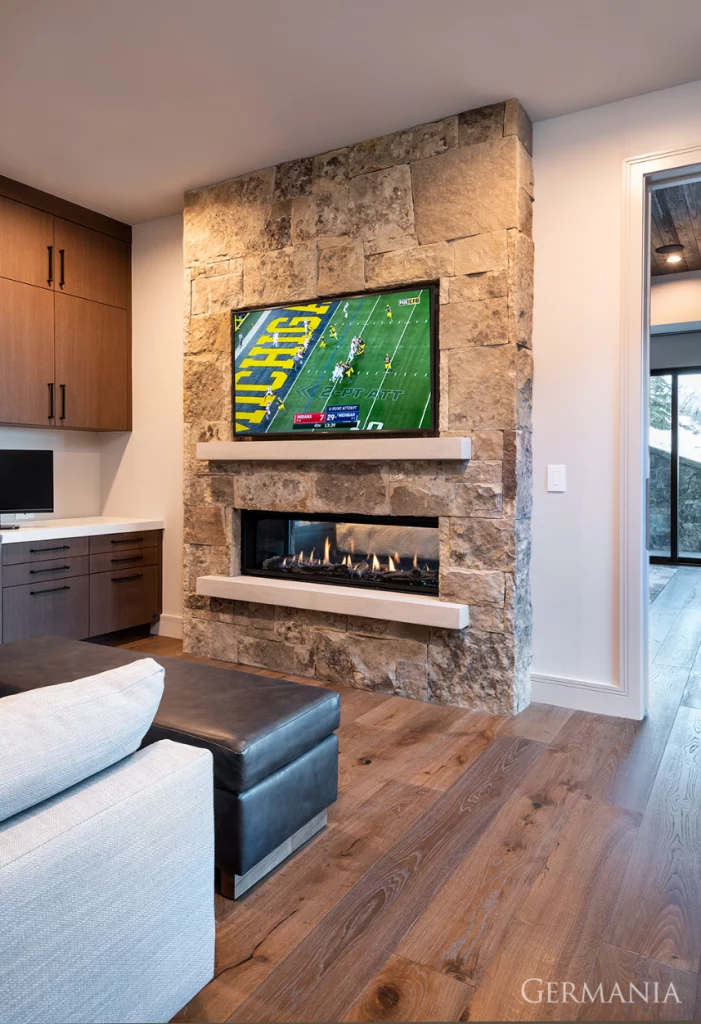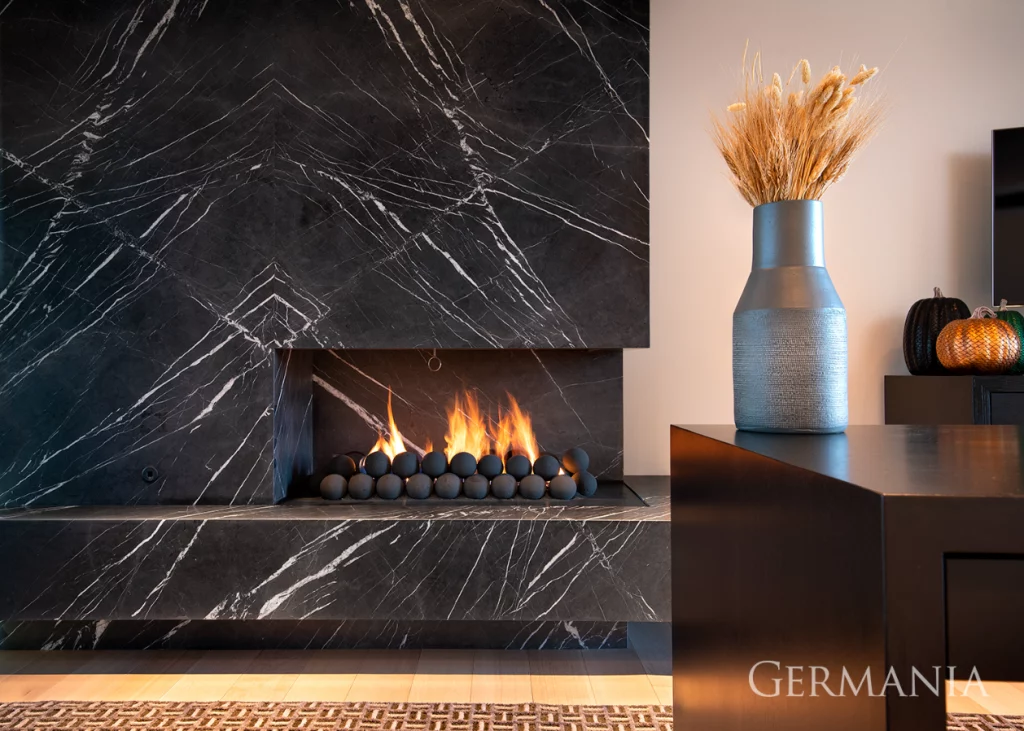 Our Park City Custom Home Building Process
From start to finish, Germania Construction will be by your side while you build your Park City custom home. We have an established process in place to minimize the stress on you and ensure your home turns out exactly how you envisioned it. Here is how it works:
Pre-Construction
A lot has to happen before hammers start swinging on a construction site. Our team performs a thorough site analysis, conceptual design, zoning, and code compliance reviews. We are also committed to value engineering, providing a construction and cost analysis. THEN, we can start scheduling and map out the construction process with all the necessary milestones.
Construction
This is the main part people think of when envisioning a custom home builder's job. In the construction phase, there is scheduled maintenance, cost control, site monitoring, environmental assessment, project management, status reporting, and the actual building of the modern custom home. Because we've worked through this process many times, we've got it down to a science to minimize surprises.
Post-Construction
Even after the home is built, we're not done yet! We walk through your home and fix anything that needs to be completed or seems to be amiss. We also provide every homeowner with a one-year warranty package and a maintenance schedule to help you know how to care for your new home.
What They Say About Our Park City Custom Homes
At the end of the day, it doesn't matter what we say we can do. What does matter is what our customers and the industry professionals we work with say about us. They like to use words like "the best," "friendship," and "amazing." Here are a few things our fans have told us:
"I perform thousands of real estate inspections in the Summit County area, and Germania's homes are among the best." – Matthew Stauffer, Home Inspector
"Multiple times they made constructive value engineering recommendations which kept our costs under control without compromising our vision." – Rob S., Deer Valley Homeowner
"Living 1,000 miles away from Park City, the Germania team gave us the confidence that they were fully engaged from the architectural plans to addressing the final punch list…Our experience with every Germania employee has been terrific." – Jerry H., Empire Pass Homeowner
Why Choose Germania For Your Park City Custom Home Builder?
There's a reason why Germania Construction is a top custom home builder in Park City. They understand the intricacies of the building process, have an efficient system in place for building Utah custom homes, and are experts at bringing modern custom home designs to life. Through it all, Germania Construction has one goal—to be the best at what we do so our clients and their loved ones can enjoy their custom homes for generations to come. If you've been searching for a Park City custom home builder, contact Germania Construction. We would love to discuss your project and talk about ways we can make your dreams come true.